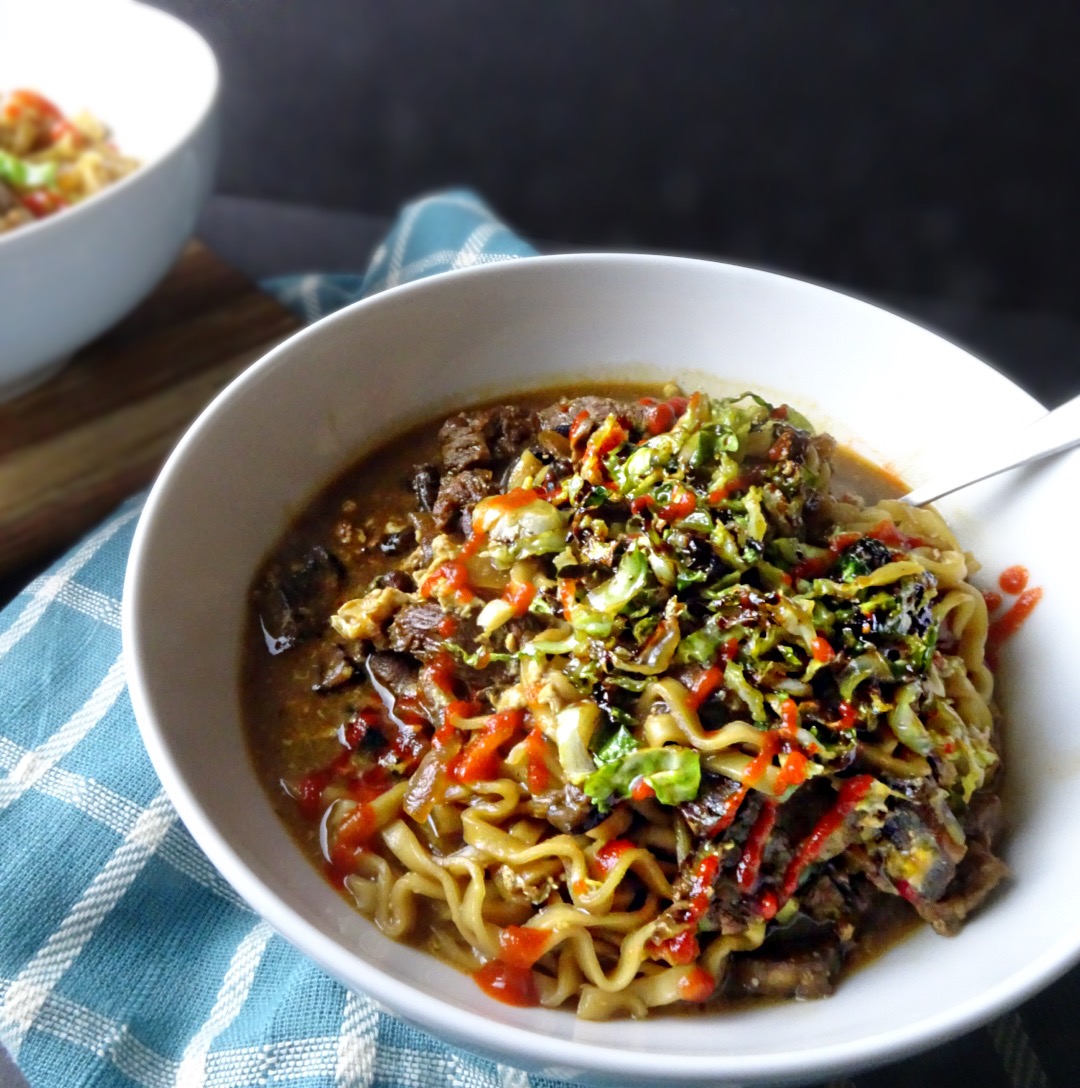 Ramen is one of those super comforting foods that we turn to for an easy dinner. Long gone are the days when we fill our foam cups with water and wait for noodles to soften. While dressing up a ramen packet is not new to me, this is definitely a more sophisticated approach. I am lucky enough to live near several Asian farmers markets so some of these ingredients will be optional. Delicious either way.  Yesterday we went to pick up some soybean paste (which I seriously cannot find in any other grocery store in our area!) and I was lost in the 3 aisles of noodles. Rice noodles, mung bean noodles, green bean noodles, wheat noodles, soba noodles, egg noodles… so many noodles everywhere! I went with a classic ramen noodle, but we purchased a few others for later experiments.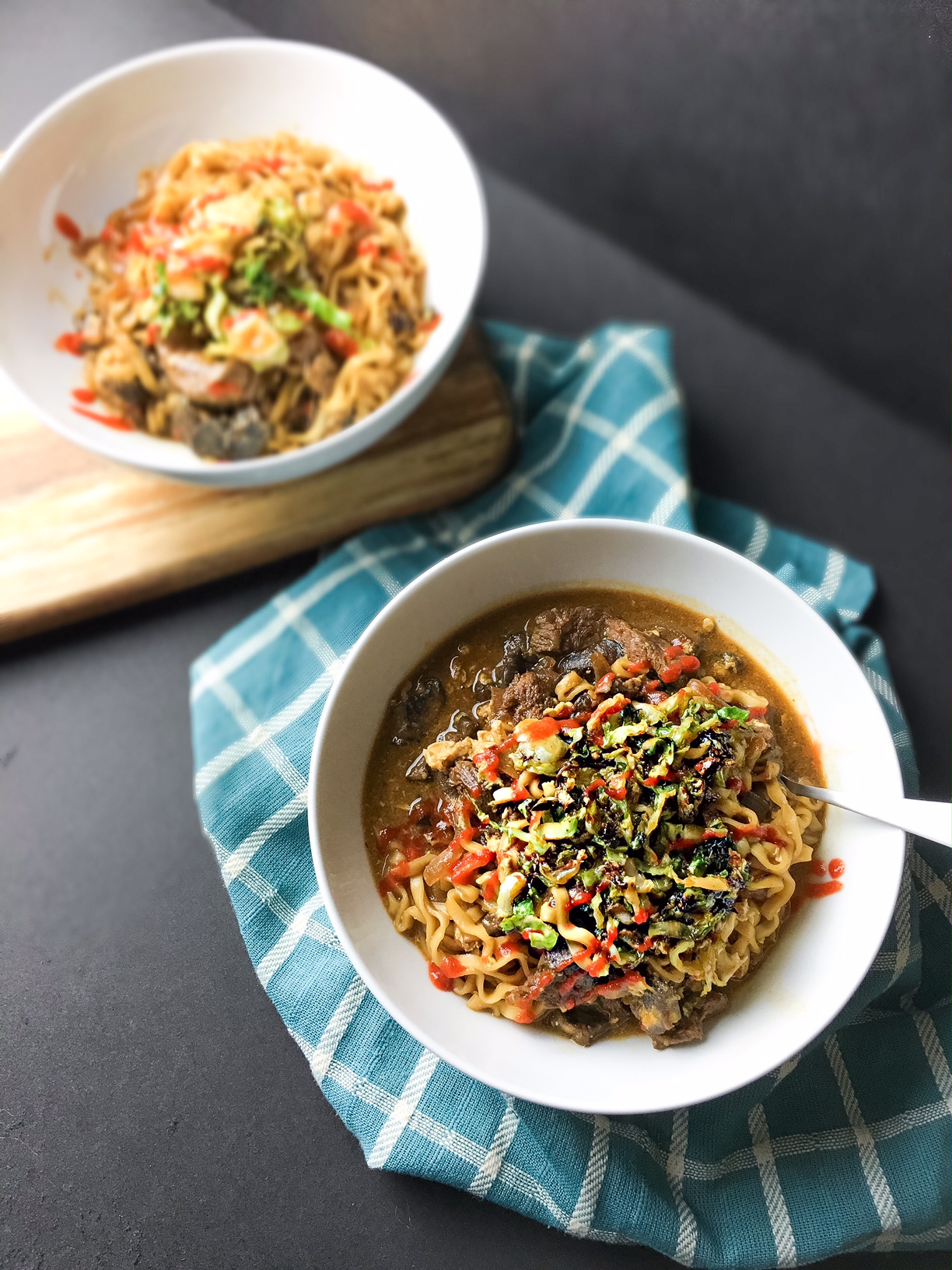 I started by slicing some sirloin steak very thin and browning it in my soup pot with a little vegetable oil. Removing the meat and setting it to the side I then browned some fresh chopped brussel sprouts.  Again removing from the heat and setting to the side. I added onion and mushrooms let that saute then drizzled some soy sauce to deglaze my pan. Turning the heat down I poured in the beef stock. Mixing in the brown sugar and spices. I recommend using a beef stock cube or half a packet of beef ramen seasoning to really get a bold beefy flavor.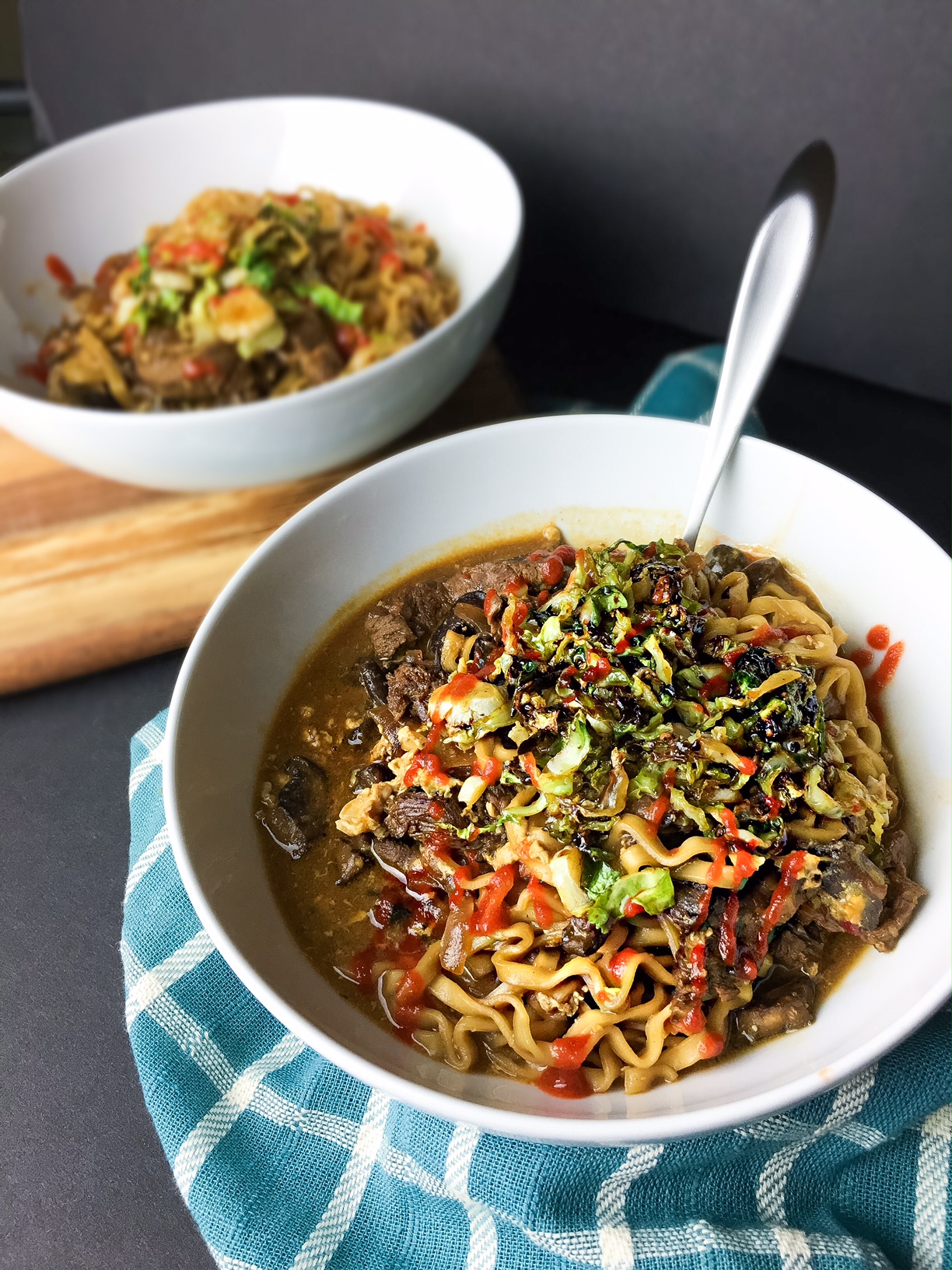 I make my noodles in a separate pot tossing them into the broth once they have softened. Then comes my favorite part! The eggs! I know a lot of recipes call for a soft boiled egg on top, but we like to add our eggs straight into the broth and let them poach in the beef seasoning. So wonderful!
Spicy Beef Ramen Bowl
Prep time:
Cook time:
Total time:
Spicy beef ramen soup bowls! Layers of beef flavor with soft noodles and veggies.
Ingredients
4 oz of sirloin steak sliced
6 cups of beef stock
2 beef ramen packs or noodle of choice
beef ramen seasoning or a beef cube
1 tsp soy bean paste (optional if you cannot find)
2 tbsp sesame oil
1 tbsp vegetable oil
1 cup of chopped brussel sprouts or cabbage
1 cup of chopped onion
1 cup of chopped mushrooms
1 tsp garlic powder
1 tsp of salt
1 tbsp of chili paste (or sriracha)
1/4 of low sodium soy sauce
1/4 cup of brown sugar
2 eggs
Instructions
Prepare boiling water for the noodles.
Add noodles and cook while preparing broth.
In a large soup pot heat vegetable oil over medium high.
Add in the meat and let it brown about 5 minutes.
Remove meat and set to the side.
Add chopped brussel sprouts and sesame oil to the pot and again brown over medium high,
Lightly salt to taste, remove from heat and set to the side.
Toss the onion and mushroom to the pot and begin to saute.
Lower the heat to medium and mix in the brown sugar.
Let the onions caramelize then add the soy sauce to de glaze the pot.
Add in the garlic, chili paste, salt, and soy bean paste.
Pour in the beef stock and stir.
(Don't forget to drain the noodles they cook fairly quickly)
Bring the heat back up to medium high and add in the beef seasoning.
Let simmer for another 10 minutes then pour in the drained noodles.
Crack 2 eggs into the broth and let cook through.
I like dropping the eggs into opposite ends so I can make sure both people get a whole egg.
Pour soup into bowls and top with brussel sprouts and hot sauce.
Enjoy!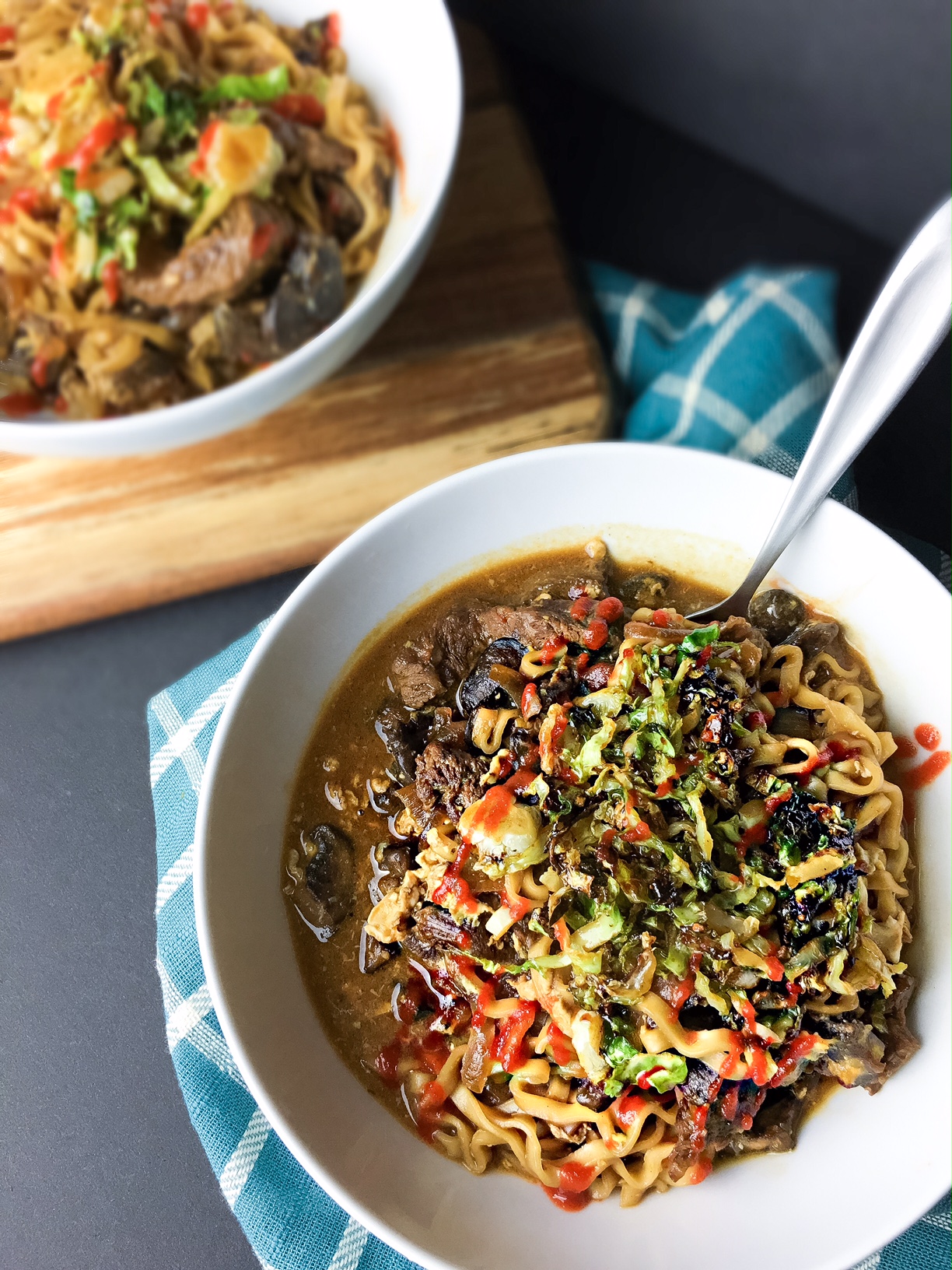 I hope you try out our go to easy dinner! These brussel sprouts are everrrrything right now! Don't forget to let me know if you try it out!