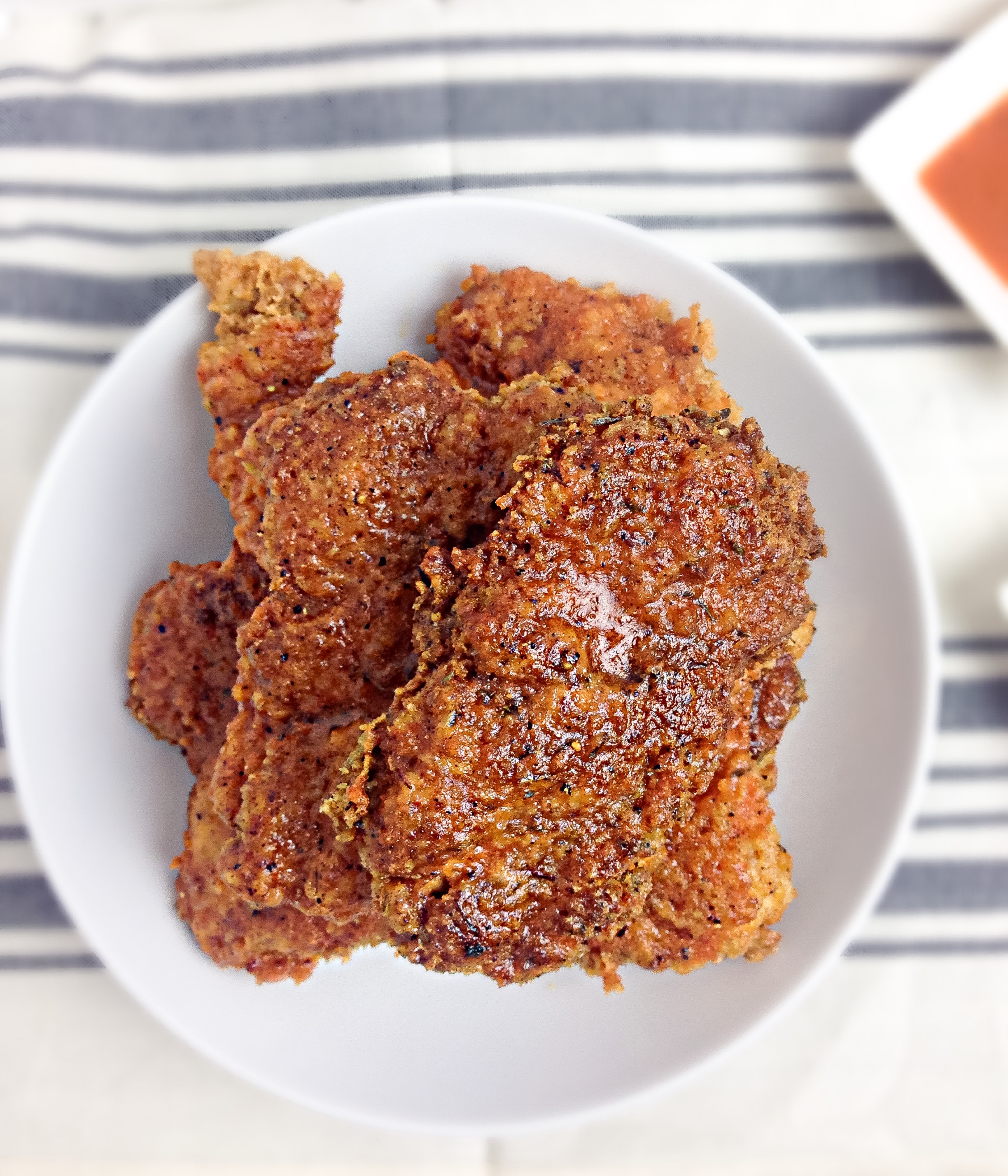 I personally have never been to Nashville. It is definitely one of those trips on my bucket list. I always see the most amazing creations on instagram and other forms of social media. They typically stem from Nashville. This recipe is my version of hot fried chicken. Juicy bonless chicken thighs with a very thin salty crust made of panko crumbs and cornstarch. They are then tossed lightly in this amazing peppery hot sauce. I am pretending these are healthy since I removed the fat and skin…
I know what you are thinking. How many times do we eat fried chicken a week since I have at least 5 different fried chicken recipes. I promise we really only eat fried chicken maybe once a month. It is just really hard for me to make something the same way every time. There are so many variations in the food world, I feel obligated to try them all!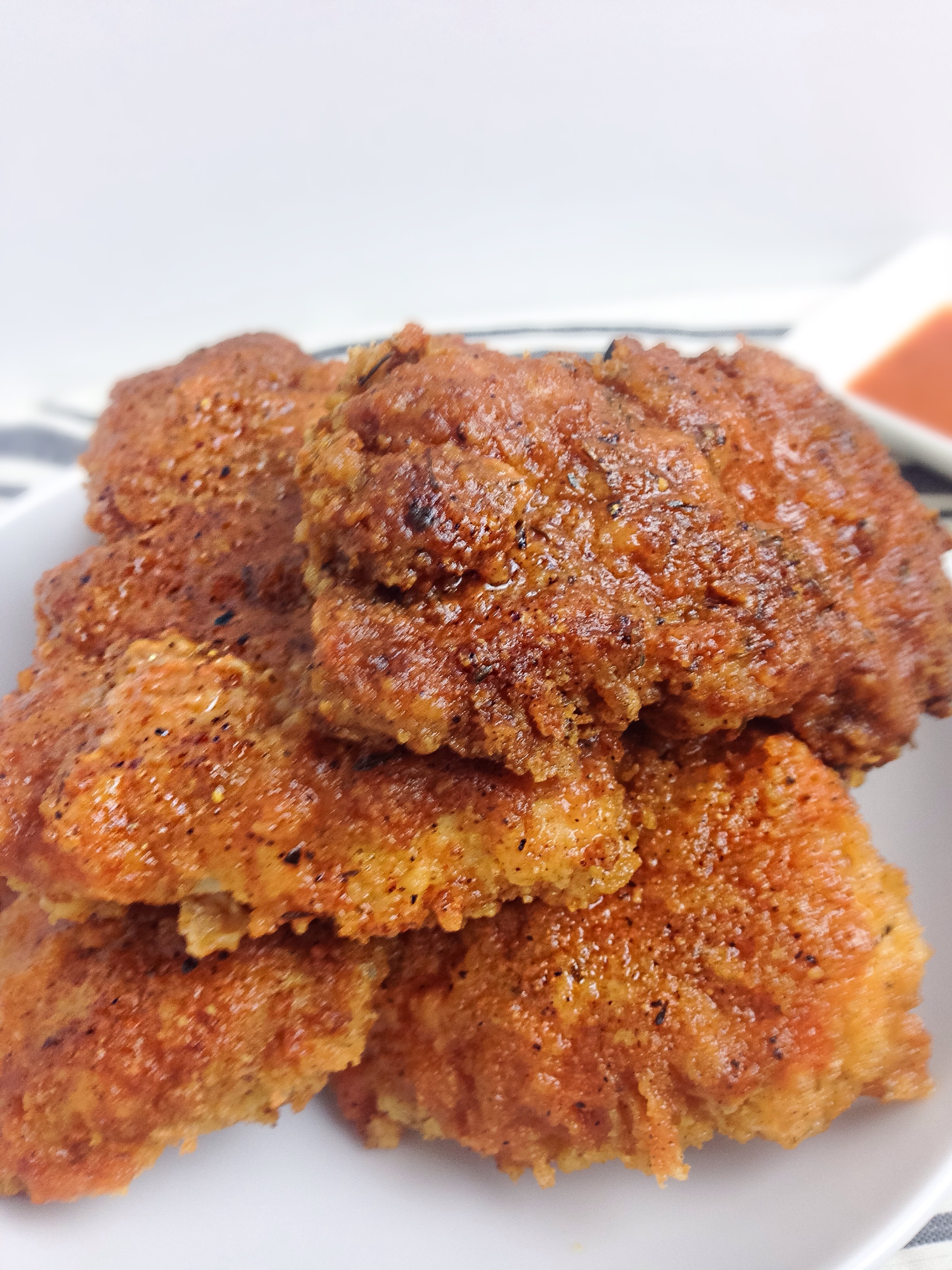 The biggest secret to what makes this recipe so great is the sauce. Instead of using butter and hot sauce which is my typical go to I tried something a little different. I started with some Louisiana hot sauce, added lots and lots of fresh cracked pepper and garlic powder. Then two spoonfuls of the chicken grease. This made the sauce a lot thinner and it was able to coat each piece of the chicken really well.
Hot Fried Chicken – Inspired By The Nashville Classic Recipe
Recipe Type
:
Chicken, Main Course
Prep time:
Cook time:
Total time:
Hot fried chicken inspired by a Nashville classic recipe.
Ingredients
1 pound of boneless skinless chicken thighs
1 cup of panko crumbs
1/2 cup of corn starch
2 tsp garlic powder divided
1 tsp salt
2 tbsp pepper divided
1 tsp cayenne pepper
2 tbsp of smoked paprika
2 eggs
1 cup of milk
1 cup of hot sauce divided
canola oil for frying ( I use 2 quarts)
Instructions
Heat the oil to 350 degrees
In a large bowl mix the panko, corn starch, 1 tsp garlic powder, 1 tsp of salt, 1 tbsp of pepper, 1 tsp of cayenne pepper, 2 tbsp of smoked paprika
In another large bowl mix the milk, eggs, and 1/2 cup of hot sauce
Dip each chicken thigh into the egg mixture then into the panko mixture
I press as much of the panko on as I can
Fry until no longer pink in the middle, about 5 minutes on each side.
Careful not to over crowd the chicken.
I let mine drain over a baking rack onto paper towel, it helps keep the chicken crispy
In a bowl mix the remaining garlic powder, pepper, and hot sauce
Add in 2 tbsp of the used hot oil
Mix together then toss in the chicken
Enjoy!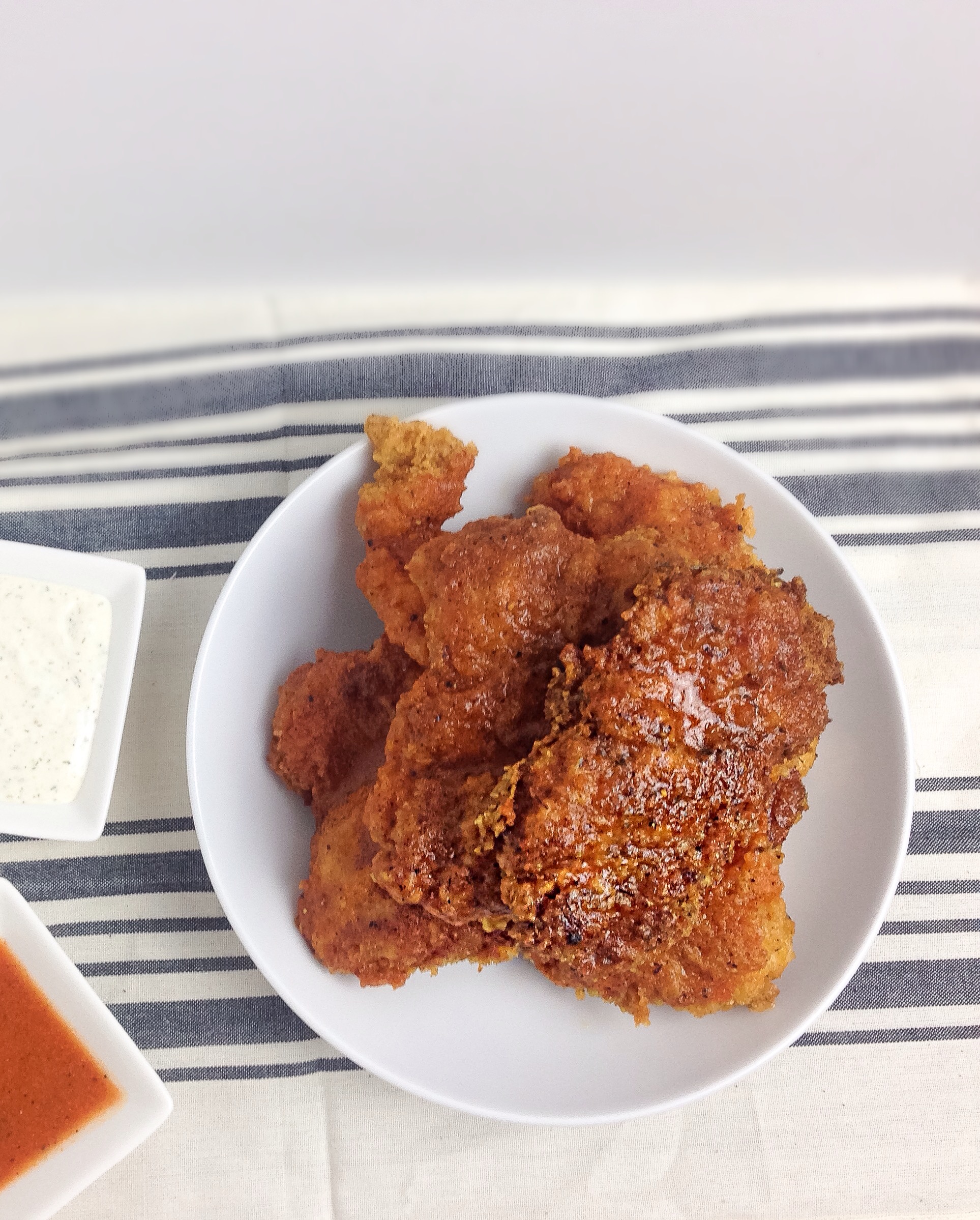 Nothing beats this hot fried chicken, especially for Sunday night dinner! You can serve it alone, with biscuits, or chopped over a salad. Endless possibilities!