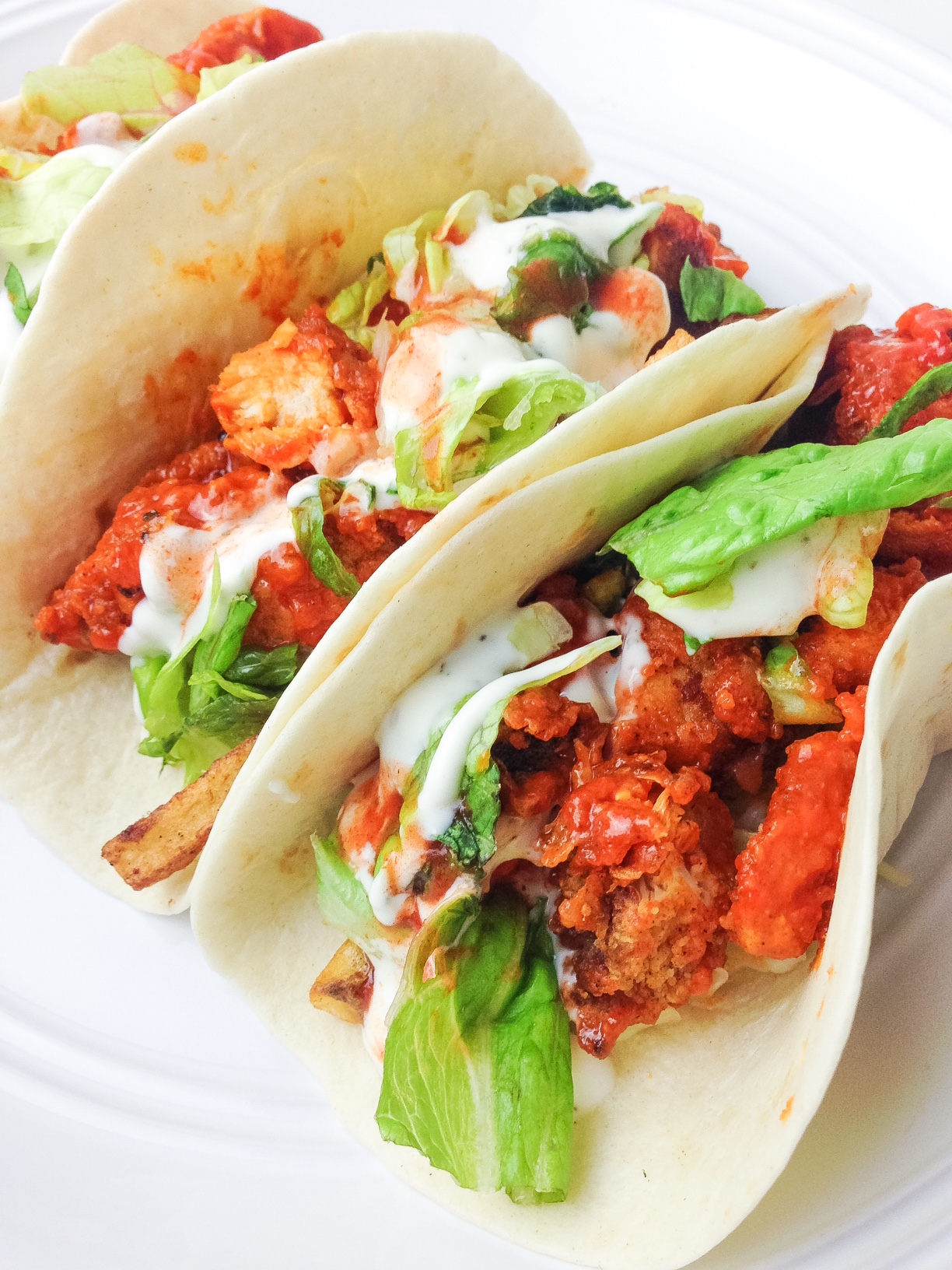 I might have had chicken in every meal for the past 7 days straight. I can't help myself. Chicken has been on sale at the local grocery store all month and my freezer is packed full of different cuts. Thighs with skin, boneless thighs without skin, breast, tenders, thin cutlets… the list goes on. I am proud to say that I haven't been bored yet. Some how each dinner gets more creative than the last.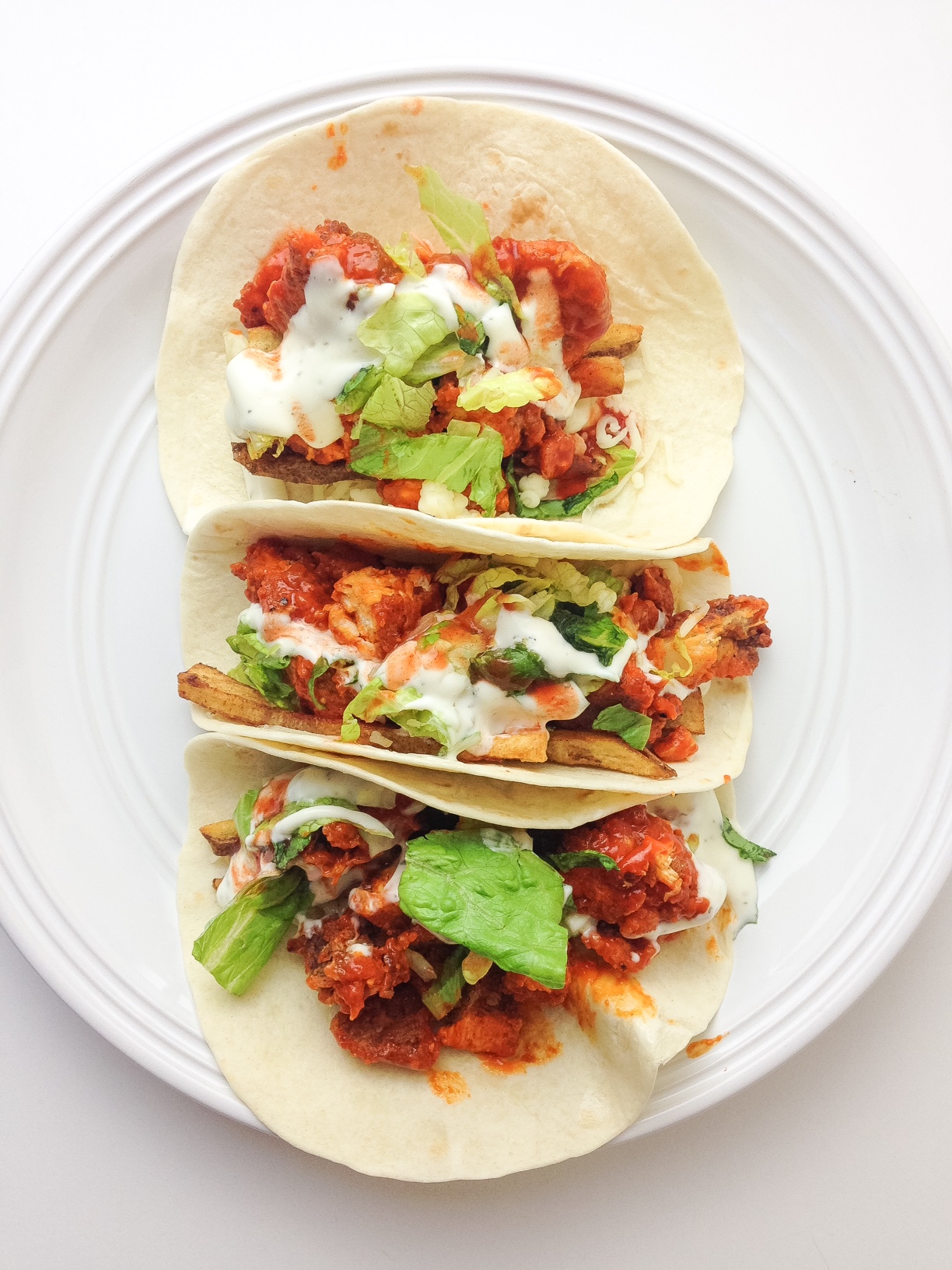 Buffalo Chicken Tacos Stuffed With Hand Cut Fries
Recipe Type
:
Chicken, Tacos
Prep time:
Cook time:
Total time:
Buffalo Chicken Tacos Packed With Hand Cut Fries
Ingredients
1 pound of chicken breast cut into 1 inch pieces
1 cup of flour
1 cup of panko
1 tbsp garlic powder
1 tbsp salt
1 tbsp cayenne pepper
2 tbsp paprika
2 eggs
1/2 cup of milk
1 russet potato cut into wedges or thin even sticks
3 cups of canola oil for frying
monterey jack cheese
1 cup of ranch dressing
1 cup of hot sauce
1 tsp chopped garlic
2 tbsp of butter
1 cup of lettuce chopped
small flour tortillas
Instructions
In a large bag add in the flour, panko, garlic powder, salt, pepper, and paprika
Toss in the chicken and coat evenly
In a bowl mix the eggs and milk
Add in the chicken
Move the chicken back into the bag of flour mix
Toss again to coat evenly
Fry in the canola oil until cooked to 165 degrees
drain on a paper towel
In a sautee pan heat the hot sauce, garlic, and butter
Toss the chicken in the sauce
Cook the potatoes in the oil until golden brown
Season with salt and let rest on paper towel
To assemble start with the tortillas
Sprinkle the cheese over the tortillas
Add chicken and fries
Top with lettuce and ranch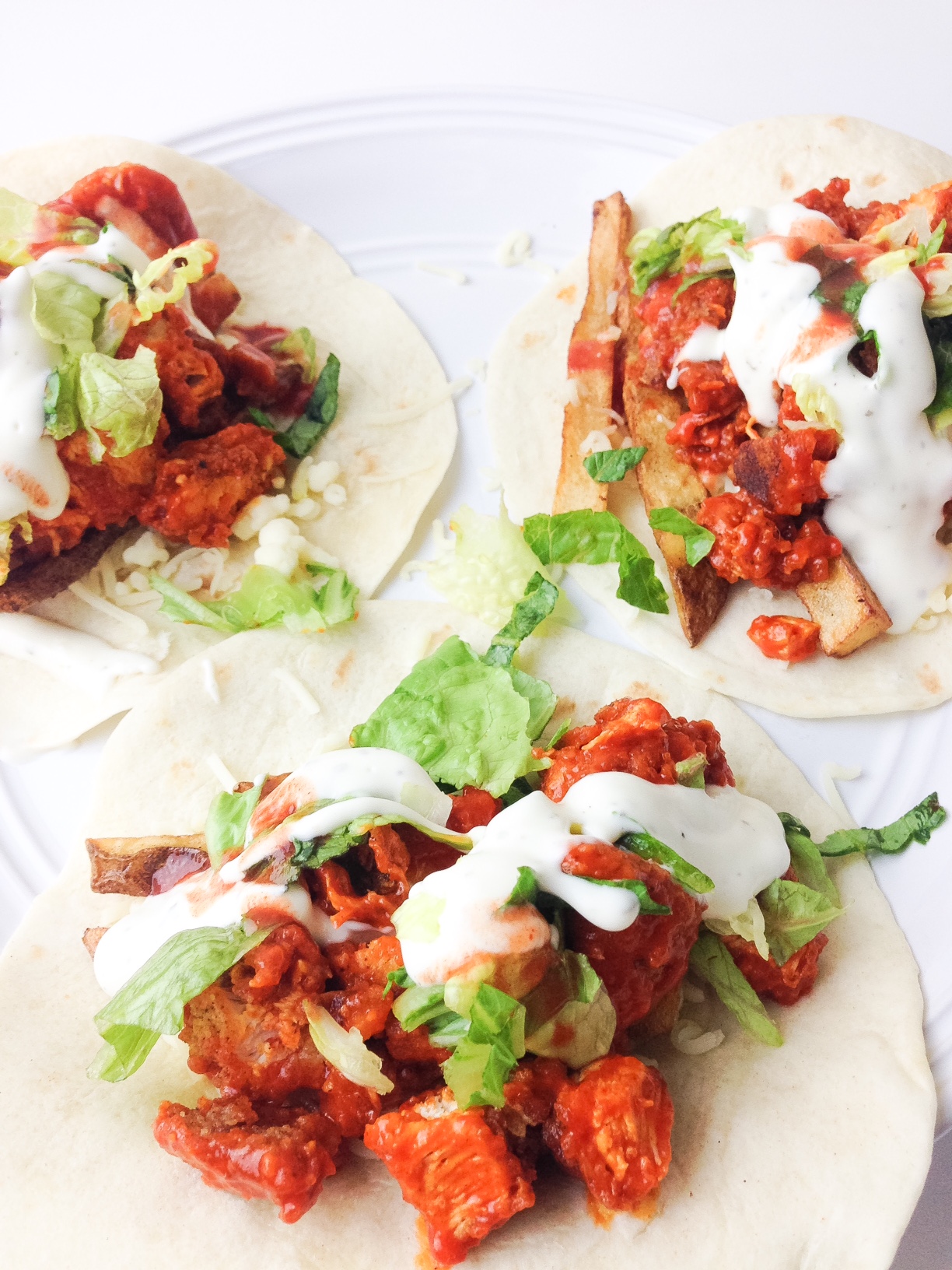 These buffalo chicken tacos are so cheesy and spicy. Layers of monterey jack, crispy fried chicken, garlicy buffalo sauce, hand cut fries, ranch, and lettuce all wrapped up in a flour tortilla. It is definitely one of my new favorite combos. I am pretty sure I am obsessed with fries stuffed into any taco or burrito.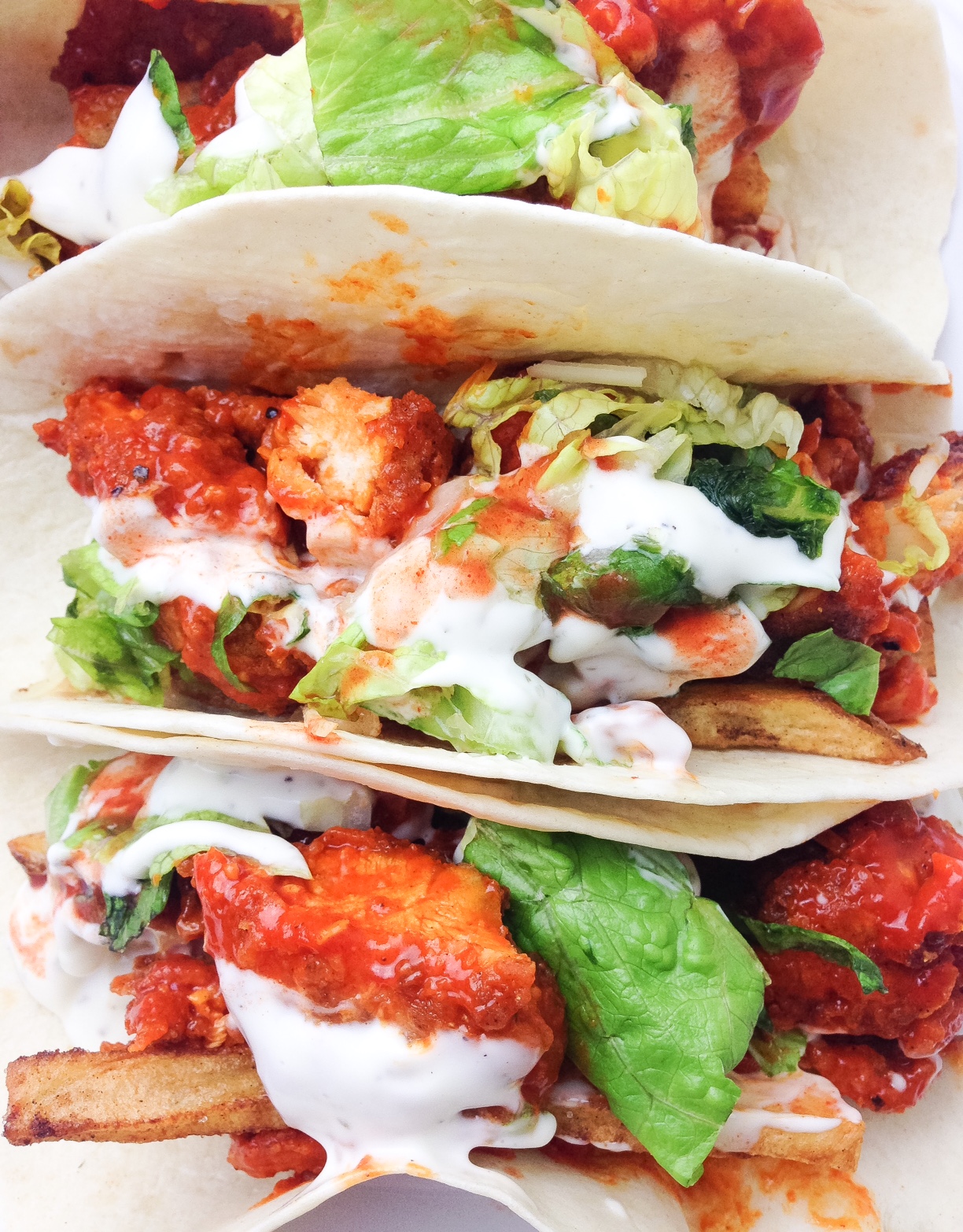 Obviously you can customize these fries to your liking, but I like mine fully cooked and slightly soggy. I know that sounds crazy, but it just makes it so easy for them to soak up the hot sauce.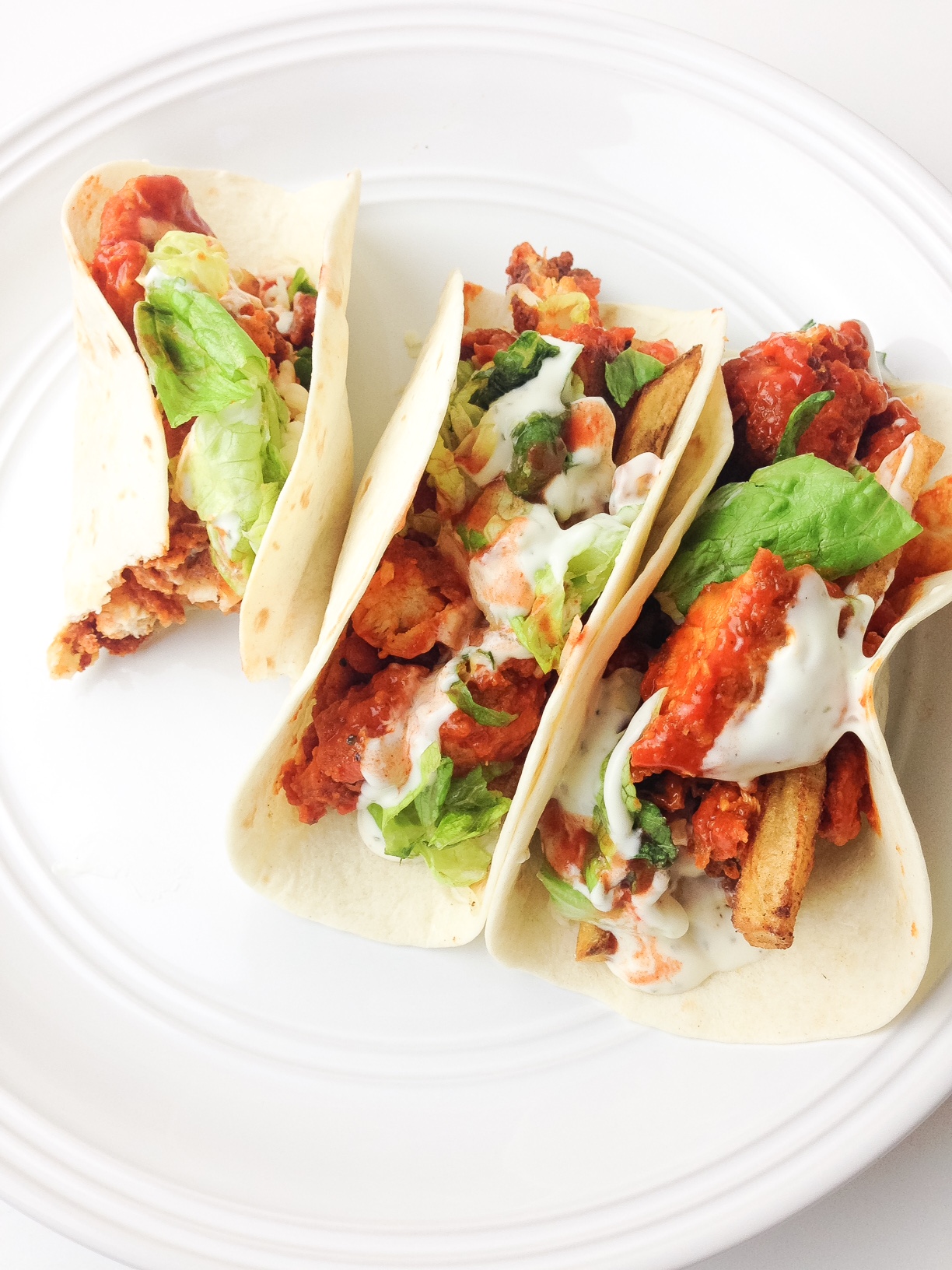 Tacos are so versatile. You can change up almost any ingredients and just wrap up in a tortilla. Buffalo chicken just happens to be one of my personal favorite fillings!