(Better than those store bought ones!)
Valentine's Day is a perfect time to bake your loved ones these mini treats! I was going to post this yesterday on the actual holiday, but our internet provider had different plans and we spent the day helping the technician run new wiring through our walls. I say we but really I mean Patrick 🙂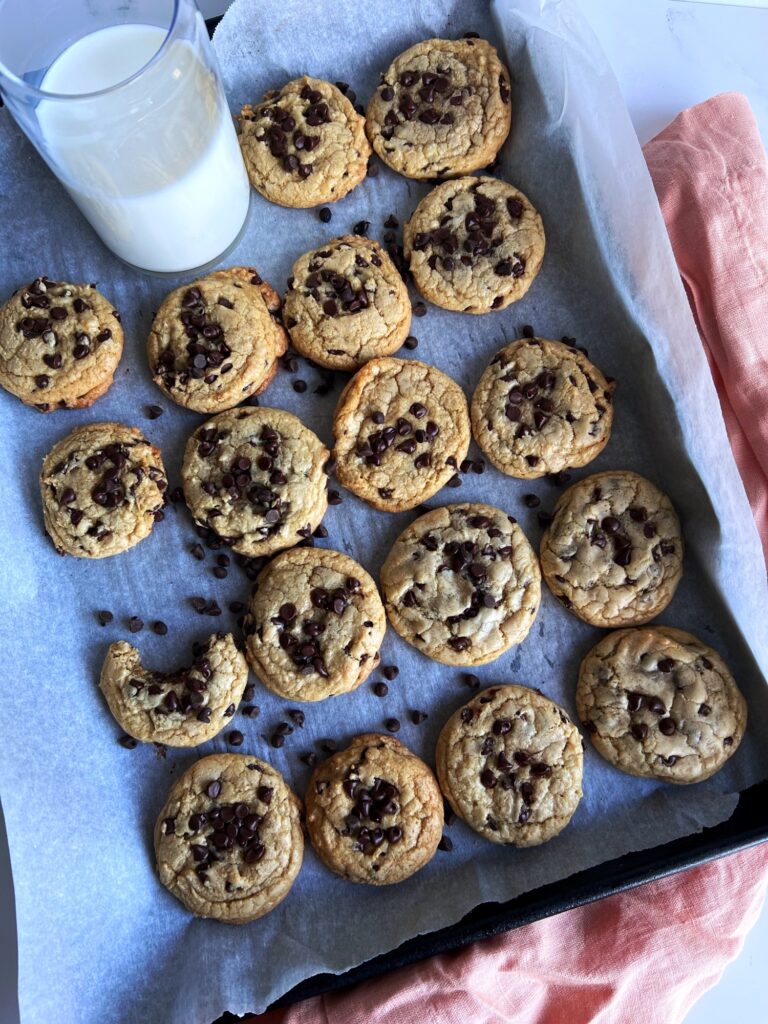 Every summer the kids get to pick sweet treats to have on hand with their lunches and our son always gravitates toward the cookie aisles. Something about the mini size cookies just make things way more fun. These are perfectly stackable and our kids love to add a scoop of ice cream for mini sandwiches.
Best part about this recipe is you can skip the down time! No need to refrigerate the dough and you can make a lot at once.
Ingredients-
1 stick (half cup) of melted salted butter
1/2 cup of light brown sugar packed
1/2 cup of granulated sugar
1 large egg at room temp
1 1/2 tbsps of vanilla extract
1/4 tsp of baking soda
2 tsp of corn starch
1 1/3 cup of AP flour
1 1/2 cups of mini chocolate chips or chopped chocolate
Directions–
Pre-heat oven to 350 degrees.
Whip the (cooled) melted butter with light brown and granulated sugar.
Add the egg and vanilla. Beat until pale/fluffy.
Add in the dry ingredients and mix until just combined. Do not over mix.
Fold in the chocolate by hand reserving a little bit to top the cookies with.
Roll into 1.5 – 2 ounce balls. (I found a melon baller works very well)
Press a few extra chocolate chips on top of the dough ball and sprinkle with flaky salt if you would like.
Bake for 8-10 minutes until the edges start to turn golden, but the middle is pale. I ALWAYS bang my pan on the counter as soon as I pull these out of the oven. This will let the air out of the center resulting in a nice fudgey cookie. After a few minutes I transfer to a cooling rack.
Depending on the size you pick this recipe makes about 20 cookies.
Store in a ziplock or container for 3-4 days.