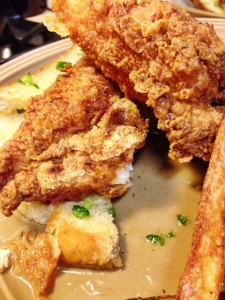 Honey butter is one of my favorite indulgences. The richness of the salted butter combined with the sweet smooth honey flavor just cannot be beat. This brings back memories of Sunday dinners when I was growing up. My mom usually paired a comforting bowl of chili with corn bread twists and hot honey butter. I wanted to spice things up a little bit and added some jalapeno. It ended up being the perfect balance of salty, sweet and spicy. This entire meal was built around this jalapeno honey butter to be honest. Just try not to eat it all! Savory toast smothered in this butter topped with crispy chicken breast. The side dish possibilities are endless.
What you need:
For the jalapeno honey butter-
1 fresh jalapeno – seeded, ribs removed, and finely chopped
2 tbsp salted butter
1 tbsp honey
For the chicken-
2 chicken breasts
2 cup of flour
1 tsp paprika
1 tsp salt
2 tsp cayenne pepper
1 tsp garlic powder
1 tsp italian seasoning
1 egg
1 cup of milk
peanut oil for frying
Sourdough Bread
Directions:
For the honey butter:
Melt the butter and mix in the jalapenos and honey. Once combined place in the freezer for 10 minutes.
For the chicken:
I preheated a deep fryer with the peanut oil at 375. Mix together the egg and milk. Add chicken and soak while the rest of the ingredients are put together. In a separate bowl mix together flour and spices. Drop chicken into the flour mix and cover entirely. Fry the chicken until internal temp is 155 (the chicken will continue to rise to 165 once you let rest). My chicken was about 1/2 inch thick and took around 15 minutes to fry. Remember to flip the chicken half way through for even coloring.
Let chicken rest for at least 10 minutes then slice in half.
Toast the sourdough bread and top with the chilled butter.
Serve alone or with your choice of side.