When you love to cook sometimes you get into a little bit of a routine. We have been eating a lot of the same dinners over and over because 1. we already know we love them and 2. they are quick and easy.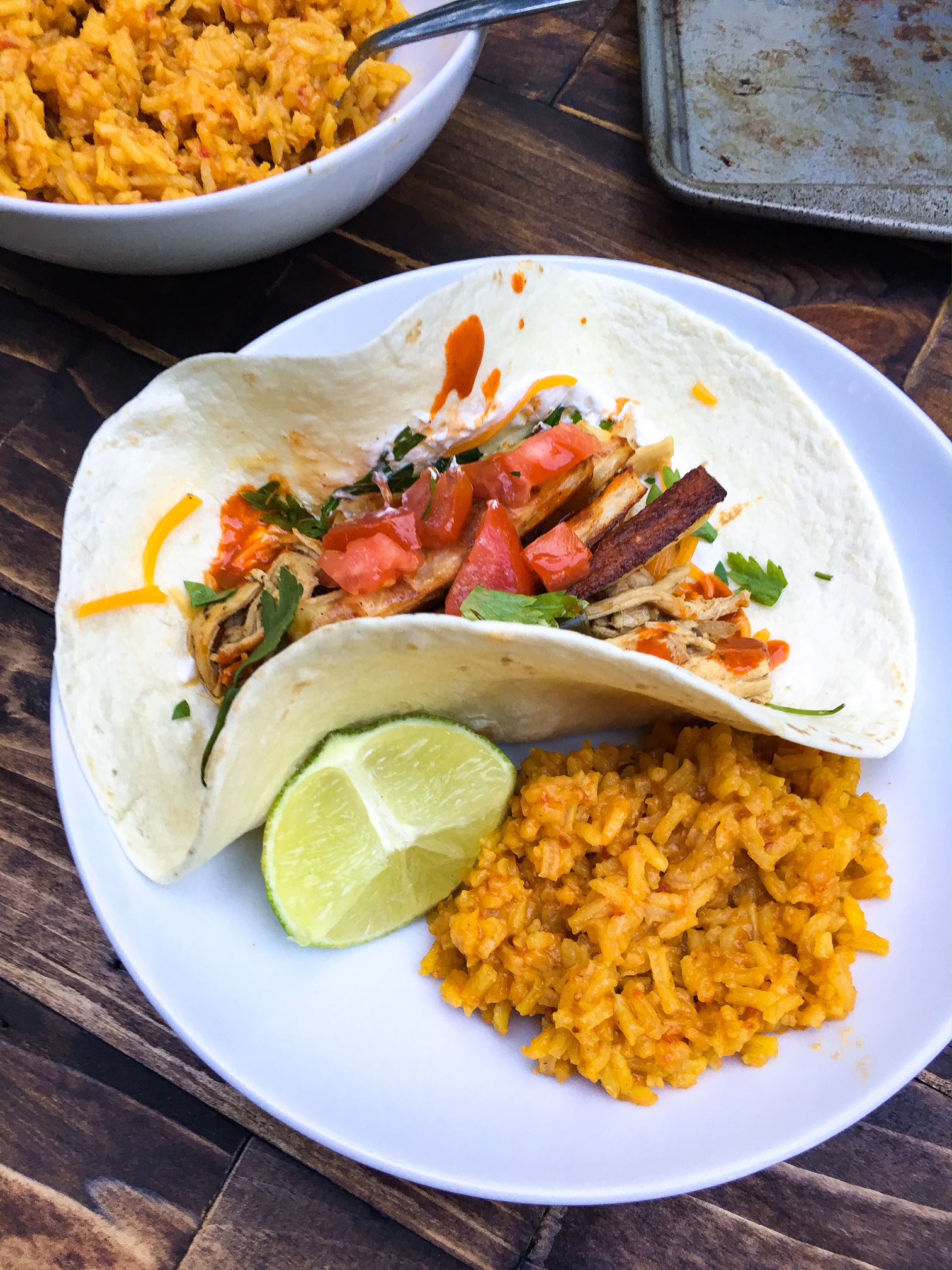 I was craving something with a lot of lime and spice. I ended up taking some fresh jalapenos, onion, garlic, and limes and roasting them down with my chicken breast. Pouring chicken broth over the chicken and veggies while roasting gave me a really rich flavorful sauce. After one bite I knew this had to be stuffed into a taco!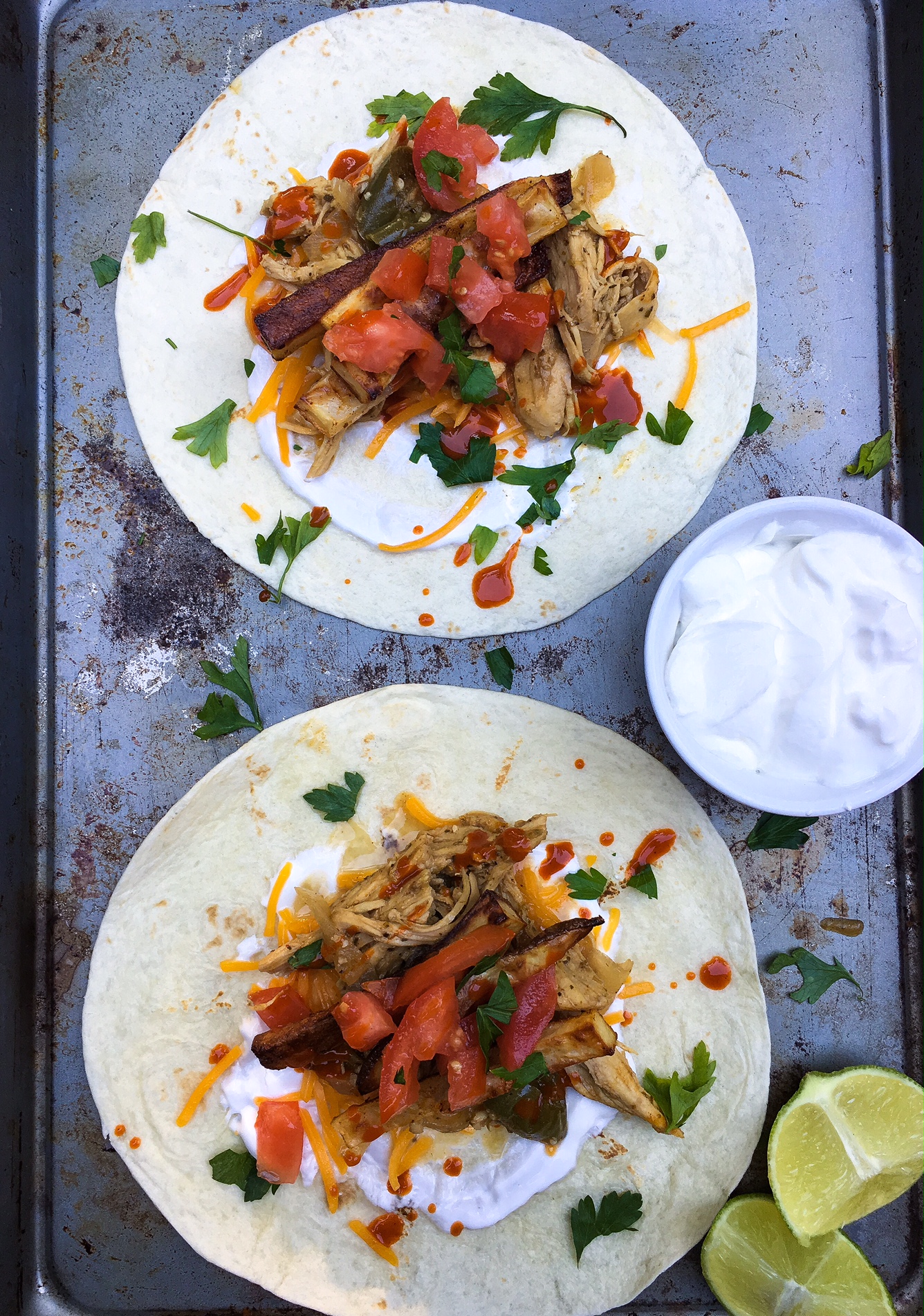 The only thing that made this roasted chicken even better was topping my taco with some baked fries covered in chili powder! We have an obsession with fries on our tacos and burritos. Go carb or go home? You can skip the side of rice and even the tortilla, but please don't miss out on these crispy baked fries.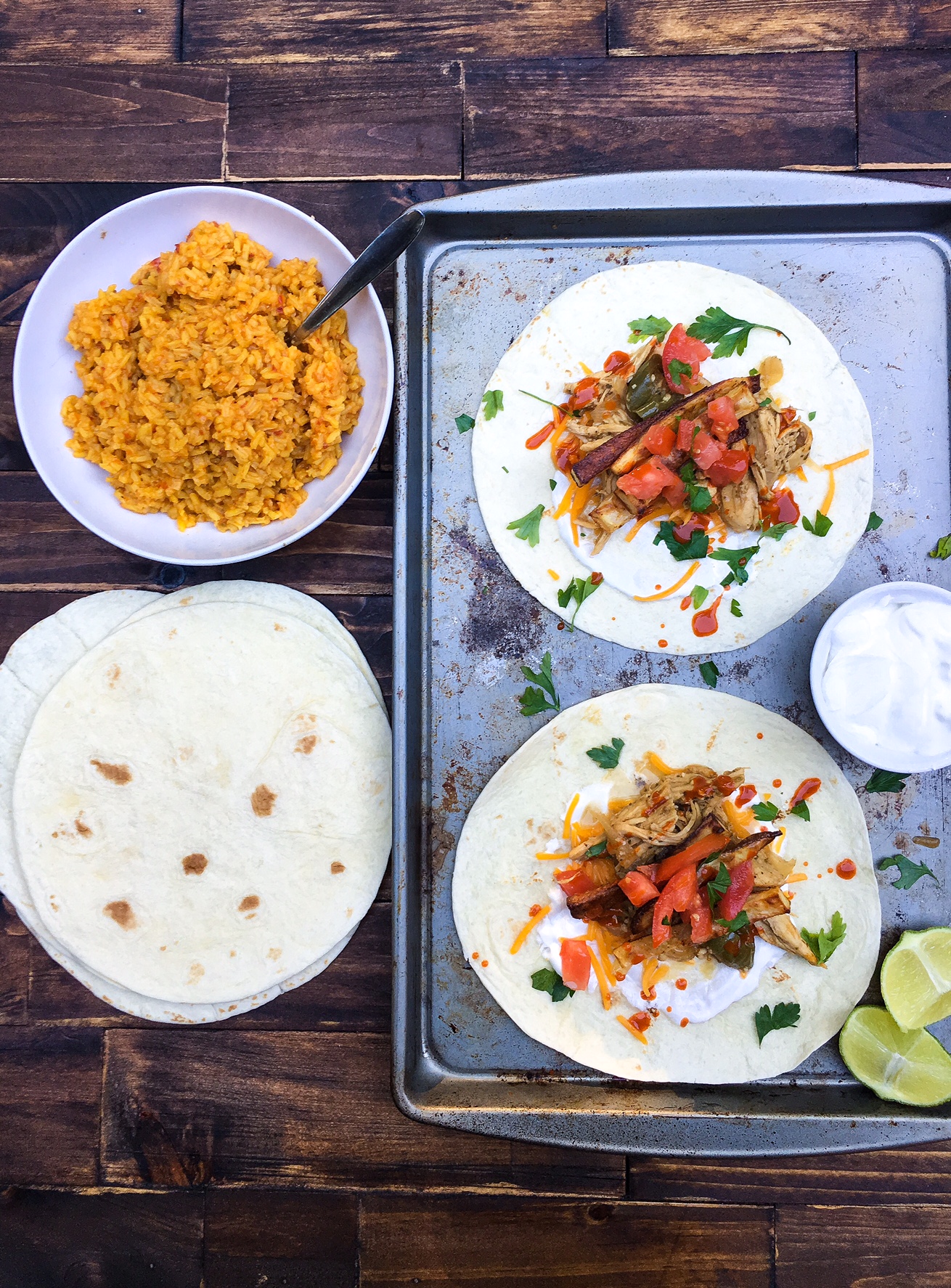 You know I love spicy. I was surprised by how mild these tacos were even after I mixed the fresh AND pickled jalapenos. So of course I added a little drizzle of Valentina sauce and a squirt of lime. Seriously, the best combination!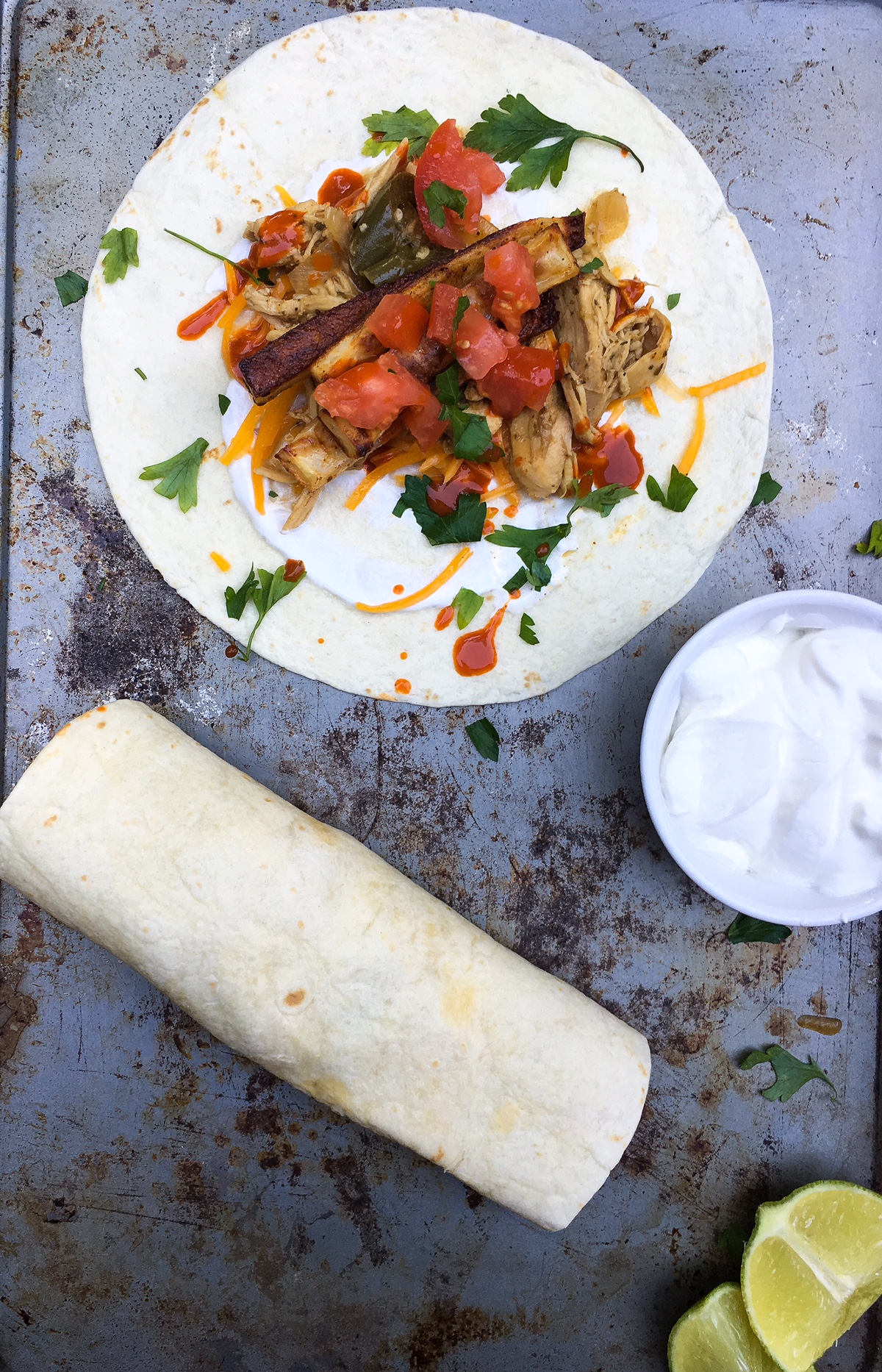 There is a sprinkle of fresh parsley over our tacos because we do not eat cilantro, but if you are a cilantro lover I would recommend a chop of fresh cilantro.
Roasted Chicken Jalapeno Tacos
Author:
Prep time:
Cook time:
Total time:
Roasted chicken, jalapenos, onions, garlic, and lime come together for a really fresh taco filling.
Ingredients
2 fresh jalapenos chopped
1 large yellow onion chopped
2 cloves of garlic chopped
2 cups of chicken stock
2 chicken breasts
1/4 cup of pickled jalapeno
1 tsp of garlic salt
1 tsp of fresh cracked pepper
1 tbsp of sugar
juice from 1 lime
1/4 cup of sour cream ( with more for serving)
2 russet potatoes cleaned and cut into strips
1 tsp of olive oil
1 tbsp of chili powder
flour tortillas
sharp cheddar cheese
sour cream
hot sauce
fresh tomatoes
side of Spanish rice
Instructions
Preheat the oven to 325.
In a dutch oven add the chicken, chicken broth, jalapenos, onion, garlic, lime, lime rinds, sugar, garlic salt, and pepper.
Roast for 30 minutes.
Pull out the lime rinds and discard.
Put the chicken on a plate and let cool for shredding.
Preheat the oven to 400.
Lay the potatoes on a sheet pan.
Coat with olive oil and chili powder.
Cook until golden brown about 15-20 minutes.
Move the dutch oven to the oven range and bring the liquid to a boil.
Add the shredded chicken and sour cream.
Bring the heat to low.
Cook until the sauce thickens about 10 minutes.
Assemble your tacos!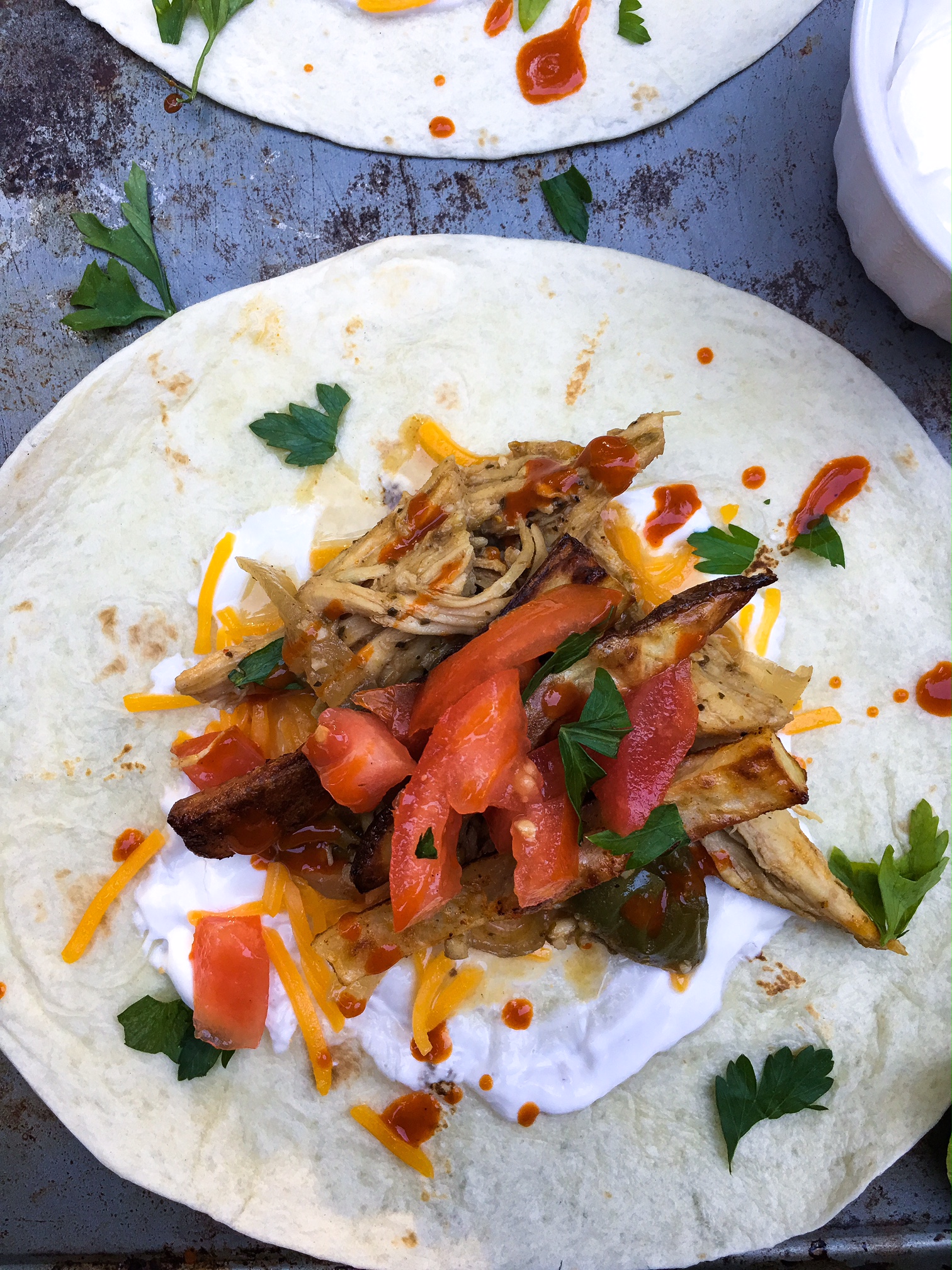 Now try not to make this every day this week! 🙂