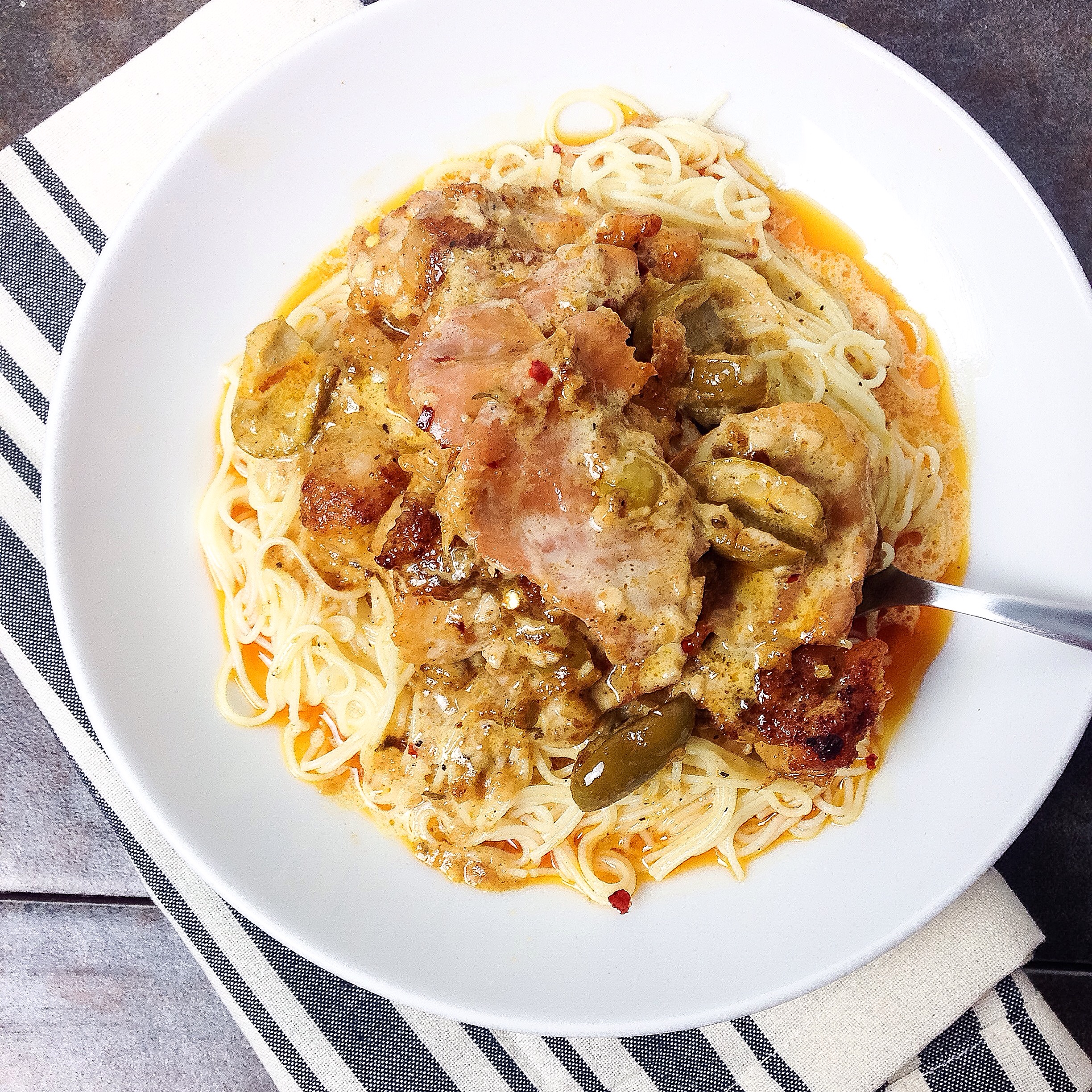 These chicken thighs are the easiest Monday night recipe! This dish comes together in 30 minutes or less. No more Monday moody blues! Now you have this dish to look forward to! No one will ever know how fast you threw this meal together once they taste this sauce. The prosciutto and olives add a saltiness to this lemon cream sauce that mimics sauces that simmer for hours.
On Mondays I work a very late shift. Patrick always waits for me to eat so I have to get creative with our dinners. I need something that I can cook very quickly, but still has that great comfort food vibe. Usually I will save our pasta night for Monday since you can boil noodles in under 15 minutes.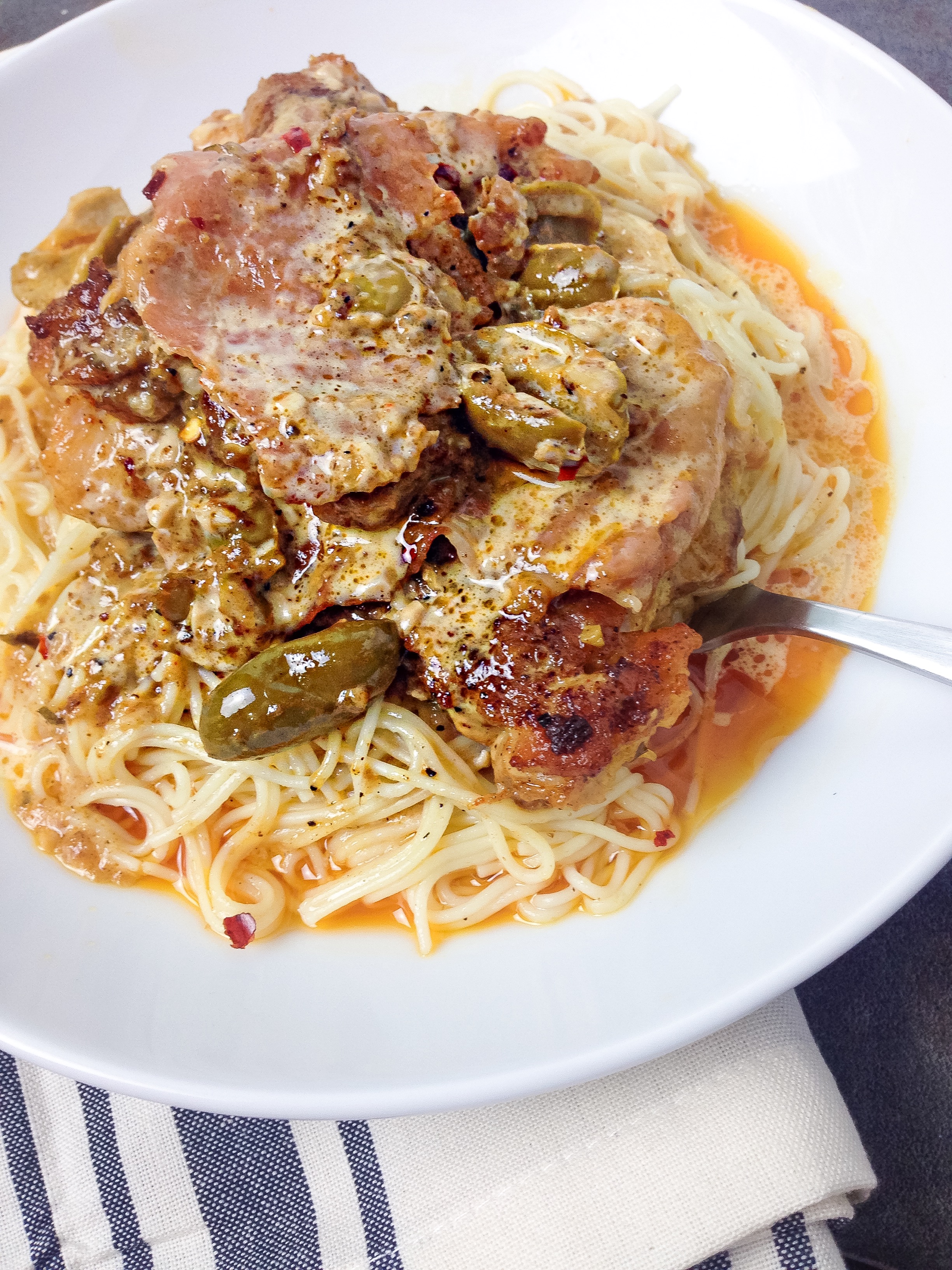 You start out with boneless skinless chicken thighs tossed lightly in corn starch. In a saute pan I heat up a little olive oil and brown the chicken thighs. I cook them to about 95 % done. Then remove from the pan. Then all the remaining ingredients are tossed in the pan and cooked down before adding the chicken back in. I used angel hair because I think this cut of pasta soaks up the sauce a little better then some other cuts. This dish really is all about the sauce!
Chicken Thighs With Salty Olives and Prosciutto
Prep time:
Cook time:
Total time:
Crispy chicken thighs over angel hair pasta, smothered in a salty lemon cream sauce with olives and prosciutto.
Ingredients
1 pound of boneless skinless chicken thighs
1/2 cup of corn starch
2 tbsp olive oil
1 tbsp chopped garlic
1 tbsp smoked paprika
1/2 cup of marinated olives (or your favorite olive)
5 slices of prosciutto
1 lemon
1/4 cup of cream
1 cup of chicken stock
salt and pepper
4 servings of cooked pasta
Instructions
Prepare pasta and strain.
Heat olive oil in a large saute pan over medium heat.
Toss chicken in the corn starch.
Tap off excess.
Brown the chicken in the sauce pan.
Cover to cook through. ( Takes about 10 minutes depending on how thick they are)
Remove the chicken.
Brown the prosciutto and garlic.
Add 1/2 cup of the chicken stock to the pan and turn up the heat.
Whisk or scrap the bottom to get everything up from the bottom of the pan.
Add the olives and lemon juice.
(If the chicken stock reduces down too quickly just add the remaining 1/2 cup)*
Lower the heat to medium low and add in the cream and stir.
Season with the paprika, salt and pepper.
Add the chicken back into the pan and cook until no longer pink.
Serve over pasta.
* I used 1 full cup of stock. I started with half a cup then after the stock cooked down and I scrapped all those beautiful brown bits up I felt like it was reducing too quick and added more. It is honestly your preference to how much sauce you want over the pasta.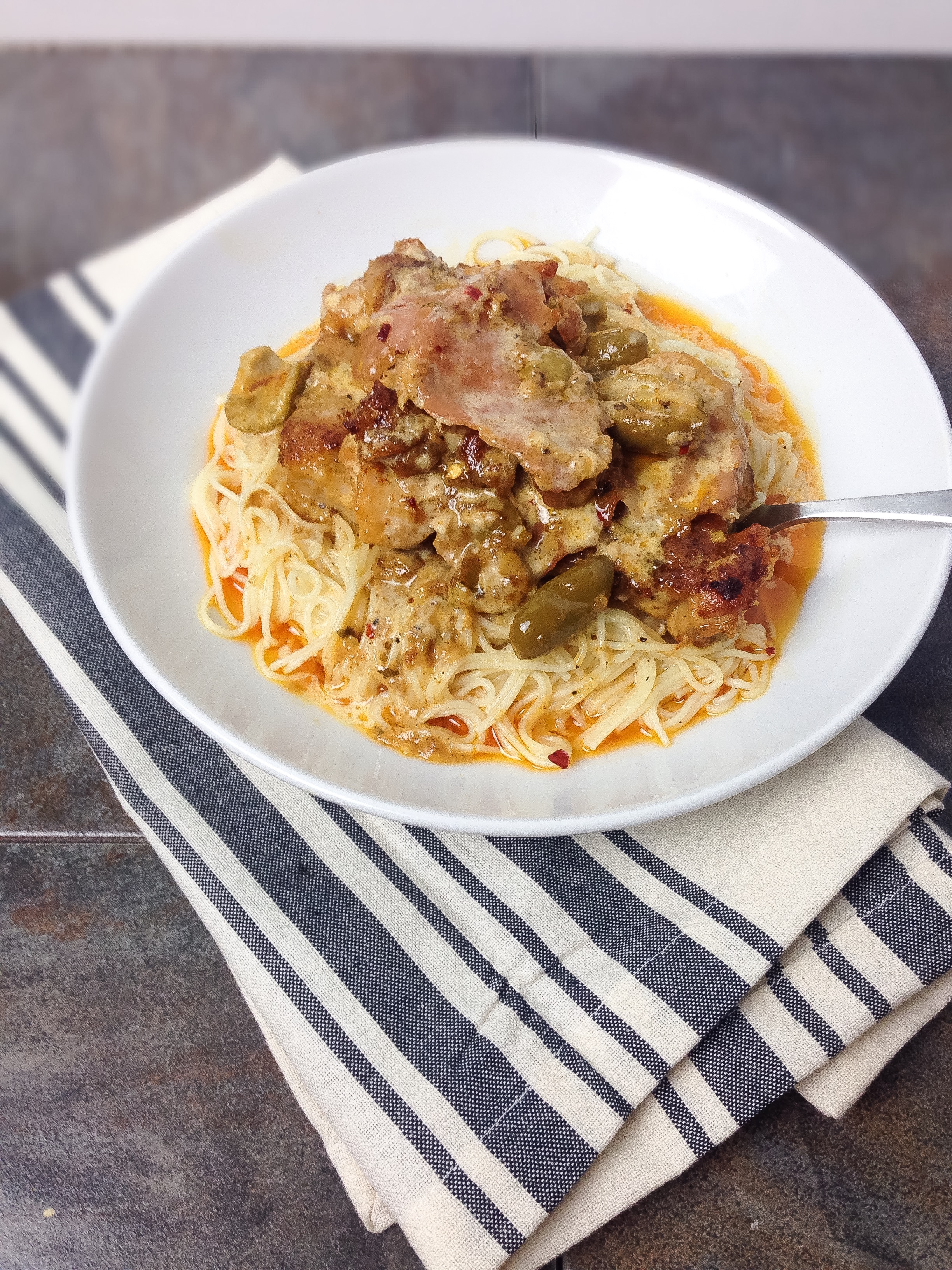 Thanks for stopping by! I'm going to go recreate this again now. These pictures brought back too many memories :p