A few months ago we went to Pappadeaux for dinner. I convinced Patrick to try the dirty rice. He always orders fries and the rice at Pappadeaux with lemon butter is out of this world! He ordered some sort of blacked fish with crawfish and lemon butter over dirty rice. We still talk about how good that combo is!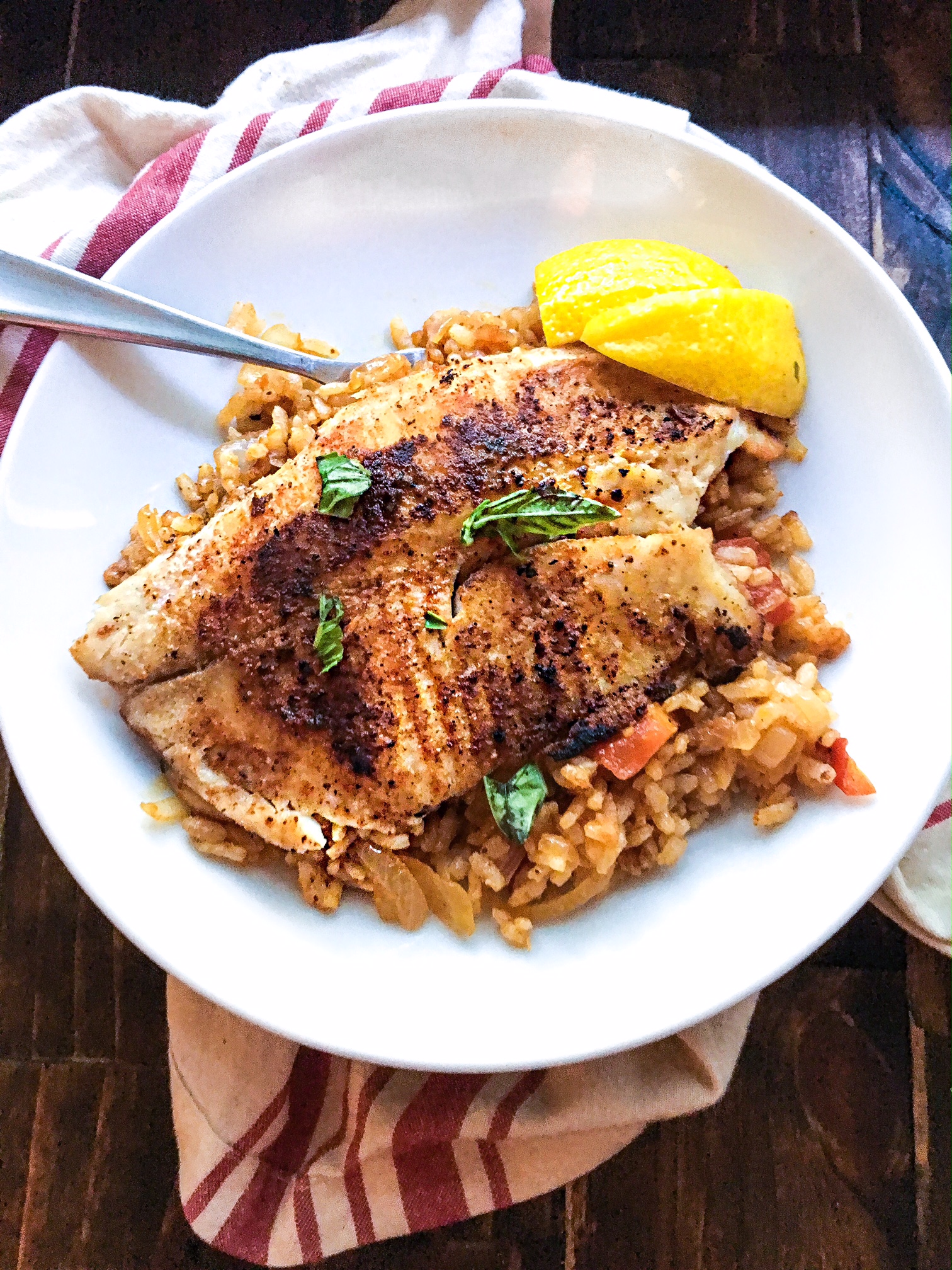 I don't know if this recipe really qualifies as dirty rice, but it is soooo good with grilled fish. We eat this dish at least once a week. I'm not saying this dish is necessarily healthy because I do use a lemon butter sauce, but it is definitely lighter then the fried fish we usually eat. You can grill the fish in a grill pan if you don't want to deal with preparing an outside grill, but I love the char you can get with an outside grill.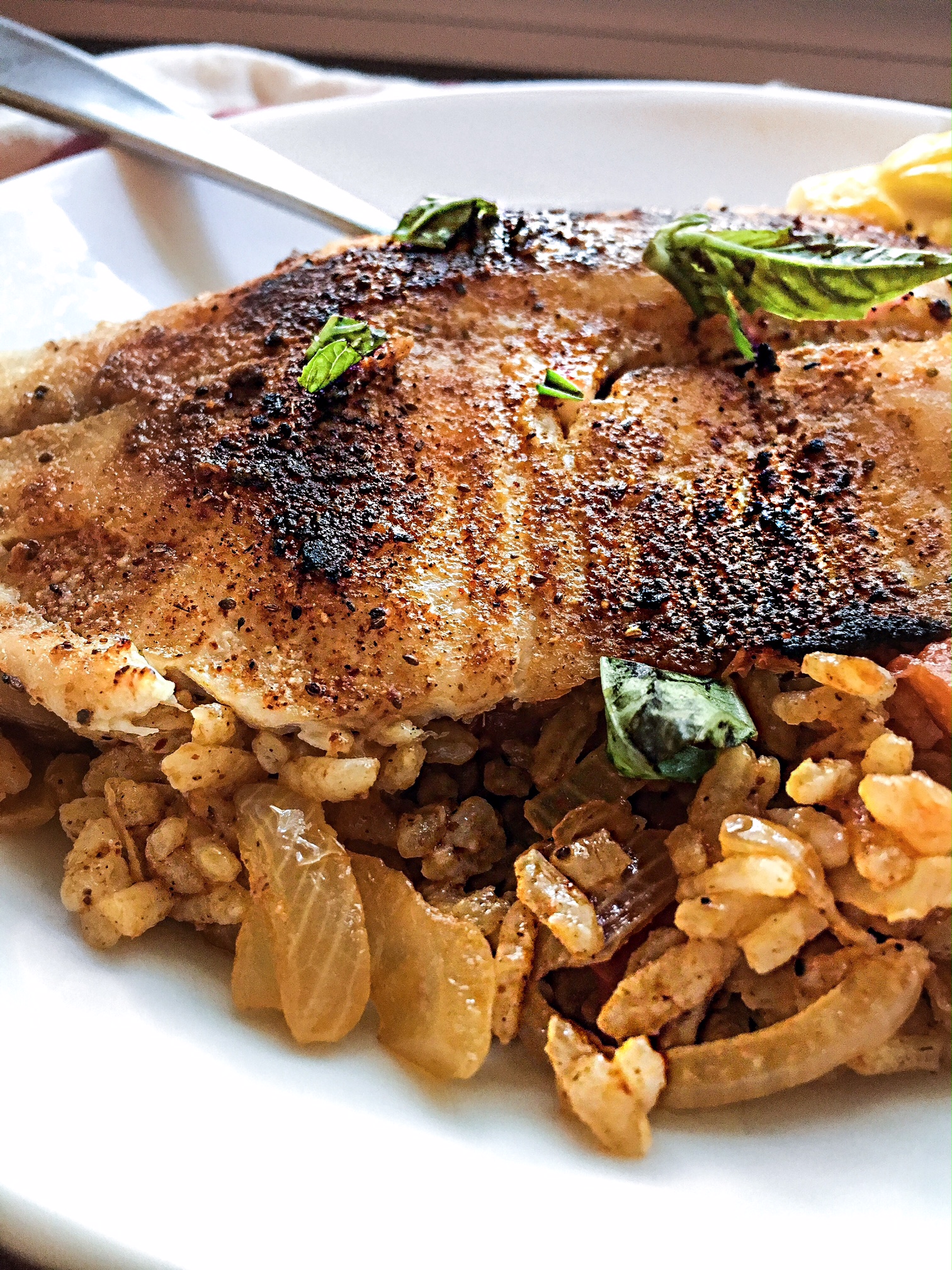 Since we have been grilling so much fish I have learned a few tricks to set you up for success!
1. make sure you clean the grates on your grill really well and apply a very light layer of vegetable oil then wipe down with a paper towel 2. apply a very thin layer of olive oil, vegetable oil, or coconut oil to the fish before seasoning 3. salmon, tuna, and sword fish are usually thick enough to lay directly on the grate 4. delicate fish such as the tilapia I used needs to be placed on a grill plate or a piece of tin foil.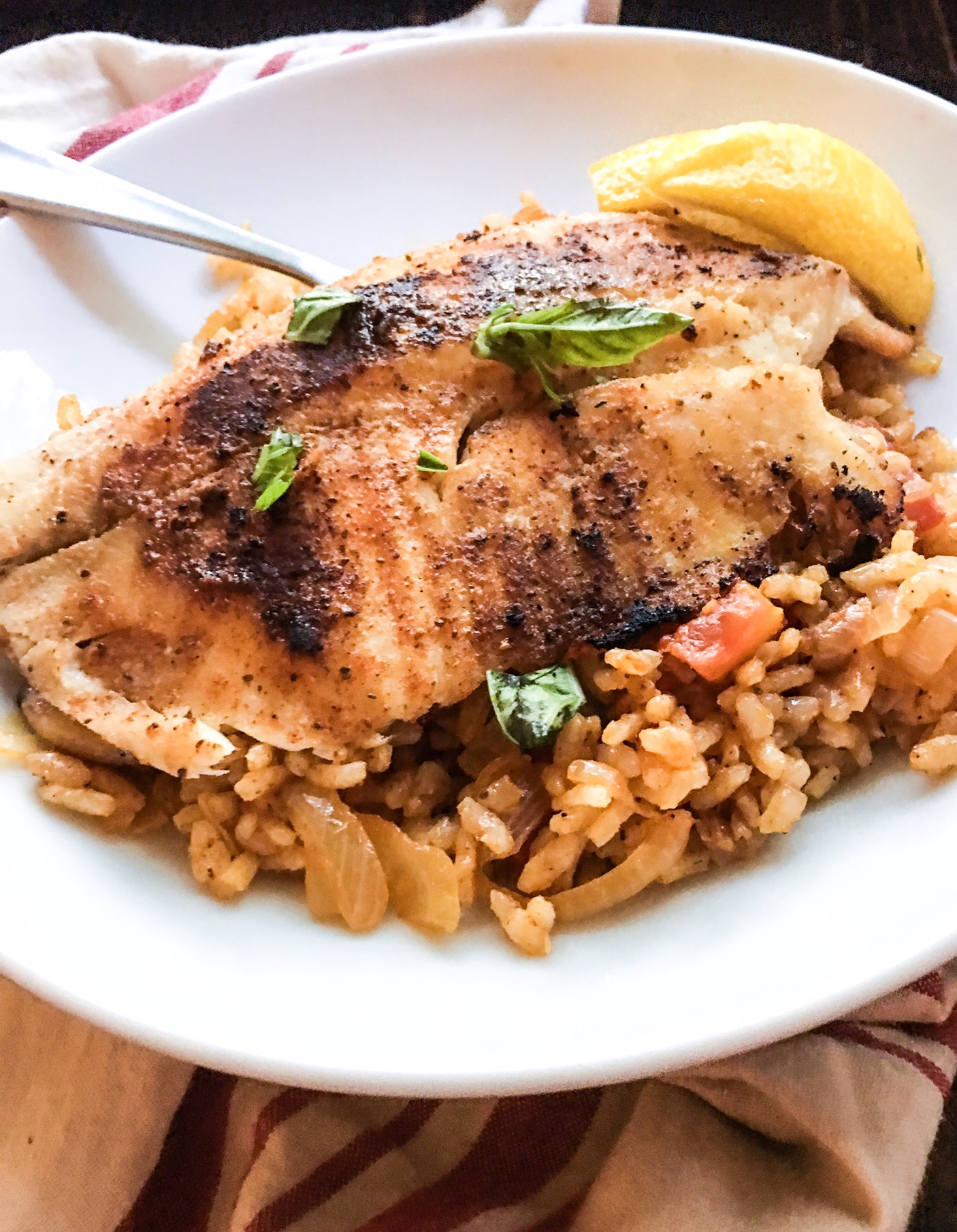 Grilled Fish and Dirty Rice
Author:
Prep time:
Cook time:
Total time:
Grilled Fish and Dirty Rice
Ingredients
1 pound of fish, salmon, tilapia and grouper work best
2 tbsp blackening seasoning (whole foods has a great in house low salt version)
1 tsp garlic powder
pepper to taste
2 cups of prepared white or brown long grain rice
1 cup chopped red bell pepper
1 cup chopped onion
1 tbsp chopped garlic
1/2 cup chopped tomato
1 tbsp of blackening seasoning
1 tsp salt (if you are using a low salt blackening seasoning)
1 tsp garlic powder
1 tsp smoked paprika
1 large lemon
1/2 cup melted butter
chopped fresh basil
1/4 cup of oil
Instructions
Let the fish sit out for 30 minutes to come to room temp
Heat the grill
Lightly oil the fish and pat the seasoning thickly on top
Lay a piece of tin foil on the grill and top with the fish
Grill for 3-4 minutes on each side until the fish is heated through and opaque
Preheat the oven to 400 degrees
In an oven safe pan heat oven medium and add 1 tbsp of oil
Saute peppers and onions
Add chopped garlic once onions are translucent
Turn off the heat and add in the rice and tomato
Mix through and season with the blackening spice, garlic powder, paprika, and salt/pepper
Cook for 10 minutes until the rice starts to crisp slightly
Add lemon juice to melted butter
Serve over the rice and fish
Sprinkle with fresh basil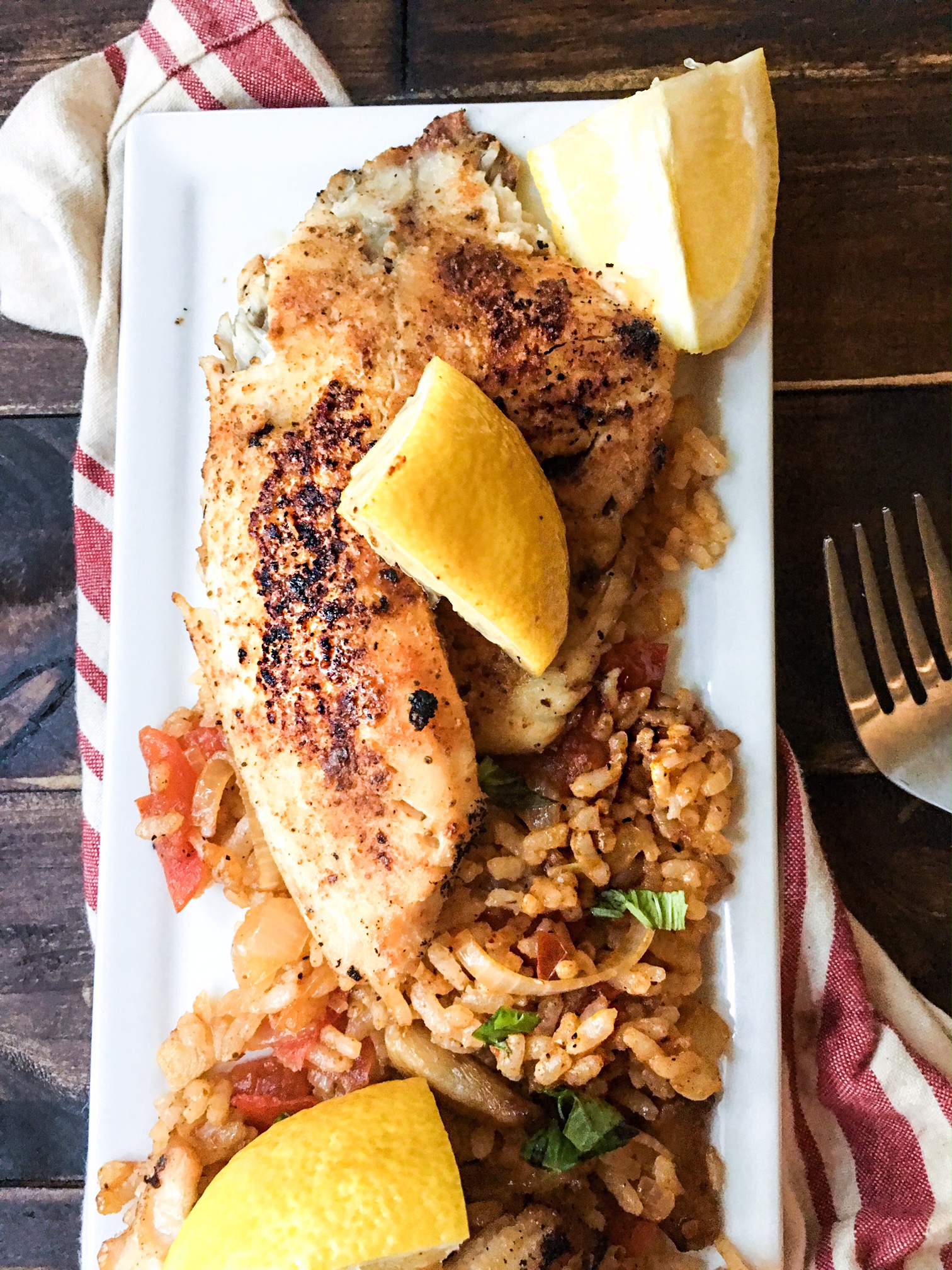 Do you ever watch those videos on tips and tricks for commercial food? They use laundry pins and paper towels to prop food up. Spray with oil to get the food glistening. Taking pictures of real food is sometimes so difficult. So many bloggers make their food early in the day then reheat later. Currently I work around 50 hours a week and try to squeeze blog time in whenever I can. For this dish I had exactly one hour before the sun set to try and prepare the food and my "table setting". Usually I have time to think about the colors and ways to really show you guys how delicious the food really is. This recipe entailed a ton of comical mishaps along the way, but I had to post because it really is one of my favorite new meals! The rice has just enough crisp to offset the flaky fish and the lemon butter soaks right into each bite.
If you try this recipe please tag me so I can enjoy all your creations! #kelliericecakes