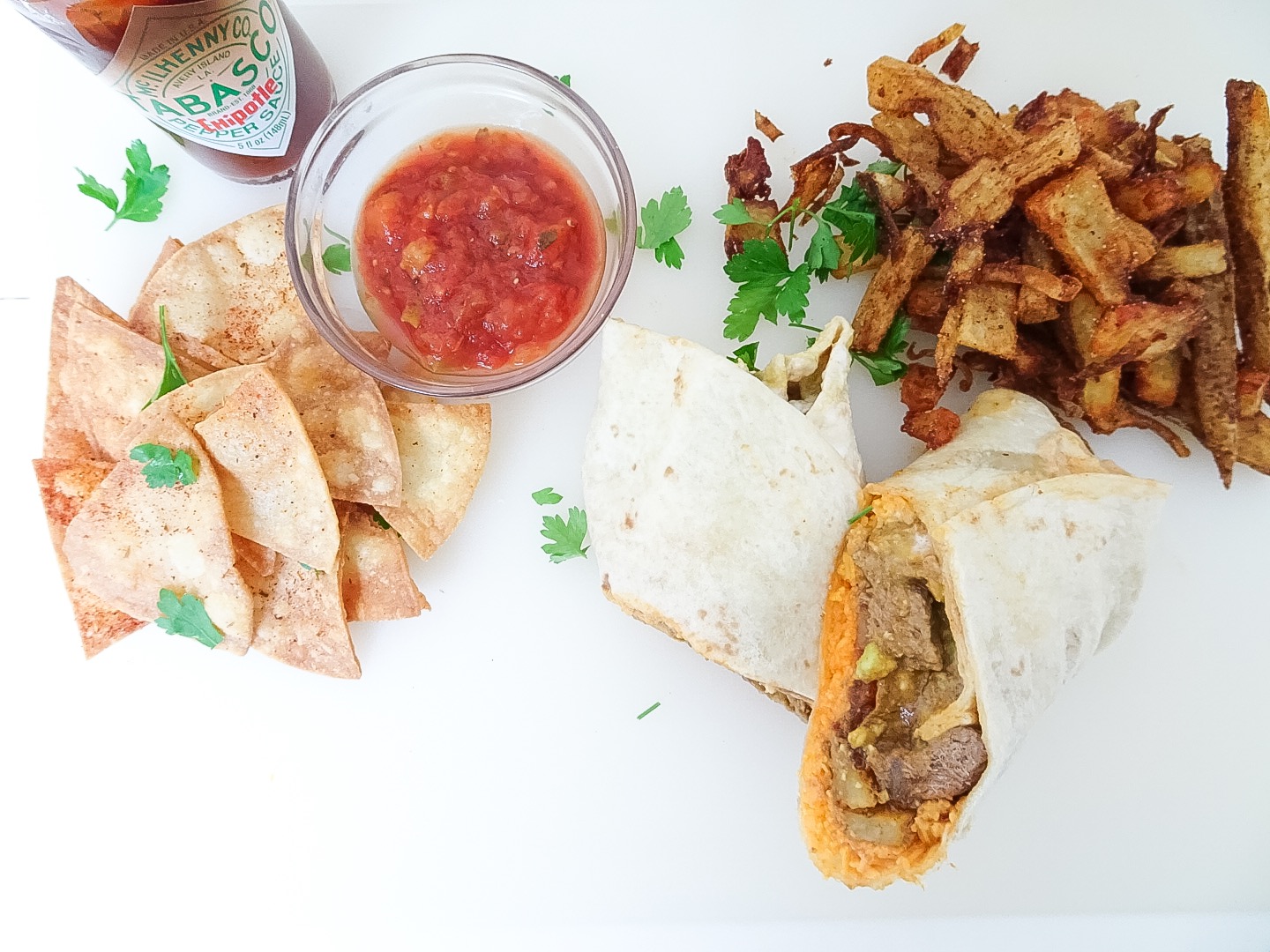 Patrick has been talking about California burritos for months. An extra large pillowy tortilla packed with cheese, carnitas, avocado, french fries, sour cream, and hot sauce. Yes please. These fries are what makes the whole burrito. Soaked and double fried then tossed in a spicy seasoning. Traditionally beef carnitas are not left to marinate, they are simply seasoned then grilled. I wanted the meat to be packed with flavor so I marinated the steak in my favorite red enchilada sauce. The meat comes out so spicy and juicy. Just make sure the steak is cut very thin. I used chipotle tabasco sauce to smother my burrito in, but your favorite hot sauce will do the trick!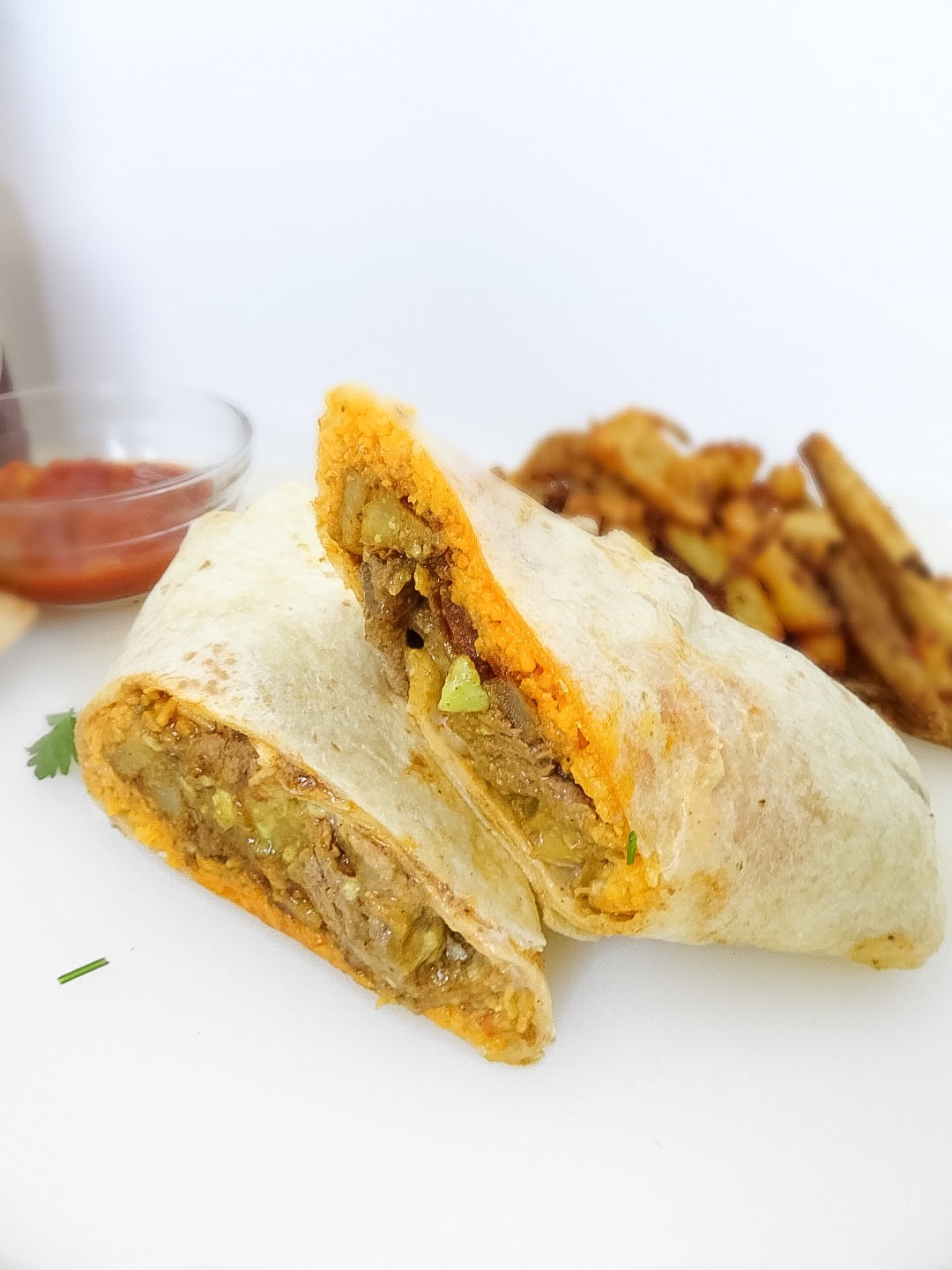 On a quick side note, my best friend's mother and grandmother opened a luxury hot and cold therapy line and are competing for a grant to help grow their business. Please take the time to read their story and vote for their business!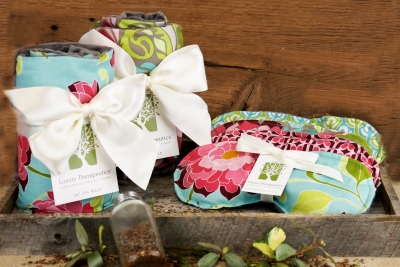 Click here to read their story and vote!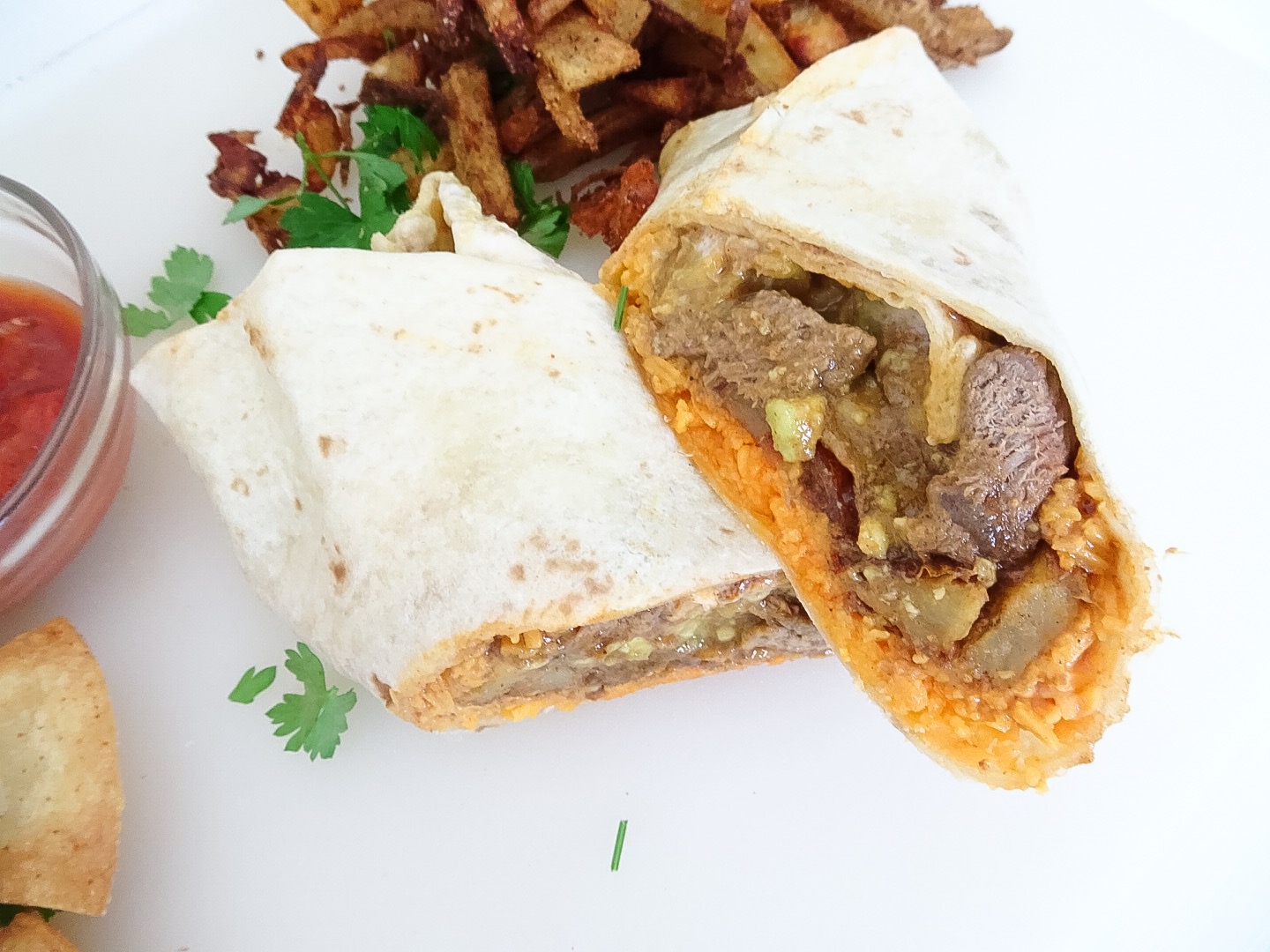 These chips were so easy to make! I just sliced up some corn tortillas and fried them in canola oil then liberally salted.  Although these are not exactly the same burritos you can find in Cali they are still delicious and filled with flavor. Feel free to change up any ingredient just don't forget the fries!
California Burritos | Luxury Therapeutics Voting
Prep time:
Cook time:
Total time:
California inspired burritos packed with flavor!
Ingredients
XL flour tortillas
cheddar cheese room temp
2 avocados smashed with salt and pepper
sour cream
hot sauce
1 pound skirt steak
1 can red enchilada sauce
1 tsbp paprika
1 tsp garlic powder
1 tsp cayenne pepper
2 large russet potatoes sliced into wedges or sticks
canola oil for frying
Instructions
Marinate the steak in the enchilada sauce for at least one hour
Heat and pan over medium high heat and add the steak
Sear on both sides
Remove steak from pan and let cool slightly
Slice very thinly then add back to the pan
Season with paprika, garlic powder and cayenne pepper
Heat canola oil to 350 degrees
Add potatoes and cook for 20 minutes or until golden brown
Drain on paper towel and salt liberally
Heat tortillas in a pan until warmed throughout
Add cheese, then fries, carnitas, sour cream and avocado
Top with hot sauce and wrap
Enjoy!