I have been dying to make a chimichurri sauce ever since my mom send me a new food processor. Seriously, the most handy device in the kitchen. Most of the sauces chimichurri sauces I love are amazing straight from the processor. This sauce I brushed onto the kabobs as they grilled. The result was perfectly juicy chicken and veggies with crispy edges. This meal can be prepared in around 20 minutes! It is so fast and flavorful!
Side note- Patrick and I found this tiny restaurant tucked away on a back road Sunday. The menu was a mix of Korean flavors with a Mexican twist. Korean BBQ tacos with freshly pickled jalapenos and cabbage slaw tossed in a light vinaigrette. They served a side of double fried french fries seasoned with sesame oil and lemon pepper. Such a great find! Last Friday we took the kids to the food truck friday event down town and shared some of the most amazing treats. My favorite indulgence was a homemade biscuit topped with buttermilk fried chicken, fried green tomatoes, bacon jam and fresh pimento cheese. I cannot even describe how amazing each bite was. Fluffy buttery biscuit with crunchy tomato and juicy chicken. I see many more food truck visits in my future!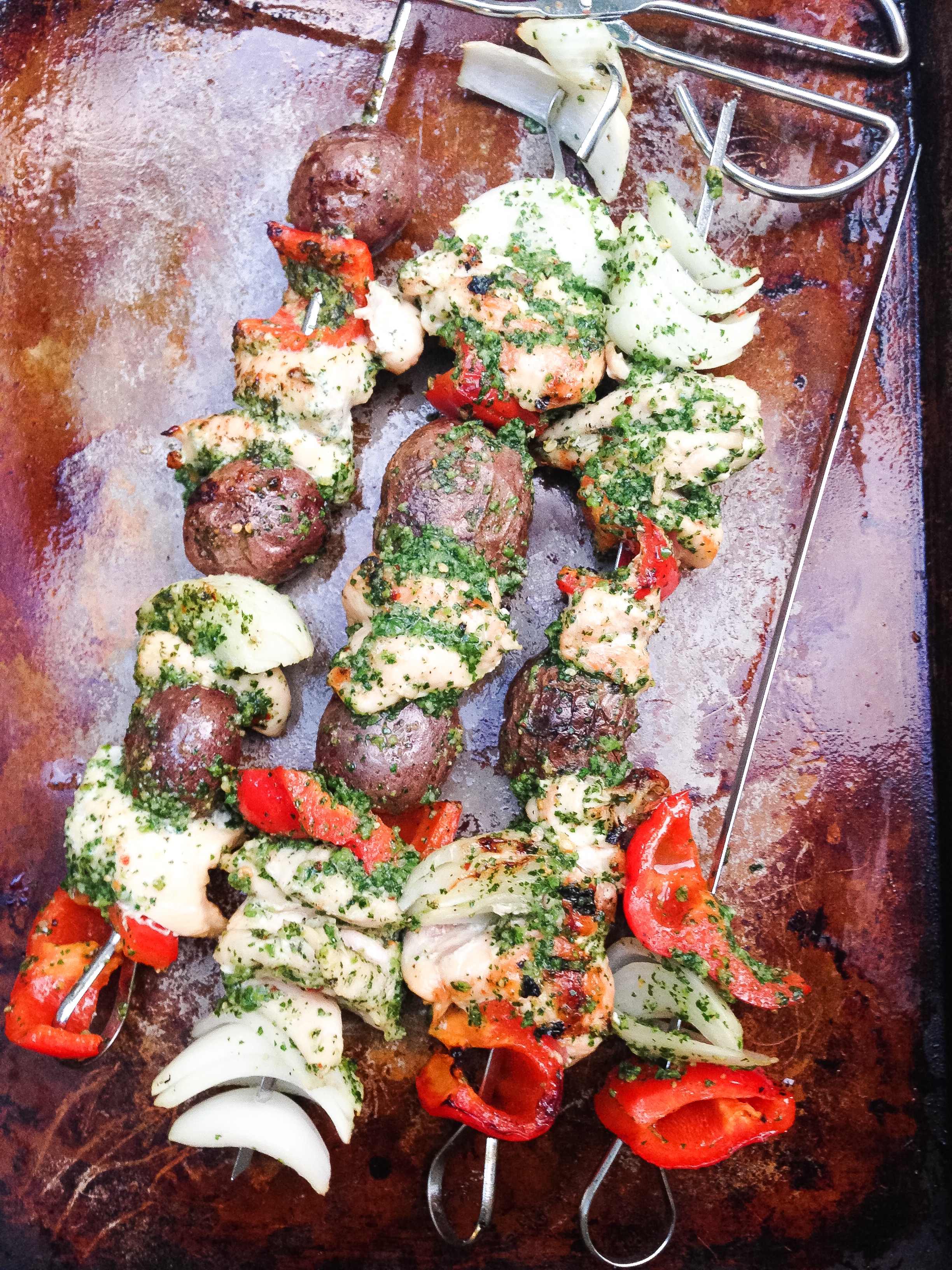 20 Minute Tuesdays : Chicken Kabobs With Fresh Jalapeno Chimichurri
Recipe Type
:
Chicken, Kabobs
Prep time:
Cook time:
Total time:
Juicy chicken kabobs brushed with fresh jalapeno chimichurri.
Ingredients
1 pound of chicken breast
1 red bell pepper
1/2 of a white onion
1 bunch of fresh parsley
1 sprig of fresh oregano
2 tbsp of olive oil
1/2 stick of melted butter
1 tsp salt
1 tsp pepper
pinch of crushed red pepper
2 tbsp chopped garlic
1 fresh jalapeno
1 bag of mini red potatoes
Instructions
I use a charcoal grill, but preheat any grill you have available.
Quick tip for cooking potatoes fast- dump potatoes in a tupperware. Poke a few holes in each. Set the lid on top, but do not seal the entire way. Microwave on high for 5-6 minutes. Set to the side to cool slightly.
Cut chicken, onion and pepper into even chunks. Slide onto a kabob skewer. I prefer metal.
On a separate skewer add all the potatoes.
In a food processor blend herbs, spices olive oil, jalapeno and butter.
Lay the skewers on the grill and brush the chimichurri onto the meat and veggies.
Cook on each side for 10 minutes.
Brushing extra chimichurri as you flip.
Cook until chicken temp reaches 165 degrees.
Let rest.
If you want something a little extra smash all the potatoes with a fork when you remove them from the grill. Top with garlic powder, cracked pepper and cheddar cheese.
I am pretty sure I will make this meal a few times a week. It was so amazing. Light and healthy, yet filling!