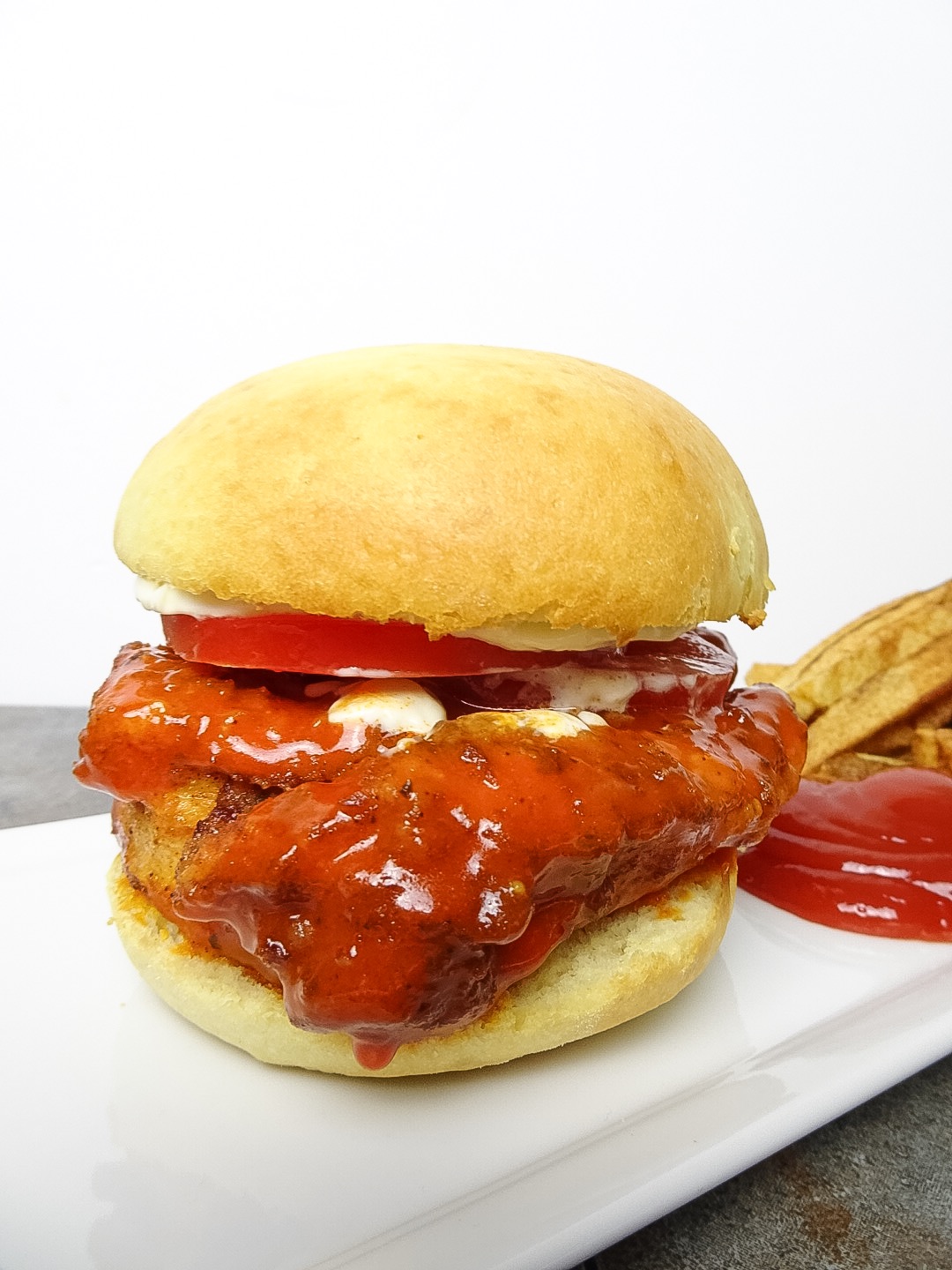 I don't claim to be southern, but fried chicken has a special place in my heart. Growing up my dad, brother and I used to sit around the kitchen eating chicken biscuits drenched in texas pete hot sauce. Flakey butter biscuits wrapped around an extra crispy chicken breast. I personally cannot eat fried chicken without hot sauce. Something about that salty crunch dipped in a vinegary punch of pepper just creates the perfect bite for me. The juicy chicken under those fried bits are just a bonus 😉
Growing up in North Carolina we didn't have many restaurant options. My roommate and I would drive over the state line to Georgia after work to pick up Chick Fil A sandwiches and buffalo sauce. Of course we would have to eat them on the way home before they were cold!
Now I am lucky enough to have a plethora of restaurants to choose from, but there is just something about cooking in your own kitchen. Deciding on exactly what ingredients you want to form your meals.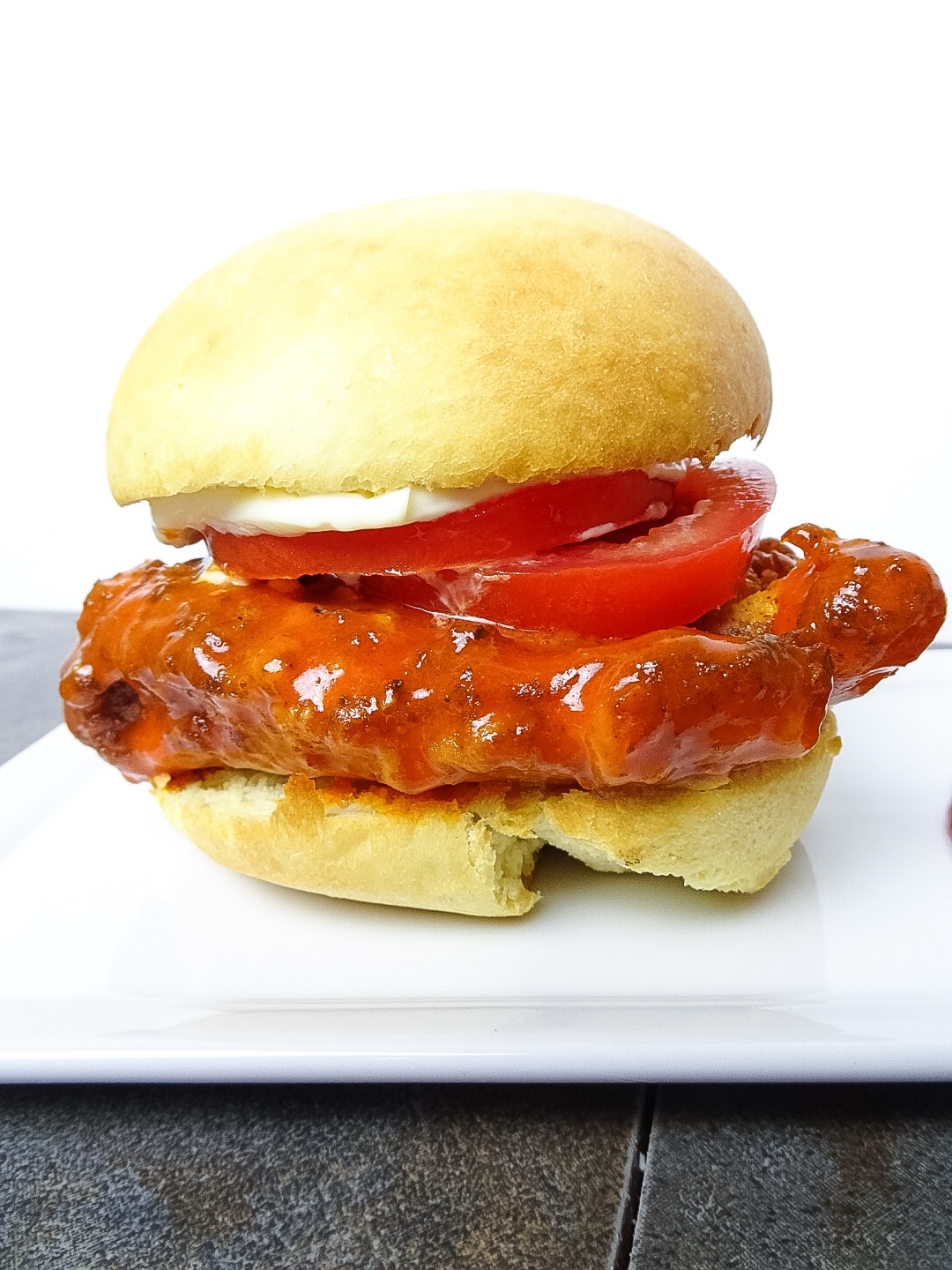 These sandwiches are made with my go to fried chicken recipe dipped in a mild garlic buffalo sauce. I made my own buns, but potato buns would be a great alternative. Something with a really soft buttery texture. I didn't have any lettuce or pickles on hand, but they would be a great addition!
Southern Fried Buffalo Chicken Sandwiches
Recipe Type
:
sandwich, fried chicken
Prep time:
Cook time:
Total time:
Southern fried buffalo chicken sandwiches.
Ingredients
1 pound of chicken breast lightly pounded out
1 cup of AP flour
1 cup of panko crumbs
1 tbsp salt
1 tbsp garlic powder
2 heaping tbsp paprika
1 tbsp cayenne pepper
1 egg
1 cup of milk
For the sauce
1/2 stick of salted butter
1/2 cup of texas pete or hot sauce equivalent
1 tbsp chopped garlic
fresh ground pepper to taste (I like mine very peppery)
Toppings
Mayo
Tomato
Salt and Pepper
Toasted Buns
Instructions
Preheat a fryer or skillet of oil to 350.
Mix together the egg and milk.
Dip the chicken in the mixture.
Whisk together the flour, panko, salt, garlic, and pepper.
Dip the chicken into the flour one at a time.
Let rest for about 5 minutes.
Drop gently into the fryer and fry until golden brown and cooked through.
I usually pull my chicken out at 160 degrees internal temp and let rest.
Sprinkle with salt.
In a sauce pan melt butter.
Add hot sauce and seasonings.
Whisk together and let simmer for about 5 minutes.
Dip chicken into the sauce.
Coat evenly.
Spread 1 tsp of mayo on the top bun.
Add sliced tomato and season with salt and pepper.
Add chicken and close.
I hope you enjoy this recipe as much as I have been!