We are finally moved in to our new house! Well technically we moved in 3 weeks ago, but I finally had a chance to move all my photography props and lights into our make shift studio. The natural lighting here is so amazing and I am excited to start working on recipes. We have so much more room here. At our last place (while we loved it) everything just felt so cramped and there was not much kitchen space. I am just so inspired here in the new space! Now lets talk about these pimento cheese burgers!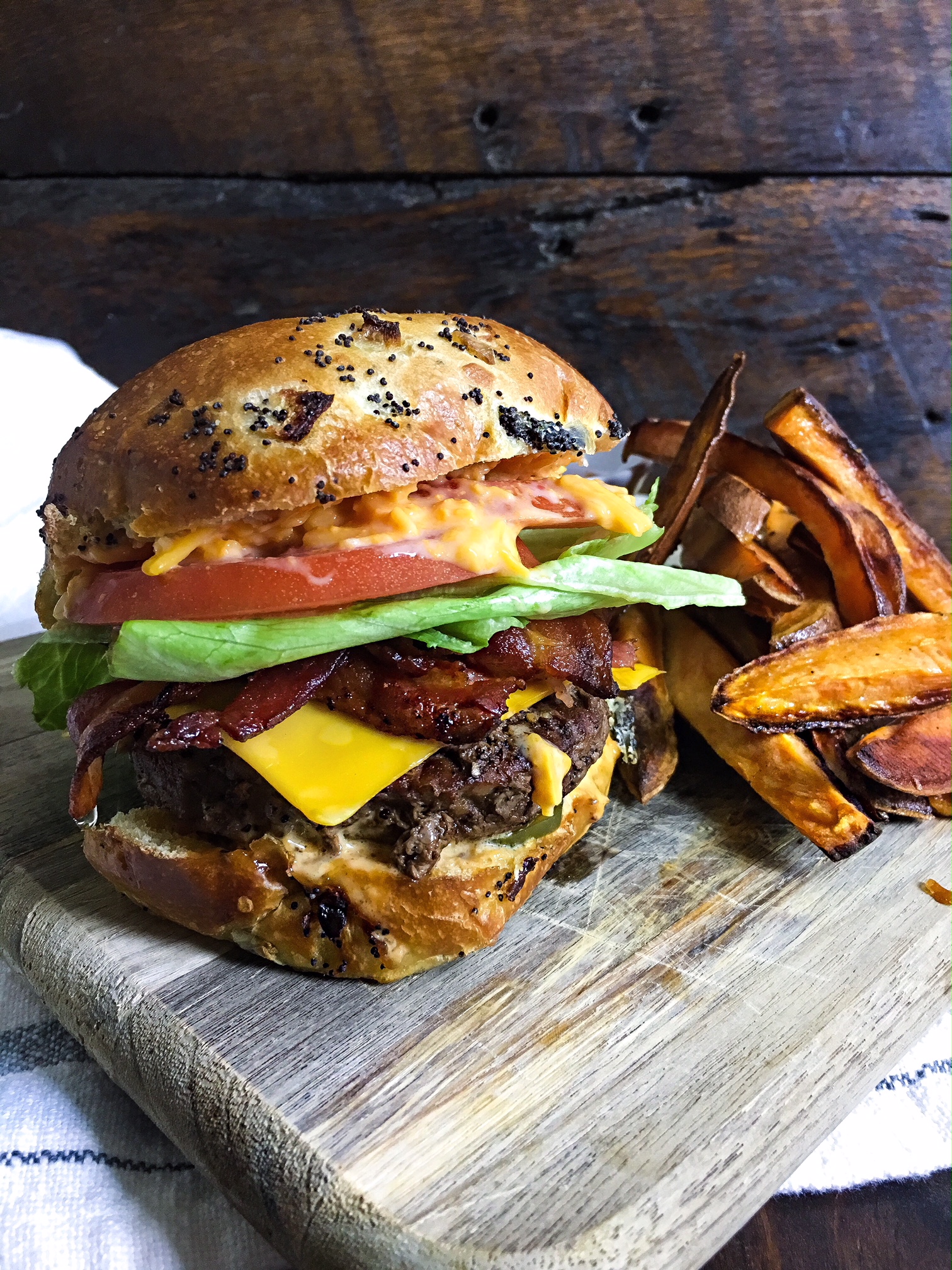 These burgers are the first recipe I photographed here! Perfectly soft onion rolls with a medium rare steak burger topped with melted cheddar and pimento cheese. The perfect side for me were these garlic sweet potato fries! We served ours with lots of dill pickles, fresh tomatoes, lettuce and crispy bacon.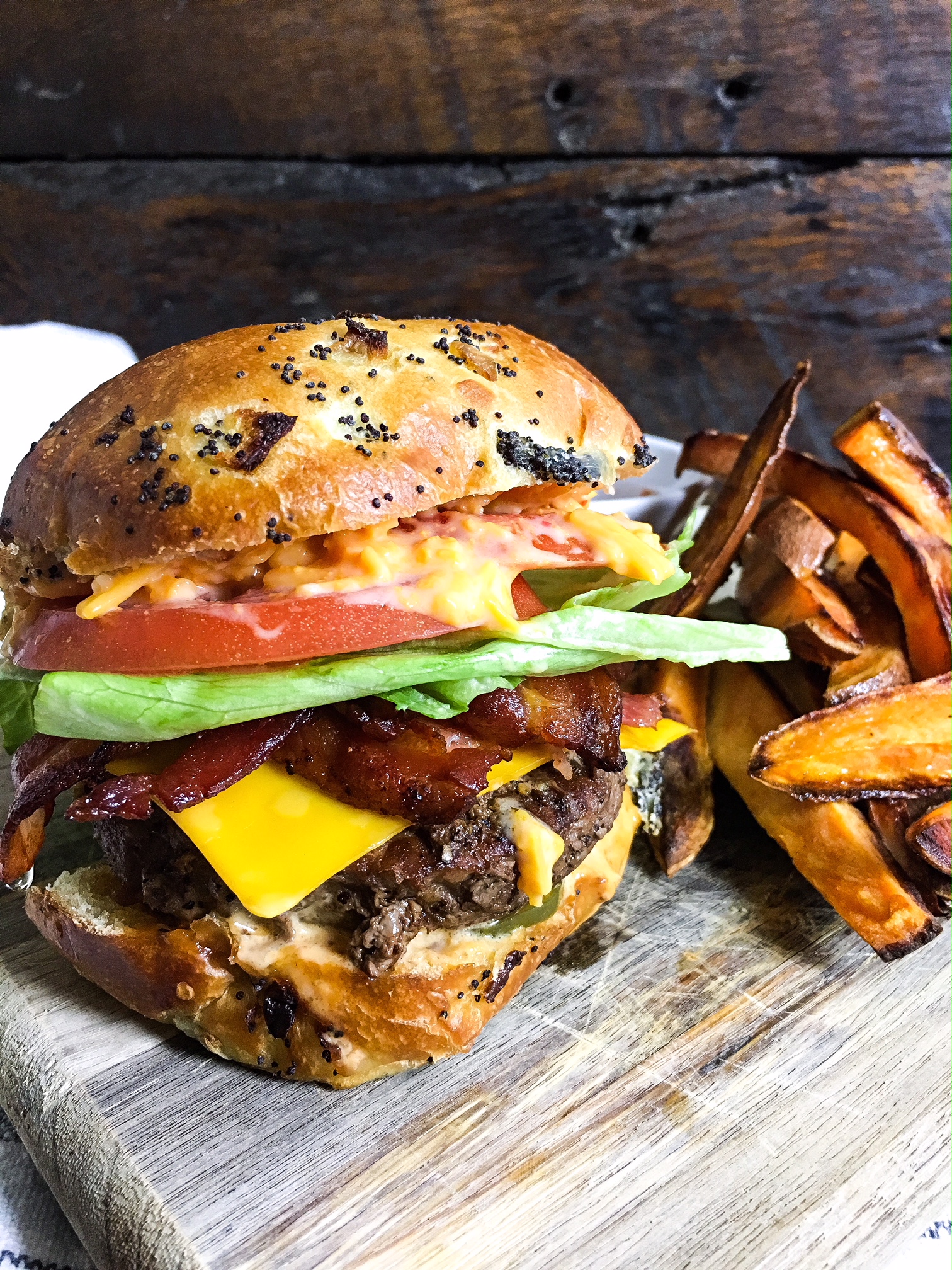 After uploading these pictures I am absolutely craving another bite. We just bought a hot sauce called "the sauce". It is so peppery and tart! I would love to tell you we did not go through a whole bottle in 2 weeks, but… we did. I highly recommend a side of hot sauce for these garlic fries.
Pimento Cheese Burgers
Author:
Prep time:
Cook time:
Total time:
Pimento cheese burgers topped with lots of fresh ingredients!
Ingredients
Soft onion rolls
preformed burger patties (I prefer steak burgers)
sliced cheddar
1/2 cup of pimento cheese
8 pieces of thick cut bacon
sliced tomato
lettuce
dill pickle chips
mayonnaise
2 sweet potatoes sliced into wedges
2 tbsp of garlic powder
salt and pepper
1 tsp of canola oil
Instructions
preheat the oven to 400 degrees
place bacon on a cooking sheet and bake until crisp (about 10 minutes)
let drain on some papertowel
Lay the potatoes on another baking sheet and drizzle a little cooking oil on them
season liberally with salt and pepper then sprinkle the garlic powder
cook for 15 minutes then flip
then finish for another 15 minutes
heat a saute pan over medium high and add the oil
salt and pepper the burger patties and place them in the pan once hot
I like to cook my burgers for 3 minutes then flip, cook to an internal temp of 135 then let rest
top with cheddar slices
to build your burger put a little mayo and dill pickles on the bottom of the bun
top with the burger
top with pimento cheese and bacon
add lettuce and tomato
serve with fries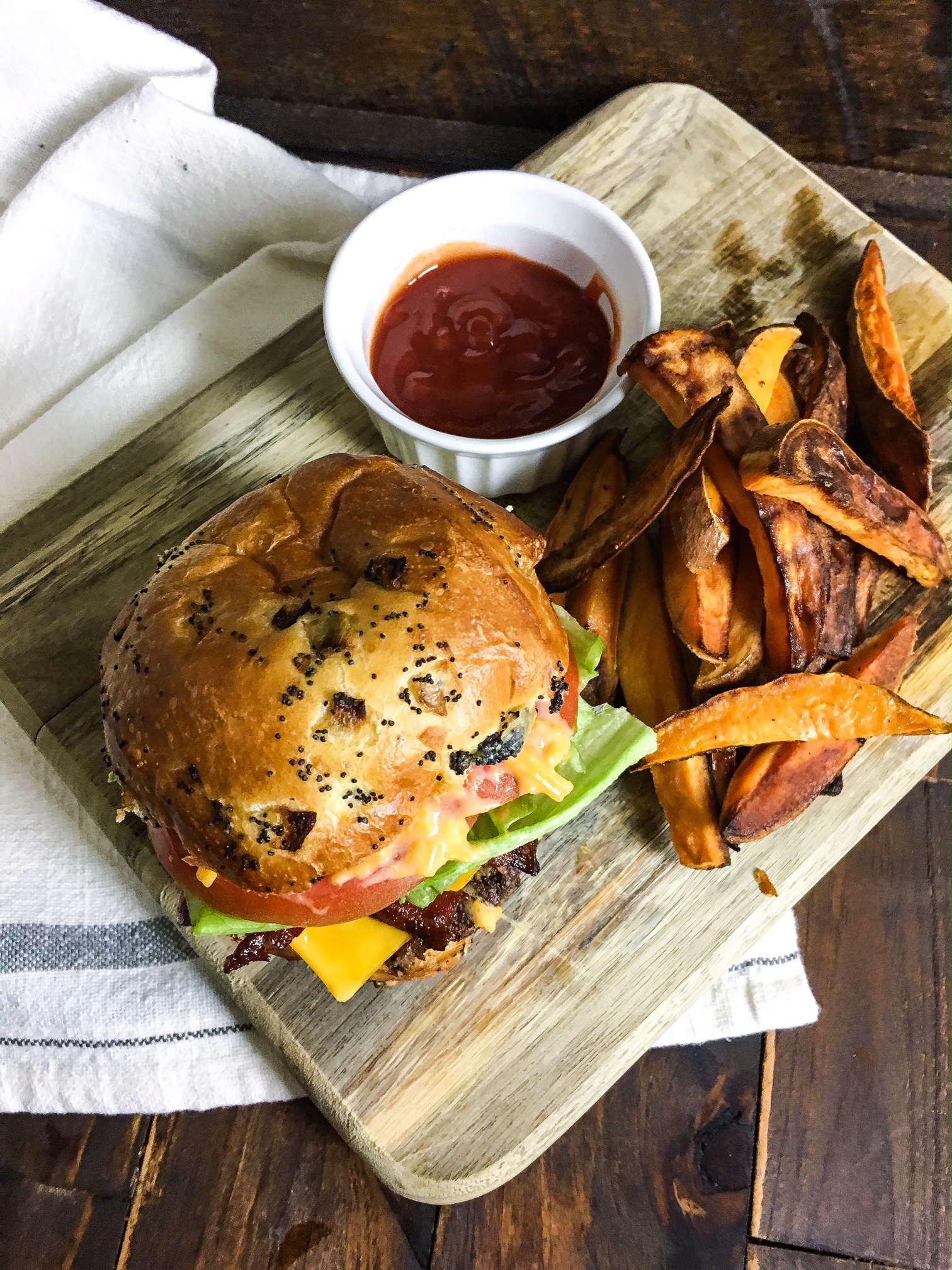 Enjoy!!!!