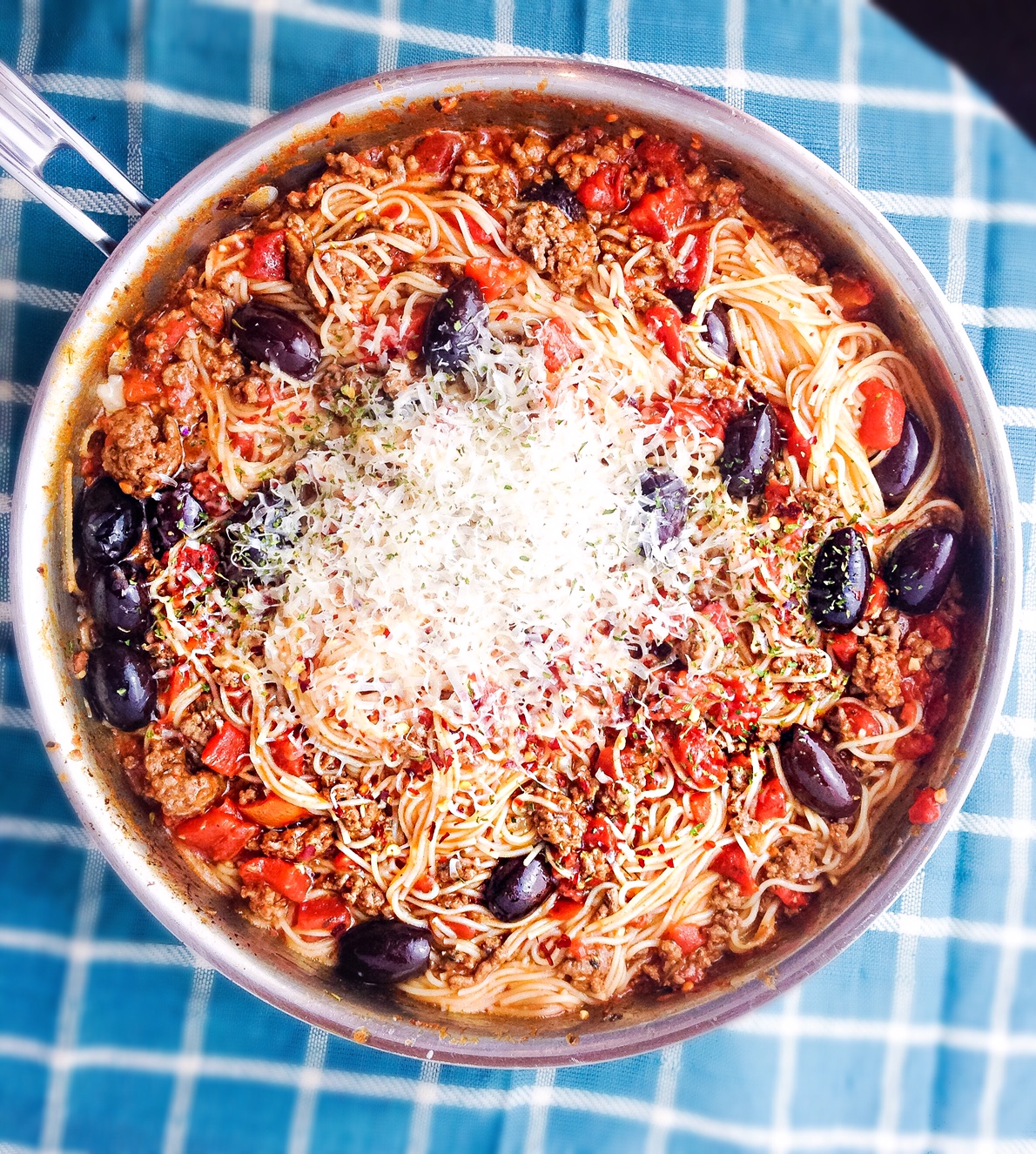 In the midst of all my holiday recipes I remembered this super easy savory tomato and olive pasta. A two pot pasta dish made in 30 minutes with tons of flavor! It starts with some of my all time favorite things: garlic, onion, and olive oil. Anytime I start a dish with those 3 ingredients my mouth just begins to water. Then you add in the ground beef with lots of spices. Roasted tomatoes and briney olives. Then stir in angel hair and a little pasta water. Let it simmer and top with TONS of Parmesan.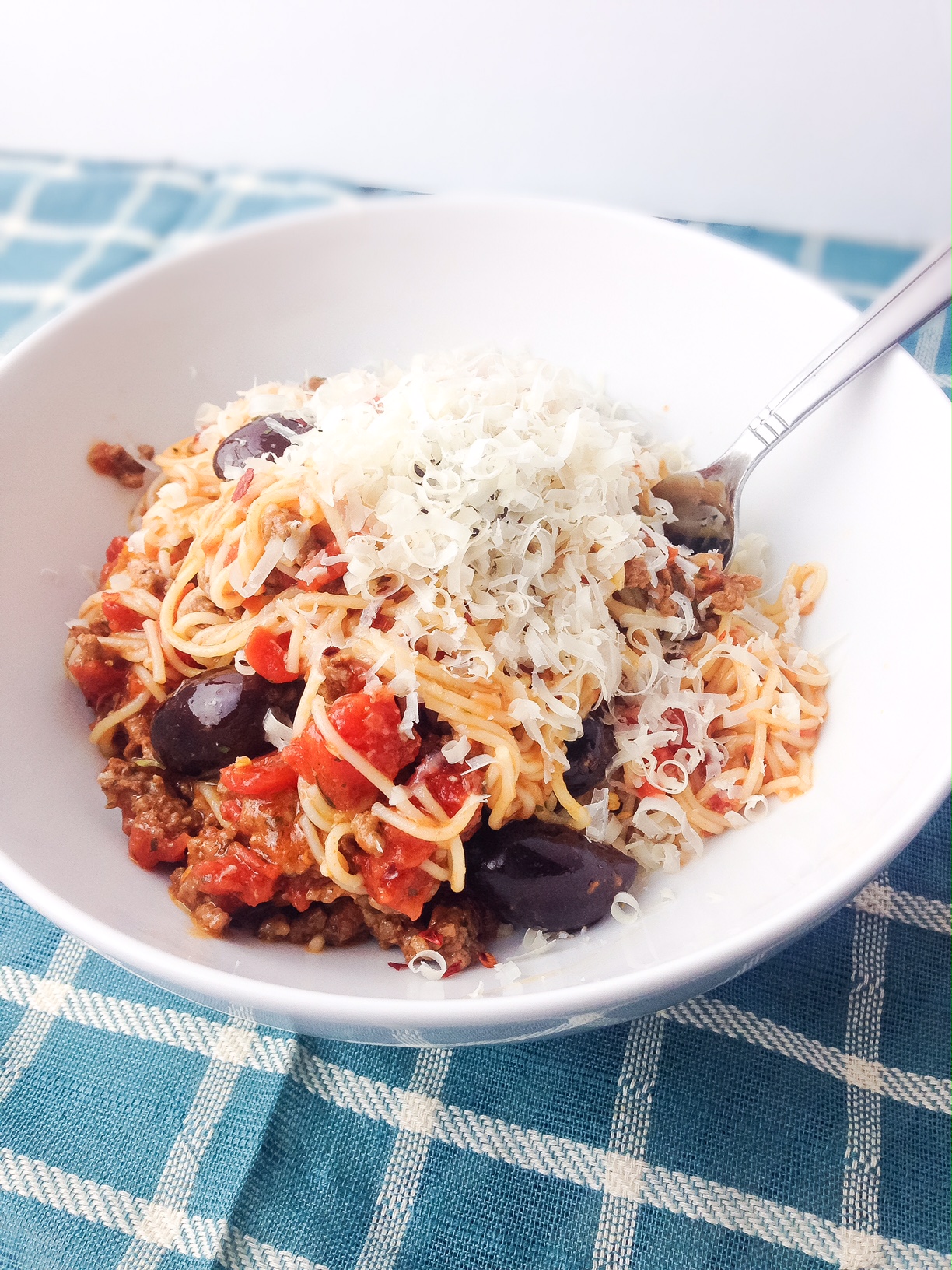 This recipe has so many flavors going on. Each component just as important as the next. This are my favorite types of pasta dishes. So rich you don't need a lot of sauce. Plus it is such a gorgeous meal. A huge step up from the typical spaghetti and meat sauce.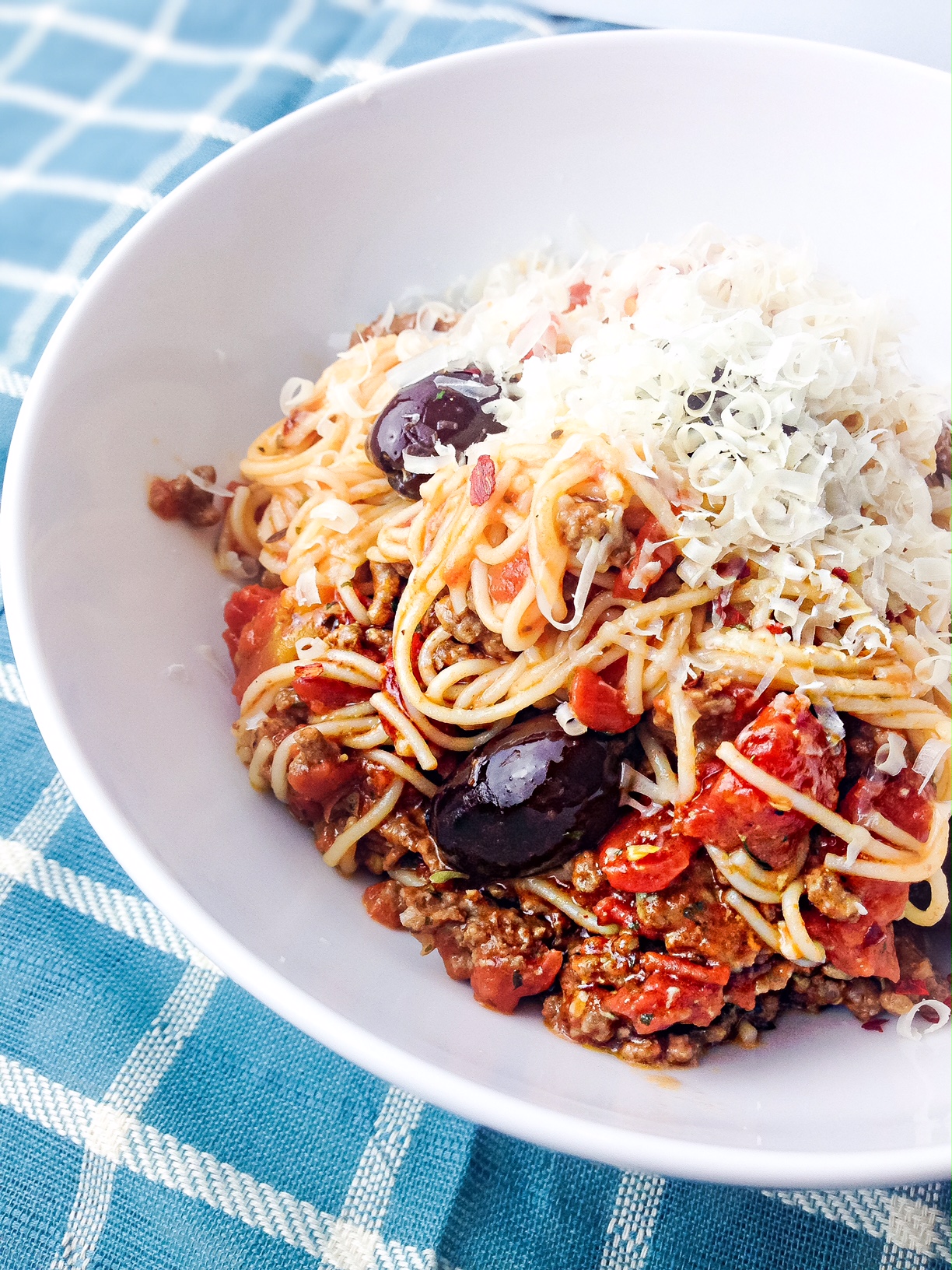 Seriously- look at that sauce. So light and evenly tossed throughout the pasta. Yummm.
Savory Tomato and Olive Pasta (With Ground Beef)
Prep time:
Cook time:
Total time:
Savory Tomato and Olive Pasta With Ground Beef
Ingredients
1 box of angel hair pasta
6 cups of salted water for boiling
1 pound of ground beef
2 tbsp of chopped garlic
1 small sweet onion chopped
1/2 cup of olives
1 can of roasted tomatoes
1 tsp italian seasoning
1 tsp garlic powder
1 tsp crushed red pepper
salt and pepper to taste
1 tbsp of olive oil
1/2 cup of reserved pasta water
fresh or dried parsley
Instructions
Boil the water and cook pasta according to package directions.
Reserve 1/2 cup of pasta water.
In a large saute pan cook the garlic, onion, and olive oil over medium high.
Add the ground beef.
Cook until completely browned.
Season with salt and pepper.
Add in the tomatoes and olives.
Pour in the pasta water and bring to a simmer.
Add in the pasta.
Toss lightly and turn heat to medium low.
Add in the rest of the seasoning.
Sauce should not be watery, but just enough to coat all the pasta.
Serve with lots of parm and parsley