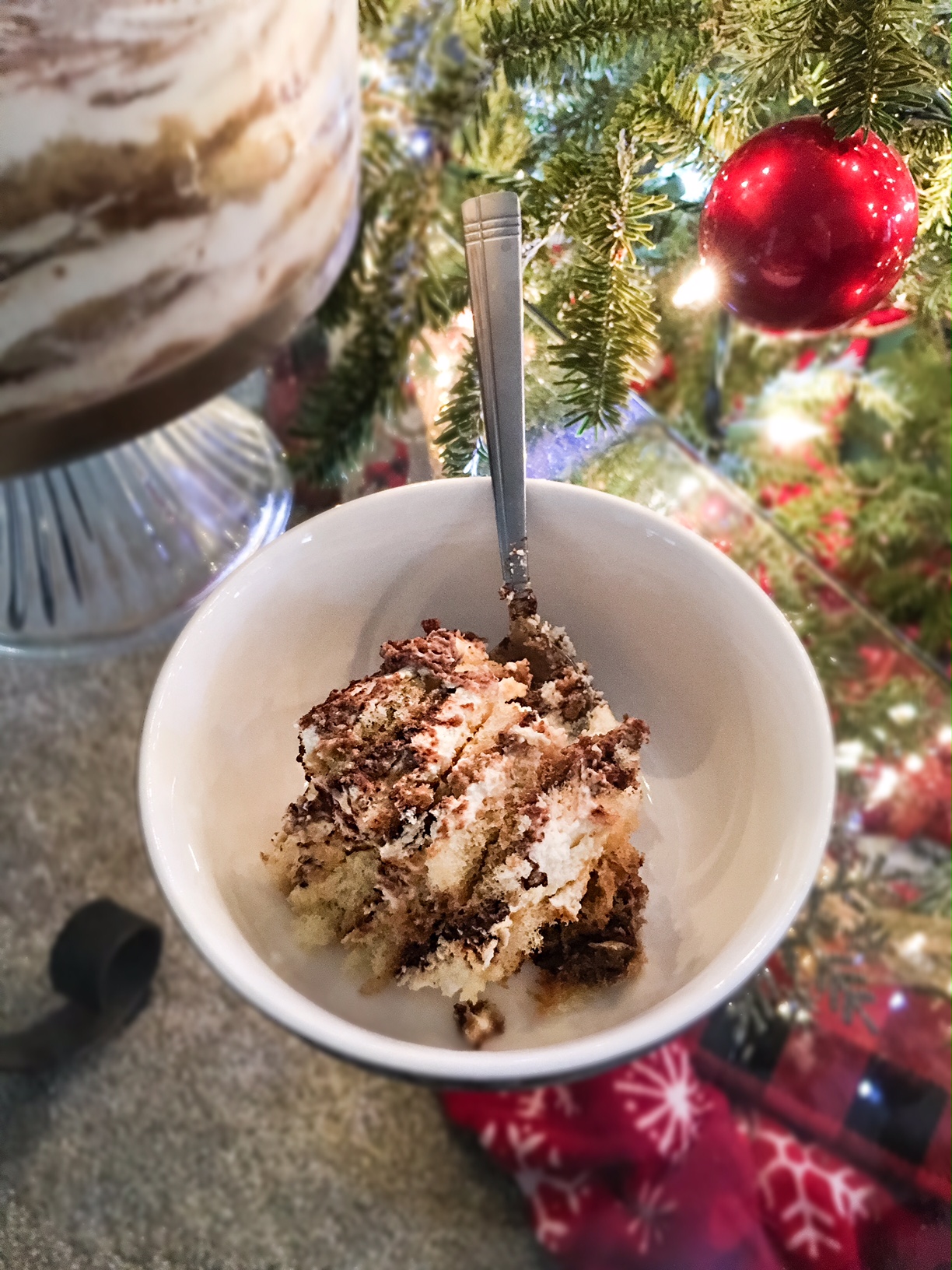 Tiramisu is one of my all time favorite desserts. It is not too sweet. So light and fluffy. And flavors that are out of this world. Think layers of cocoa, dainty sponge cake dipped in a dark roasted coffee, and whipped mascarpone cream. This dish always makes me think of Christmas. The original recipe calls for wine and coffee liquor, but I was having a game night with children present so I wanted mine to be alcohol free. I may do another version later on with a mint chocolate baileys. Pardon me as I drool all over my keyboard thinking about it…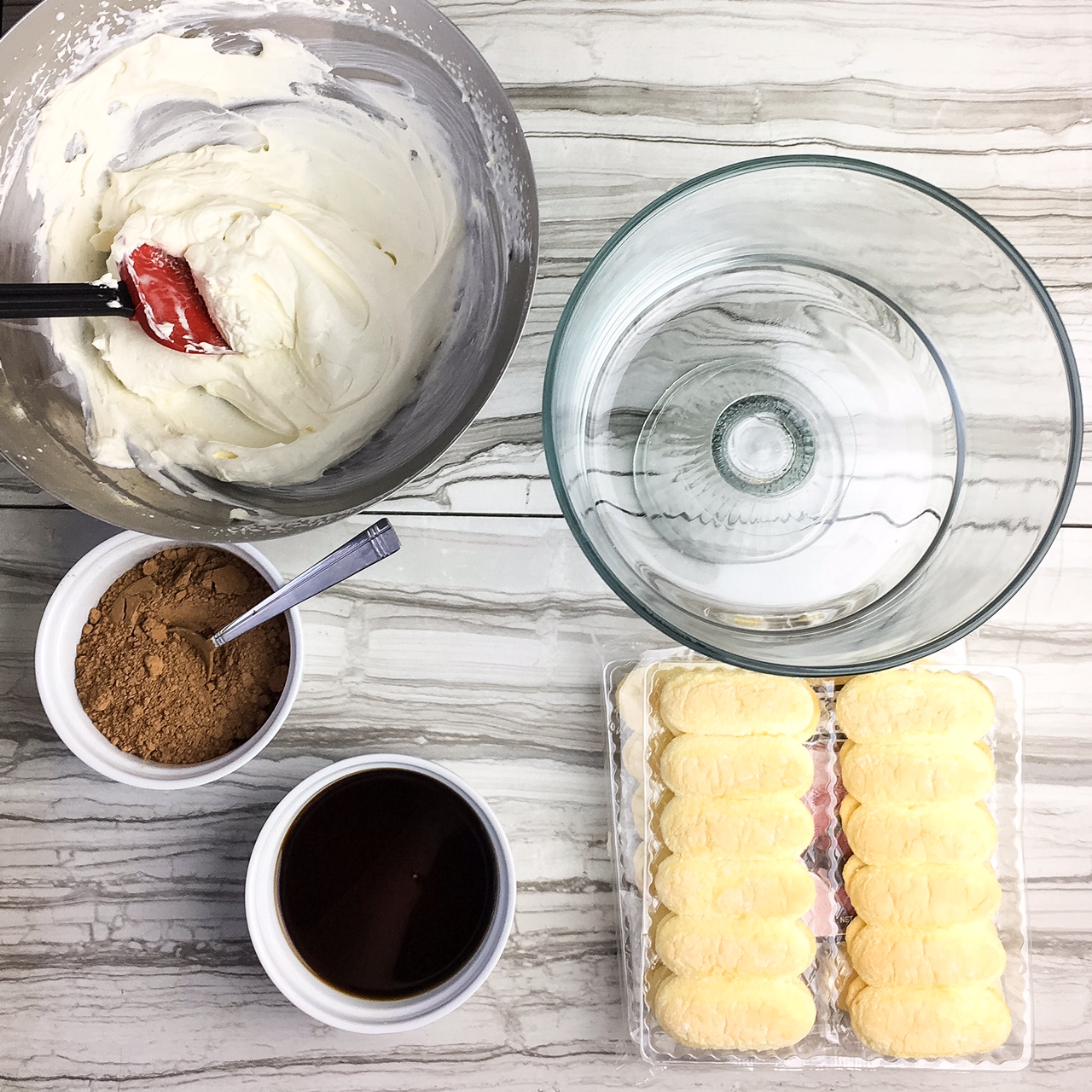 You can make this in a casserole dish, but I love it in a trifle dish so everyone can see the layers. I started with my whipped cream and marscarpone mixture, a cup of cocoa powder, 4 cups of dark roast coffee brewed and cooled, and 2 boxes of lady fingers. If you cannot find lady fingers you can use cookies, pound cake, anything that will soak up the coffee. Make sure your coffee cools a bit. You are going to be dipping these cakes into the dish and it is so much easier when you aren't burning your fingers throughout the process.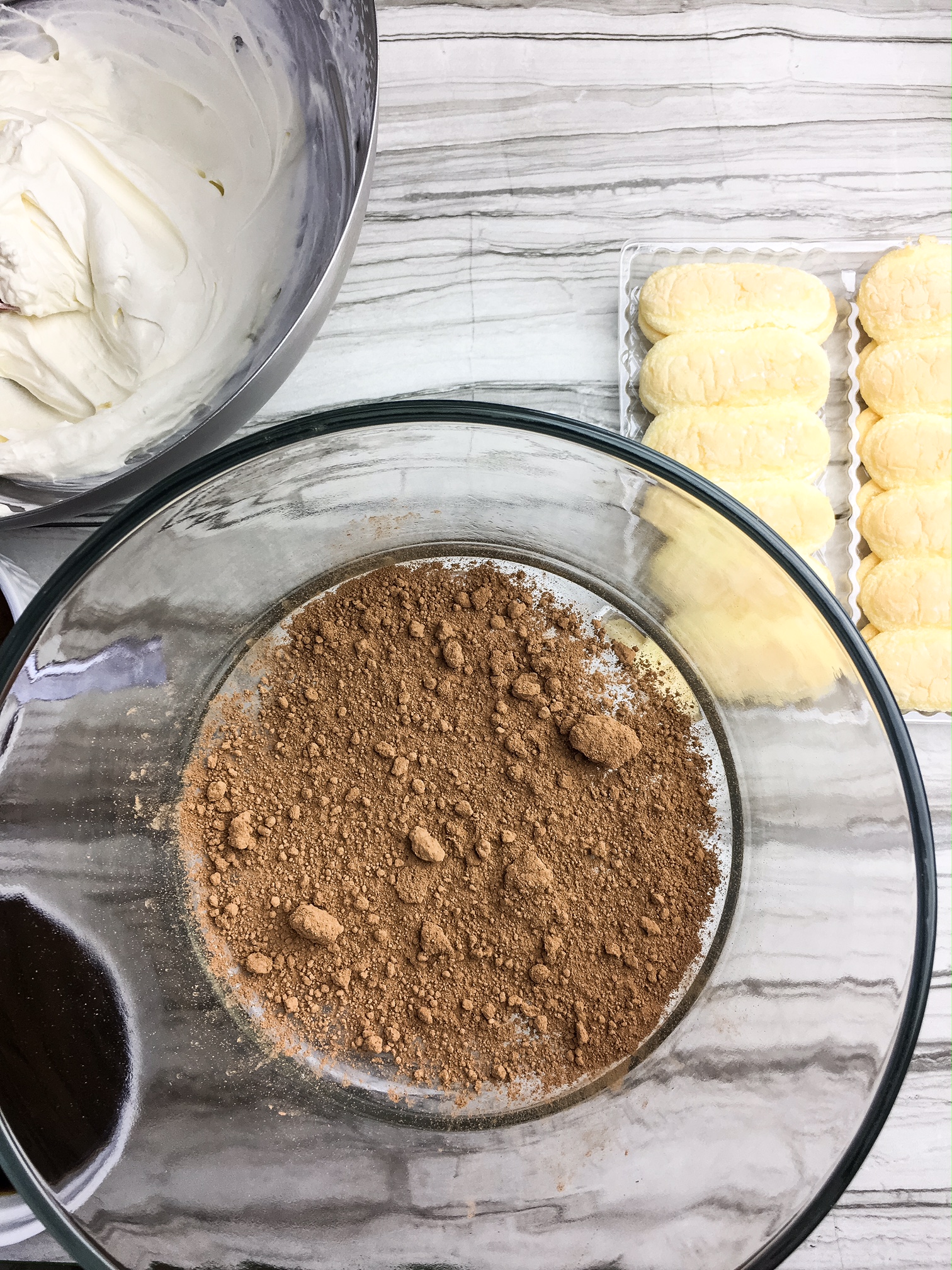 Starting off the layers I sprinkled a hefty tablespoon of cocoa over the bottom of my dish. This makes it a lot easier to scoop out later on.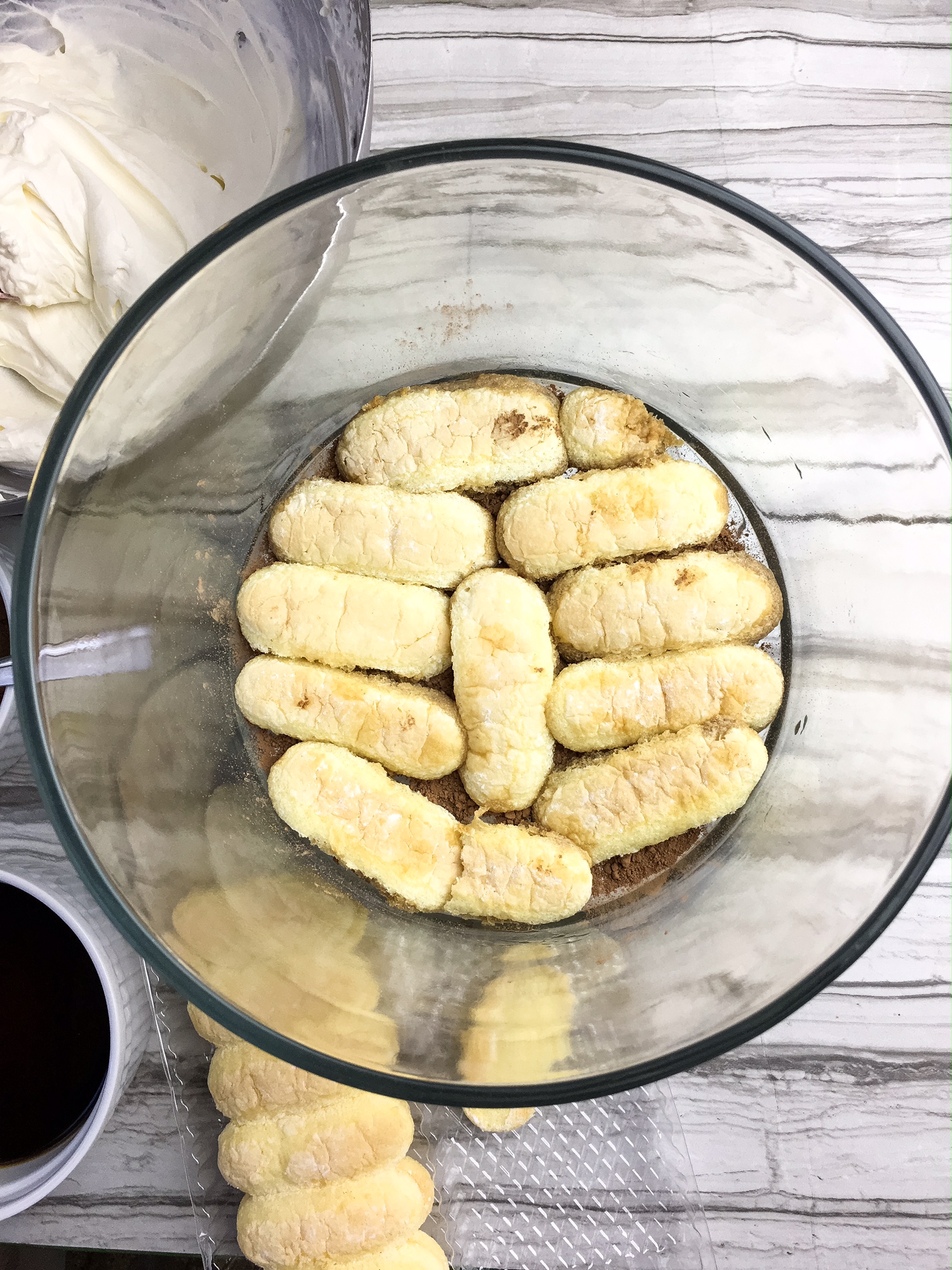 Then I dip my lady fingers one at a time into the coffee mixture. Be careful not to completely submerge the cake. Just the bottom should be soaked. Then I layer the bottom of the dish. This part does not have to look perfect. Once everything sits you will never see the difference in the layers.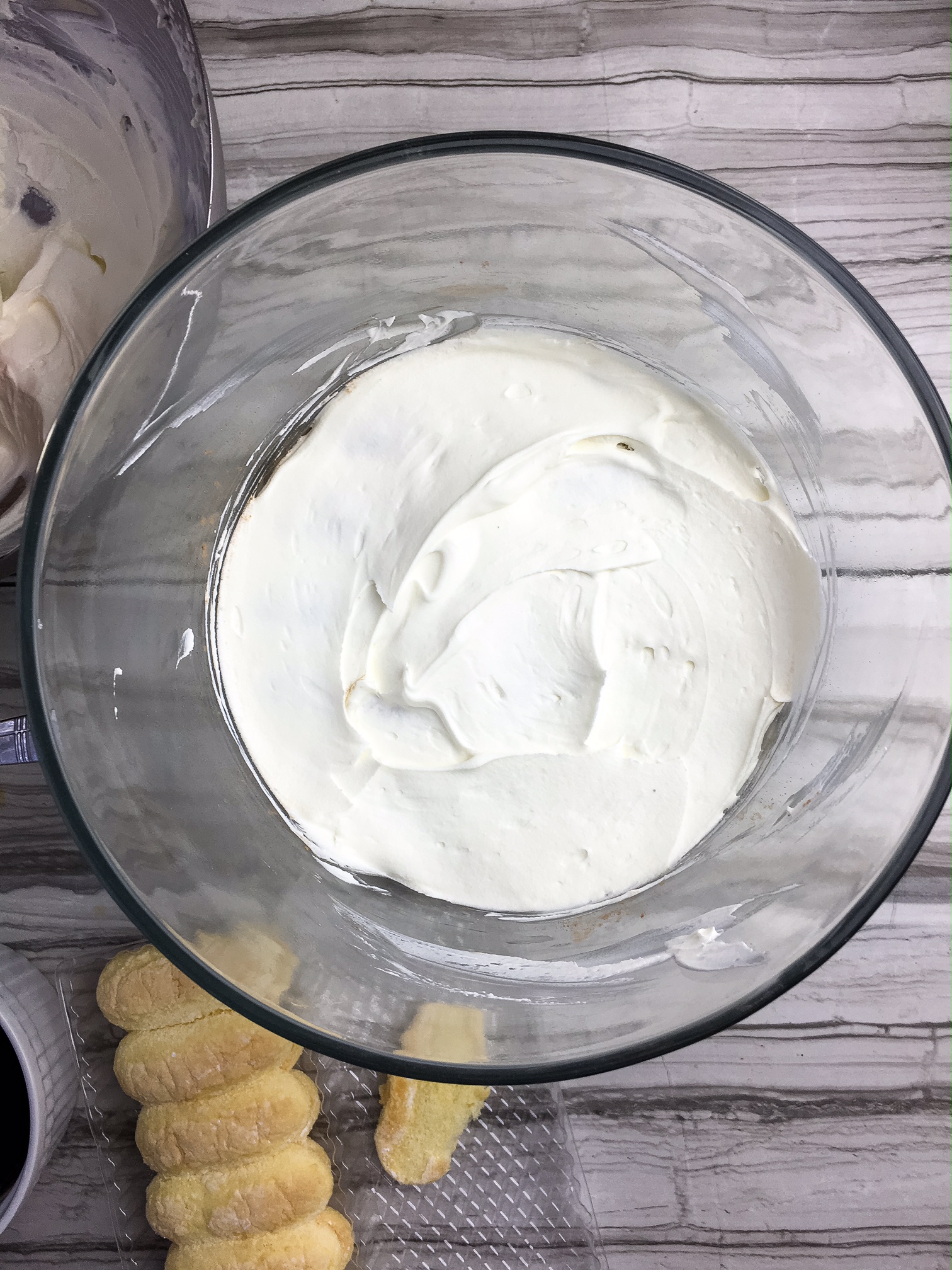 Then take your marscarpone cream and cover the cakes. Repeat until your dish is full or you run out of cakes! The last layers should be the cream topped with more cocoa powder. You can decorate with chocolate curls or little gingerbread men. Anything festive!
Classic Tiramisu (Non Alcoholic!)
Classic tiramisu minus the alcohol.
Ingredients
2 packs of lady fingers or 1 pound cake
1 cup of cocoa powder
1 pint of heavy whipping cream
8 oz of marscarpone cheese
4 cups of dark roast coffee brewed and cooled
1/2 cup of sugar
Chocolate, sprinkles or cookies for decorating
Instructions
Whip the cream with the sugar until stiff peaks form.
Fold in the marscarpone (if it does not mix all the way through you can whip together on low)
Sprinkle 1 tbsp of cocoa on the bottom of the dish.
Dip each lady finger in the coffee and line the dish.
Cover with a thin layer of the cream.
Repeat steps.
Once you get to the last layer of cream decorate the top with remaining cocoa powder.
Cover with plastic wrap and place in the fridge overnight or at least 6 hours before the event.
Stays for 3 days.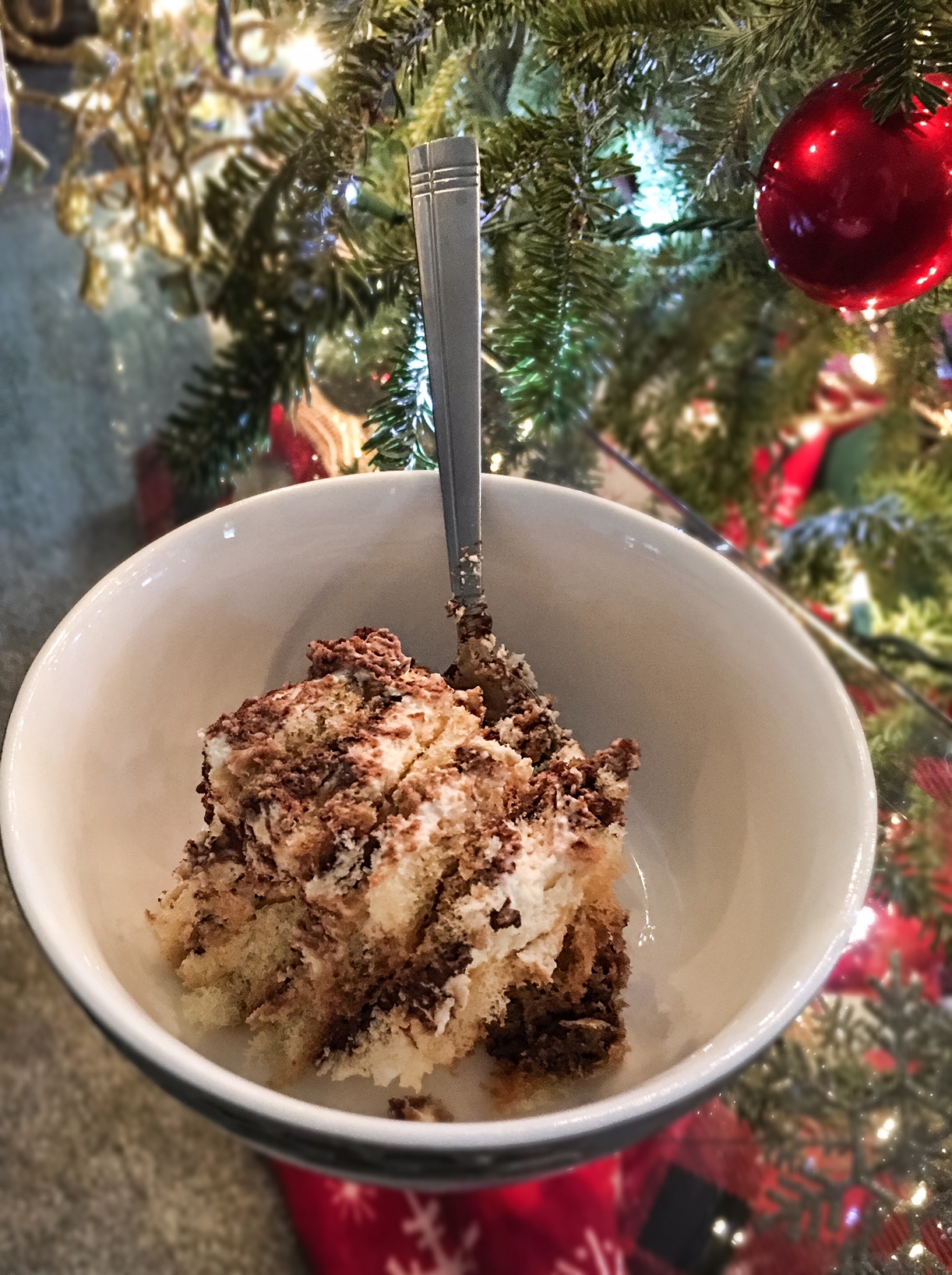 Serve in front of a Christmas tree to be extra fancy.