Fresh peach season is here! Only one of the best times of the summer for us. Since we live in the peach state there are always peaches at every grocery store, farmers market, fruit stand… everywhere! We love them fresh will whipped cream, in a pie, or in our ice cream! It has been a while since I made a no churn ice cream and I thought there was no better time with peach season here. A saucepan full of caramel later and this no churn peach and caramel ice cream was born!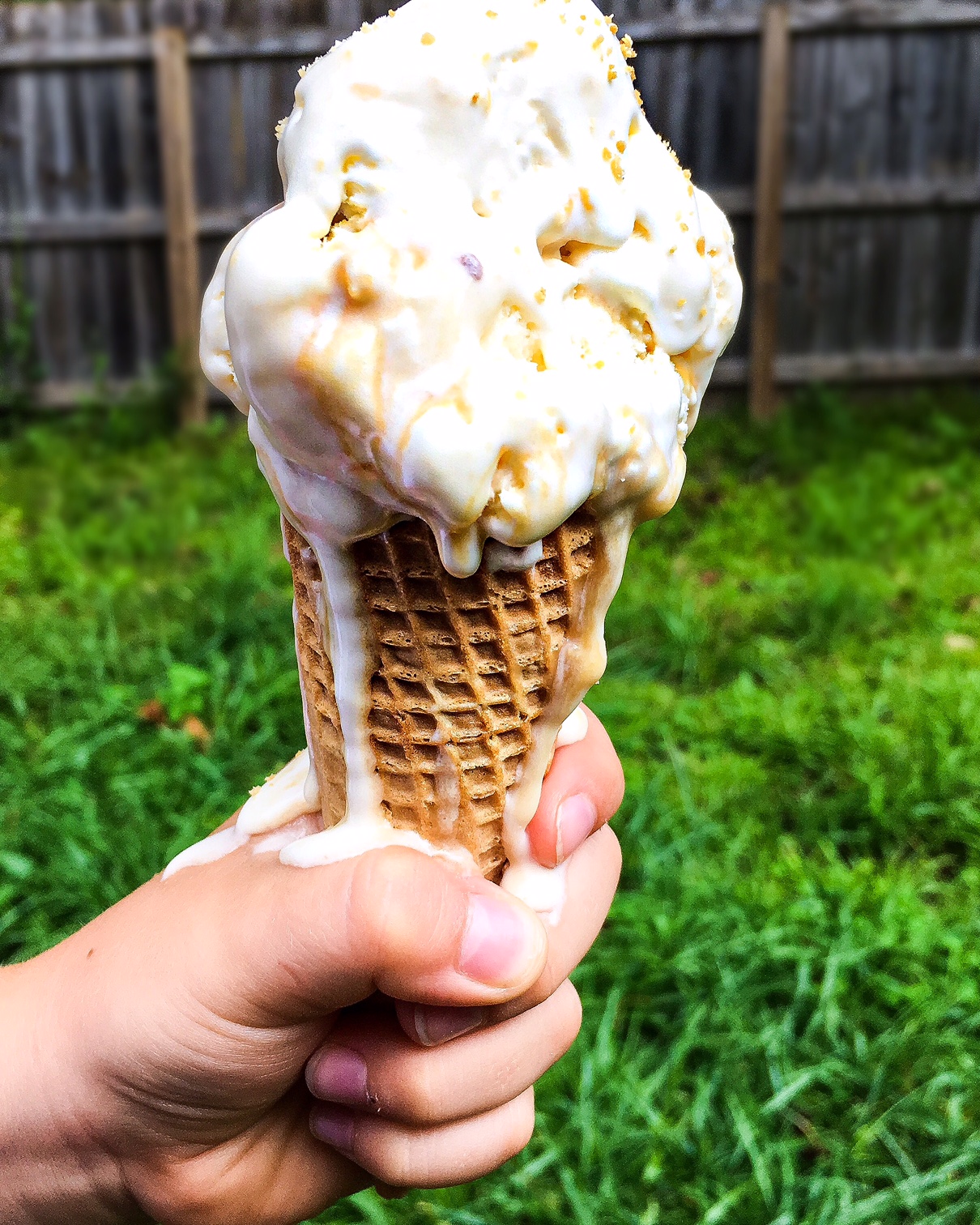 I'm going to be honest- Patrick's son and I thought it would be fun to eat this outside to get the "perfect drippy" picture. The second I snapped the shot we ran back into the air conditioning. I froze the ice cream over night so it was creamy and firm, but it melted in seconds when we stepped onto the patio. Gotta love that Georgia heat!
I had a little extra pie crust from another recipe so I crumbled it on top, but you can also crumble a sugar cone for the same crunch. I love how easy this recipe is to make. Patrick's 6 year old was able to help me. I have been testing a lot of my recipes with the kids to make sure they truly are easy to replicate. Layers of creamy vanilla, frozen fresh peaches, and salty caramel are exactly what I want on a hot day!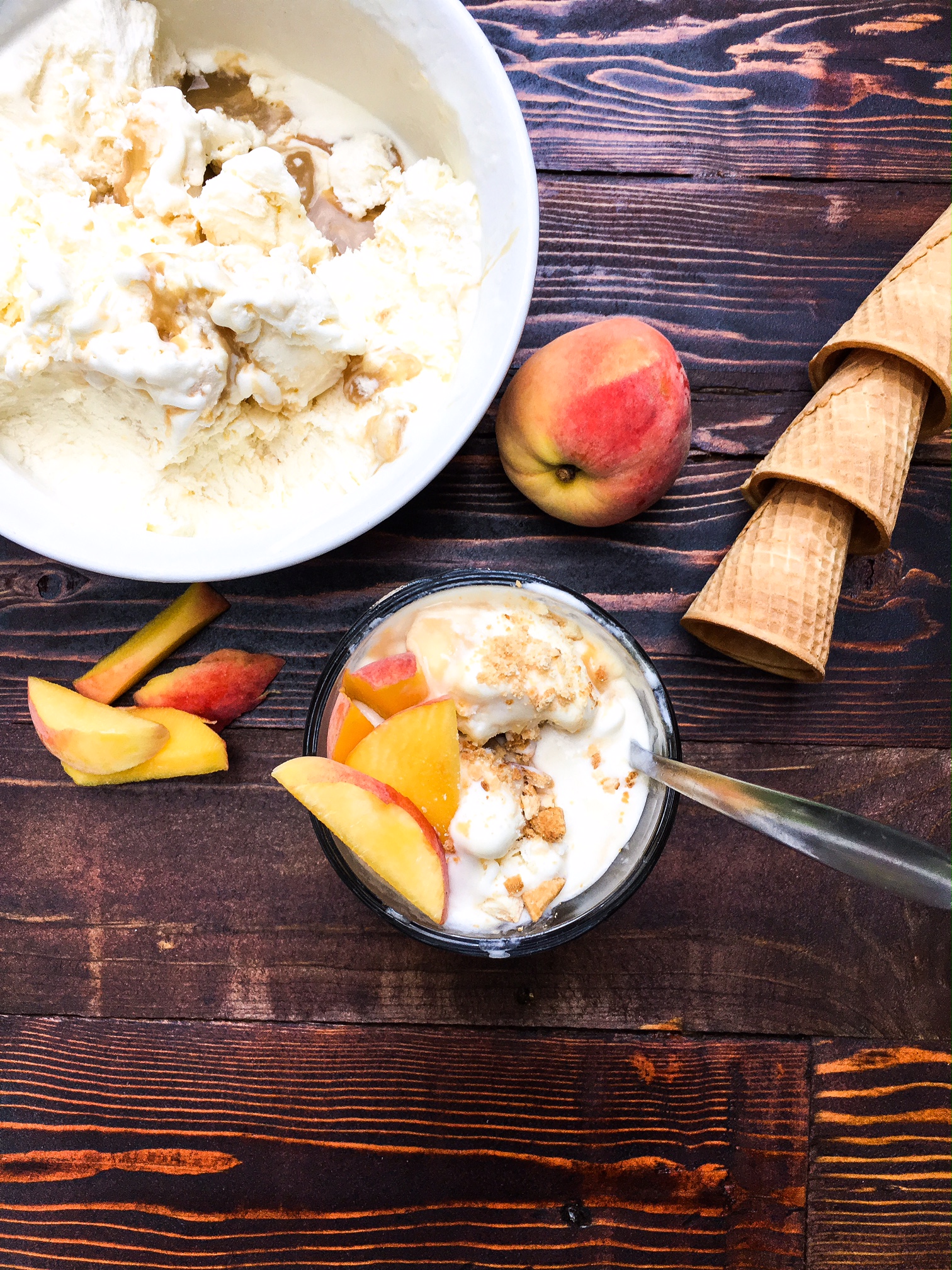 No Churn Peach and Caramel Ice Cream
Recipe Type
:
Ice Cream, Dessert
Author:
Prep time:
Cook time:
Total time:
Creamy vanilla ice cream filled with fresh peaches and salty caramel.
Ingredients
Ice Cream:
1 pint of whipping cream
1/2 can of sweetened condensed milk
3 tbsp of sugar
2 heaping tbsp of vanilla extract
1 cup of chopped skinned peaches
crumbled pie crust or sugar cones
Caramel:
1/2 cup of brown sugar
2 tbsp of butter
1/4 tsp of salt
3 tbsp of whipping cream
Instructions
In a standing mixer pour in all the cream (reserve 3 tbsp for the caramel)
Add in the vanilla, sugar, and sweetened condensed milk
Whip until the cream stands in peaks
Fold in the peaches
Sit in the freezer while you make the caramel
In a small sauce pan heat the butter and brown sugar over medium heat
Allow the mixture to bubble up until a deep caramel brown (about 2 minutes)
Try not to stir during this time
After the 2 minutes sprinkle in the salt
Take off the heat and add the cream whisking quickly
Let the caramel cool
Pour into the ice cream mixture
Use a knife to cut the caramel into the ice cream
Freeze covered over night.
Top with pie crust crumbles and enjoy!
Somehow I posted this on #nationalicecreamday  see? meant to be! I seriously hope you go try this recipe this weekend! Don't forget to #kelliericecakes if you do so I can see your creations!