Buffalo wing sauce is such a huge flavor in our house. We try to limited processed snack food around the house, but every time a new chip, pretzel, or any snack comes out flavored buffalo wings we have to buy them all. This Buffalo Chicken Pizza could definitely be a meal, but I think it is such a great appetizer. Something quick and easy to throw together for unexpected guests or super hungry kids.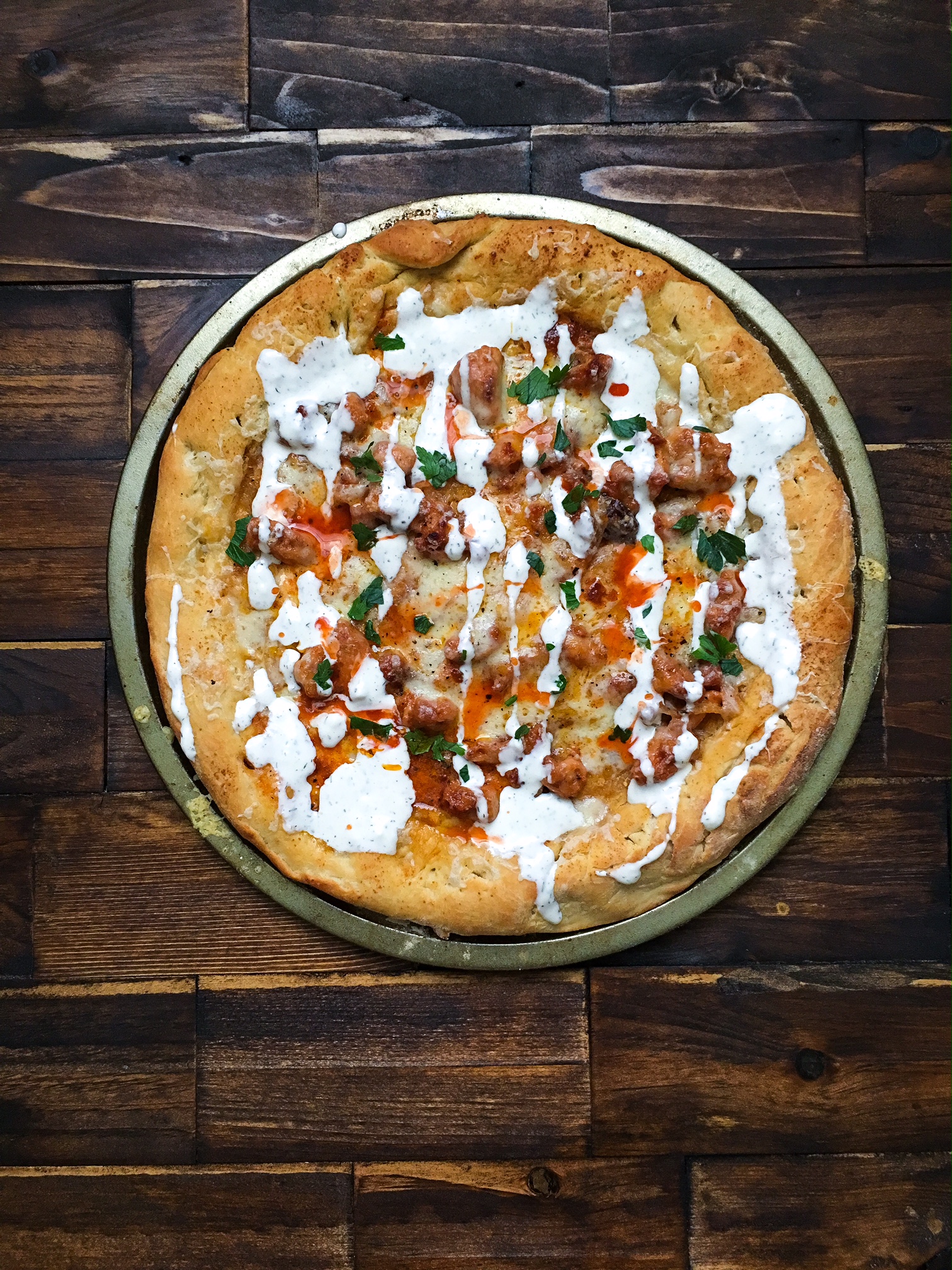 If you have been following my recipes for a while you already know I am a huge believer in the chicken thigh. I usually buy them in bulk and freeze small portions for the week. The meat to me just has so much flavor and stays juicy. I personally feel like they fill me up quicker than the chicken breast. If you love the flavors of buffalo chicken, but not the calories definitely try using a little sauce over grilled or baked chicken thighs.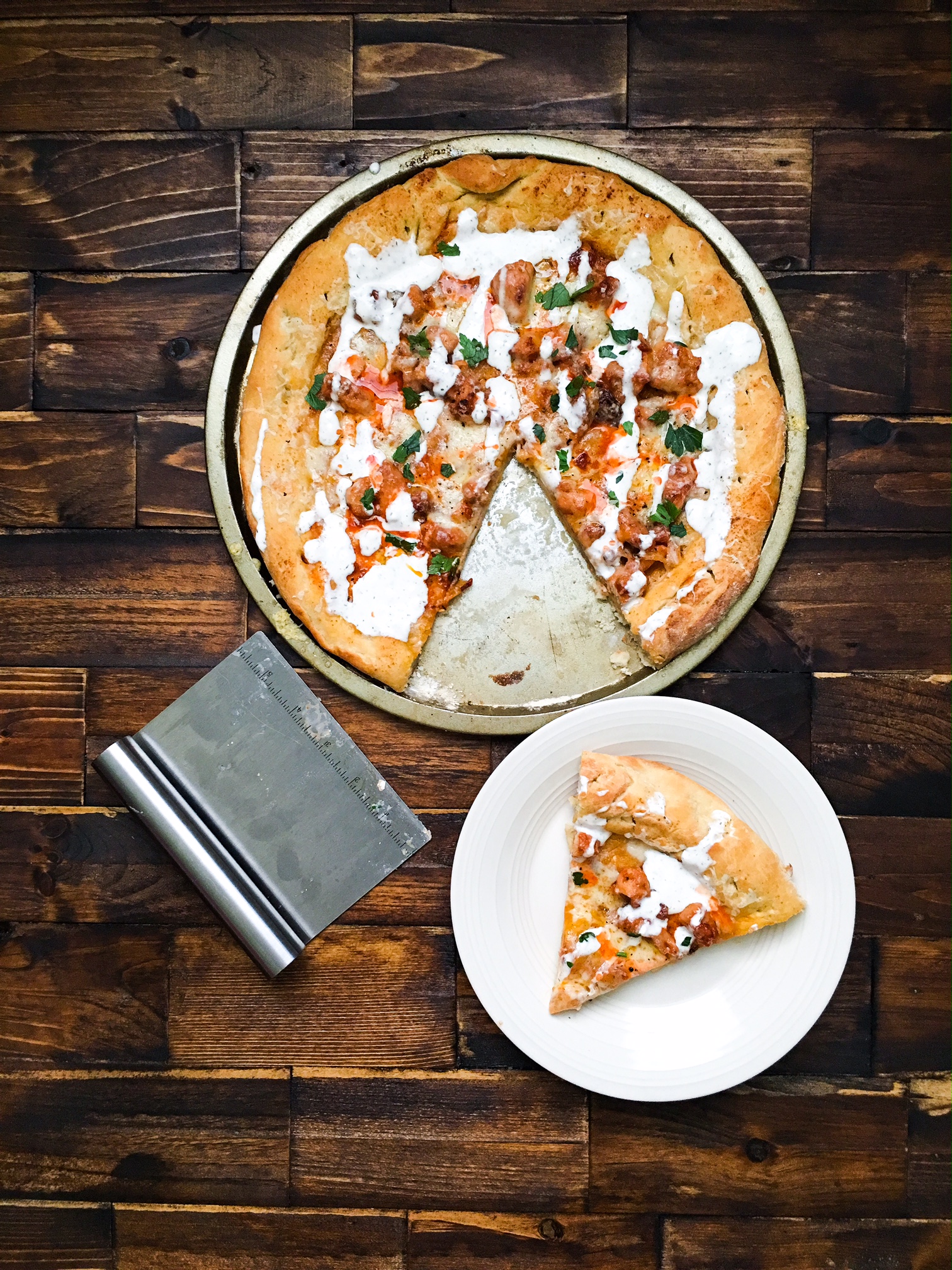 I used my go to pizza dough for this recipe because it comes together very quickly. I wanted something that would pair well with garlic and buffalo flavors. I topped the pizza with monterey jack  cheese for a really melty bite.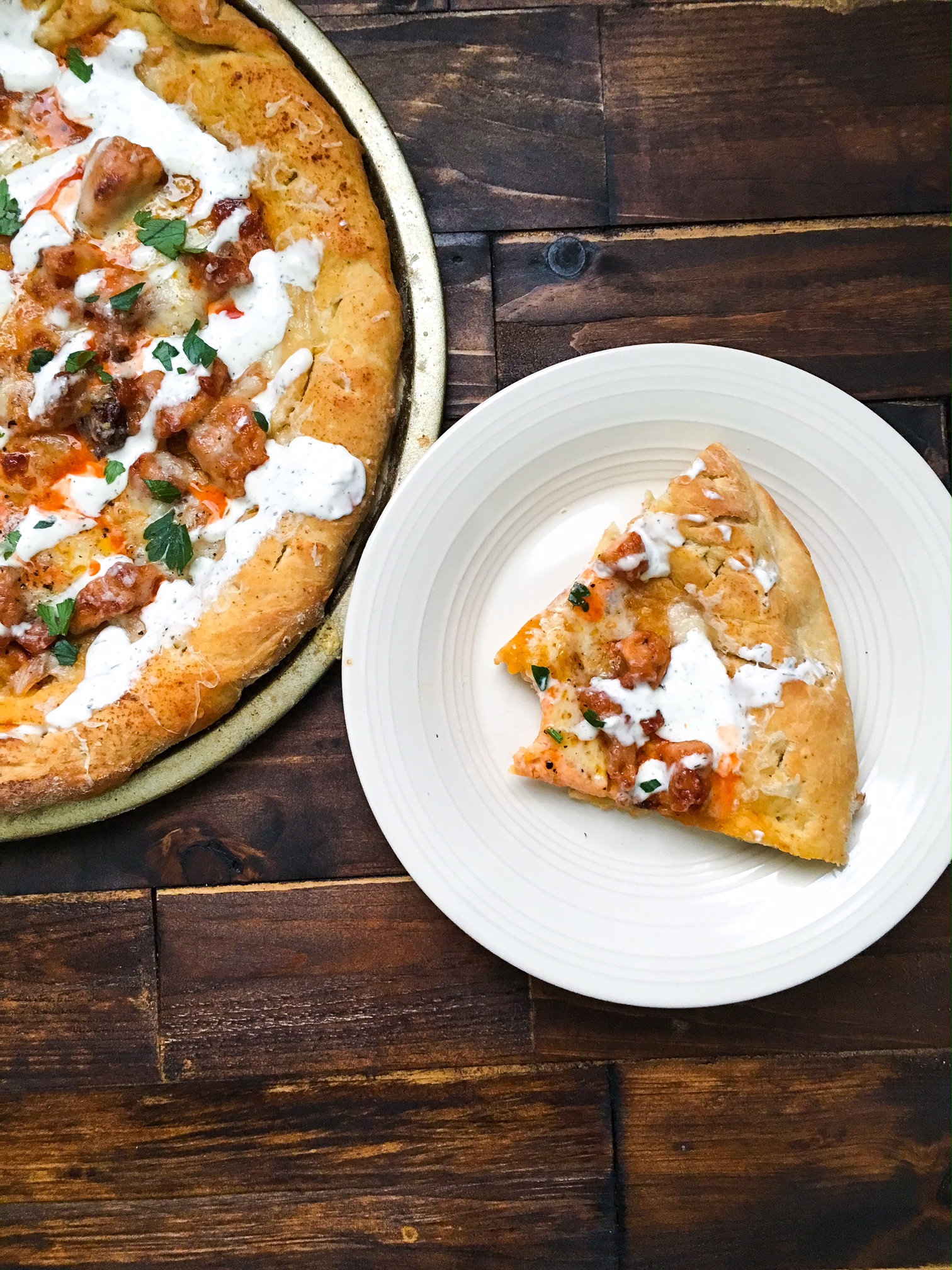 Buffalo Chicken Pizza Appetizer
Author:
Prep time:
Cook time:
Total time:
Sweet garlic dough covered in buffalo chicken, melted cheese, and creamy ranch.
Ingredients
For the dough:
1 packet of active yeast
1 tsp of honey
1/2 tsp of salt
2 1/2 cups of flour
1 cup of warm water
For the toppings.
Chopped chicken thighs
1/4 cup of hot sauce
2 tbsp of butter
1 tsp chopped garlic
2 tbsp of garlic powder, divided
fresh cracked black pepper
2 cups of grated monterey jack
2 tbsp of sour cream
2 tbsp of milk
1/2 tsp dill
1/8 tsp of salt (just a pinch)
Instructions
Mix the yeast, honey and water together and let sit for about 5 minutes until the yeast bubbles
Add in the flour and salt
Mix with a dough hook for about 5 minutes until a ball forms
Cover and set to the side for 30 minutes to rise
Preheat the oven to 400 degrees
In a saute pan toss the chicken with 1 tbsp of butter until cooked through
Add the remaining butter, hot sauce, chopped garlic
Heat sauce through and toss the chicken to coat
Roll out the dough on a floured surface then transfer to a large pan
Sprinkle the dough with 1 tbsp of garlic powder
Top with the hot sauce and chicken mixture
Crack a little black pepper over the top
Cover with the cheese
Bake for 15 -20 minutes until cheese is bubbling and crust is golden
Mix the sour cream, milk, dill, salt and remaining garlic powder
Drizzle over the pizza
Add a little more hot sauce if you want!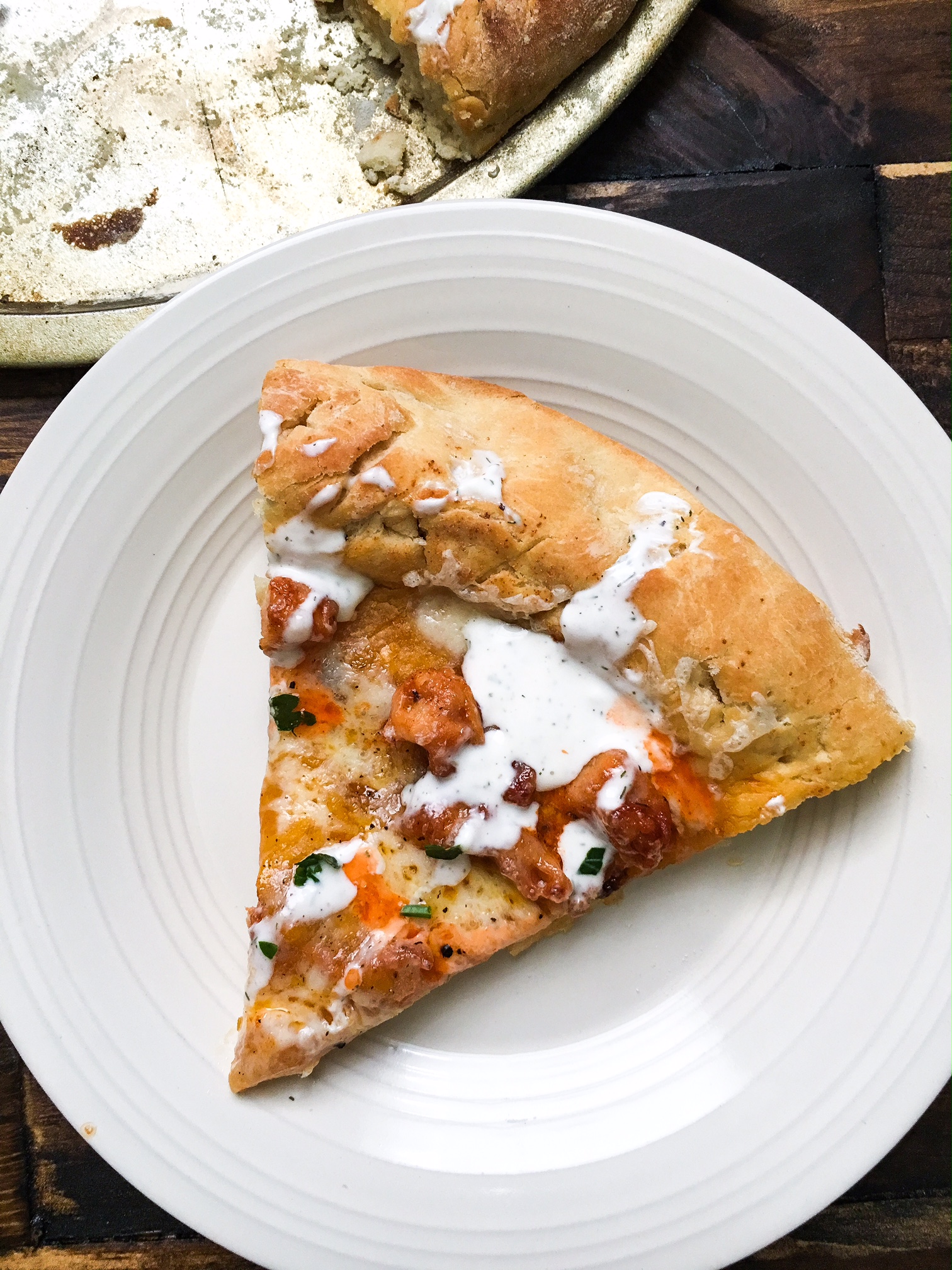 You can garnish with fresh parsley or dill if you are feeling fancy! This recipe is the perfect combo of my two favorite foods! Don't forget to #kelliericecakes if you try this recipe!