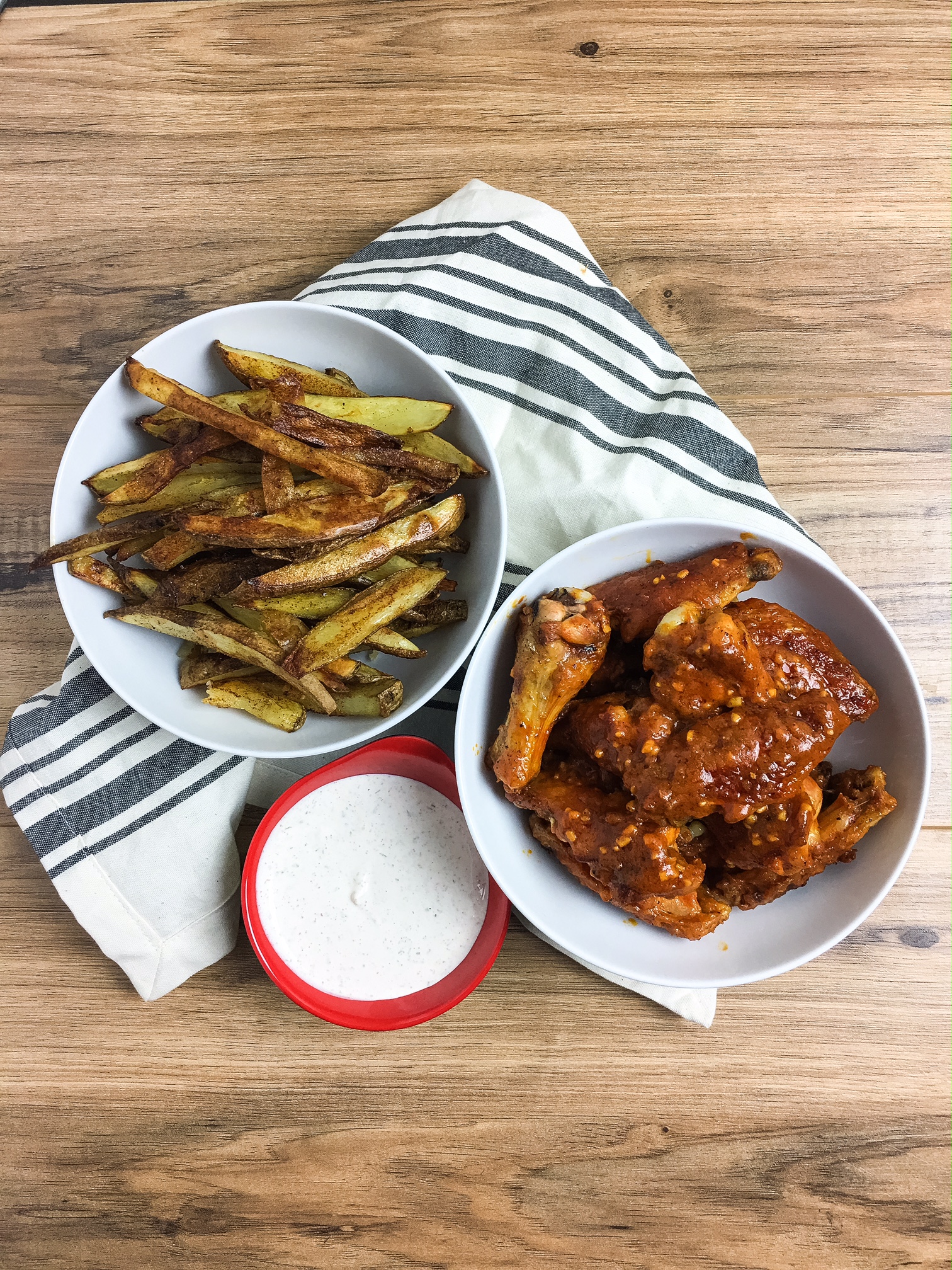 We are talking wings today. Superbowl is around the corner and these would be a perfect appetizer! BUT for me this is a way to have my favorite meal lightened up. They are so crispy with a burst of juice and all that spice from the sauce. These are one of my new favorite meals for sure! I served some salt and olive oil baked fries on the side. Our ranch was 1 cup of light sour cream, 1 tbsp of milk, 1 tsp of dill weed, 1 tsp of garlic powder, and 2 tsp of ground pepper. If you are doing Whole 30 or eating Paleo you can easily swap this out for approved ranch with homemade mayo.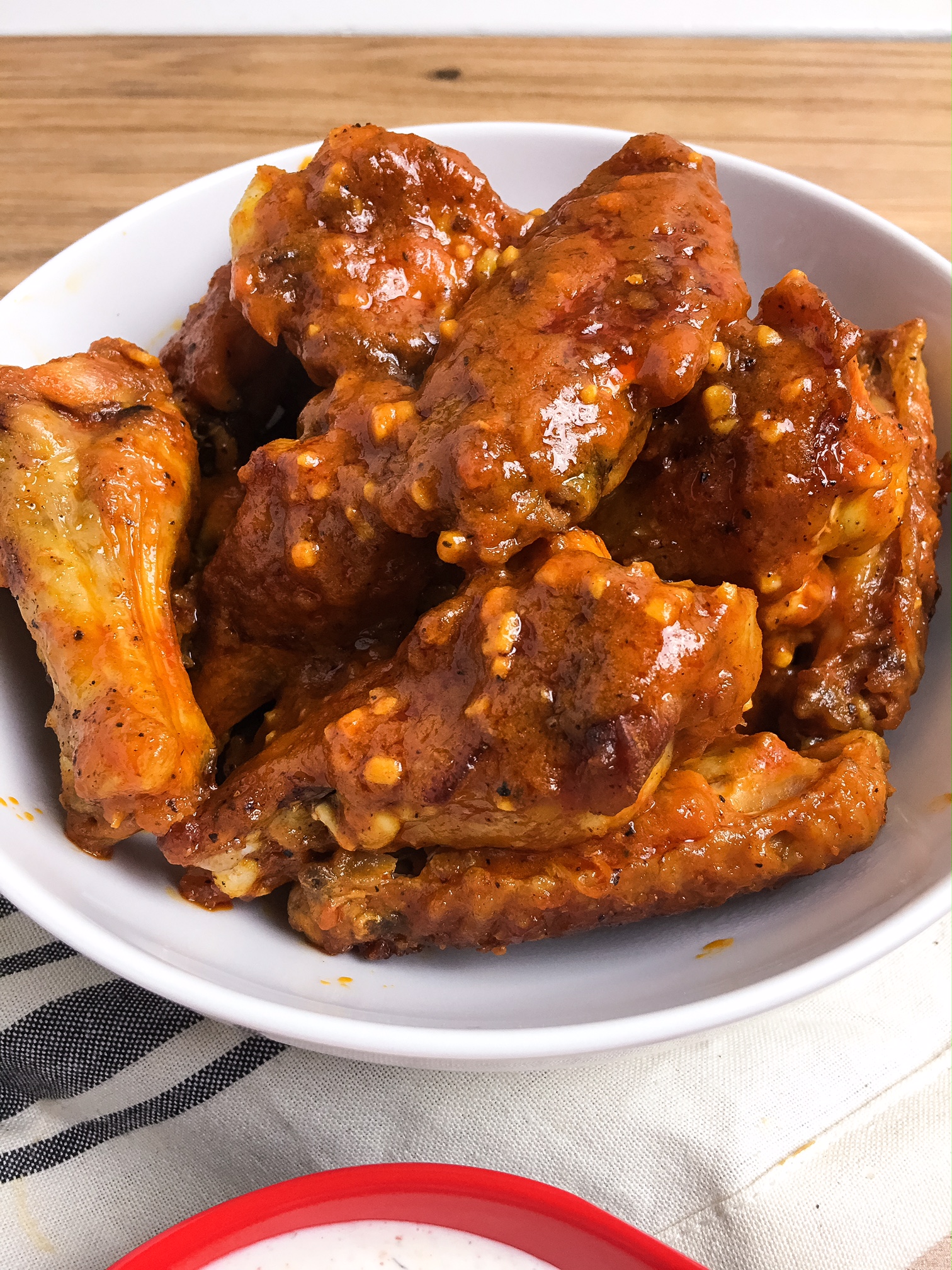 Now I want to talk about this sauce. One of my favorite things to cook in the kitchen is chopped garlic. I love the smell of garlic heating up in olive oil or butter. Patrick always comes in the kitchen and asks what I'm doing when I drop that garlic into the skillet. You can use olive oil, butter, ghee, coconut oil – whatever you have on hand. I used 2 tbsp of salted butter then added 2 heaping tablespoons of chopped garlic. Then I sauteed for a few minutes over medium heat. Do not let the garlic brown. All you do after that is pour in a cup of your favorite hot sauce and finish with fresh ground pepper. Delicious!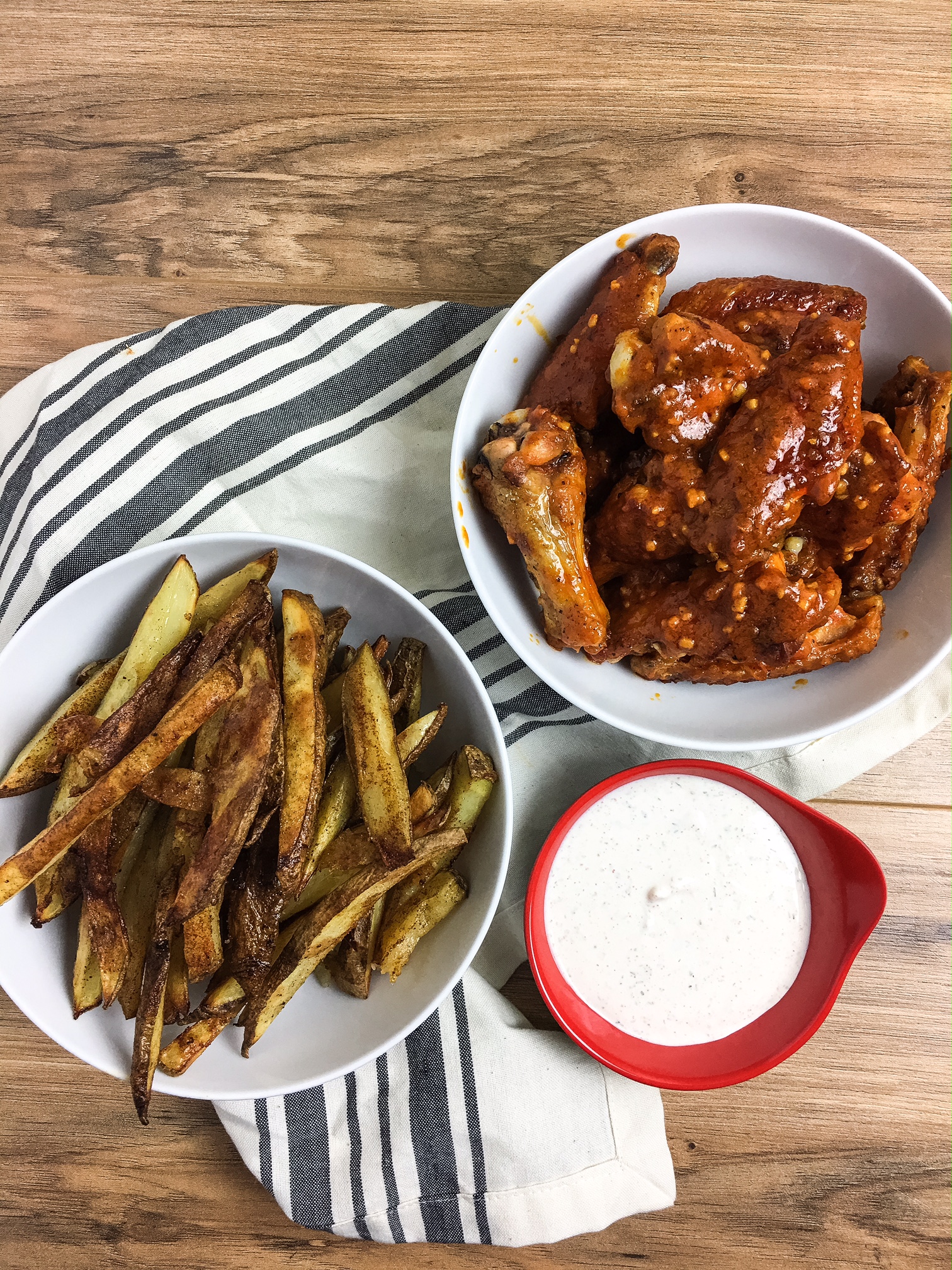 Usually baked wings have a bad reputation because it is SO HARD to replicate that beautiful fried wing. The trick to getting that crispy skin is to boil the wings for 3-5 minutes before baking. You are going to render a lot of that fat which will help it crisp up fast!
Baked Chicken Wings With A Garlic Buffalo Sauce
Recipe Type
:
Appetizer, Chicken Wings
Prep time:
Cook time:
Total time:
Crispy baked chicken wings in a garlic buffalo sauce!
Ingredients
1 pound of mixed drumsticks and flats (frozen or fresh)
6 quarts of water for boiling
1 cup of hot sauce
2 tbsp of butter (or clarified butter)
2 tbsp of chopped garlic
1 tbsp of fresh ground pepper ( you can eyeball this, I just like to have enough pepper to speckle throughout the sauce)
Instructions
Preheat the oven to 400 degrees.
Bring water up to a boil and boil the wings for 5 minutes.
You will start to see the fat pulling off into the water.
Drain and pat dry.
Line the wings a baking tray. (If possible try not to use a non stick pan)
Season lightly with salt and pepper.
Bake for 15 minutes then flip to cook the other side.
I used a bench scraper to flip so I could get any skin that was starting to stick.
Bake for another 15 – 20 minutes depending on your preferred crispy level.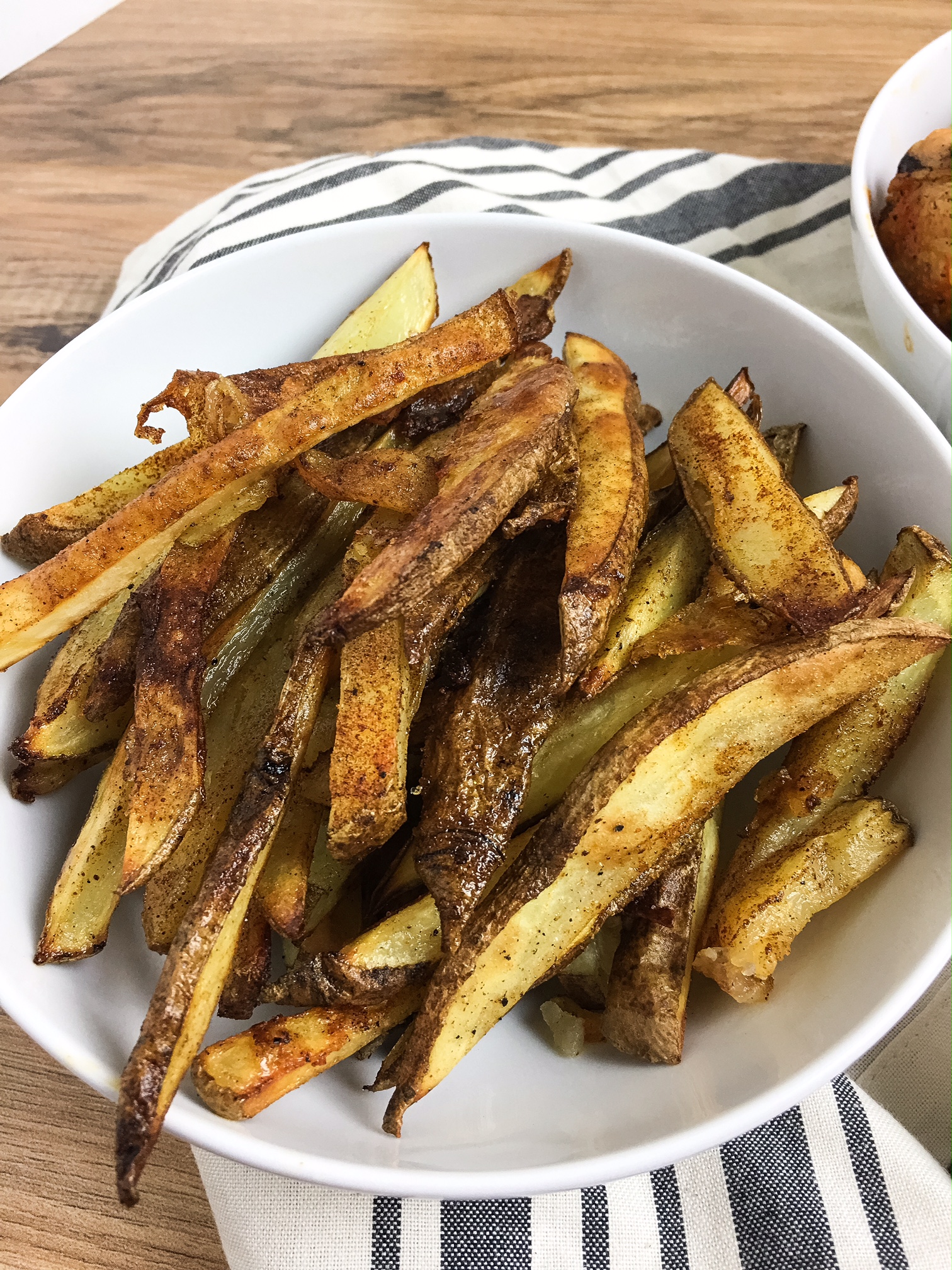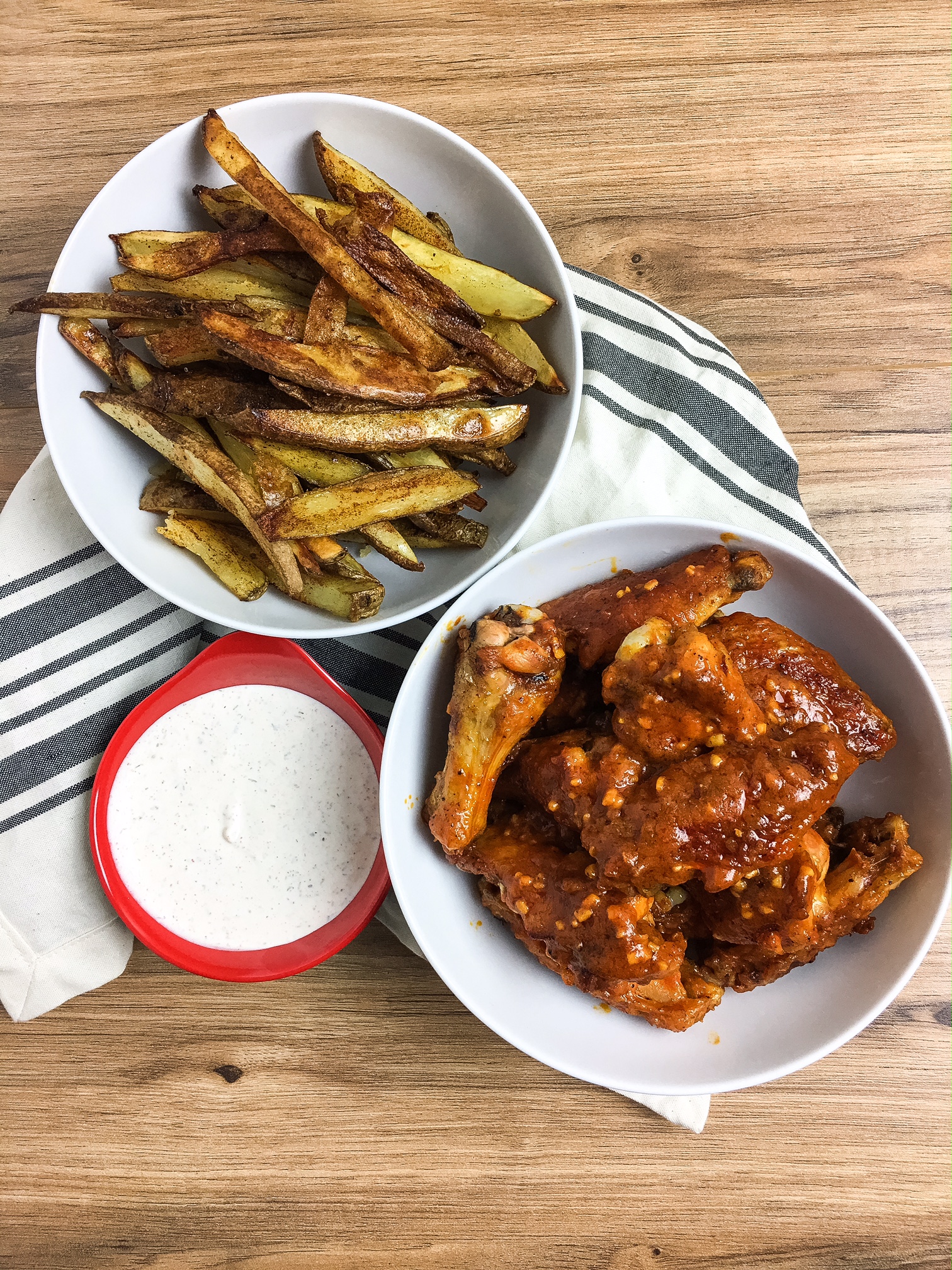 To make the fries just slice some potatoes and toss in olive oil and sprinkle with salt and pepper. Bake at 400 degrees for 20 minutes or until golden brown!
You won't ever pull out your fryer again after you try these wings!