What is better than steak and fries? How about steak and fries wrapped up in a warm pita with a jalapeno herb sauce? This is probably one of my favorite recipes we have made with the ooni oven to date! You definitely do not need to make pitas from scratch, but if you have the time, I recommend it.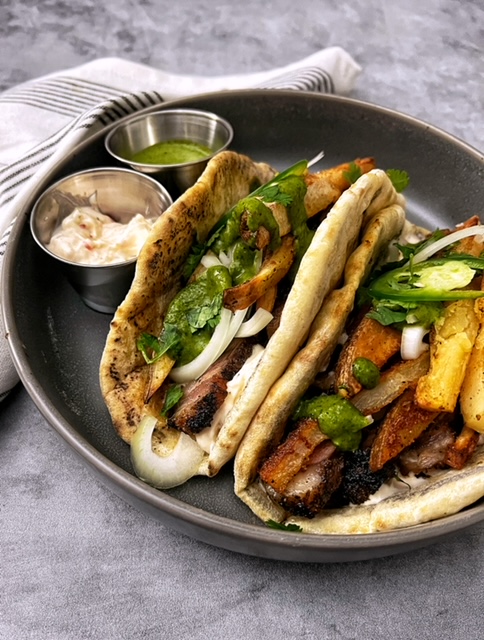 We seared off a new york strip and sliced it thinly. After warming the pita, spread with tzatziki sauce, top with steak and roasted fries and drizzle lots of jalapeno herb sauce. Finish with fresh chopped onions.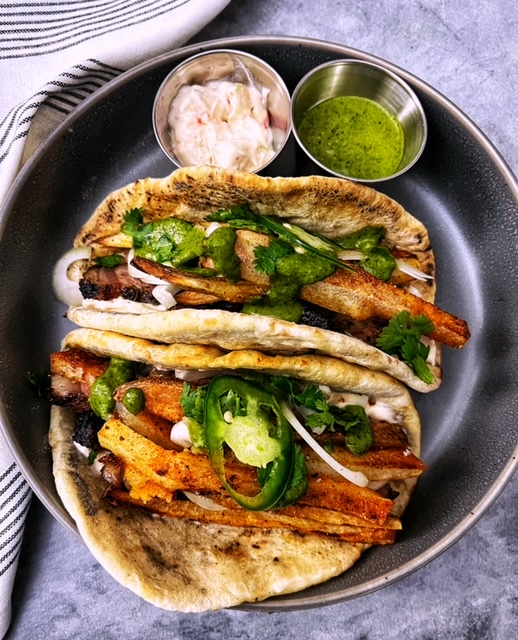 There is something very magical about roasted fries. They are so perfectly seasoned and slightly crispy. They would be the perfect vehicle for the jalapeno sauce if you didn't have time to make an entire wrap!
Ingredients:
6 oz new york strip
2 russet potatoes sliced into fry shapes
6 in pitas
1 cup of tzatziki sauce
1 cup of chopped parsley
1 cup of chopped cilantro
2 tbsp of olive oil or avocado oil
juice from 1 lemon
2 tbsp of water
1 fresh jalapeno seeds removed sliced
1 tsp cayenne
1 tsp fresh garlic
1 tbsp red wine vinegar
1/2 cup chopped white onion
salt and pepper
Directions:
Preheat oven to 400 F.
Let your beef come to room temp. rub with a little olive oil, salt and pepper. Sear until your desired cook. We like ours around 130-135 F
While the beef rests, sprinkle your potatoes with olive oil (or spray olive oil) season liberally with salt and pepper
Roast for 30 minutes or until they are fork tender and golden
In a food processor or blender, combined the herbs, jalapeno, 2 tbsp oil, 2 tbsp of water, garlic, cayenne, vinegar, salt and pepper. Blend until you have a thin green sauce. Think dressing consistency. Feel free to add water if needed.
Slice the steak as thin as you can
Spoon tzatziki on the pita, add the steak, fries, jalapeno sauce and sprinkle with onion if desired.
Enjoy!