It is that time of year again! I am participating in one of my all-time favorite traditions, the Rodelle Cookie Campaign!
Nothing says Christmas in our house like these Peppermint Brownie Cookies! Every year my husband and I order peppermint bark to enjoy throughout the season. You can use peppermint bark for these or white chocolate with peppermint candy crumbles. Both are delicious!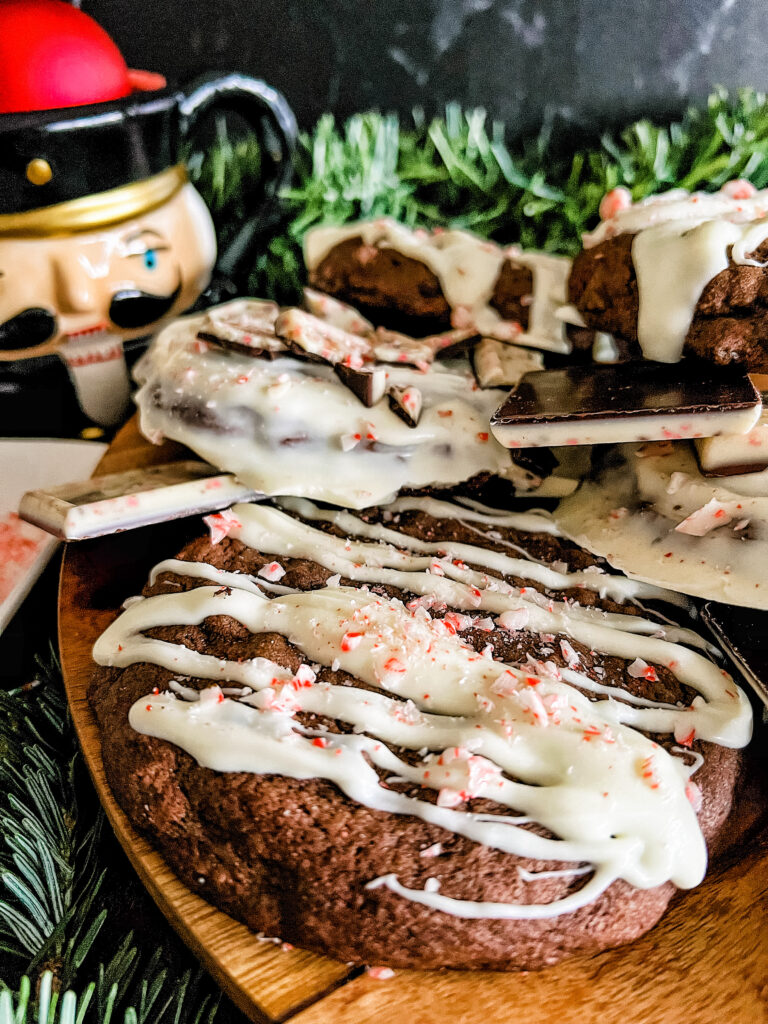 These cookies are so soft filled with melty chocolate chunk. They pair perfectly with the white chocolate and peppermint crunch! You can definitely make them smaller, but I have found that 4 oz of dough make the perfect gifting size.
The secret to the thick brownie texture is underbaking them and letting them set cooling for at least an hour before decorating.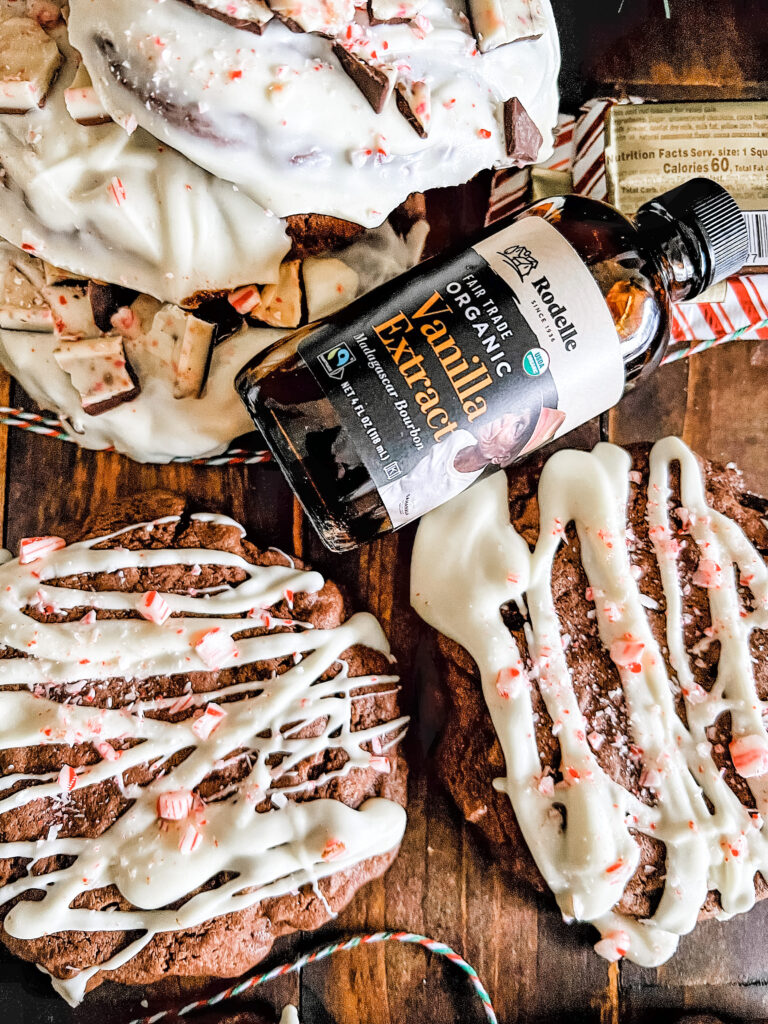 I used Rodelle organic vanilla extract and gourmet cocoa powder. These are the two ingredients I think should always be the best quality you can find since they have the biggest flavor profile of the cookie.
I also always use salted butter. This seems very controversial in the baking world, but I love the salt with rich chocolate.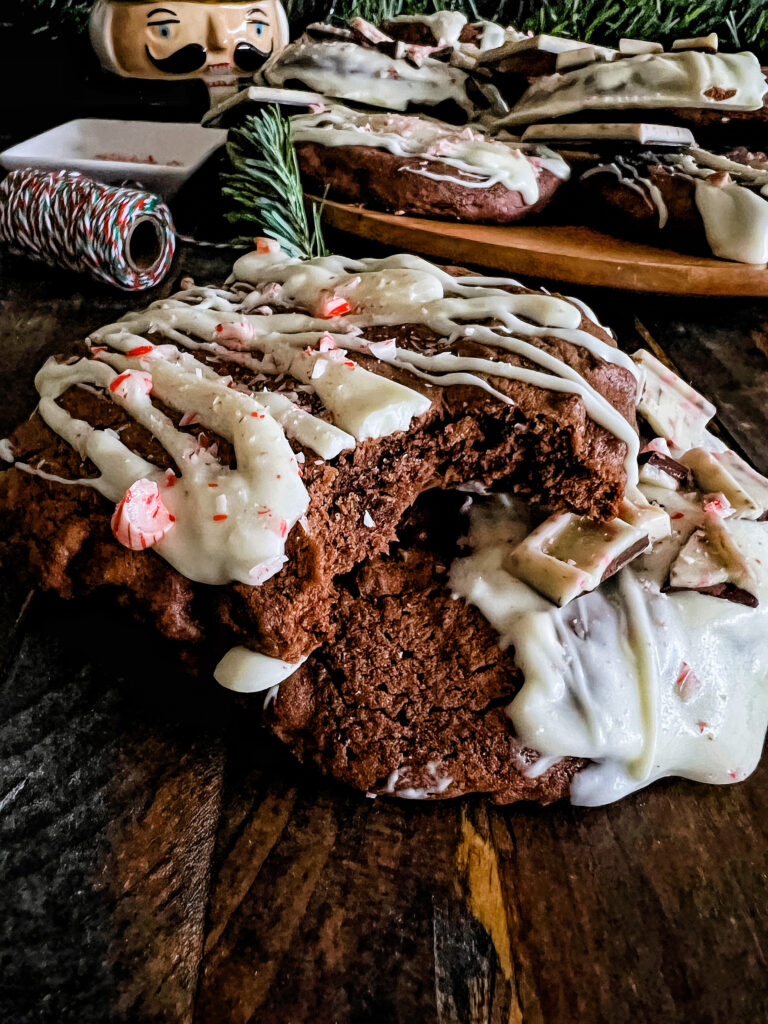 Ingredients:
1 cup of cold salted butter cut into chunks
1 1/4 cup of dark brown sugar
1/2 cup of granulated sugar
2 eggs at room temp
2 tbsp of vanilla extract
1/2 cup of baking cocoa
1 tsp of cornstarch or vanilla instant pudding
3/4 tsp of baking soda
1 1/4 cups of cake flour
1 1/4 cups of AP flour
1 cup of dark chocolate chips or chunks
1 cup of white chocolate chips or baking bars
1 cup of peppermint bark pieces or crushed candy canes
Directions:
Preheat the oven to 400 degrees.
Whip the butter and sugars together for at least 3 minutes.
Add eggs and vanilla
Whip for another 3 minutes at high speed
Next whip in your cocoa until combined
Slowly add in the flours, baking soda, and corn starch
Do not over mix, but make sure the flour is mixed in
The batter should be very thick, fold in the chocolate chips
Weigh out 4 oz of dough and roll into balls (think tennis ball size if you don't have a scale)
Refrigerate for 15 minutes
Line a baking sheet with parchment paper and give your cookies plenty of room to spread, I like to press down with my fingers to help the spread and add texture
Bake for 10 minutes
The edges should be set and the middle should look underbaked, be careful here because the bottoms burn fast in the high heat
Let cool for at least an hour
Melt the white chocolate and dip or drizzle, top with peppermint bark or crushed candies
You can store at room temp for up to 5 days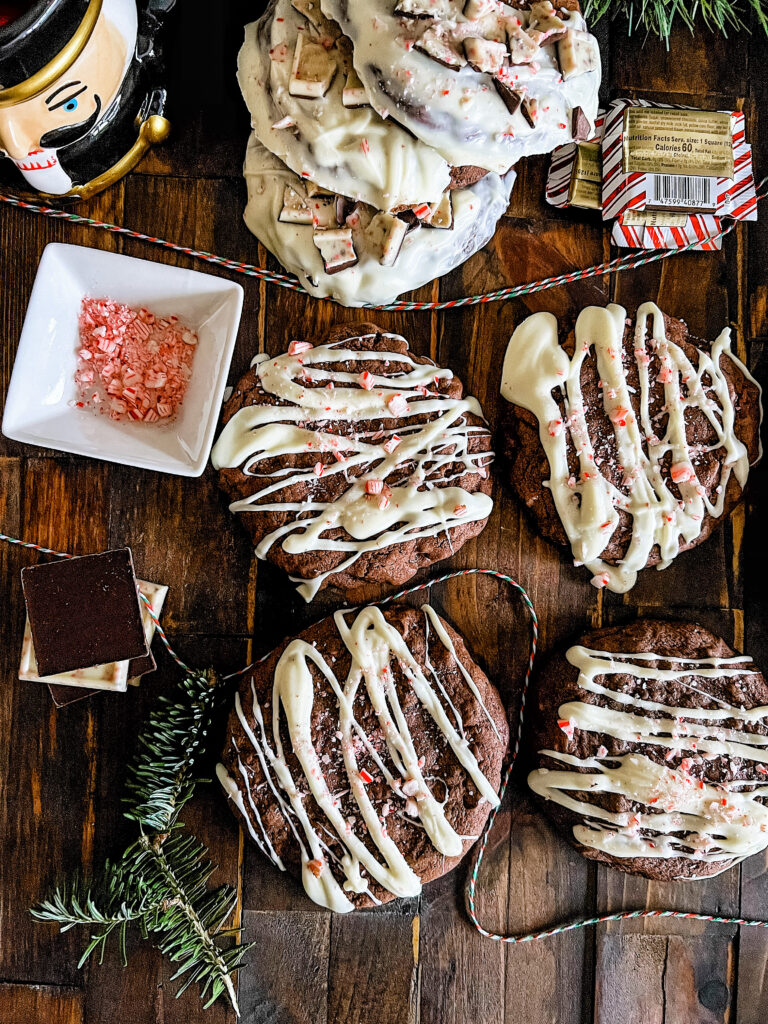 Happy baking!!!