We are all about some turkey in our house. I love trying different cooking methods in search of the perfect juicy bird. For those of you that do not want to go the traditional route this year I definitely recommend trying a beef roast. It is even easier to prep than a turkey and it is absolutely delicious with all the traditional Thanksgiving sides.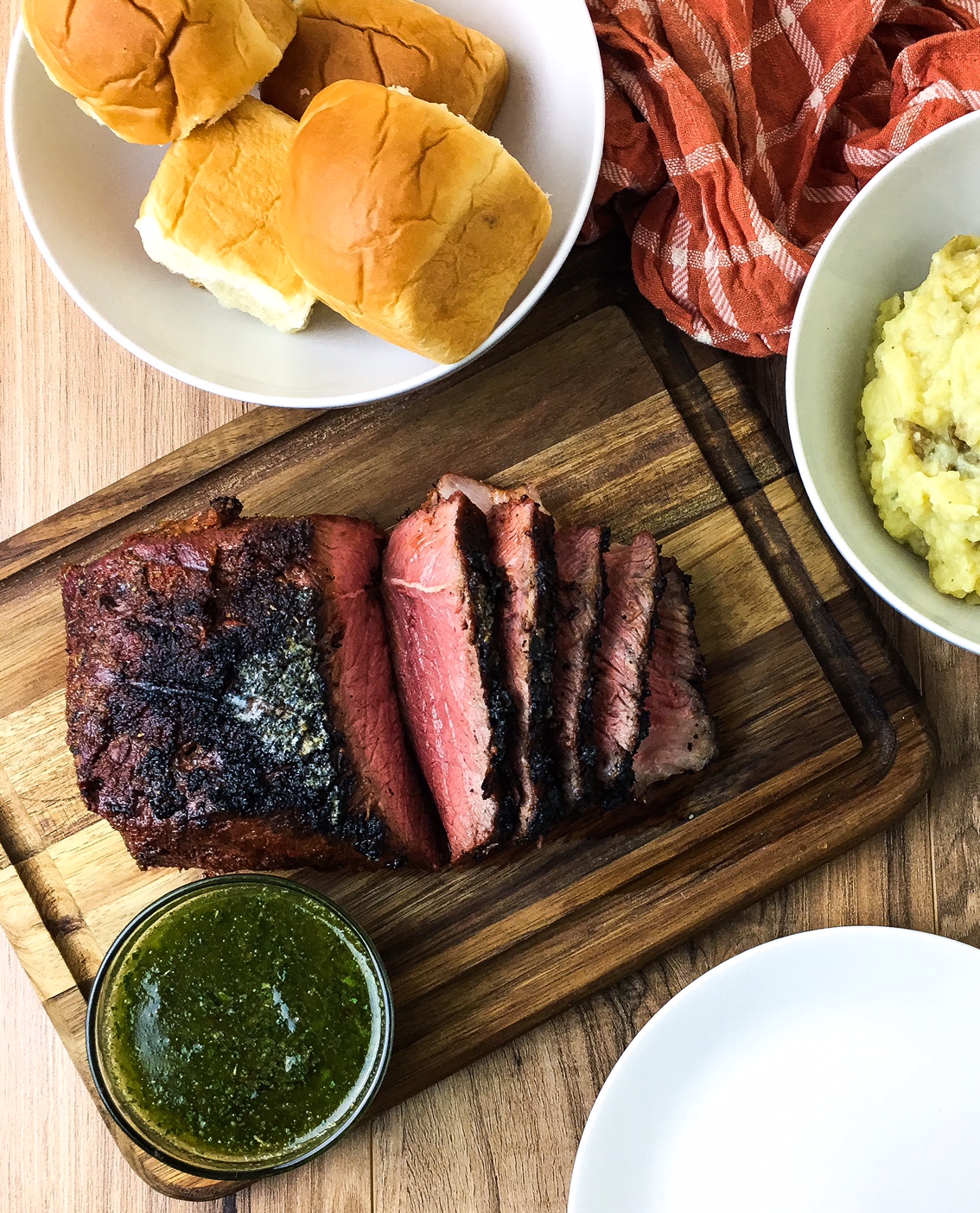 The chimichurri is so fresh! I love drizzling it over the roast and veggies. Honestly we like dipping super soft rolls into our sauce too! I like a super thick crust on my roast. You do not have to char your meat as much as I did, but I promise it was fantastic! I just love the difference in textures between a crunchy seasoned crust and super juicy buttery meat.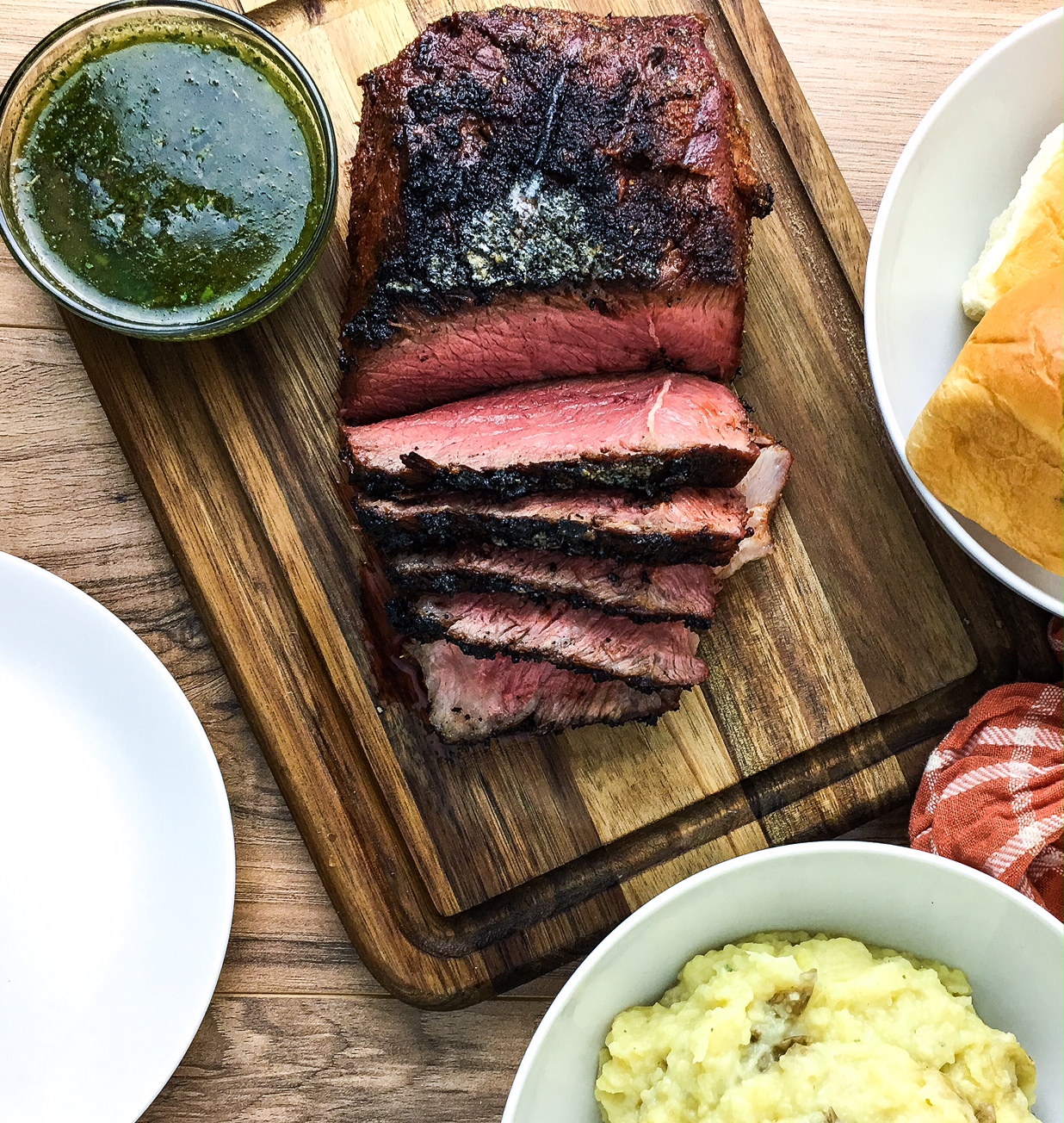 Smoked Gouda mashed potatoes are totally optional, but a big must in our house! The meat is so perfect by itself you could just roast off whatever veggies you have and serve.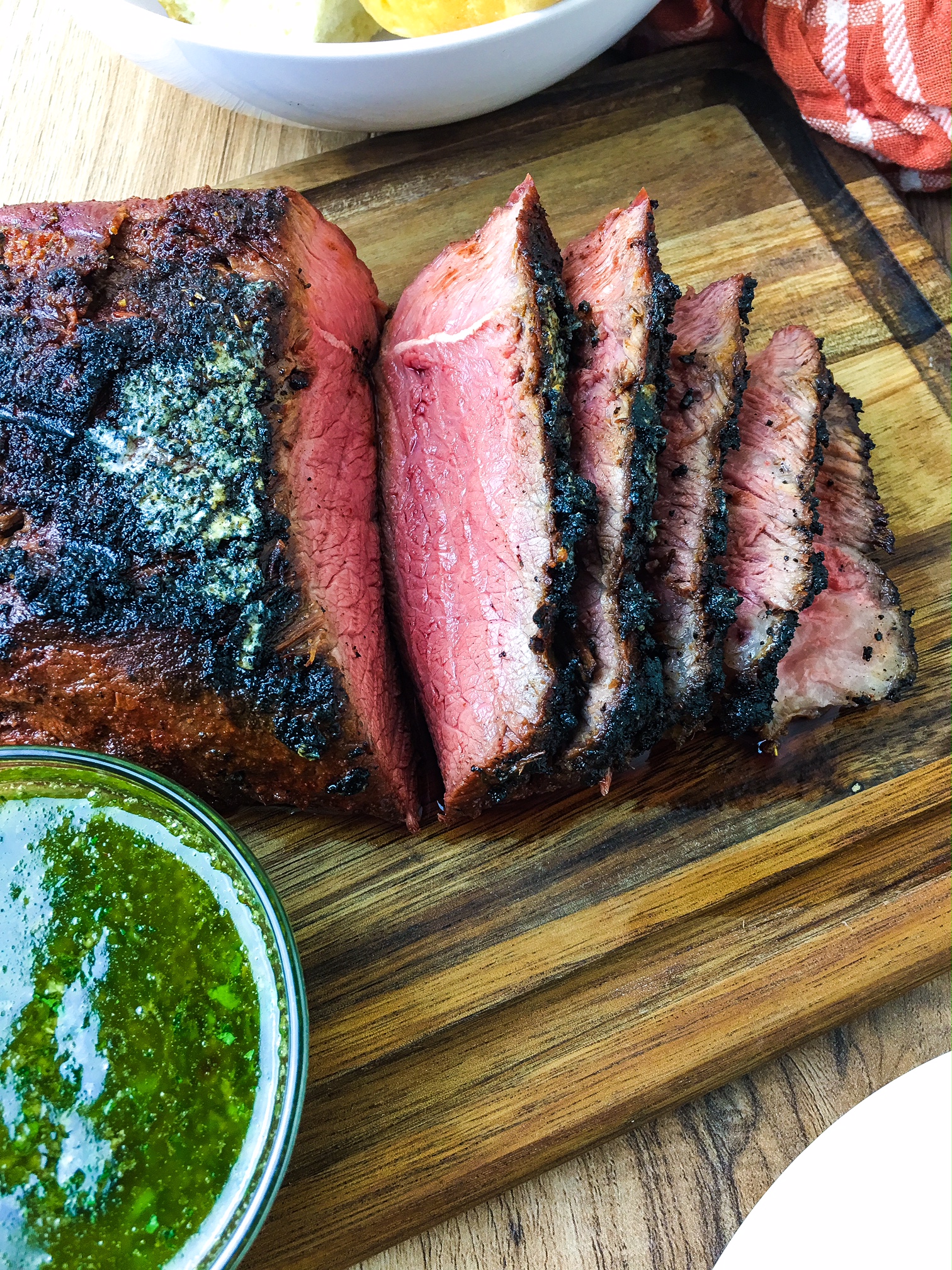 My all time favorite sandwiches consist of prime rib or roast beef. Layers of beef with a horseradish mayo, fresh lettuce, tomato, and peppers with some sort of melty cheese.  I blame my dad. To this day he lives to find hole in the wall restaurants with incredible prime rib sandwiches.
Holiday Roast with Chimichurri
Author:
Prep time:
Cook time:
Total time:
Flavorful crusted beef roast with fresh chimichurri.
Ingredients
For the beef-
One beef roast or prime rib round 8 pounds (more or less based on your serving needs)
5 garlic cloves smashed
2 tsp of sea salt or kosher salt
2 tsp fresh cracked pepper
1 tsp of garlic powder
1 tsp of dried oregano
1 tsp sugar
1 tsp of crushed red pepper
2 tbsp of butter, melted
1 cup of water
1/4 cup of soy sauce
1/8 cup of Worcestershire sauce
2 tsp olive oil
For the chimichurri:
1 cup of chopped fresh parsley
1/2 cup of chopped fresh basil
1 garlic clove
1/4 cup of olive oil
2 tbsp of red wine vinegar
juice from one large lemon
salt and pepper
1 tsp of honey
Instructions
Use a fork to poke holes all over the beef roast
In a large bowl mix together the water, Worcestershire, soy sauce, red pepper, garlic, sugar
Add the beef and marinade in the refrigerator for at least 30 minutes
Dry the beef with paper towels and sprinkled liberally with the salt, pepper, garlic powder, and oregano
Preheat the oven to 325 degrees
In a large pan add a little olive oil and on medium high heat sear the meat on each side
Move to a roasting pan and drizzle with a little more olive oil
Roast for 30 minutes then check the internal temp
(I just leave the thermometer in and cook until 120 degrees)
Drizzle a little melted butter over the top and add a little more salt and pepper (just a pinch)
Cook until 130 degrees for medium rare
Let rest for at least 15 minutes this will bring the temp to around 135-140
For the chimichurri:
In a food processor combined all the ingredients and pulse until smooth
Add more olive oil if you want a more liquid consistency
Season with the salt and pepper to your taste
This roast is so juicy and packed full of flavor! You can even slice up the leftovers (if you have any!) for roast beef sandwiches! Just imagine a little of that roast on a soft fluffy roll with the chimichurri… yuuuum.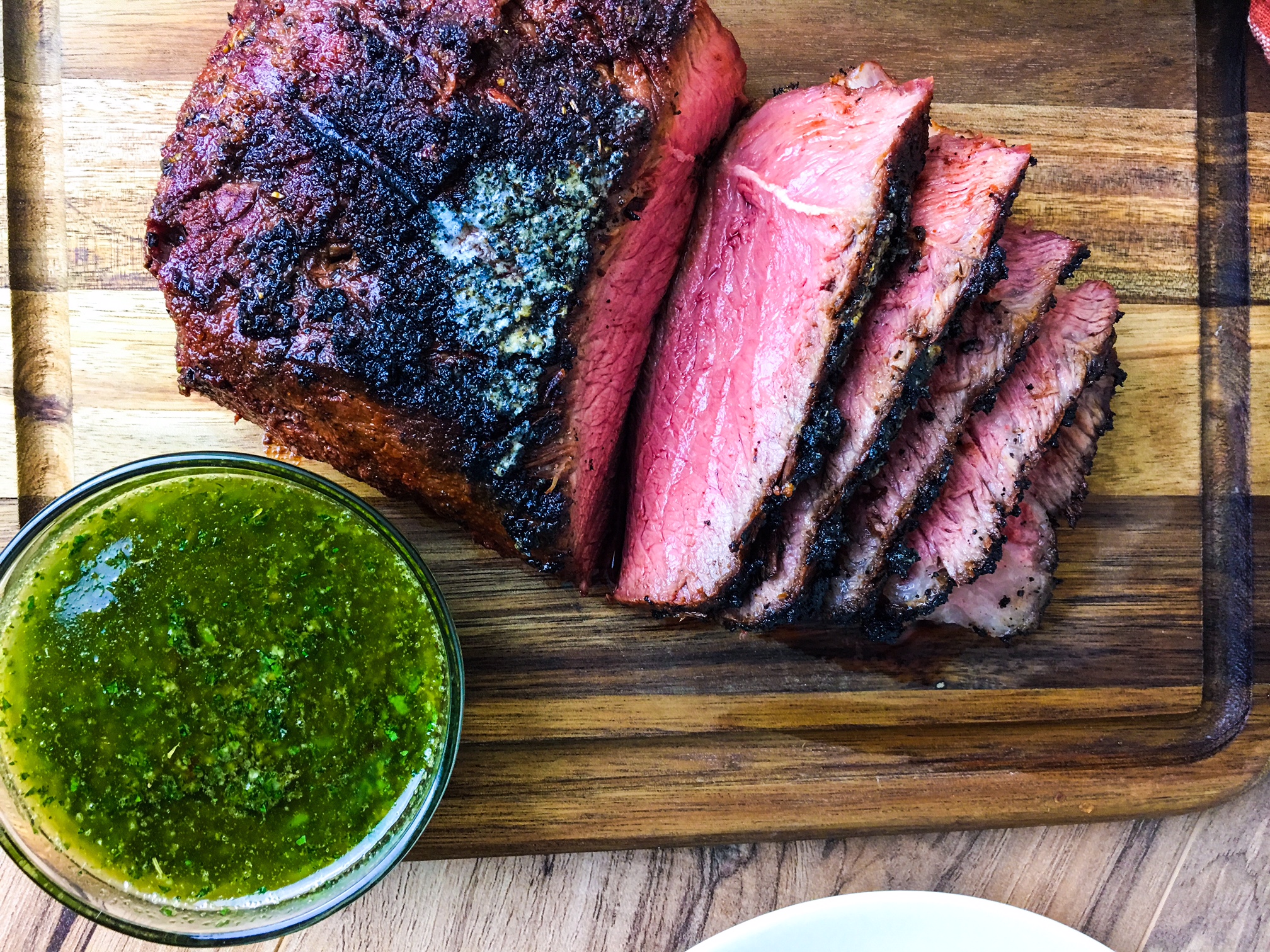 Don't forget to tag me @kelliericecakes if you try this recipe out!!!! Happy eating! 🙂