This Jerk Chicken is a game changer! I actually had a dessert planned to go up today, but we have made this multiple times in the past two weeks! With the holidays right around the corner I knew you guys needed this recipe… TODAY!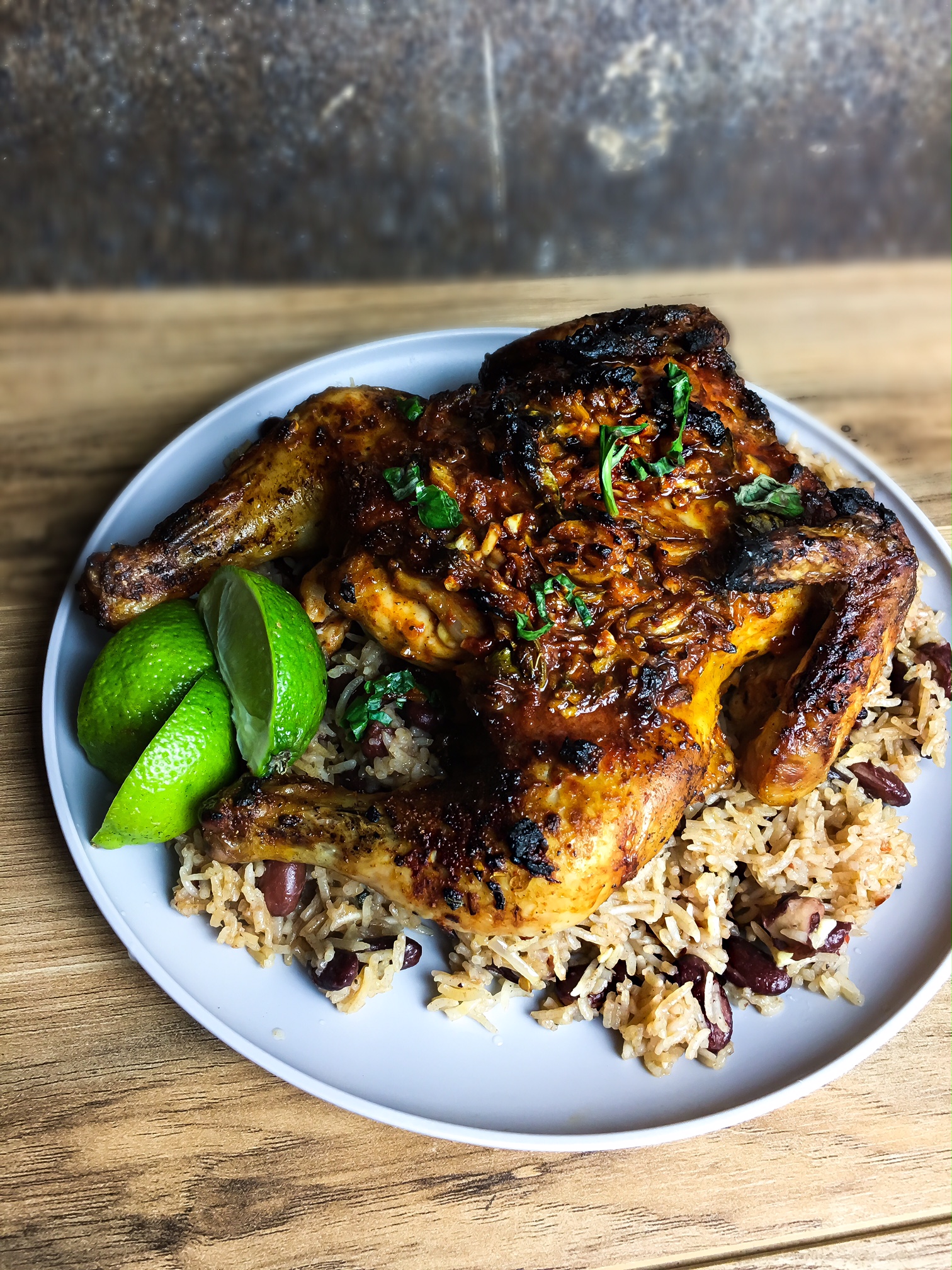 I love this dinner for multiple reasons. One- there is hardly any prep work. Everything is thrown into the oven and you can forget about it until they are done! Two- it is super cheap! Depending where you buy your chicken you can make this whole meal for $10-$15! Three- the flavors are out of this world!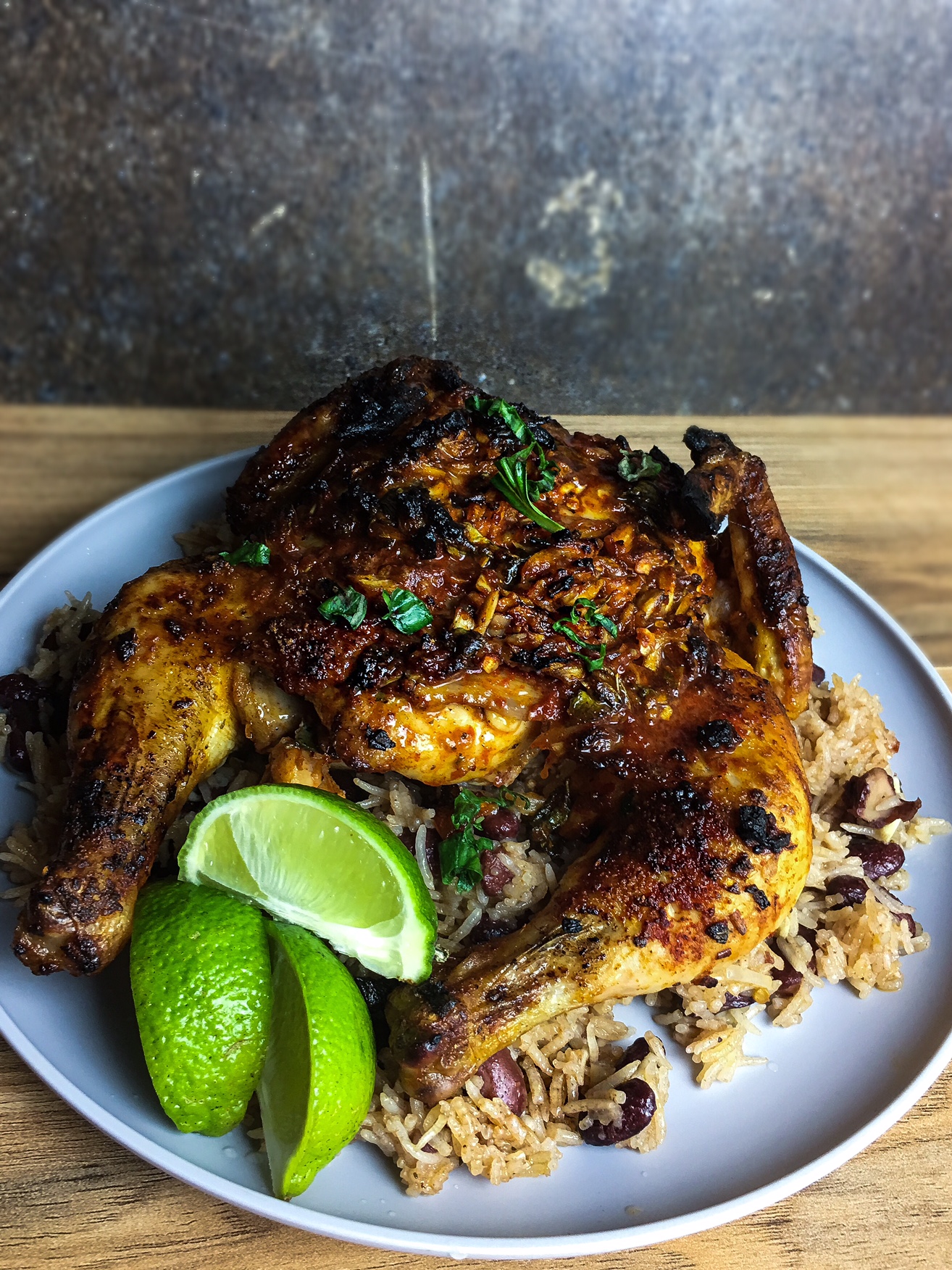 This recipe is based off a recipe from my new favorite YouTube channel, Sortedfood. It is a channel about 3 friends that learn new cooking techniques from their 2 chef friends. I cannot stop watching! They are so creative and they mix flavor combos that you just can't find anywhere else! When I saw their version of jerk chicken I knew I had to make it immediately. As in I finished the episode and scavenged my kitchen in search of ingredients. I didn't follow their recipe exactly, but I did follow their chicken butchering skills!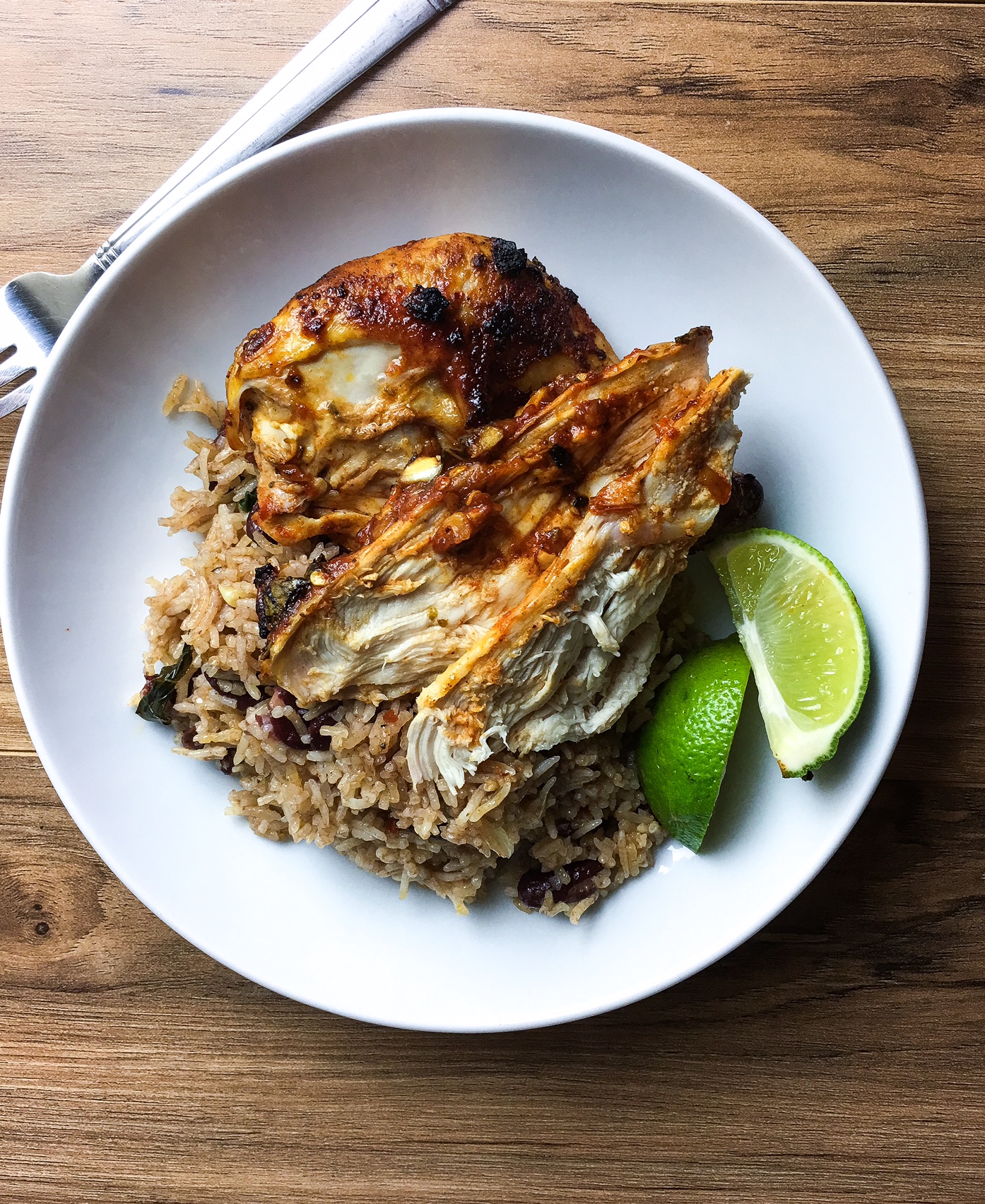 The most important part of the dish is making sure you spatchcock the chicken (aka take out the backbone).  This allows you to really get the marinade into each part of the chicken. I have never had such juicy meat before and we tried this technique with a few different sizes of chicken.
I love this marinade because you get so many levels of flavor. The heat from the cayenne, the freshness from the herbs, and the bitterness from the lime zest all come together for the perfect balance.
Jerk Chicken and Rice
Author:
Prep time:
Cook time:
Total time:
Jerk chicken bursting with flavor over a fluffy bed of rice and beans.
Ingredients
For the chicken:
1 whole chicken 4-6 pounds
2 tbsp of cooking oil
2 tbsp of paprika
1 tbsp of cayenne pepper
2 tbsp of salt
2 tbsp of garlic powder
5 cloves of garlic chopped
1/4 cup of chopped yellow or white onions
1/4 cup of fresh chopped herbs ( I used basil)
1/2 tbsp of nutmeg
1/2 tbsp of all spice
zest from 1 lime
juice from 1 lime
For the rice
4 tbsp of butter
2 cups of basmati rice
1 cup of water
1 can of coconut milk
1 can of rinsed pinto beans
2 tbsp of garlic powder
juice from 1 lime
salt and pepper to taste
Instructions
Preheat the oven to 400 degrees
With a very sharp knife cut the backbone out of the chicken and cut off all the extra fat/ skin around the top and bottom of the chicken
In a large bowl mix the oil, lime, lime zest, herbs, onions, garlic, all the spices except 1/2 tbsp of paprika and 1/2 tsp of salt
Add the chicken and massage the marinade over the chicken and under the skin
Take a fork and poke through the chicken all over the breast and legs to allow the marinade to soak into the meat
Set to the side while you prep the rice
In a roasting pan add all the ingredients from the rice section and stir lighty
Add a grill rack to the top of the roasting pan ( I used a cookie rack)
Set your chicken on the top of the rack (this is going to let the rice absorb the juices as it cooks!)
Take any remaining marinade and dump on top of the chicken
Season with left over paprika and salt
Roast for 20 minutes
Fluff your rice and cook for another 15-20 minutes or until the internal temp reads 160
Let rest for 10 minutes before slicing
Dress with a little more lime juice!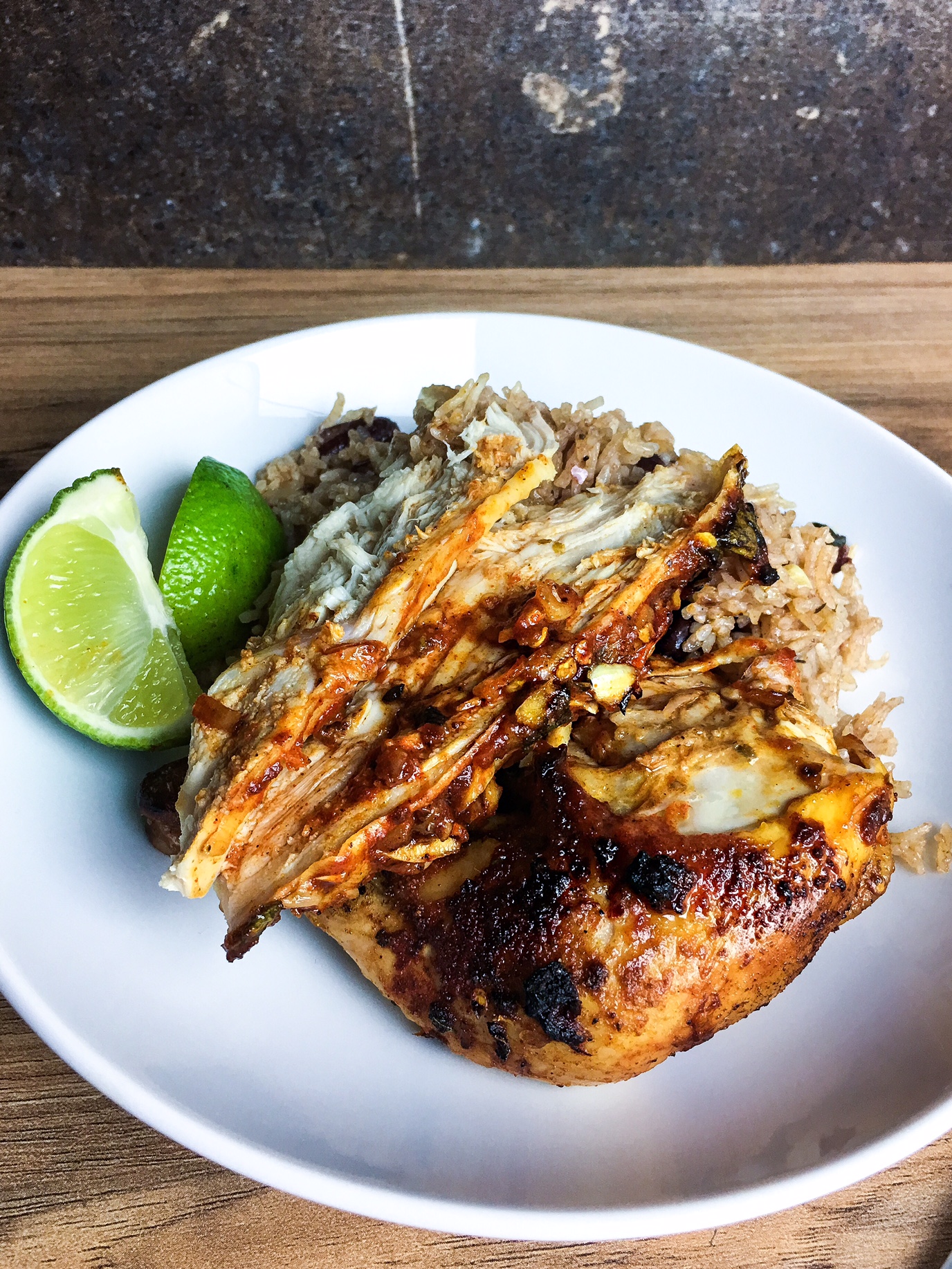 I think next time I am going to try this recipe with a small turkey! I just want all these flavors all the time now. Seriously one of the easiest most delicious chicken recipes I have ever made!