My favorite foods always incorporate some sort of fusion. We love foods from all cultures and sometimes we are torn between multiple dinner ideas. The easiest way to compromise is to fuse the two!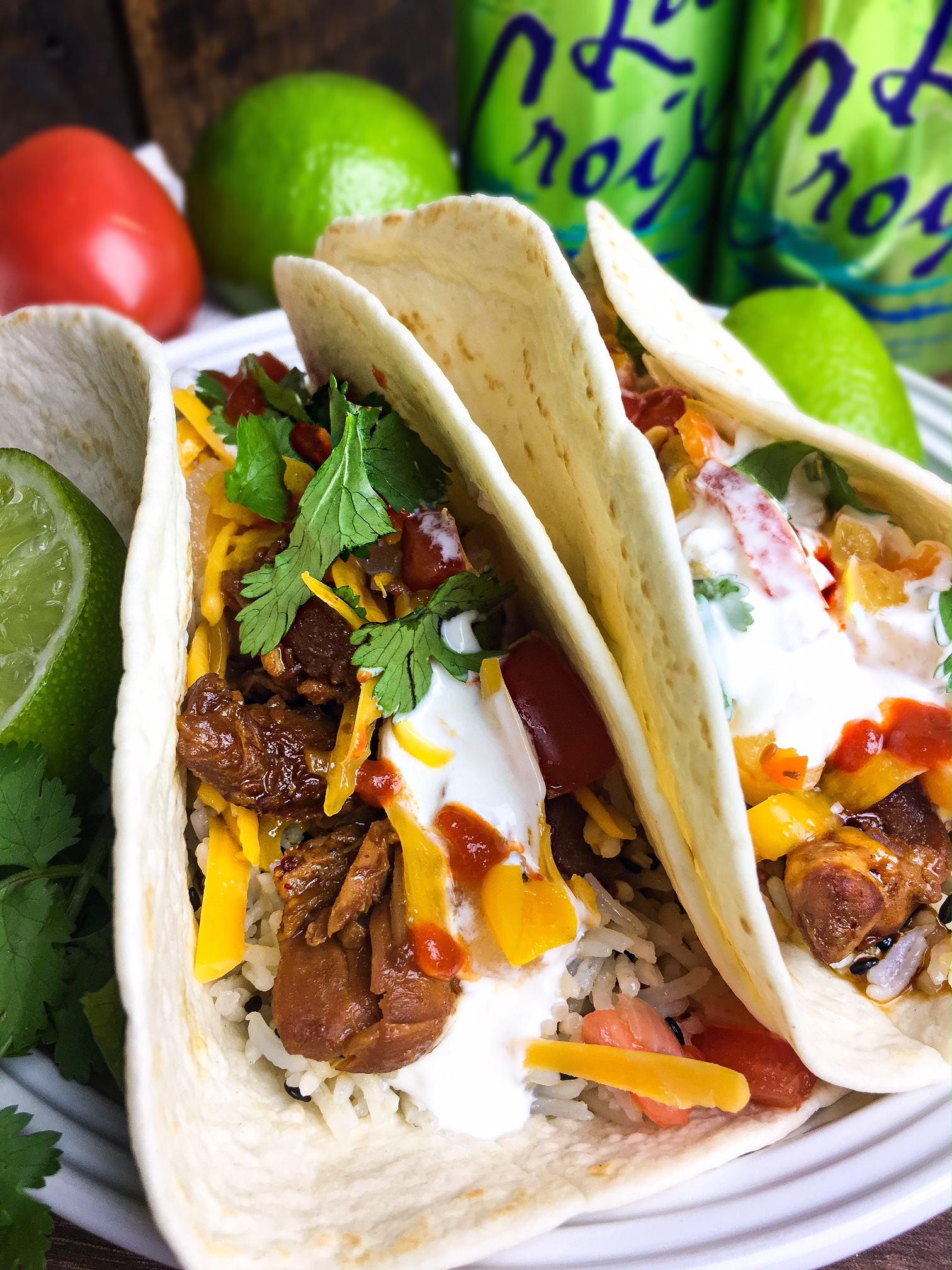 PS. my mom gave us an insta pot for Christmas and we have used it almost every single day since. I seriously cannot recommend the insta pot enough. It makes life so easy during the week. You can make a full meal in 20 minutes. Mind blown.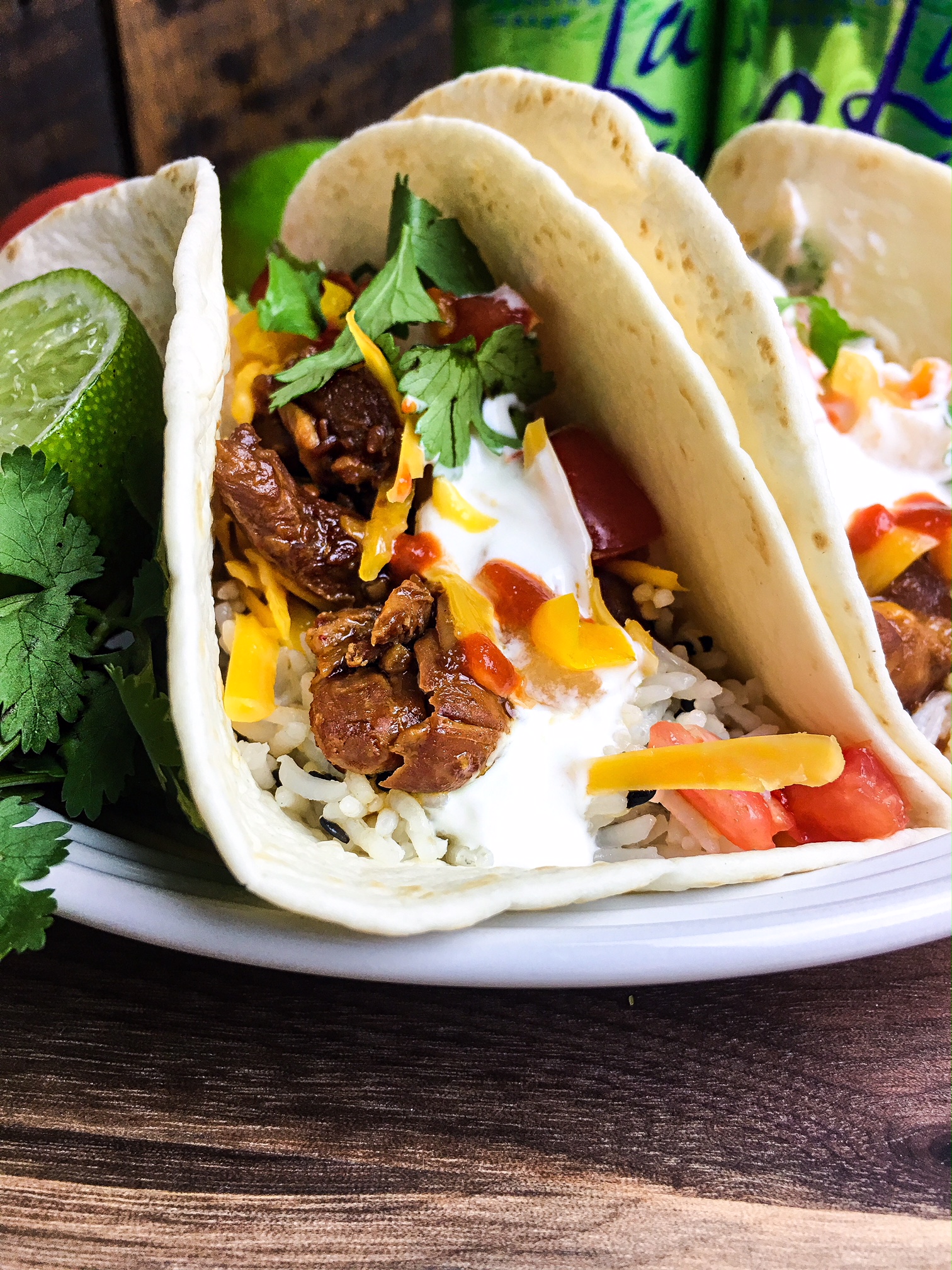 The filling is delicious enough to stand alone. So if you wanted to make this even lower carb you can use a lettuce wrap instead. We used low carb mission tortilla wraps and went very light handed on the rice.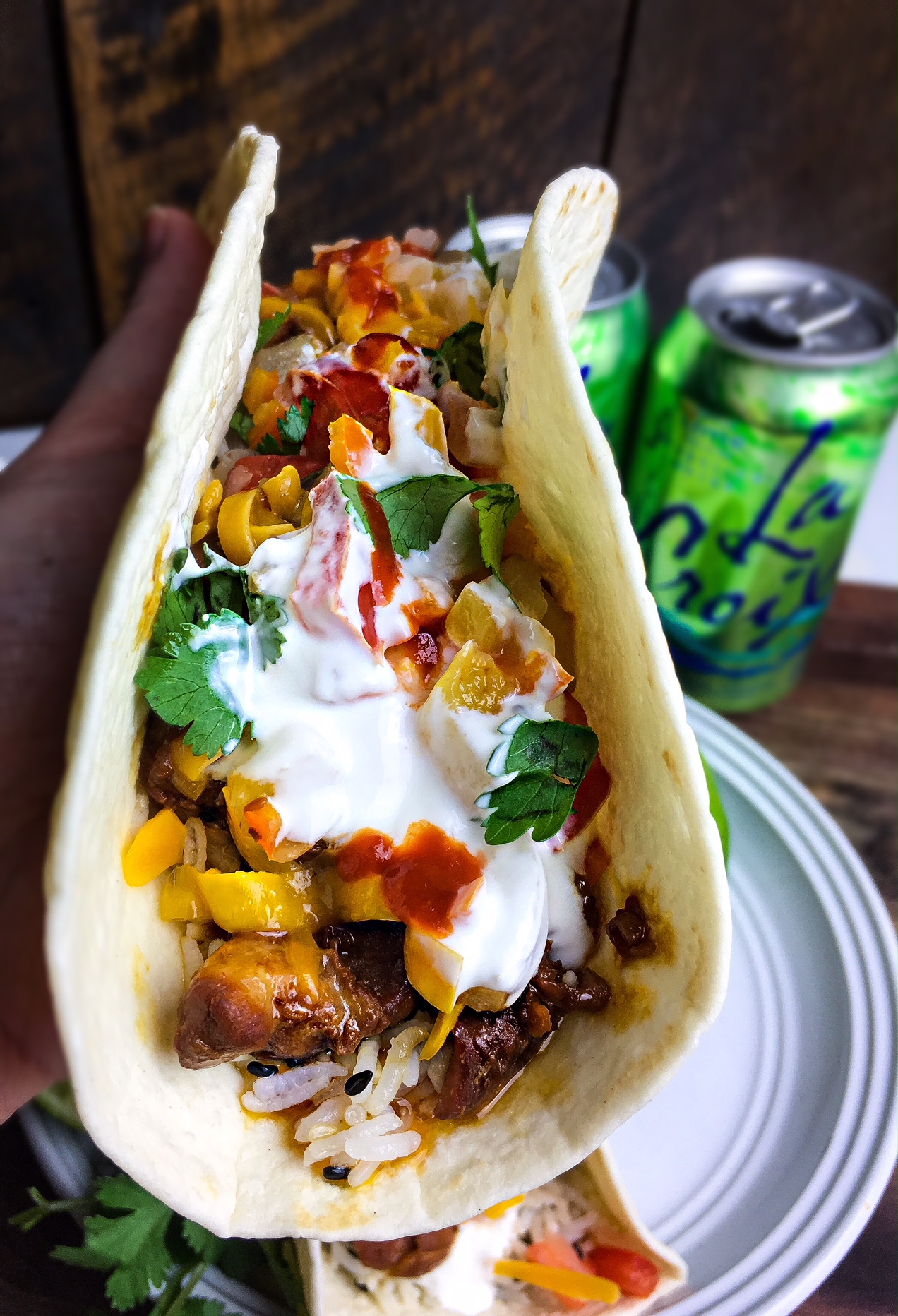 A layer of sesame ginger rice, teriyaki chicken, cheese, pico, sour cream, and hot sauce. Plus lots and lots of fresh lime juice. I will probably need to make these again this week after writing this. All my favorite flavors wrapped up together. Not sure what else I can ask for in a dinner!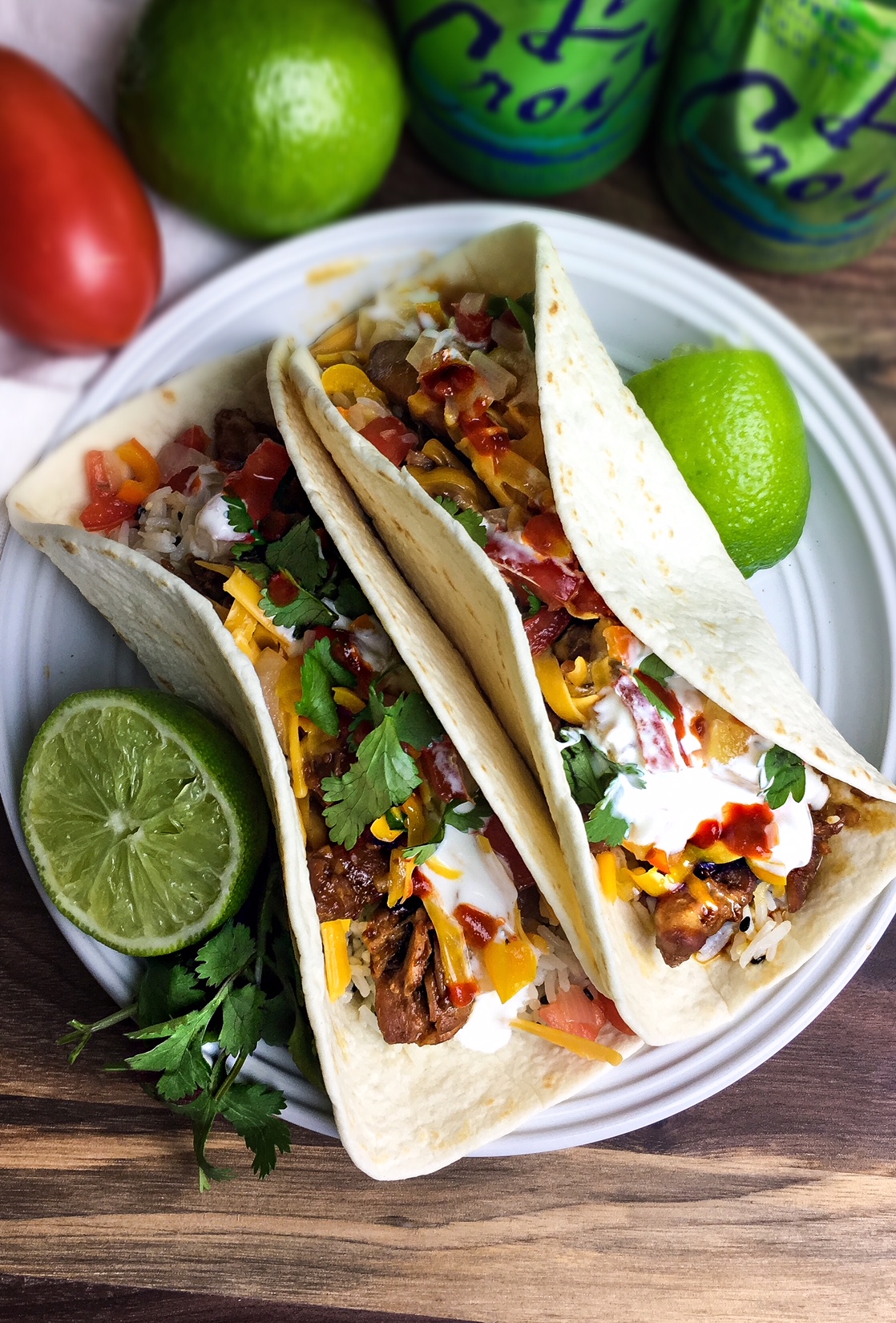 Sweet and Spicy Teriyaki Chicken Tacos
Author:
Prep time:
Cook time:
Total time:
Sesame ginger rice, teriyaki chicken, cheese, sour cream and hot sauce!
Ingredients
1 pound chicken thighs
1/2 cup of teriyaki sauce
1 tsp brown sugar
1 tsp of garlic powder
1 tsp of cayenne pepper
1 cup chopped fresh pineapple
1 cup chopped onions
2 cups of cooked basmati rice
1 tsp of dried ginger
1 tsp of black sesame seeds or toasted sesame seeds
1 tsp of butter
shredded cheddar
pico de gallo (chopped tomato, white onion, jalapeno, cilantro, lime juice)
Sour cream
Hot sauce
low carb tortillas
limes
Instructions
In a roasting pan lay out the chicken thighs and season with brown sugar, garlic powder, cayenne pepper, salt and pepper. Cover with onions and pineapple then drizzle teriyaki on top. Bake for 30 minutes, cool and shred.
If making in an instant pot- use saute feature to brown the chicken and onions, switch to the stew/meat button. Season with salt pepper, cayenne, garlic, brown sugar, pineapple, and teriyaki. Cook for 15 minutes.
Mix basmati rice with melted butter, ginger, and sesame seeds. Season with salt and pepper.
To assemble-
Fill tortilla with rice, chicken, cheese, sour cream, and pico.
Squeeze lots of lime over the top
Serve with hot sauce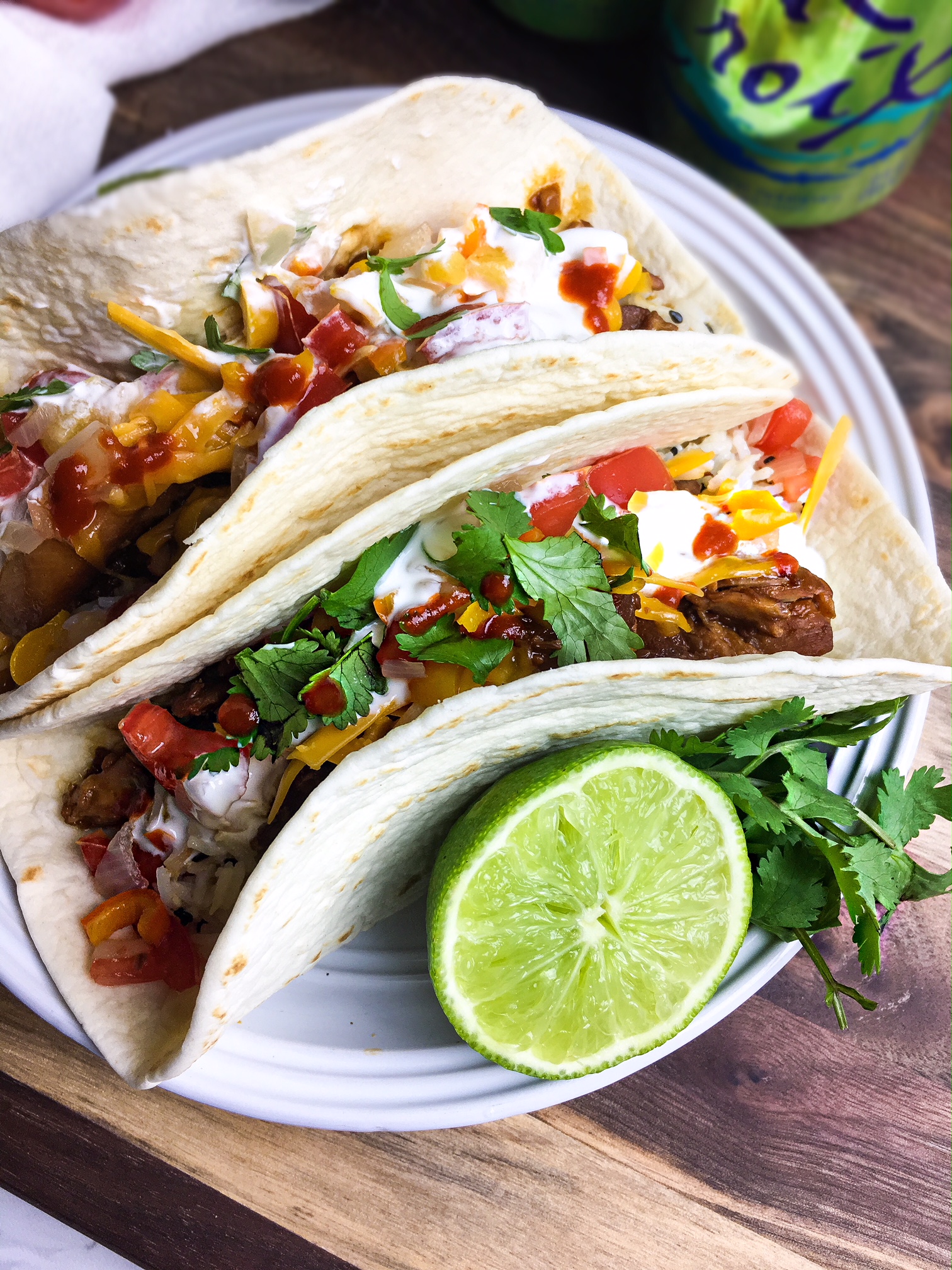 Are you ready to run out and make these? I promise you will not regret it! One of our favorite new go to meals during the week. So fast, easy, and delish!