There is a restaurant near us that serves a platter of super spicy crispy chicken, potato wedges, pickled radish, cold corn and tons of dipping sauces.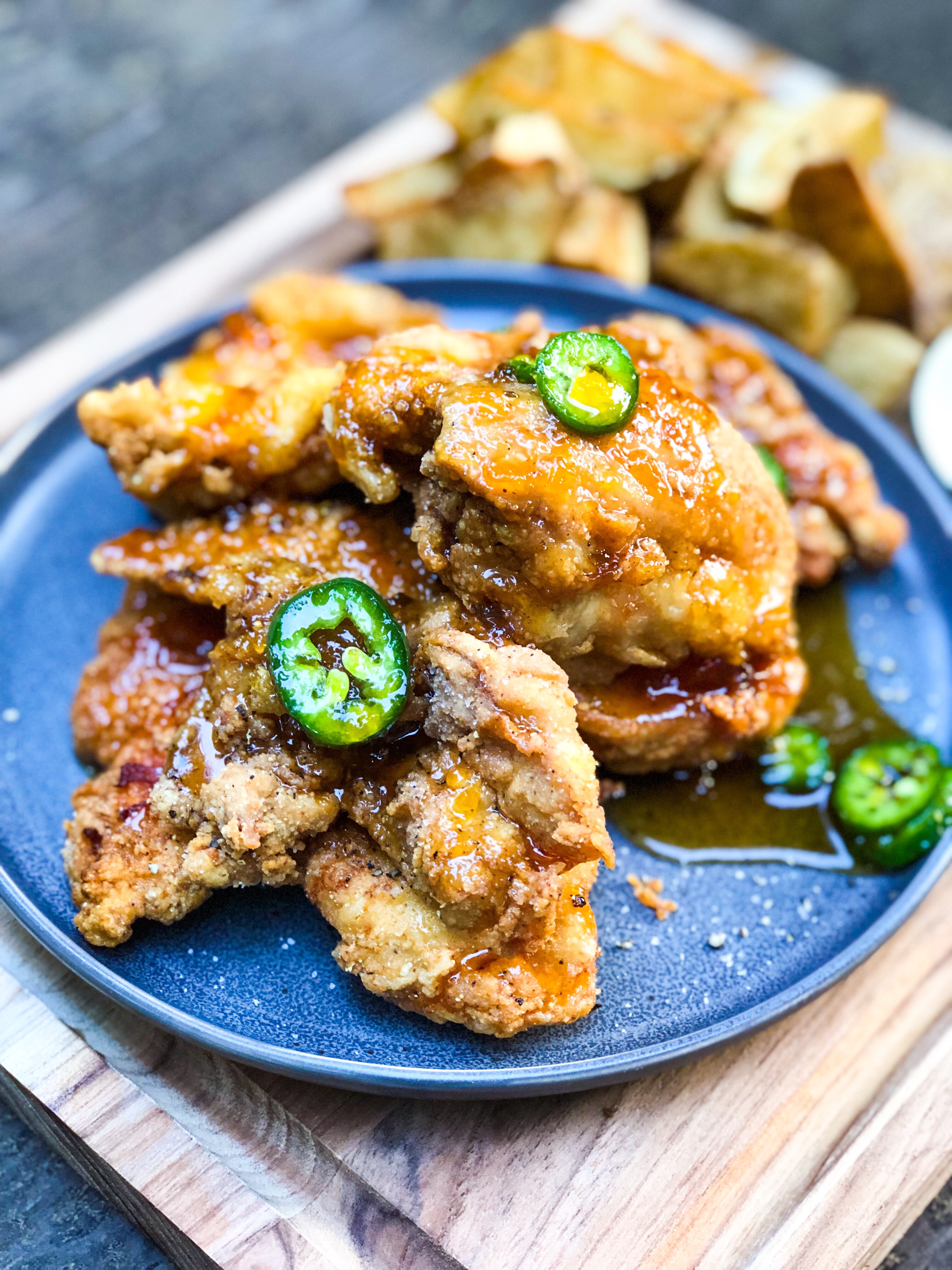 We were shopping the local section in Publix and came across locally made pepper jellies. I knew right away I wanted to make a glaze with the peach jalapeño jelly. If you can't find fruit pepper jelly you can get a regular pepper jelly and add peach jam.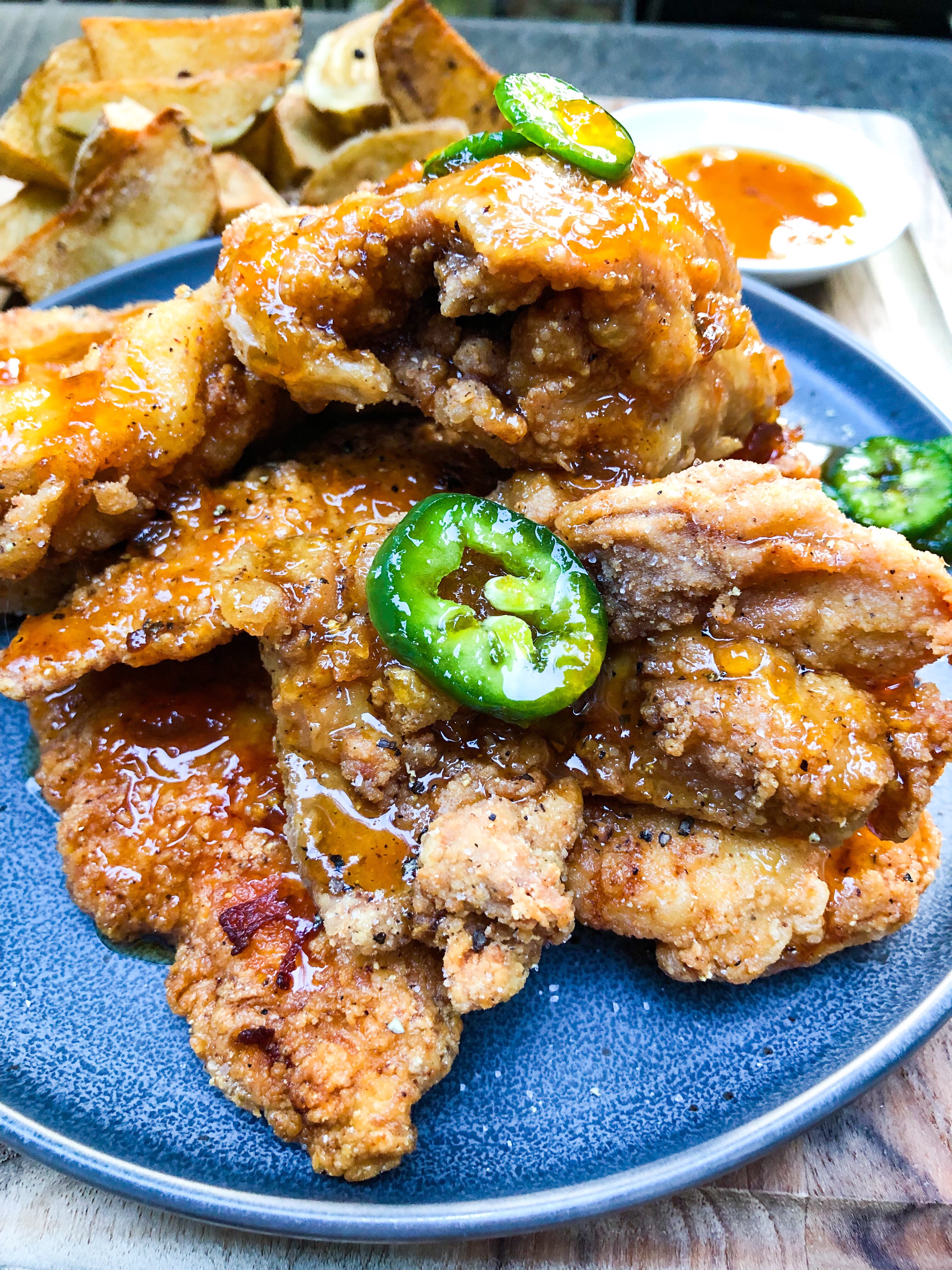 I made this chicken the other day and Patrick liked it so much he requested it again last night! Lightly breaded chicken perfectly crispy and salty. The glaze really takes it over the top.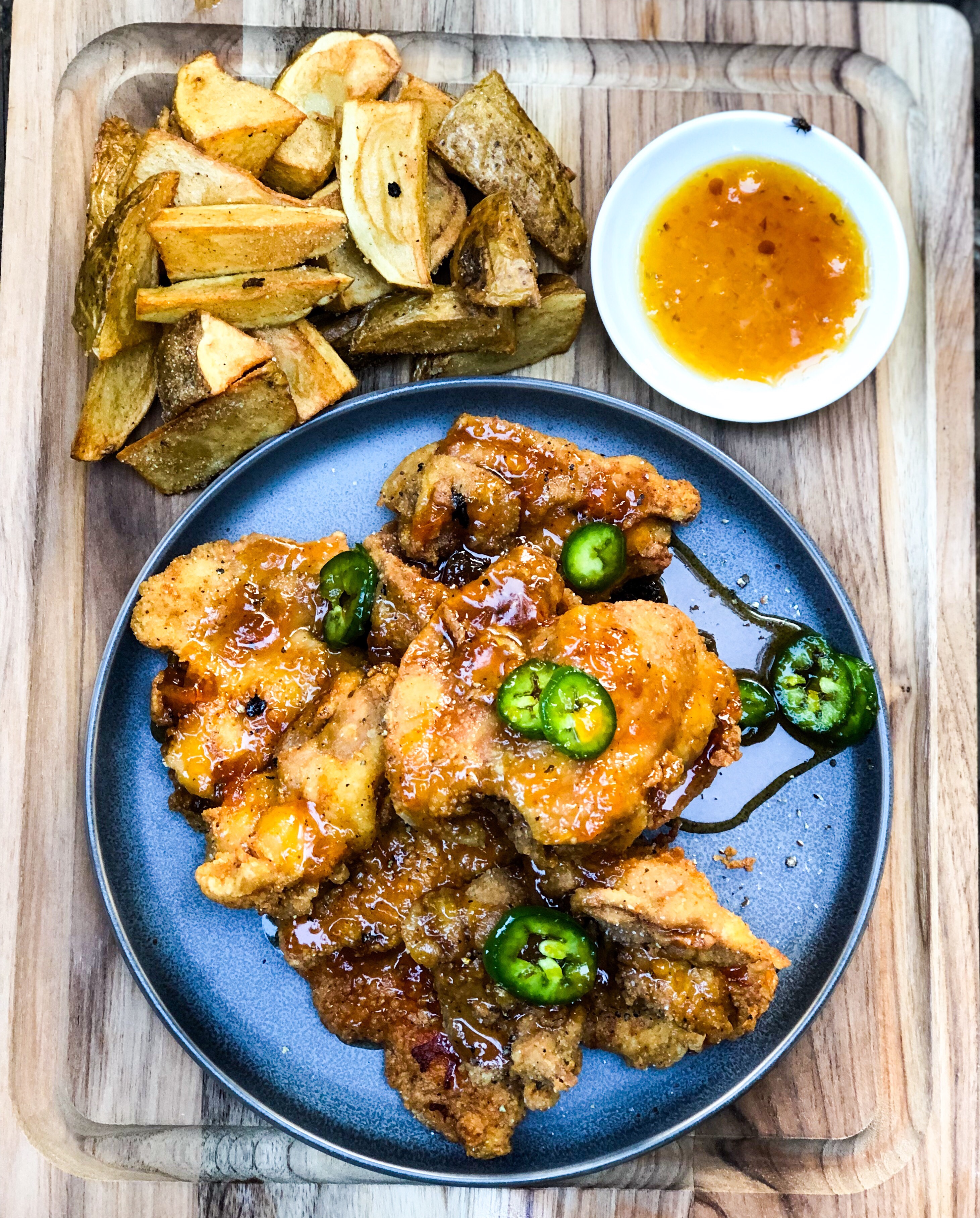 The mix of pepper jelly, honey, jalapeño and soy sauce is just a magical experience when it mixes with the salty chicken.
Ingredients
Chicken thighs boneless skinless
1 cup flour/1 cup cornmeal or 2 cups of autrys chicken breading
1 tbsp garlic powder
1 tbsp salt / pepper
2 tbsp of peach pepper jelly
1/4 cup of honey
2 tbsp of soy sauce
1 fresh jalapeño sliced
Oil for frying
Directions
Preheat oil to 350 degrees ( I like to use a cast iron skillet or large soup pot
In a large ziplock bag or Tupperware add the four/cornmeal (or breading), salt, pepper and garlic.
Add the chicken and shake until fully coated
Fry until cooked through around 160 degrees it will rise as the chicken rests
Season liberally with salt and pepper
In a sauté pan whisk, honey, pepper jelly, soy sauce and jalapeño. Heat over low until combined
Drizzle over the chicken
We like to serve ours with potato wedges and garlic greens!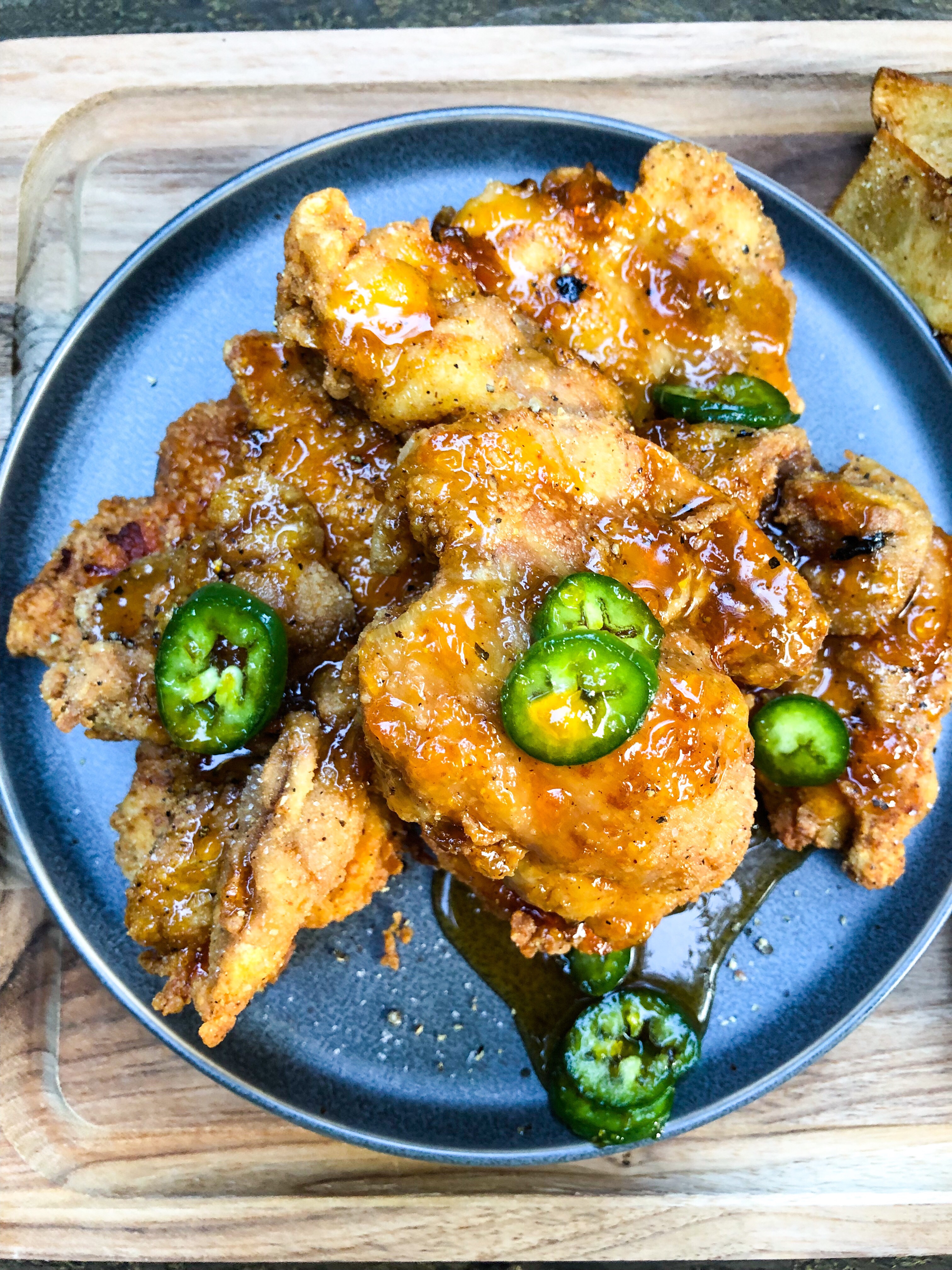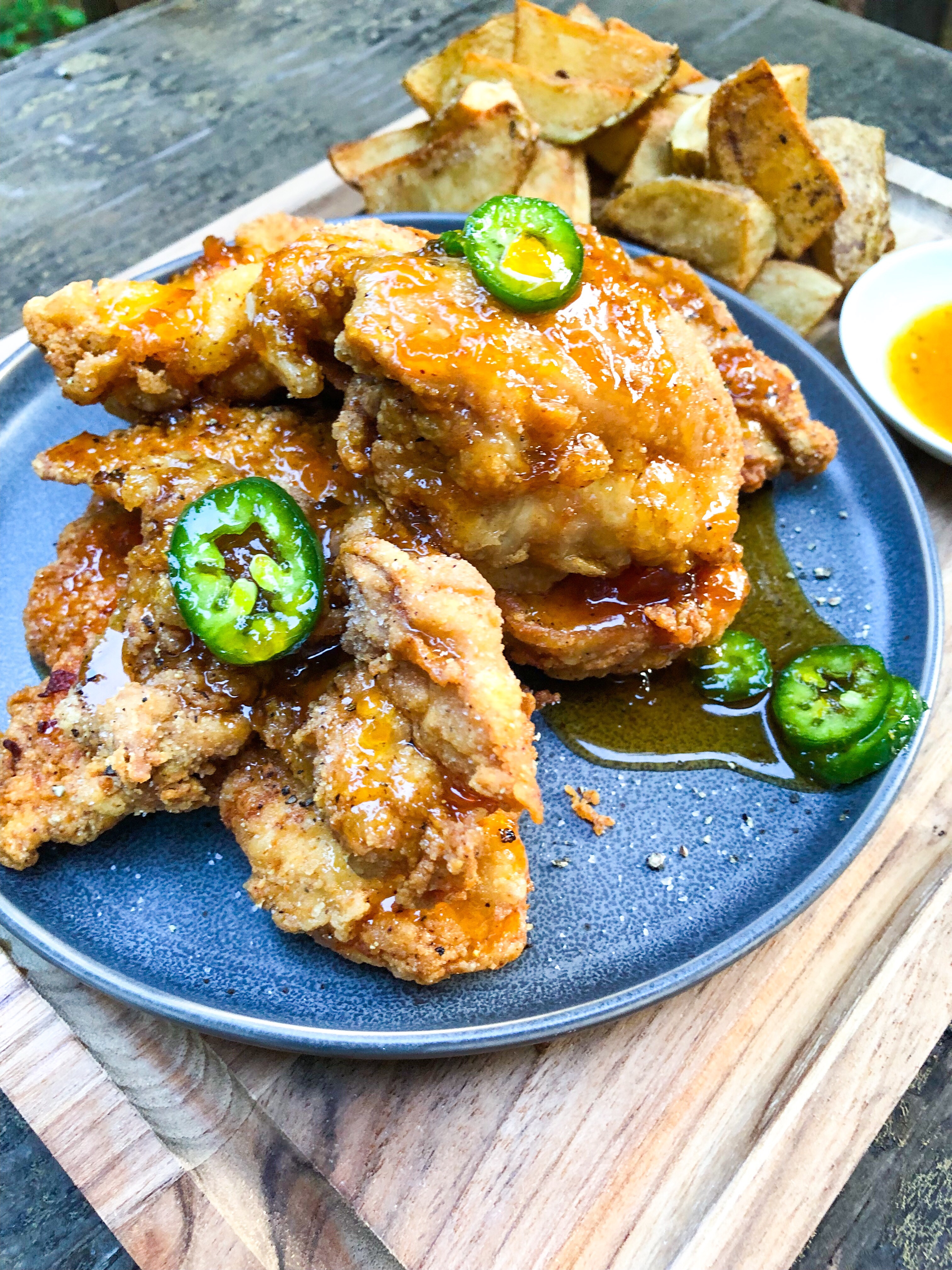 Enjoy !!! ( with lots of sriracha!)