We spent our mini moon after the wedding in a tiny German inspired town. One of the big things I noticed was all the baked goods were light and airy with some sort of almond topping.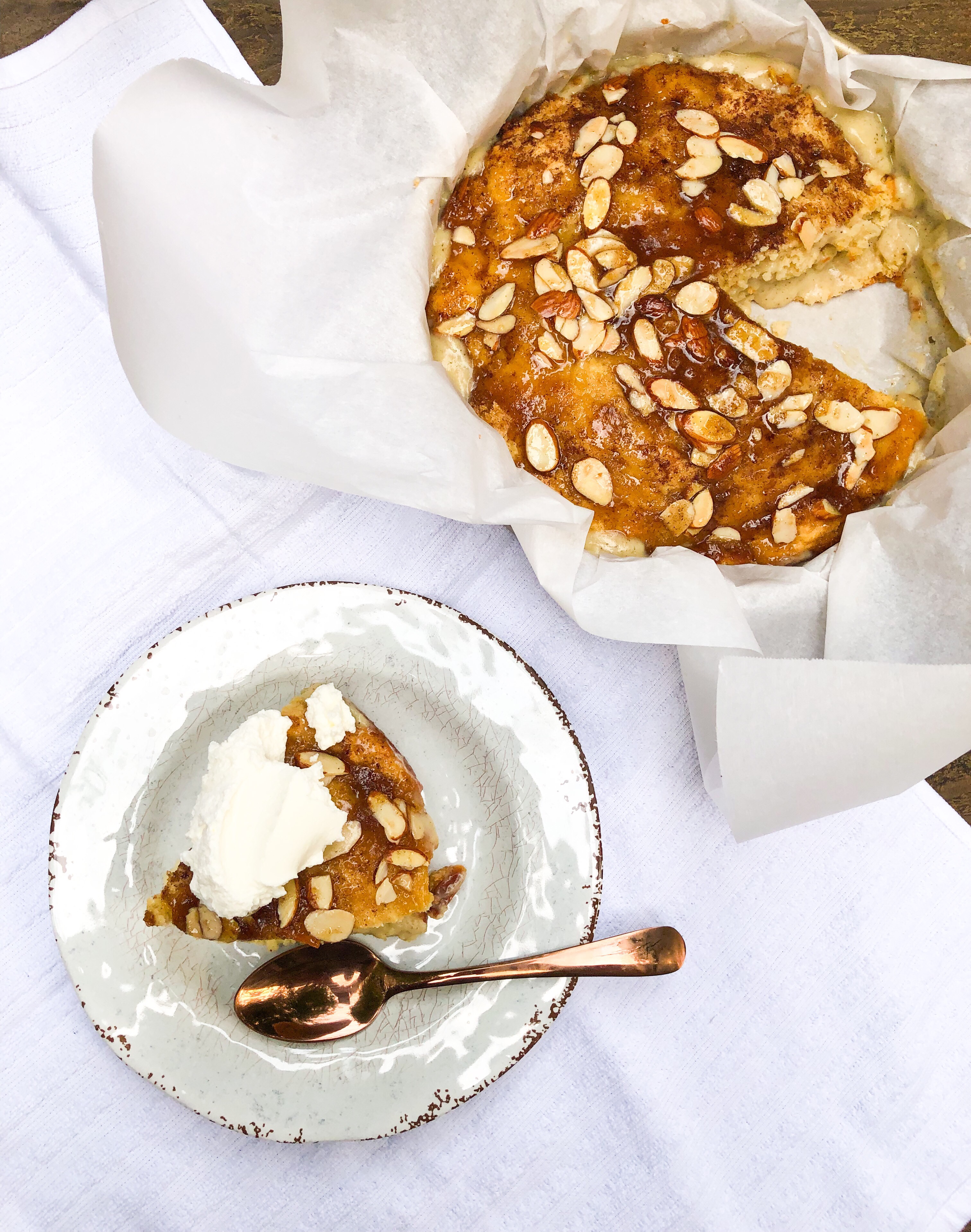 I really wanted to try making a classic Bee Sting Cake. A cross between a bread and cake with honey vanilla pastry cream. I always start out thinking my recipe will be classic, but then I start adding ingredients until it is very loosely based on the original. I couldn't help but add cinnamon and brown sugar. The flavors just all pair soooo well together!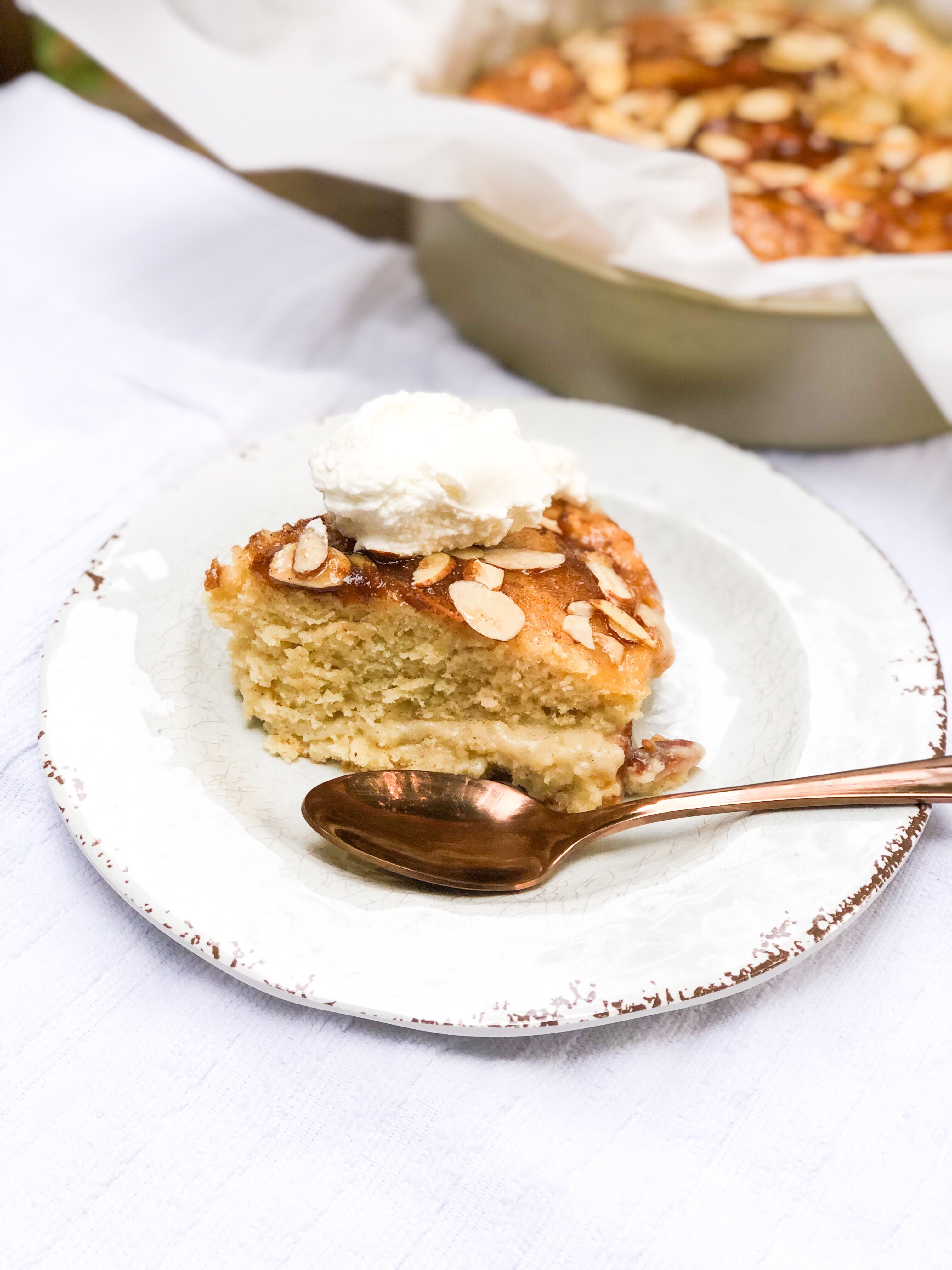 The texture is much lighter than bread, but still has that yeast feel. The crumble on top of the cake is the only truly sweet element. I added fresh whip cream to really turn it into a summer dessert.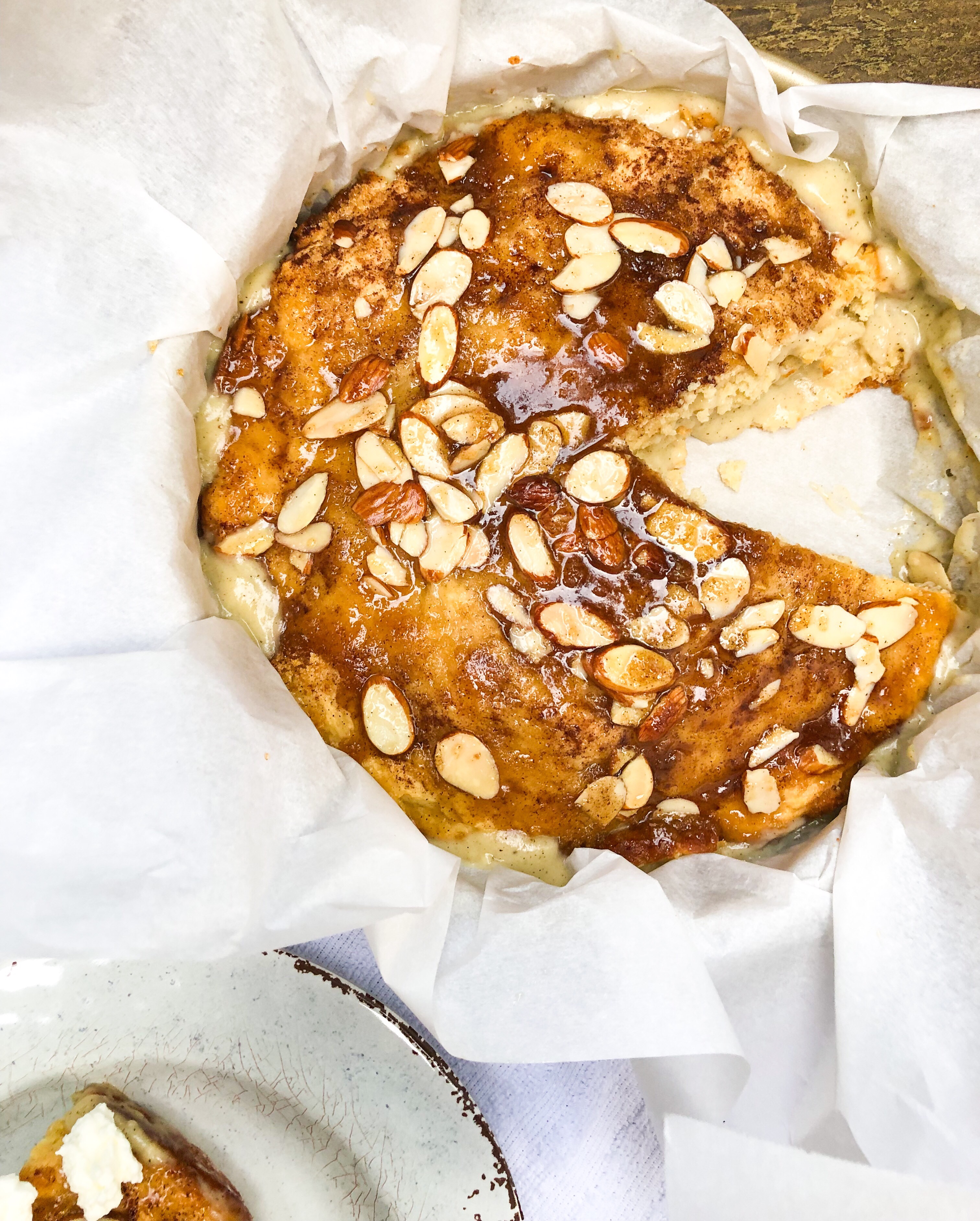 This cake was the perfect time to break out my favorite Rodelle vanilla ingredients! The vanilla bean paste is my all time favorite. That plus the vanilla extract definitely intensify the honey.
Ingredients
For the cream –
3 egg yolks
2 tbsp of Rodelle vanilla bean paste
1 tbsp of Rodelle vanilla extract
1 tbsp of cornstarch
1/4 cup of honey
1/2 cup of sugar
1 1/3 cup of whole milk
For the cake-
2 eggs
1/2 cup of salted butter
2 cups of AP flour
1/2 cup of warm whole milk
1 packet or 2 1/2 tbsp of dry active yeast
1/2 cup of sugar
2 tbsp of honey
1 tbsp of Rodelle vanilla extract
1 tsp of salt
For the topping-
1/2 cup sliced almonds
1/4 cup of honey
1/4 cup brown sugar
1 tsp of cinnamon
Directions
For the pastry cream-
In a sauce pan heat half the sugar, vanilla paste, vanilla extract, and milk until almost boiling. Little bubbles will rise to the surface. Reduce to medium low.
In a bowl mix egg yolks, honey and remaining sugar.
Add the egg yolk mixture to the sauce pan. Whisk continuously to avoid the eggs from curdling.
In a separate bowl mix the cornstarch with a little water to make a paste. Add to the sauce pan.
Whisk over medium high heat until the cream has thickened and coats the back of the spoon.
Let cool and set the in fridge. I like placing plastic wrap into the top to avoid skin texture from forming.
For the cake-
In a mixer (with a dough hook) add the warm milk, yeast, and sugar. Let sit until the yeast bubbles.
Add the remaining ingredients and mix until ingredients are fully incorporated. The dough will look like a cross between bread dough and cake batter. Slightly loose and sticky.
Preheat the oven to 350 degrees. Cover the dough and let rise for 30 minutes to an hour.
You can grease a 9 inch cake pan or use parchment paper. I prefer parchment.
Place dough in lines pan and spread the best you can. Just try and keep everything even.
Top with the honey, brown sugar, and almonds.
Bake for 35-40 minutes until set.
Let cool before slicing the cake into two layers.
Spread the cooled pastry cream on the bottom layer before placing on the top layer.
Serve with fresh whipped cream if you like!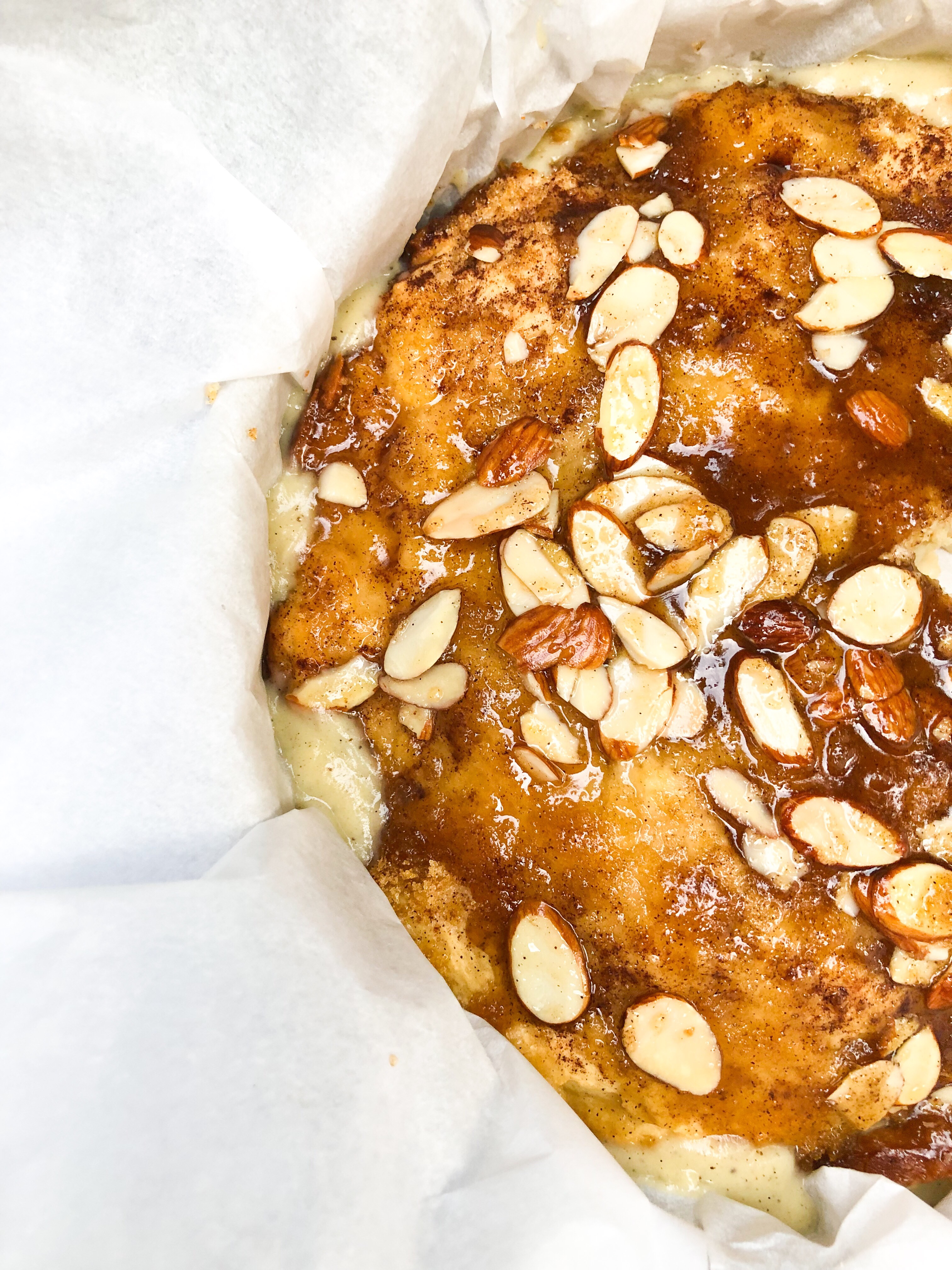 Definitely made for impressing guests, but would be great for a not too sweet brunch!