I am not really sure how to classify this recipe. All I wanted to eat was some sesame drenched noodles and Patrick really wanted fried chicken. As long as I add a vegetable it counts as a balanced meal right?  Now you need to picture a big bowl of soft udon noodles coated in a sweet sesame soy sauce topped with sauteed veggies and crispy chicken. Yes this is one of my dream meals.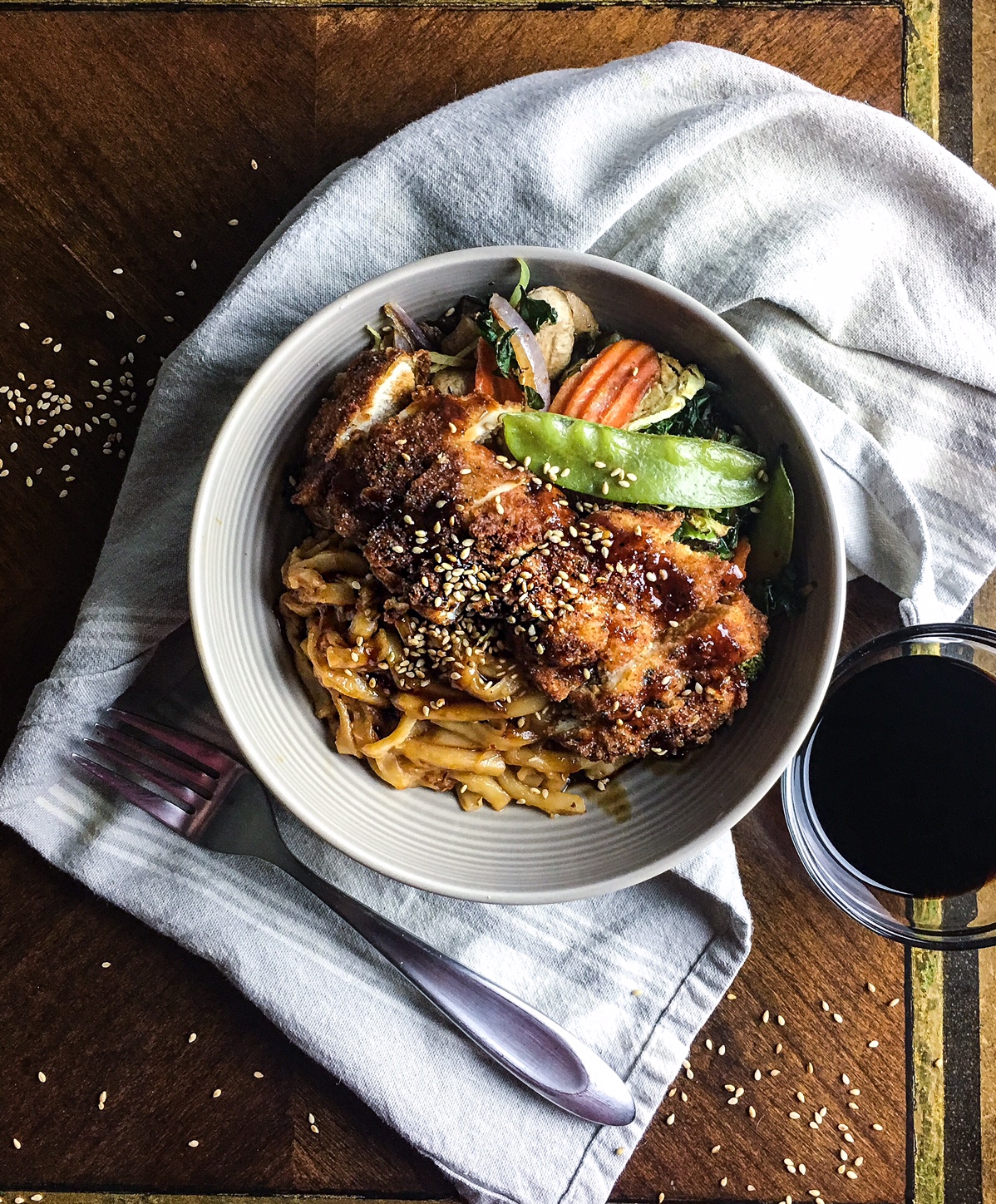 The first time I have ever had udon noodles was at Whole Foods. They had this amazing cold udon salad. They have such an amazing texture and the ability to soak up any sauces. The soft noodles pair perfectly with the crispy chicken. Of course I doused my noodles with hot sauce, but how can you not!? Hot sauce is perfect with crispy chicken. I bought a mix from the grocery store of raw veggies that were exactly what these noodles needed. Chopped cabbage, mushrooms, snow peas, and carrots seasoned lightly with salt and pepper.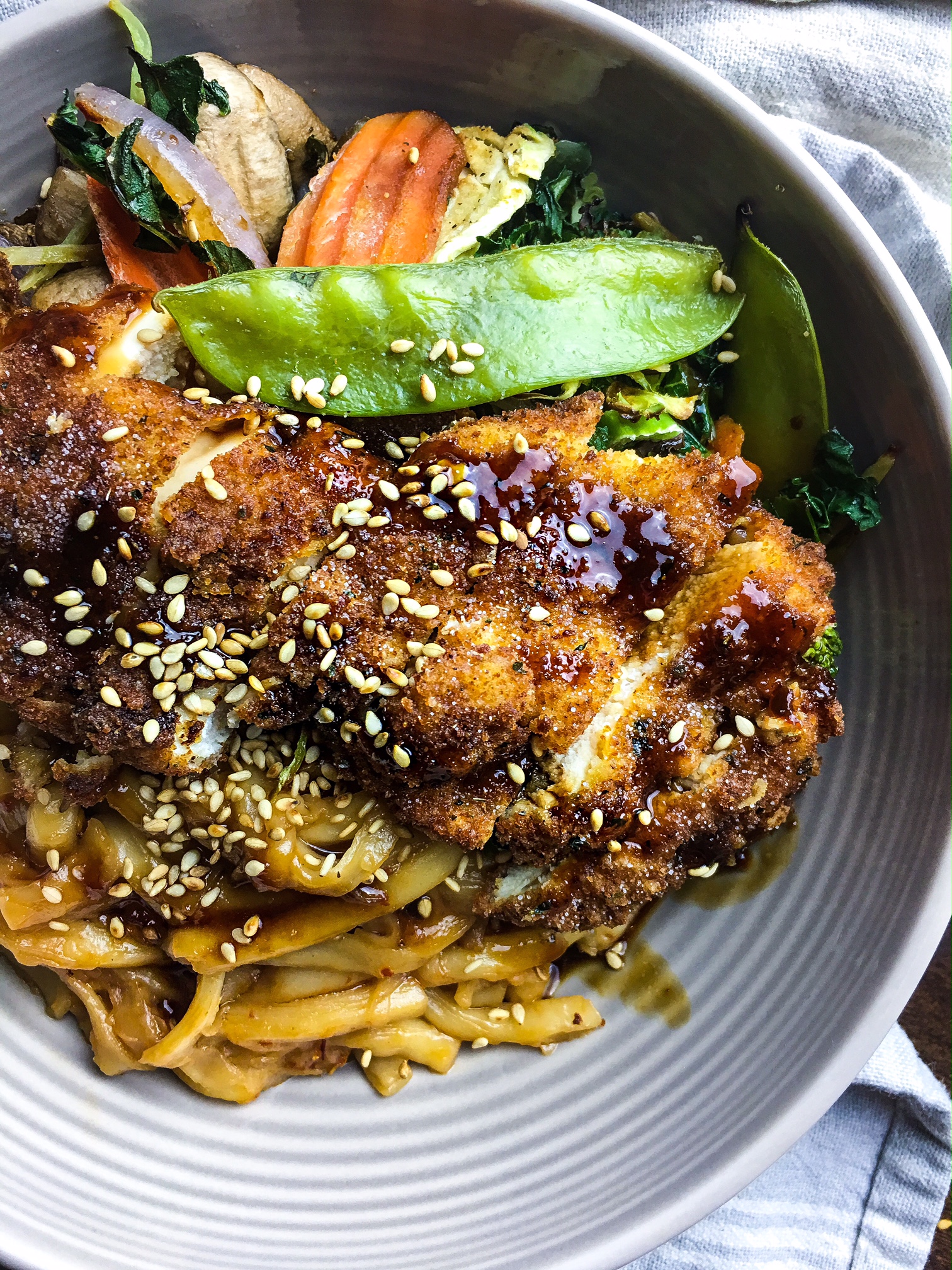 This dish definitely rivals some of my favorite take out places. If you don't like your noodles as soft you can cook them until just before they are done. The heat from the sauce will do the rest. Play around with the textures. Use your favorite veggies. I used toasted sesame seeds on top of the chicken for just a tiny bit more crunch.
Sesame Udon Noodles And Crispy Chicken
Recipe Type
:
Dinner, Pasta
Author:
Prep time:
Cook time:
Total time:
Soft sesame udon noodles wtih crispy chicken and sauteed veggies.
Ingredients
For the noodles:
2 packages of udon
chopped assorted veggies (cabbage, snow peas, carrots)
1/2 cup of soy sauce
1 tbsp of brown sugar
1 tsp crushed red pepper
1 tsp of cooking oil
1 tsp of toasted sesame oil
1 tsp garlic
salt and pepper to taste
toasted sesame seeds to taste
For the chicken:
1 pound of chicken breast
2 eggs
1 cup of flour
1 cup of panko
1 tsp of salt
1 tsp of garlic powder
1 tsp of paprika
1 tsp of white pepper
3 cups of oil for cooking
salt to taste
Instructions
Preheat 3 cups of oil in a deep pot or cast iron skillet
Cut the chicken into 4 thin strips
Mix the flour, salt, garlic, paprika, and pepper
Dredge the chicken into the flour mix
Mix the 2 eggs together and add 1 tbsp of water
Dip the chicken into the egg mixture
Toss the chicken in the panko crumbs
Fry until golden brown and internal temp hits 160 -165 degrees
Drain on paper towel and salt lightly
Cook udon noodles by package directions
In a sauce pan saute the veggies in the tbsp of cooking oil season lightly with salt and pepper
Set veggies to the side
In a sauce pan add the soy sauce, sesame oil, brown sugar, garlic, crushed red pepper
Bring to a slight boil then drop heat to a simmer for 1-2 minutes
Take off heat
Toss the sauce and noodles
Top with veggies and chicken
Sprinkle toasted sesame seeds over the top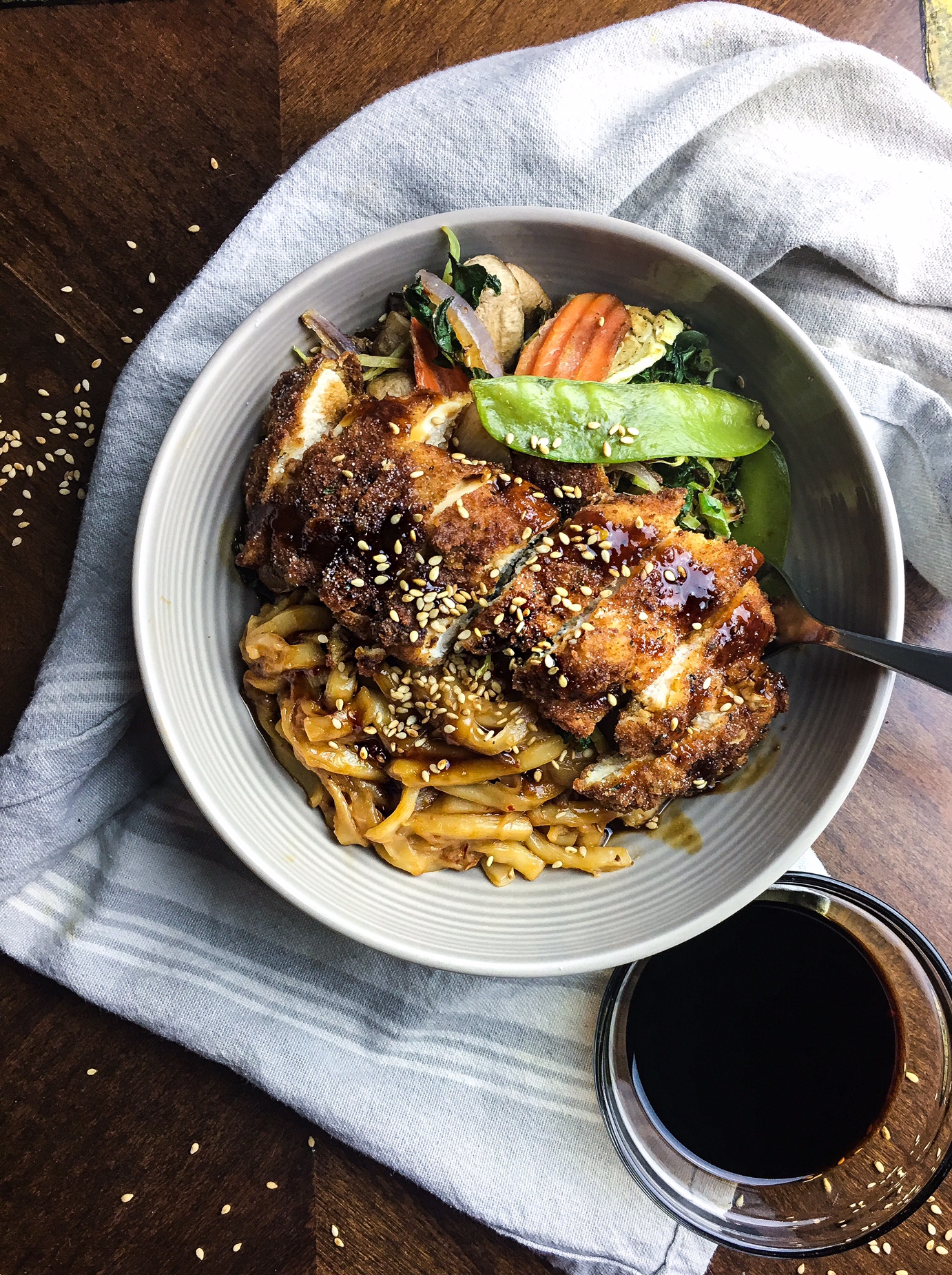 Today happens to be our first perfect fall day. The weather is sunny, but around 65 degrees. I think it is calling for these sesame noodles and crispy chicken!