Yesterday marked the 2 year birthday of kelliericecakes.com! I cannot believe how fast time has flown by here! I am so excited to have found such a perfect outlet for all my food cravings. It is great timing too, because next week I will be at Macon Appliance Mart cooking at our first food demo. Looking back to the day I launched I love seeing how this site and community has grown. I have met so many fantastic people on this journey and learned so much. I can't wait to see what this new year brings!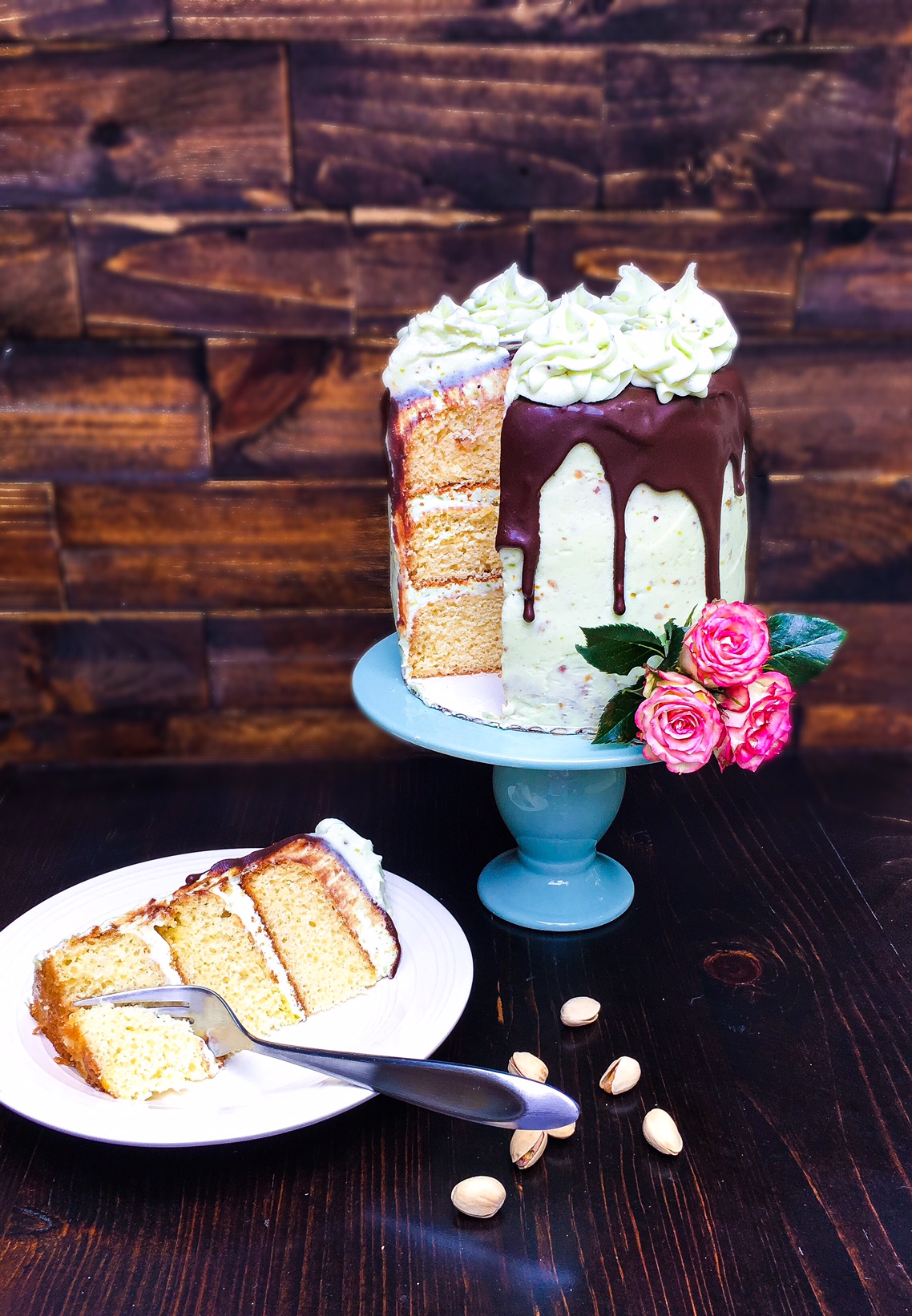 Today I wanted to share one of my favorite recipes to celebrate! This pistachio butter cake is definitely going to satisfy any sweet tooth! Airy layers of butter cake with sweet pistachio butter cream and a drizzle of dark chocolate ganache.
You can definitely buy pistachio paste, but making your own is fairly easy. I decorated this cake with some roses I picked up at the farmers market. I have definitely been into simple cake decorating lately. A chocolate or caramel drizzle and fresh flowers will finish any cake!
Pistachios are the perfect compliment to this butter cake. So salty and savory. Sweet and salty is one of my favorite combos so I love the layers of pistachio flavor in the buttercream.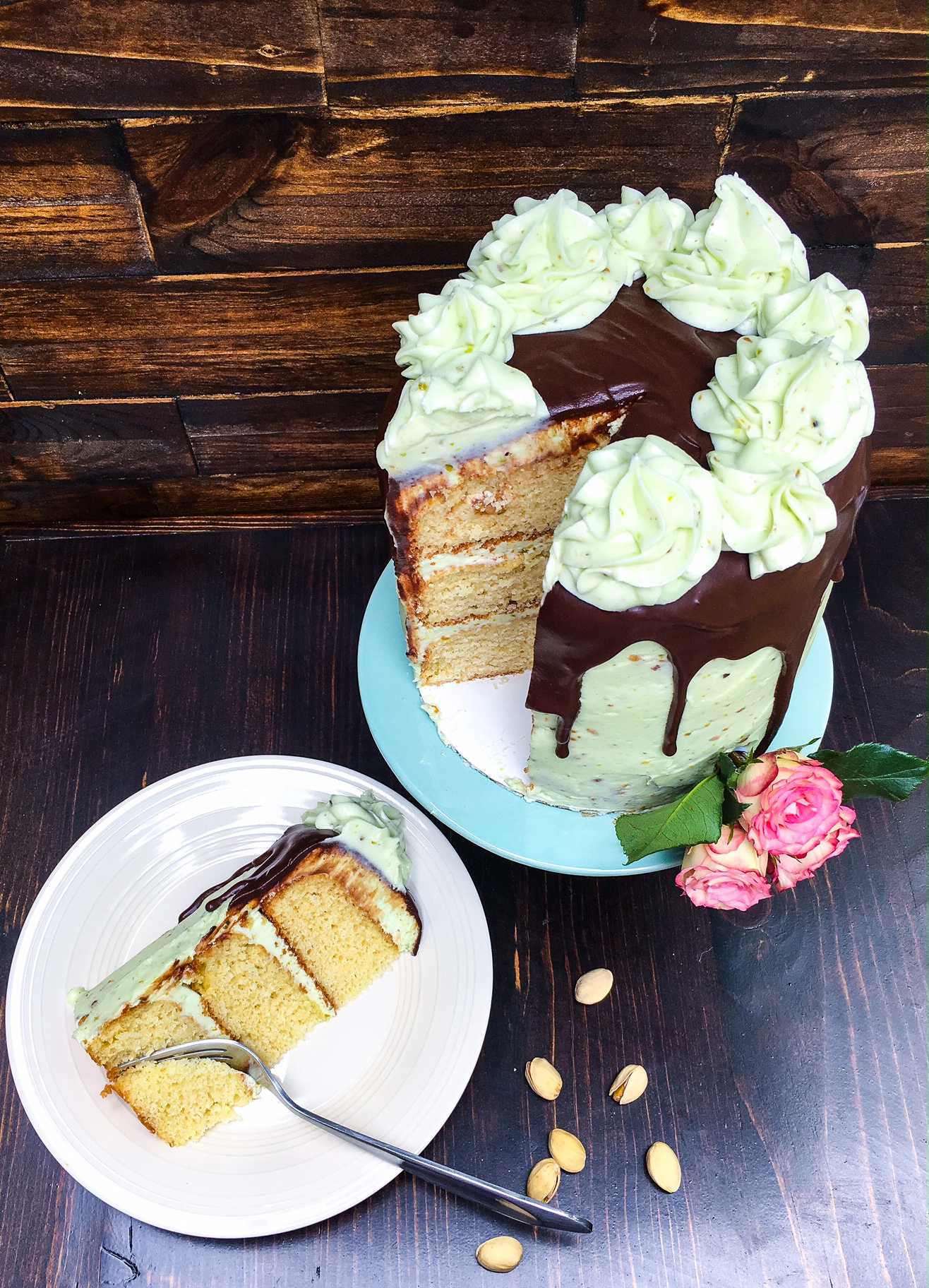 Pistachio Butter Cake (Happy 2nd Birthday KellieRiceCakes.com!)
Author:
Prep time:
Cook time:
Total time:
Airy butter cake with a sweet pistachio butter cream and dark chocolate drizzle.
Ingredients
For the cake
2 1/4 cups all-purpose flour
1 1/2 cups granulated sugar
3 eggs + 1 egg yolk
3 teaspoons baking powder
1 teaspoon salt
1 1/4 cups milk
1/4 cup vegetable oil
1 stick butter melted and cooled
2 tablespoon vanilla extract
For the pistachio paste
1/4 cup of pistachios
2 tbsp of water
For the buttercream
4 cups of powered sugar
2 tbsp of vanilla extract
3 tbsp of pistachio paste
1 tsp of mint food coloring
1/4 cup of heavy cream
2 sticks of soft butter
For the ganche
1/4 cup of heavy cream
1 cup of dark chocolate chips
Instructions
Preheat the oven at 350 degrees.
In a mixer add the flour, sugar, baking powder, salt
Mix lightly
Add the butter, oil, vanilla, milk
Turn the mixer on low
Add the eggs one at a time
Mix until dry ingredients are combined
Pour into greased pans ( I used 3 6in pans, you can also use 2 8in pans)
Bake for 30 minutes or until tops are set and lightly browned
For the paste
In a food processor pulse the pistachios and water until a thick paste forms
For the frosting
Mix the sugar, vanilla, butter, and pistachio paste until whipped
Add in the cream a little at a time until you get the desired consistency
For the chocolate ganche
Heat cream in a sauce pan until the cream slightly bubbles around the edge
Pull off the heat and add in the chocolate
Stir until completely melted
After the cakes have cooled, spread the icing over each layer.
Stack layers and drizzle with chocolate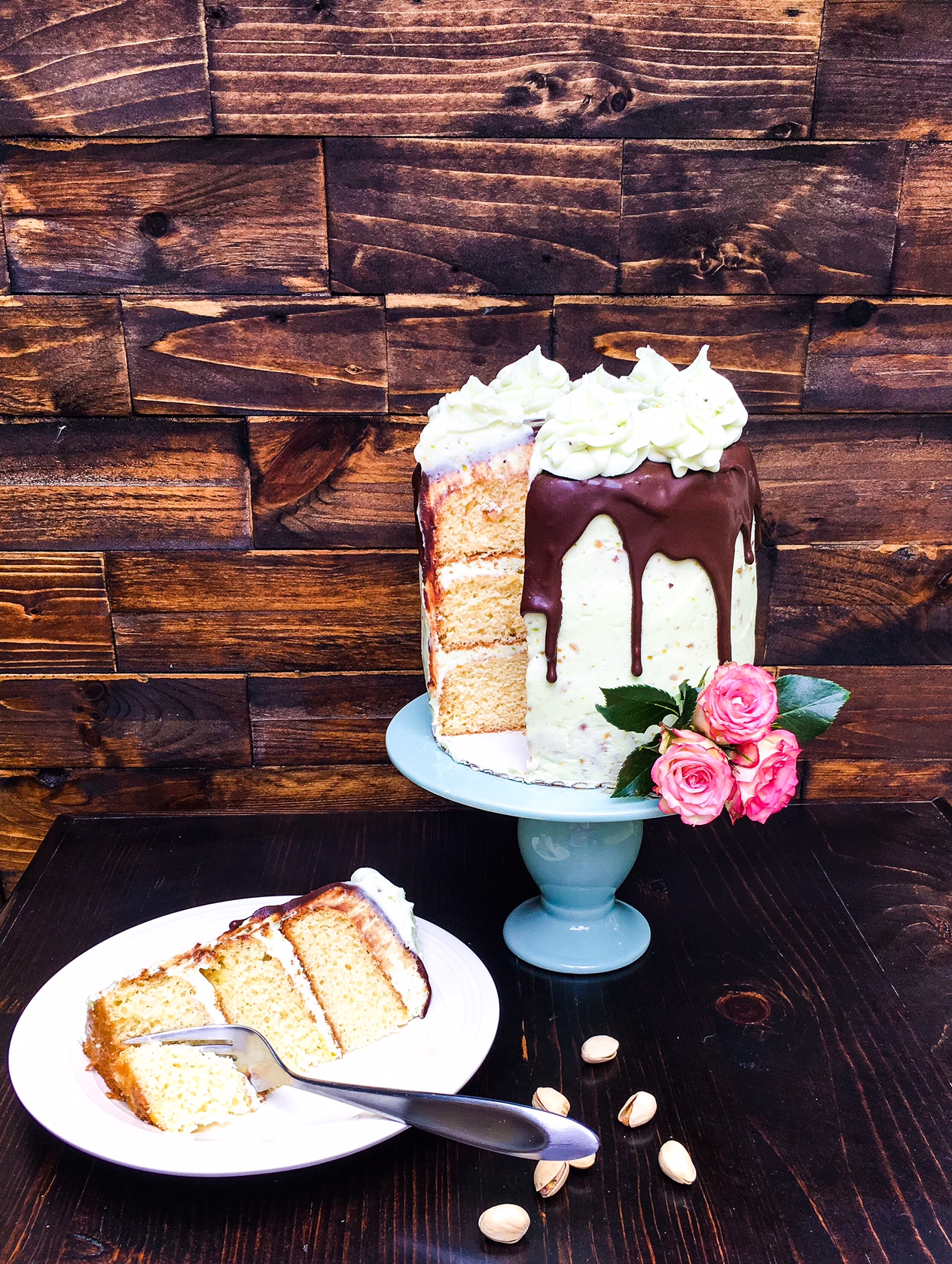 Thank you for all of kind comments and support! Here is to another great year!