**This is a sponsored post written by me on behalf of RAGÚ® Pasta Sauce. All opinions are entirely my own.
I am all about fresh ingredients. I often talk about places I love to shop. The biggest factor in keeping me as a customer is consistent, quality ingredients. Thankfully I have a Publix right around the corner so it is easy for me to run and grab what I need.
One of the biggest reasons I blog is because I am always in the kitchen creating! As my recipe starts to come together, I always think of ingredients that would just take the food over the top! There are often times when I will go to the grocery store multiple times in a day. It is important that I have a place I can count on.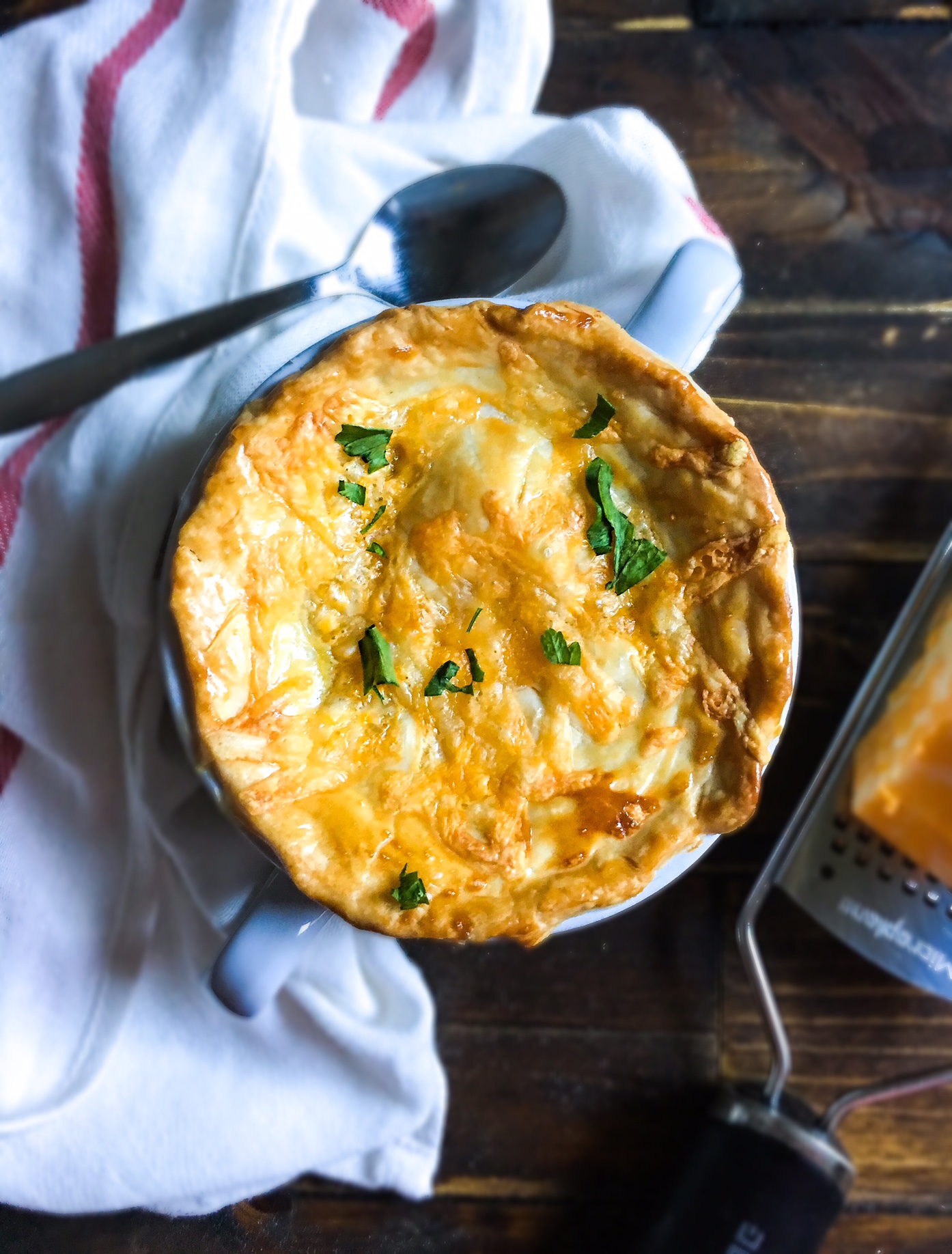 If you are a frequent Publix shopper, you already know they usually run a great buy one, get one special. Publix is running a BOGO on RAGÚ® Pasta Sauce NOW through Wednesday, October 11th.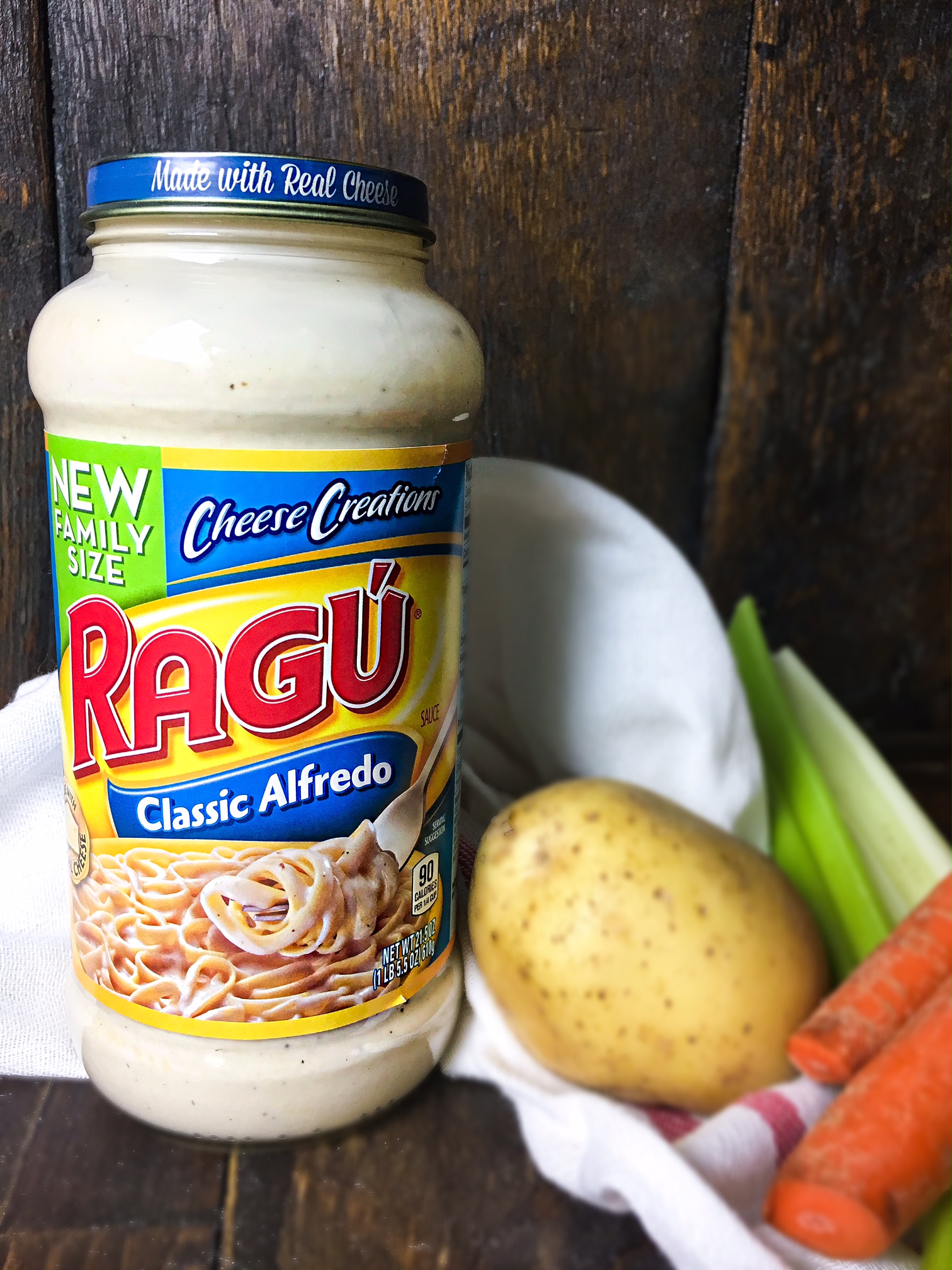 This is the PERFECT time to stock up. RAGÚ has so many different sauces to choose from, and they could be a great base for any meal.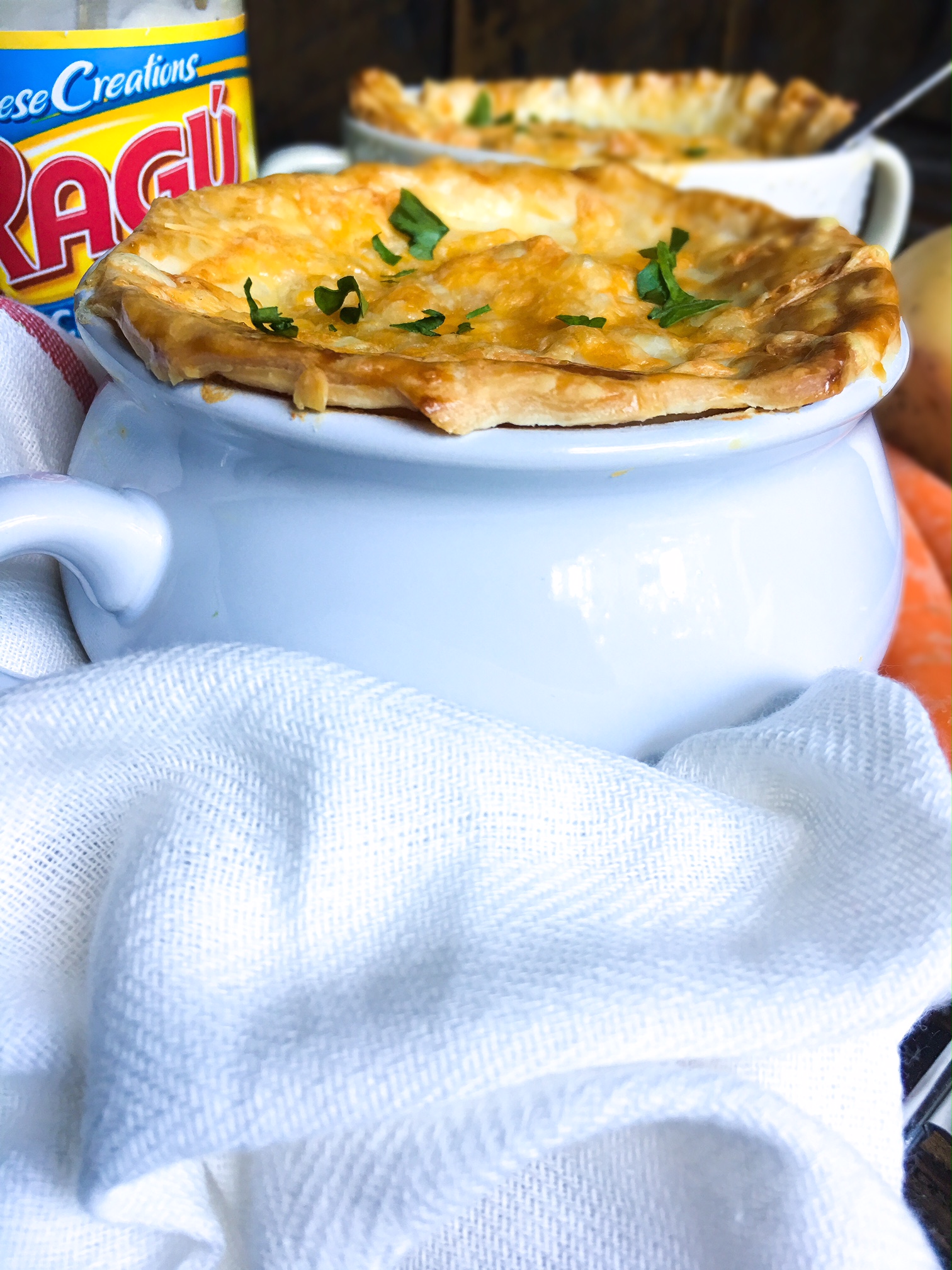 Now that it is officially fall, I am all about good, warm comforting food! Creamy, cheesy, chicken just keeps popping into my head. I was thinking about creating a soup, but it is still fairly warm here in Georgia. When I was making my list of ingredients, Patrick asked if I was making a pot pie. Umm now I am!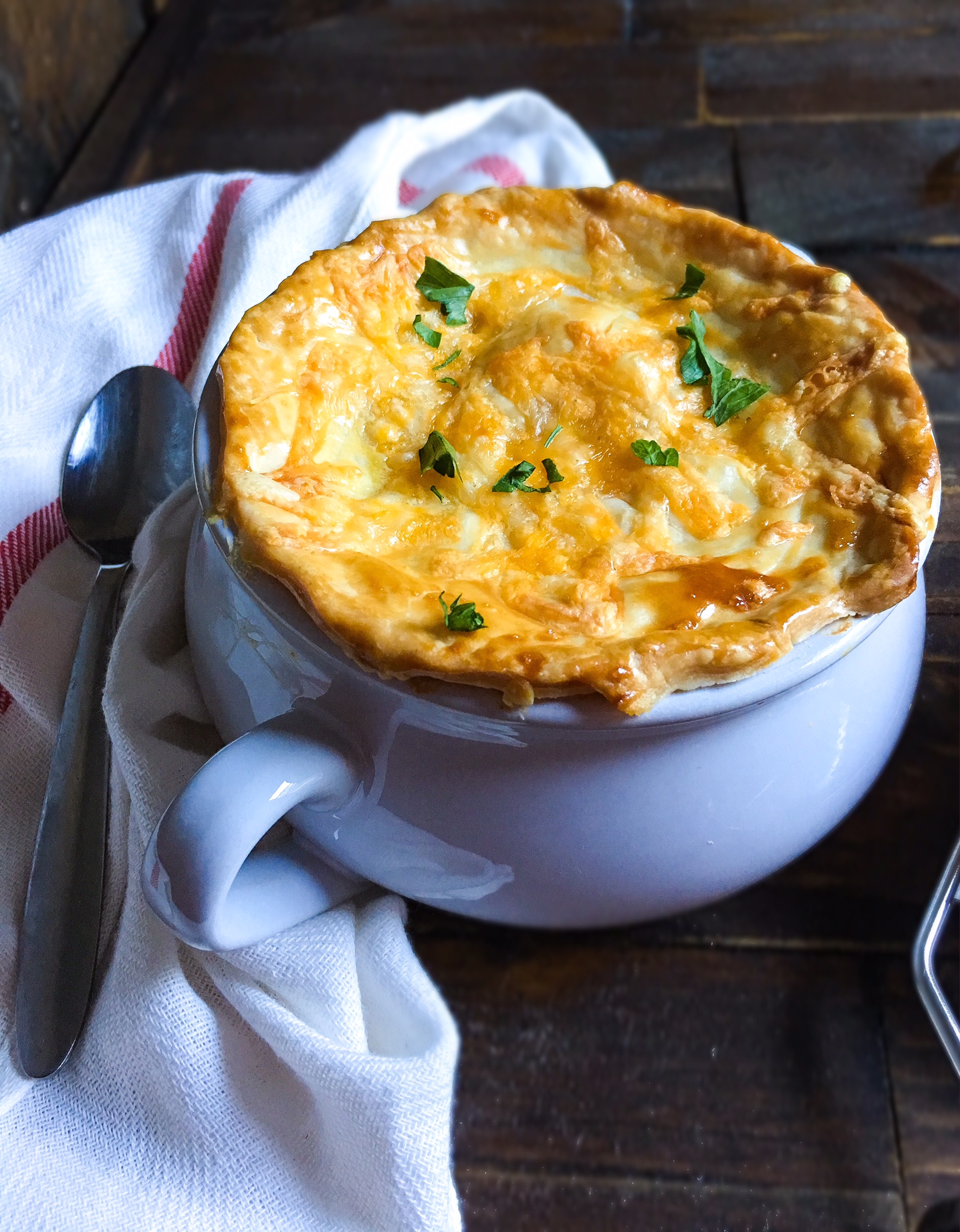 I used the RAGÚ Family Size Cheese Creations Classic Alfredo Pasta Sauce as the base for my Cheesy Chicken Pot Pies. This sauce is usually known for Chicken Alfredo, but since it is already packed with real cream and fresh cheese, it is also perfect for an easy pot pie! All that Parmesan and Romano cheese in this sauce is right up my alley! I used the family size, but you can also reduce the recipe and use the 16 oz. if you are serving less people.
You can make a giant pot pie for the family, but I love making individual pies. A really satisfying creamy base packed with vegetables topped with a crispy pie crust. Is it dinner time yet?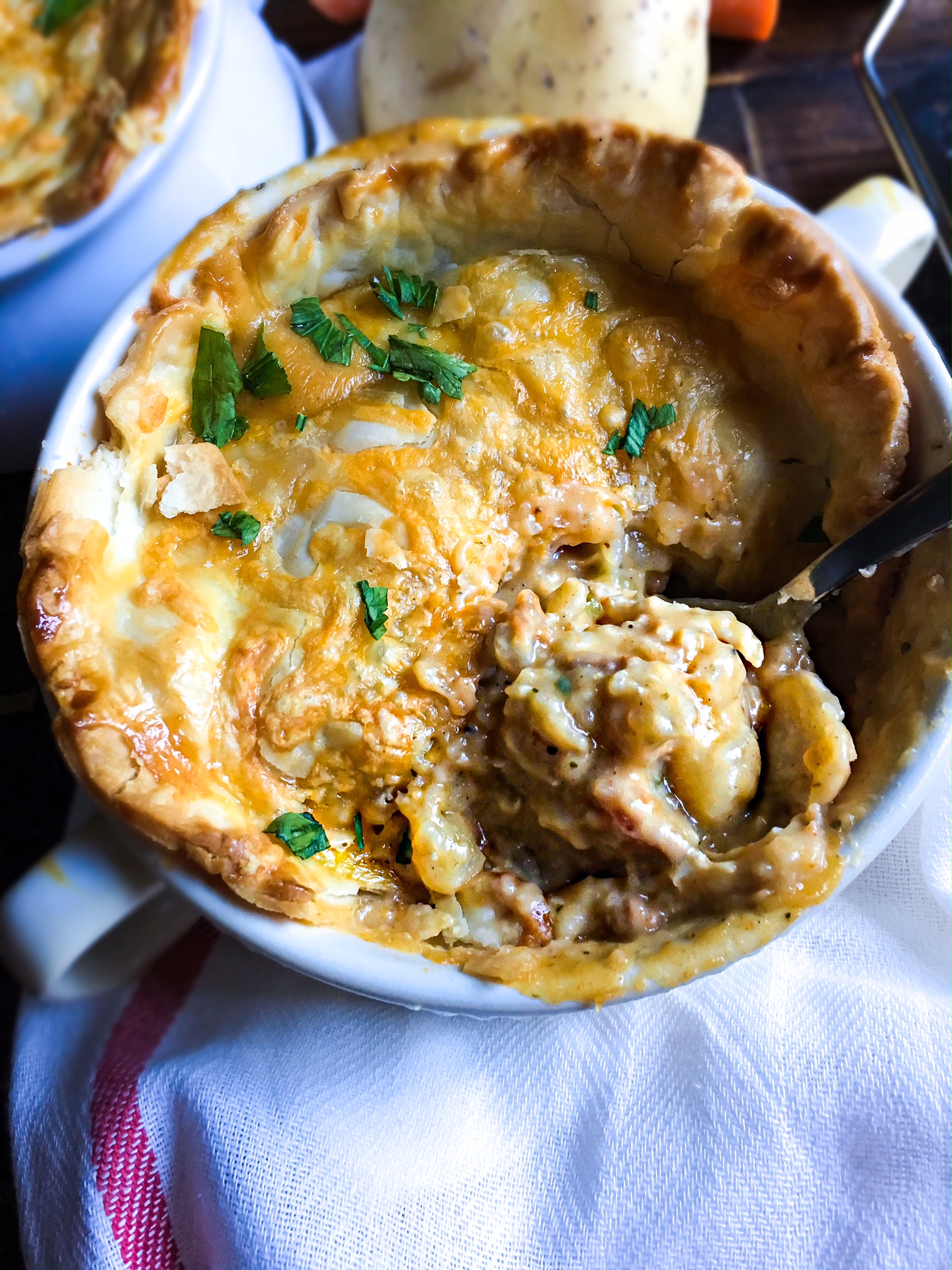 Chicken Pot Pie
Author:
Prep time:
Cook time:
Total time:
Ingredients
1 Jar of RAGÚ Family Size Cheese Creations Classic Alfredo Pasta Sauce 21.5 oz
4 Cups of chicken stock
1 Pound of chicken breast
½ Pound of thick cut bacon cooked, drained, and chopped
2 Tbsp of chopped garlic
1 Medium yellow onion chopped
½ Cup of carrots chopped
2 Medium Yukon potatoes peeled and chopped
½ Cup of chopped celery
2 Tbsp of fresh ground pepper
1 Tbsp of paprika
1 Tbsp of garlic powder
1 Cup of cheddar cheese shredded
1 Package prepared pie crust dough
1 Egg
2 Tbsp of butter
Parsley or thyme
Instructions
In a large sauce pan add the chicken and stock.
Bring to a boil, lower heat and simmer until chicken is cooked through.
Pull chicken out and set to the side to cool.
Add the onion, celery, carrots and potatoes to the chicken stock.
Simmer until potatoes and carrots are fork tender.
Add the jar of RAGÚ Classic Alfredo.
Lower the heat to medium low.
Shred the chicken and add into the pot.
Pour in the pepper, paprika, garlic, and garlic powder.
Preheat the oven to 400 degrees.
Add ½ cup of the cheddar, butter, and the bacon to the pot and turn off heat.
Pour chicken mixture into individual oven safe bowls.
Top each bowl with a circle of pie crust, I used the top of the bowls to measure the dough.
Mix the egg with a tbsp of water and brush onto each crust.
Sprinkle with remaining cheese.
Bake for 25 minutes or until crust is golden brown.
Top with fresh herbs and enjoy!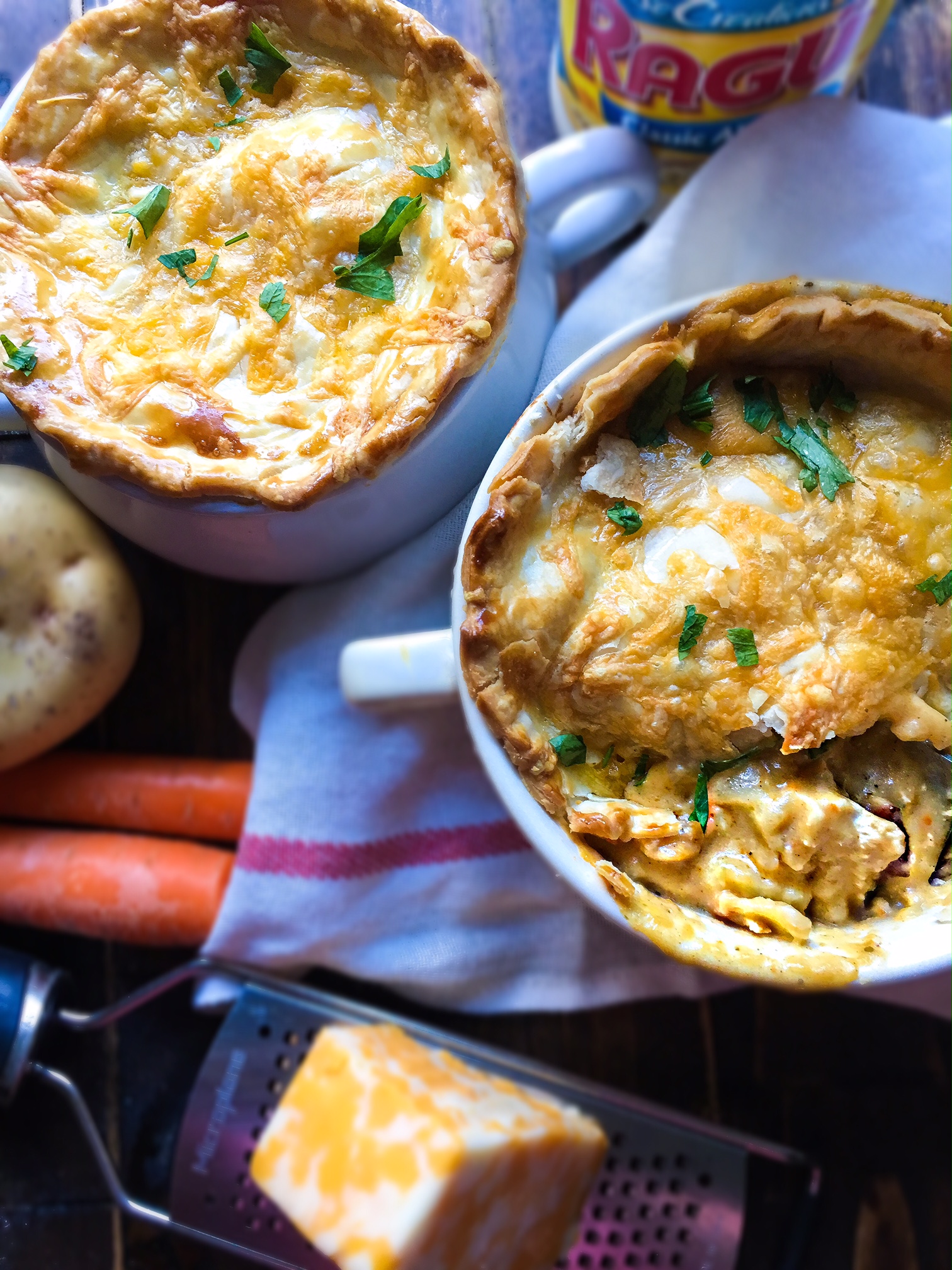 Is your mouth watering yet? Just image tapping your spoon through this cheesy crust and revealing all that creamy chicken. This meal will definitely bring smiles to the dinner table! You can check out the BOGO deal here through the Publix Weekly Ads. Be sure to get RAGÚ Pasta Sauce. It can easily be found on the pasta sauce aisle at Publix.
Don't forget to tag me if you recreate this recipe! I love seeing all your recreations!