Chocolate ganache cake is one of those desserts you save for a celebration. Layers of moist fudge cake with a hint of espresso, silky chocolate buttercream, and espresso chocolate ganache swirled all over the rest of the cake. Every bite is rich without being overly sweet.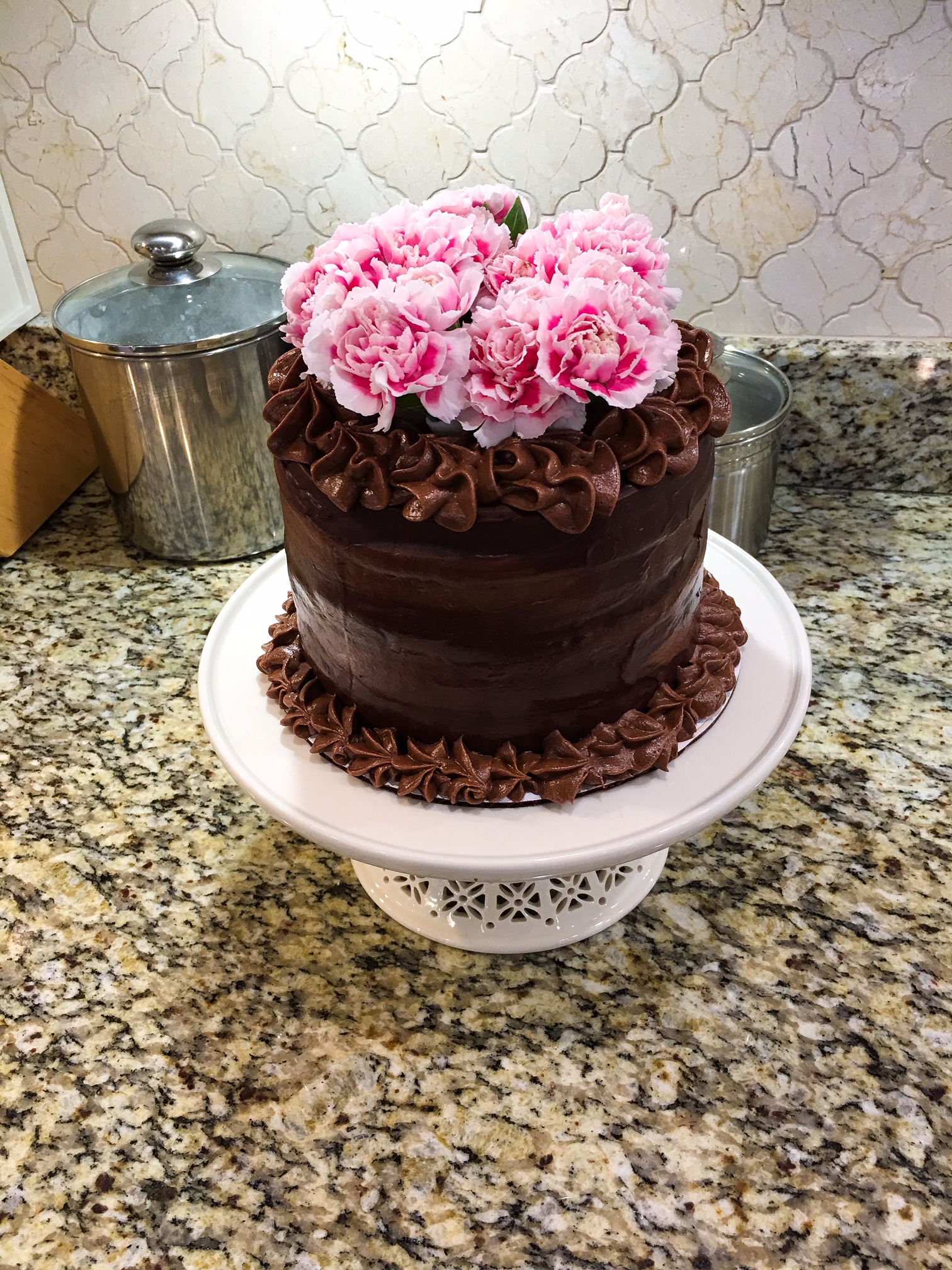 I first made this cake for my cooking demo at Macon Appliance Mart. The day was so packed and fast paced that I completely forgot to take pictures of the cake once it had been sliced. I can't believe the demo was already 3 weeks ago! You guys have overwhelmed me with support and love!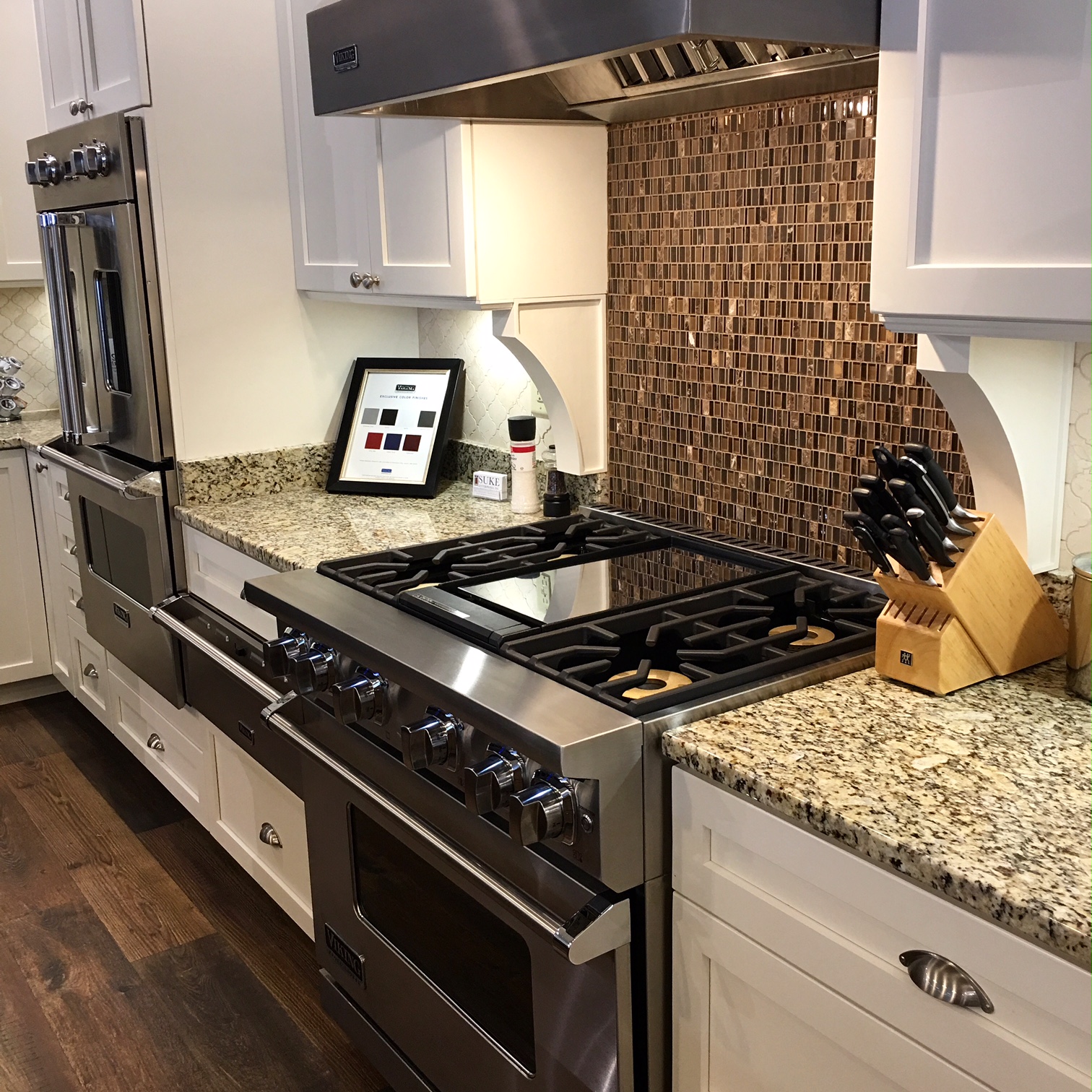 It is so funny to look back to when LT ( owner of Macon Appliance Mart and my very best friend) and I were 18. We have always had huge dreams and encouraged each other to push ourselves. At the time he was in electronic sales and I was an office manager at a high end boutique. We both knew there were big things in our futures. The best part is I don't think we have ever been competitive. Just a perfect support system.
Fast forward to 30(ish) and he is a business owner with a beautiful wife (aka my new best friend ha!), two little fur babies, and still gives the best advice. While I took a much different path when I moved away from him to Atlanta, GA to become an interior designer and somehow ended up in his footsteps in Electronic Sales. Currently, I am a sales manager sharing my life with Patrick, his two great kids, and our 4 fur children all while building the Kelliericecakes brand.
All the pictures above were taken at the demo in the Macon Appliance Mart Viking Range Kitchen. I feel so blessed to have such an amazing opportunity to do what I love while partnering with my best friend!
Since I forgot to take pictures at the event I decided to recreate this cake with a spooky theme!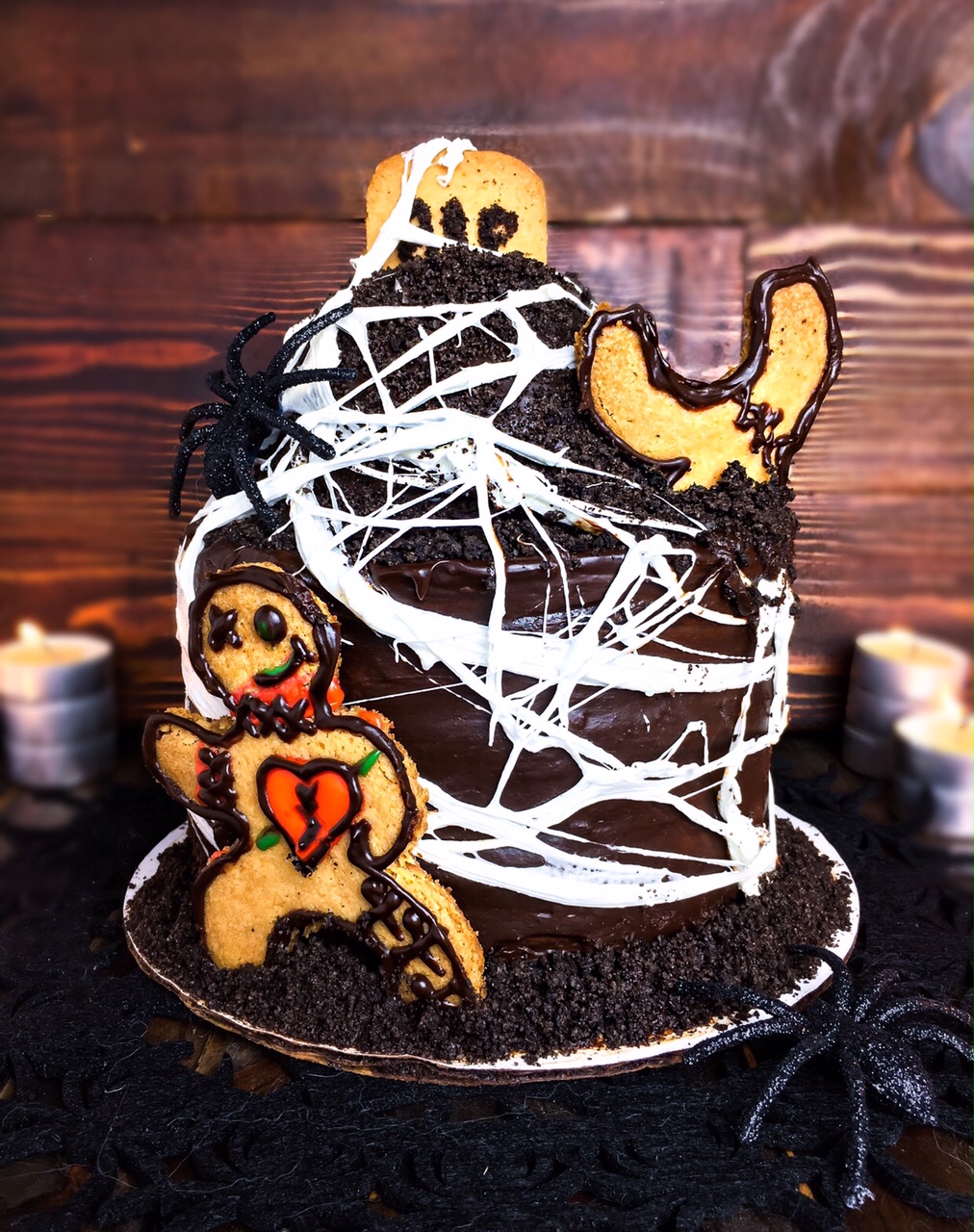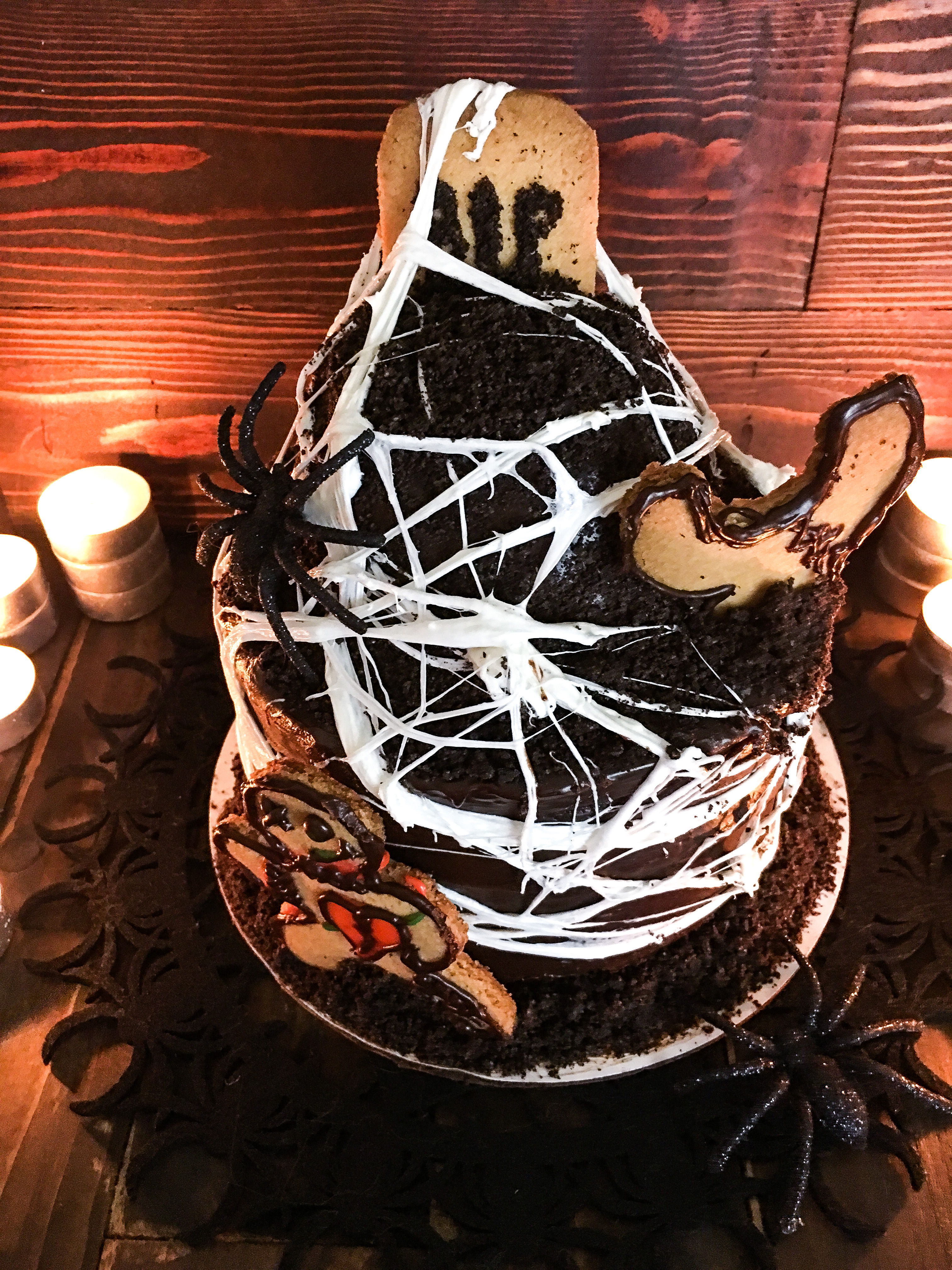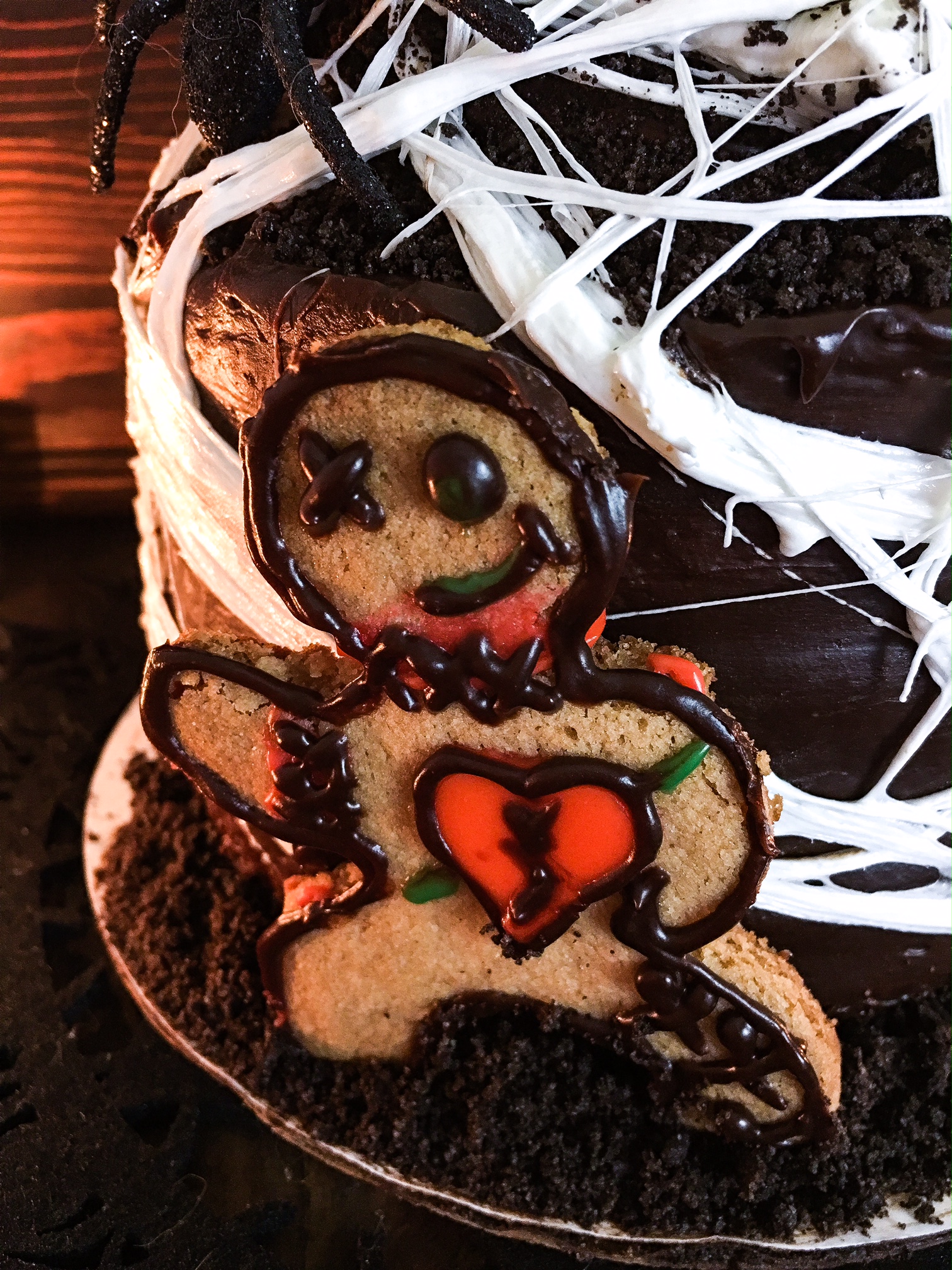 Chocolate Ganache Cake
Recipe Type
:
Baking, Dessert
Author:
Prep time:
Cook time:
Total time:
Moist chocolate cake with a hint of espresso, silky chocolate buttercream, rich espresso ganache.
Ingredients
1 1/4 cup of AP flour
3/4 cup of high quality cocoa powder ( I used Rodelle Organic Cocoa Powder)
1 1/2 cup of sugar
1/2 cup of brown sugar
1 1/2 tsp baking powder
1 1/2 tsp baking soda
2 eggs plus 1 egg yolk
1 tsp of salt
1/2 cup canola oil
2 cups of boiling water plus 1 pack of instant espresso
Buttercream:
1 stick of soft butter
1/2 cup of cocoa powder
1 tsp of vanilla or chocolate extract
1/4 cup of cream
2 cups of powdered sugar
Ganache:
4 oz of chopped semi sweet chocolate
1/2 cup of cream
1 tsp of instant espresso or coffee extract
Optional:
Sugar cookies, spooky candy, marshmallow, oreos
Instructions
Preheat the oven to 350 degrees.
Spray three 6 inch pans or two 8 inch pans to prep
In a large mixing boil add the sugar, eggs, oil, extract.
Mix together the remaining dry ingredients and add in mixing slowly.
Pour in the espresso water very very slowly.
If using a mixer you may need to scrap the bottom and sides to fully incorporate all the dry ingredients.
Batter will be thin.
Bake for 30 minutes or until set.
For the buttercream:
Mix the butter and 1 cup of sugar
Add the extract and cocoa powder
Alternate the remaining sugar and cream until desired consistancy
Should be thicker than whipped cream, but easy to spread
For the ganache:
Pour the espresso, chocolate and cream into a microwave safe bowl and microwave in 30 second intervals until chocolate is smooth.
After the layers have cooled
Level them off with a knife and spread buttercream in between layers
Spread a very thin layer of butter cream over the cake to crumb coat
Leave in the freezer or fridge for 15 minutes to set
Spread cooled ganache over the cake. (important to cool or your cake will melt all over)
For the decorating:
I made a tombstone and men out of sugar cookie dough
I pulsed oreos into a "dirt"
For the marshmallows I melted 2 cups and just pulled pieces with my fingers (warning!!! very messy!!!!)
I used remaining cake pieces for form a grave
Be creative! Or just eat as is!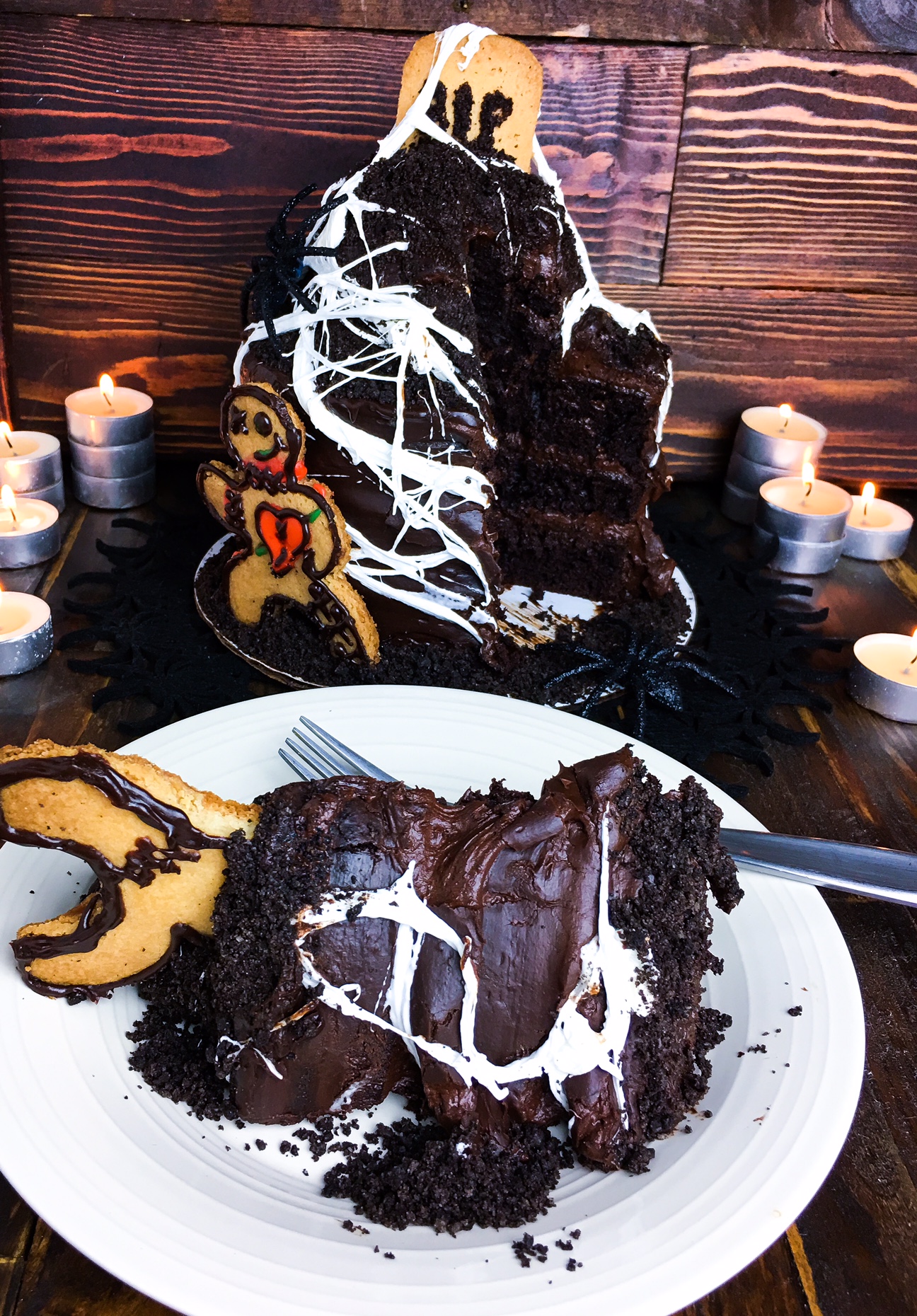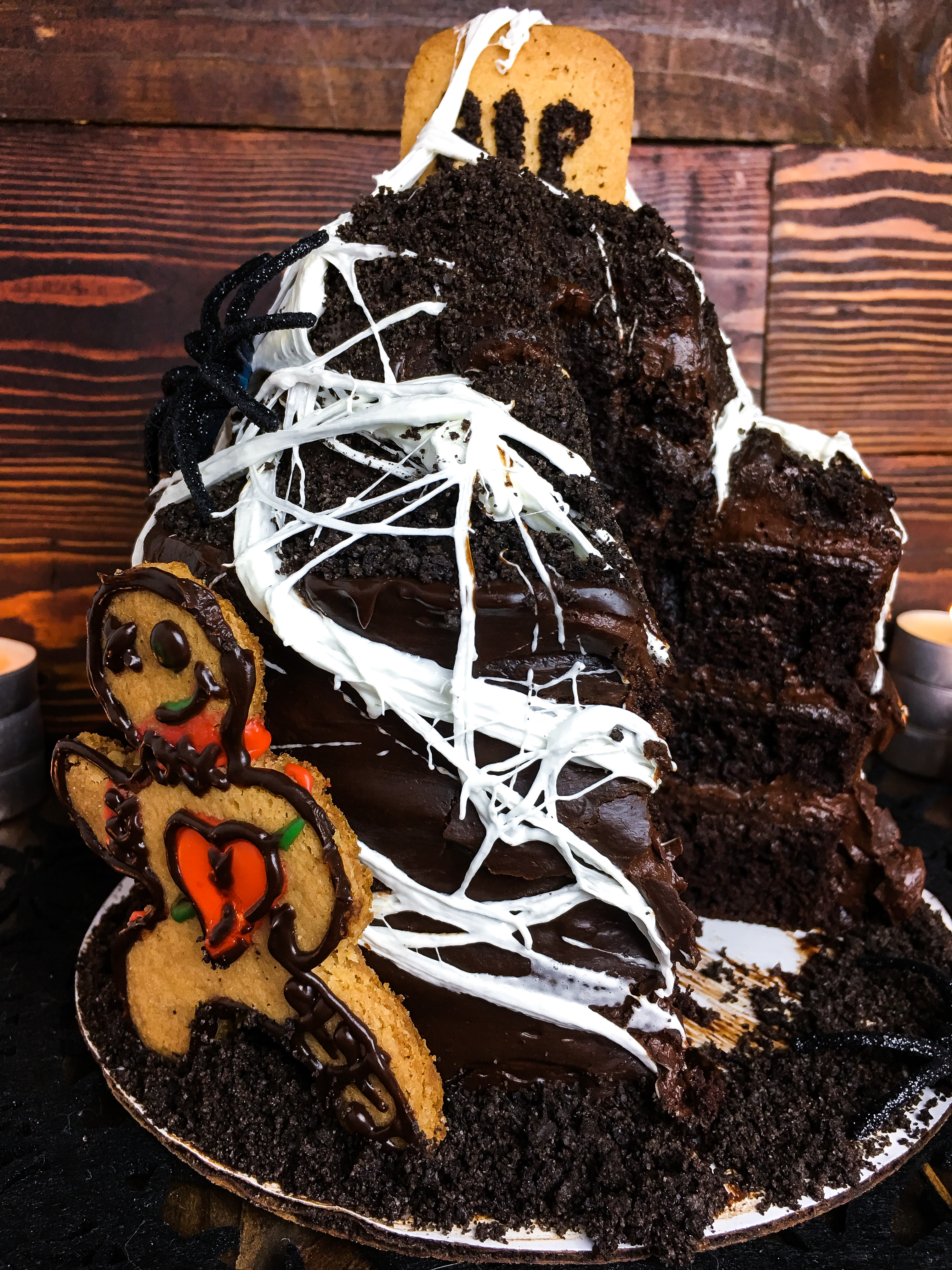 Enjoy!!!!! And don't forget to check out Macon Appliance Mart if you are in the Western North Carolina area!