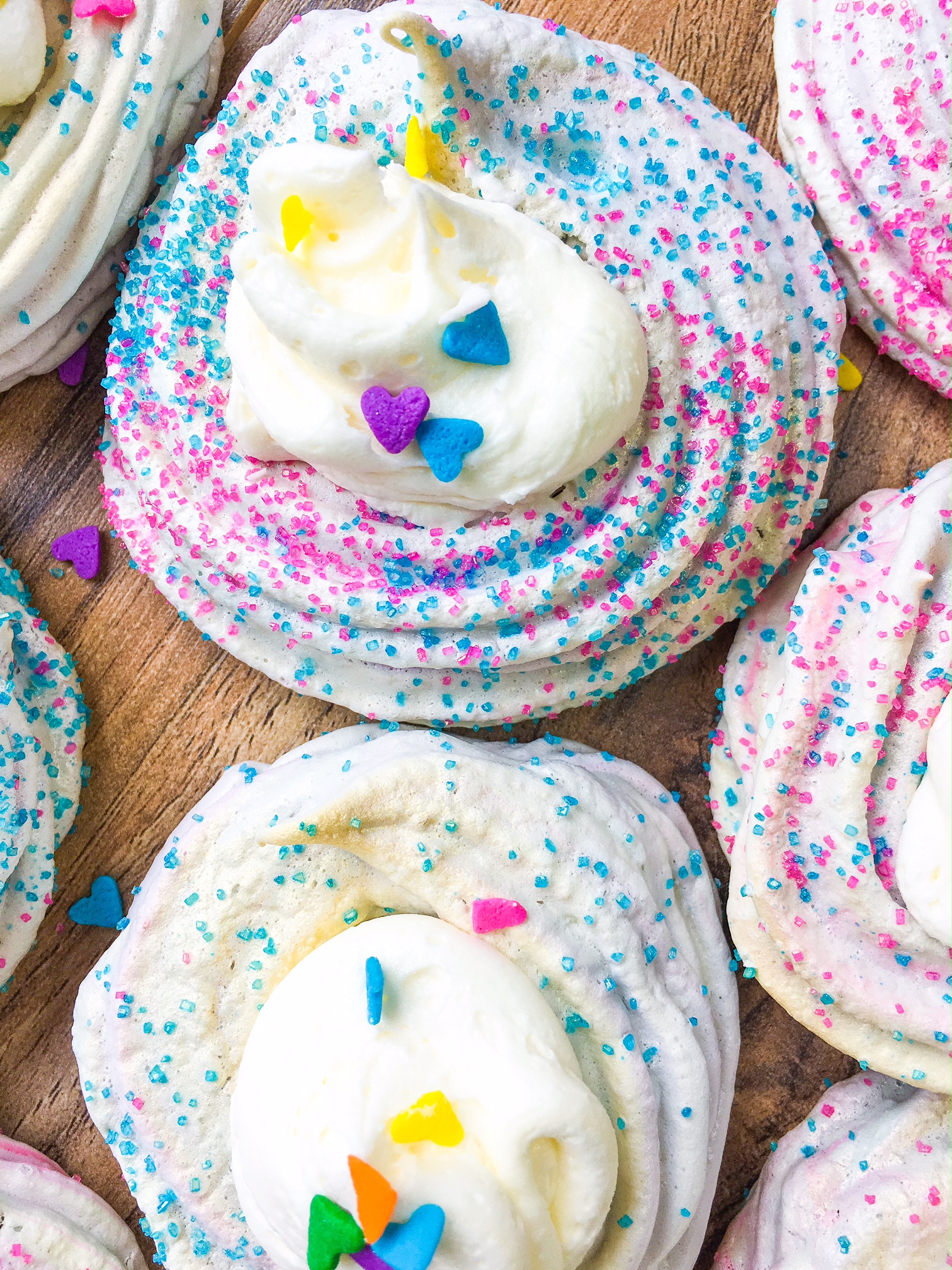 Today's post is going to be so quick and easy I am almost embarrassed to share. These easy cotton candy meringue cookies took about 10 minutes of prep time and 1 hour of cook time. Seriously one of the easiest treats I've made in ages.
I was decorating my little brother's birthday cake when Patrick's daughter wondered into the kitchen. Lately, the kids have been so wrapped up in Pokemon that they really haven't asked to help out in the kitchen. So when Sophia asked if we could make cookies for dessert I needed to find something fast and easy.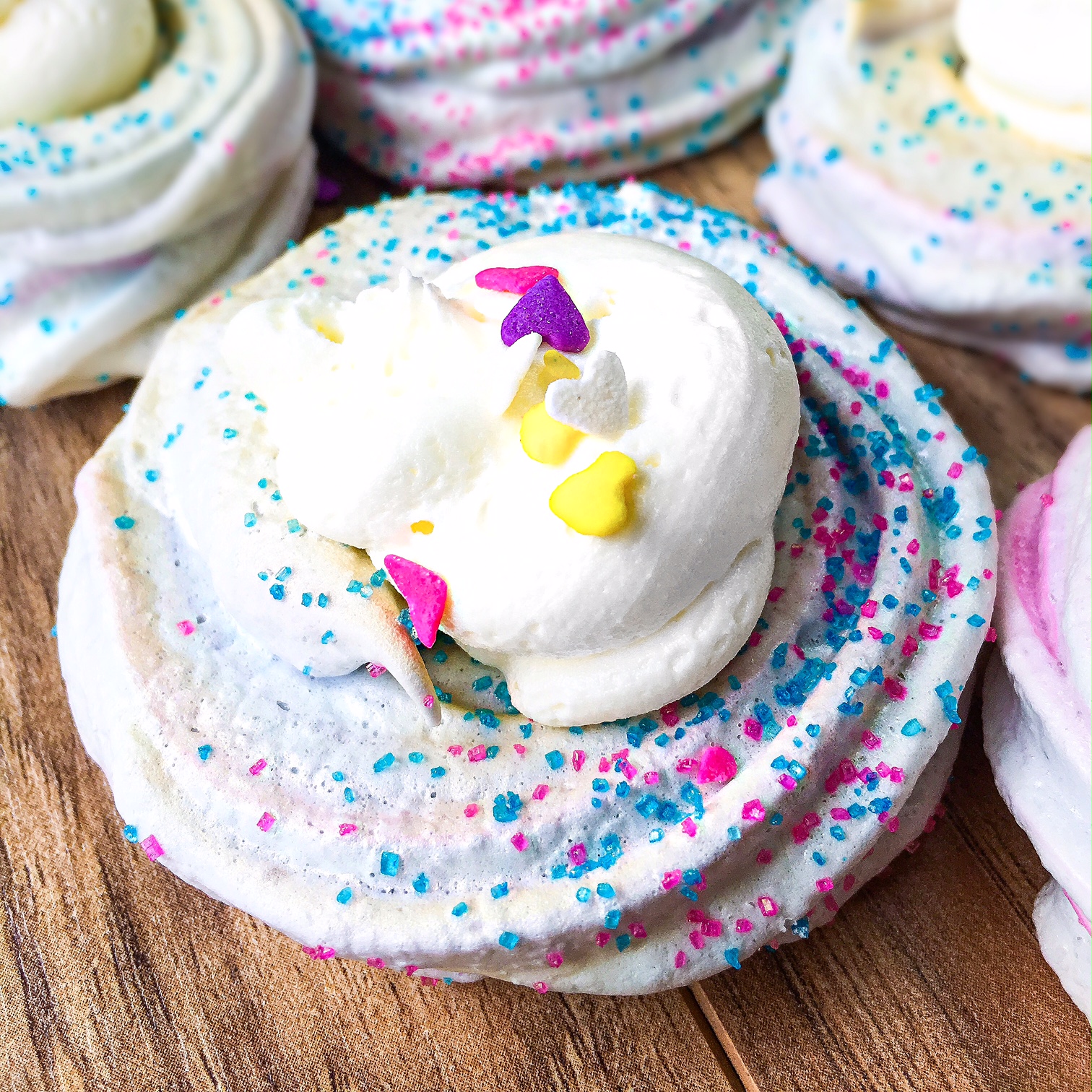 These meringue cookies were inspired by the sprinkles sitting on the counter in all honesty. I had never made a meringue cookie before, but I knew they were fairly simple. So into the bowl I tossed my egg whites, cream of tartar, and sugar. Boom and done.
So here it is… the easiest cookie recipe… ever.
Cotton Candy Meringue Nests
Recipe Type
:
cotton candy meringue cookies
Author:
Prep time:
Cook time:
Total time:
Easy meringue cookies that taste a lot like cotton candy!
Ingredients
For the cookie
4 egg whites at room temp
1/8 tsp of cream of tartar
3/4 cup of sugar
2 tbsp of vanilla extract
food coloring if you choose
sprinkles
For the frosting
1/2 cup of unsalted butter
2 cups of powdered sugar
1 tbsp of vanilla extract
1 tsp of heavy cream
Instructions
Preheat the oven to 200 degrees and line a baking sheet with a mat or parchment paper.
In a clean dry mixing bowl whip the egg whites and cream of tartar.
After about 2 minutes slowly add in the sugar.
When the mix begins to resemble whipped cream add in the extract and food colorings.
Whip until you can turn the bowl upside down and the egg whites stay put!
Fill a pastry bag or ziplock with the egg whites and pipe onto the pan.
I made little nests.
Add sprinkles.
Bake for one hour until firm and crisp.
Do not let brown.
Let cool for 20 minutes.
For the frosting:
Whip the ingredients on medium high for about 5 minutes then pipe into the meringue nests.
Sprinkle again :p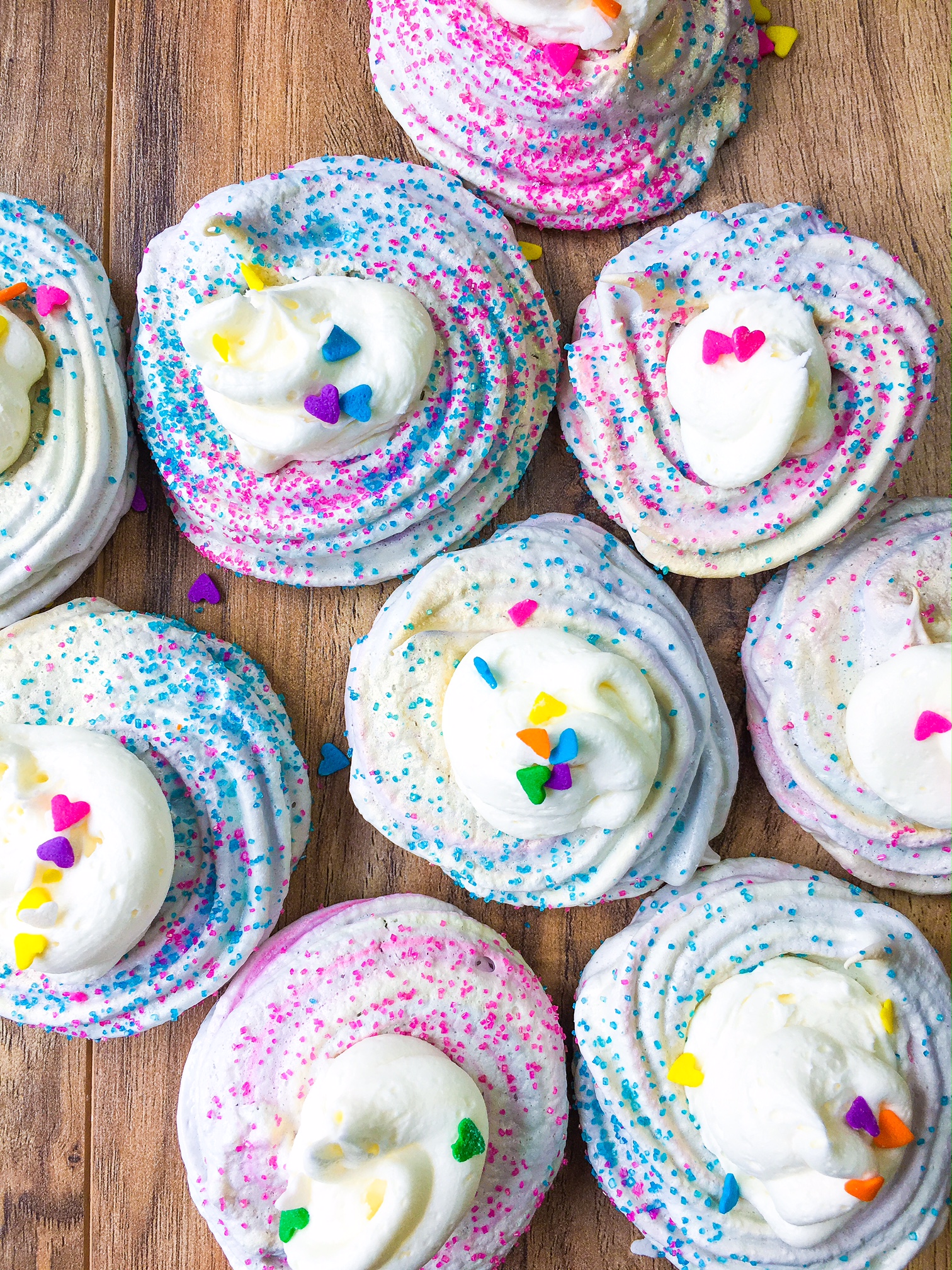 You can definitely skip the buttercream, but I think that adds to the cotton candy flavor. Feel free to change up the shape too! These are so fun to make and easy to customize! Perfect melt in your mouth goodness.