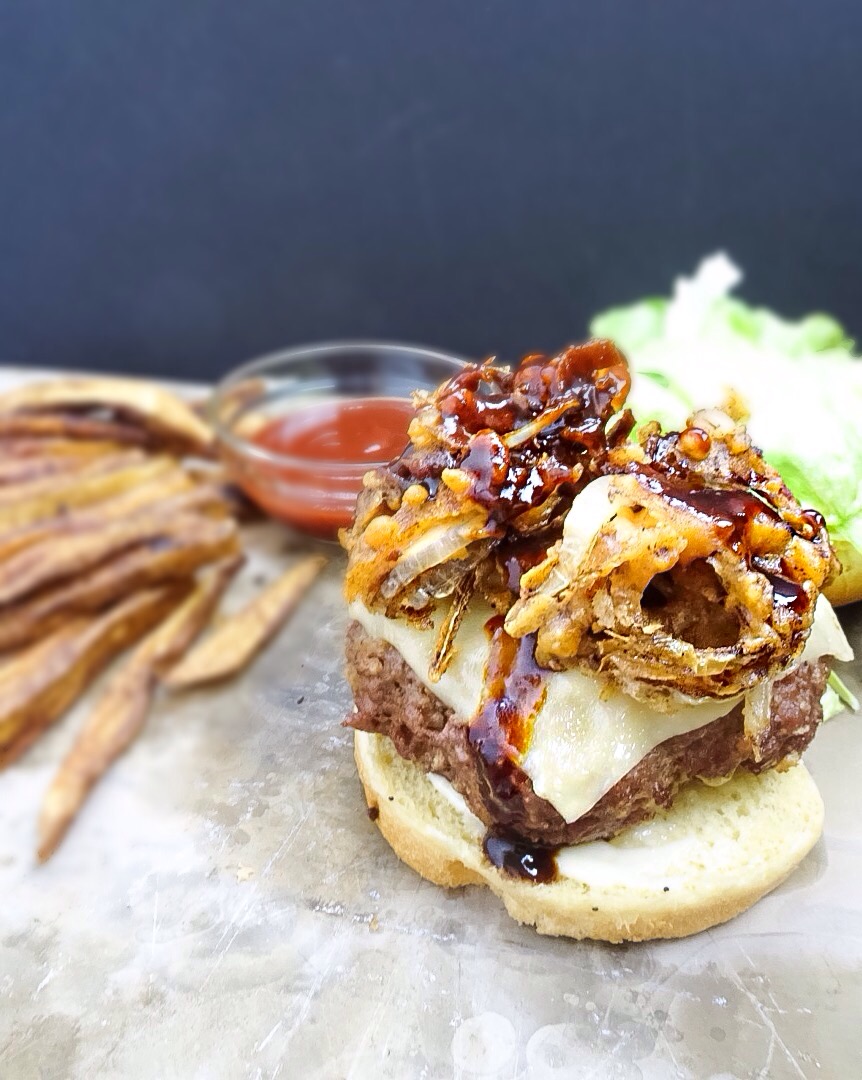 I remember when I was 18 and had just moved into my first apartment with my girl friends. We had no idea how to cook anything and often reheated our meals. Sitting around eating our baked frozen onion rings thinking they were the greatest snack in the world. Typically peeling the onions apart from the fried parts and tossing them to the side. These are not those onion rings. These fried onions are so crispy and spicy. I love them on top of a big juicy burger. Born is my cheddar jalapeno stuffed burger topped with fried onions.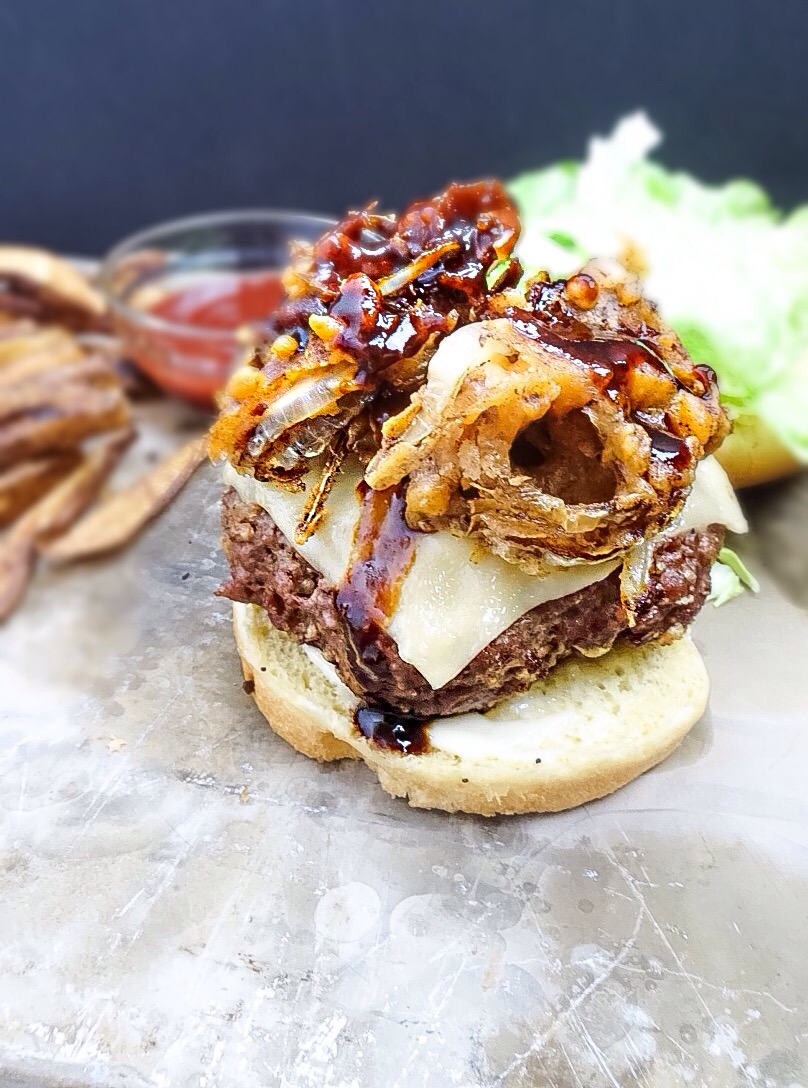 And these burgers… oh … my … gosh!  Stuffed with cheddar and jalapenos, topped with melt-y American cheese, fried onions, and a sweet bbq glaze, this is my ultimate cheese burger!
The glaze is a mixture of sweet bbq sauce, brown sugar, soy sauce, hot sauce, and Worcestershire. I absolutely love the deep bold flavors. A little really goes a long way.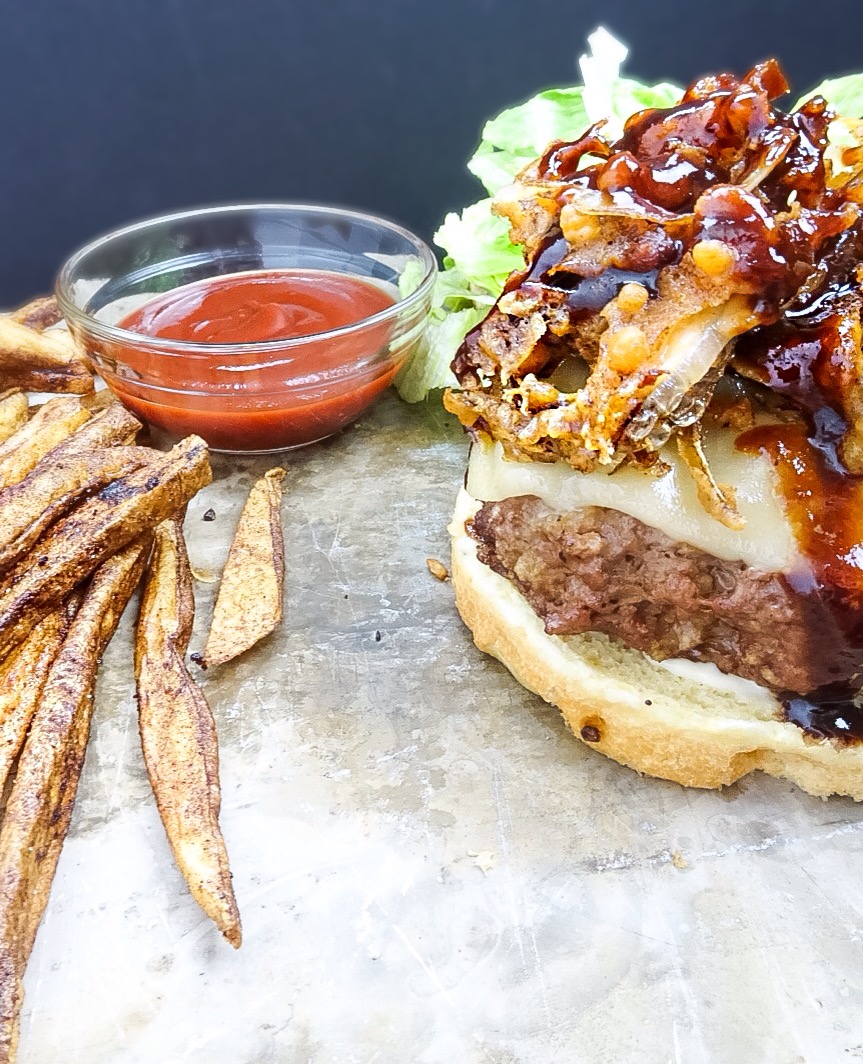 Spicy Cheddar Stuffed Burgers Topped With Fried Onions
Recipe Type
:
Burger, Sandwich
Prep time:
Cook time:
Total time:
Cheddar jalapeno stuffed burgers topped with fried onions.
Ingredients
Fried Onions-
1 sweet onion
1/2 cup of flour
2 tbsp cayenne pepper
1/4 cup of milk
1 tsp garlic powder
1 quart of oil for frying
Burgers-
1 pound ground beef
1/2 cup panko crumbs
1 egg
1 tsp garlic powder
1/2 tsp salt
1/2 tsp cracked pepper
1/2 cup shredded cheddar
1/2 cup of pickled jalapenos
Large Onion Buns
Mayo
Lettuce Tomato
American Cheese Slices
The sauce-
1/2 cup of sweet BBQ
1/4 cup of brown sugar
2 tbsp of hot sauce
1 tbsp of soy sauce
1 tbsp of Worcestershire
1/2 tsp of spicy mustard
Instructions
Mix together the beef, panko, spices, and egg.
Form two large patties.
Make a small hole in each patty and stuff with cheddar and jalapenos (1/4 cup each burger if you can fit it!)
Grill until medium rare or your preferred cook.
Top with American cheese to melt.
Heat the oil while burgers are cooking.
Mix the flour, milk and spices.
Slice the onions and dip into the batter.
Fry until golden brown.
For the sauce.
In a sauce pan add the BBQ, brown sugar, hot sauce, soy sauce, worcestershire, and spicy mustard.
Simmer until sauce thickens.
Toast the buns and swipe with a light amount of mayo.
Add the burger.
Top with onions.
Drizzle with the sauce.
Add lettuce and tomato.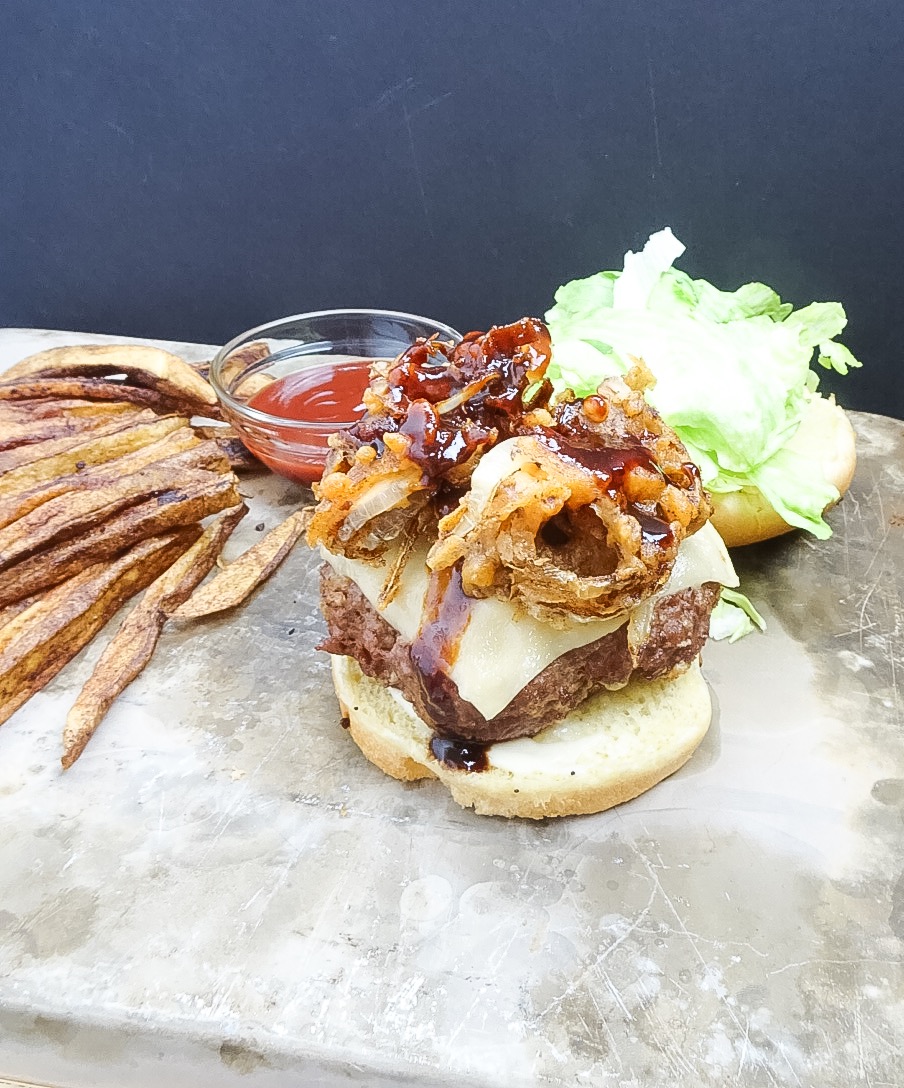 So in case you were wondering what you make for dinner tonight. It is these burgers. Dooooo it!