This past weekend I went to the most beautiful wedding! Patrick's sister was married on this adorable rustic farm. She did an awesome job pulling everything together. One of my favorite parts was the smell throughout the venue. It was a blend of wood and fresh flowers. It made me think of Christmas. I had the honor of making her cake! She wanted a strawberry cake which is one of my favorites to make! I made a cream cheese buttercream and the filling was made with strawberry preserves from a local farmers market.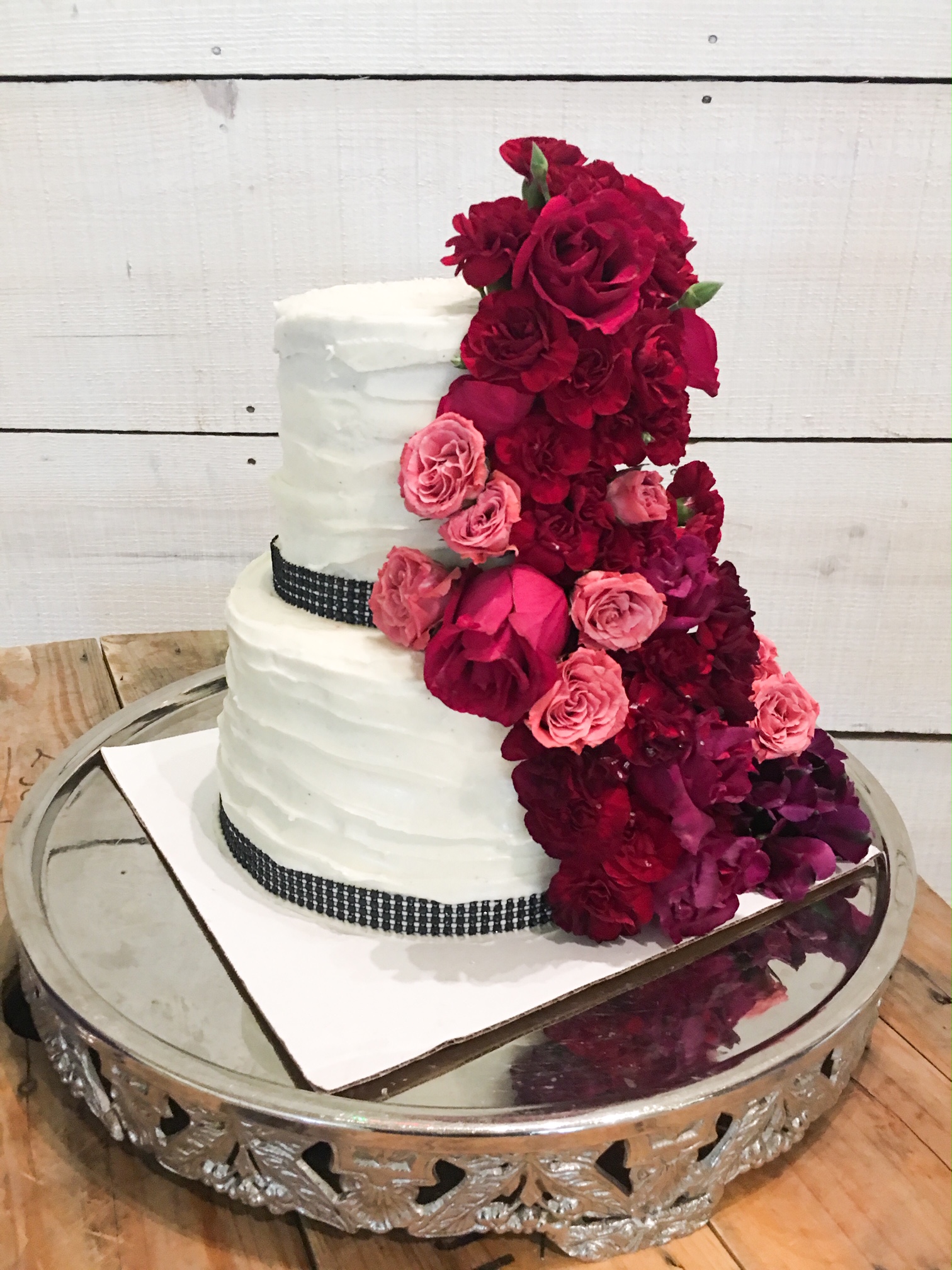 Sausage Pappardelle Zucchini
Author:
Prep time:
Cook time:
Total time:
Low carb zucchini pappardelle with spicy sausage and marinara
Ingredients
small white onion chopped
handful of fresh herbs chopped (parsley, basil, and oregano)
2 cloves of chopped garlic
4 links of spicy sausage
1 tsp of crushed red pepper
1/4 cup of olive oil
1 can of whole peeled tomatoes
1 cup of mushrooms
2 tsp of tomato paste
1 tsp of sugar
3 zucchinis spiraled
grated cheese
Instructions
Preheat the oven to 400 degrees.
In a pan drizzle the sausage with olive oil
Add half of the chopped onion and the mushrooms
Bake for 20 minutes until the sausage is golden brown
Let cool
In a sautee pan heat up a little olive oil, the onions, garlic, and crushed red pepper
Add the zucchini for sautee for 5 minutes
Remove the zucchini and set to the side
Add a little more olive oil in the pan, the whole tomatoes (break up with a fork), tomato paste, and sugar
Cook down for about 15 minutes
Slice the sausage and add to the sauce with the roasted mushrooms and onions
Season with salt and pepper
Add in the fresh herbs
Pour sauce over the zucchini and grate the cheese on top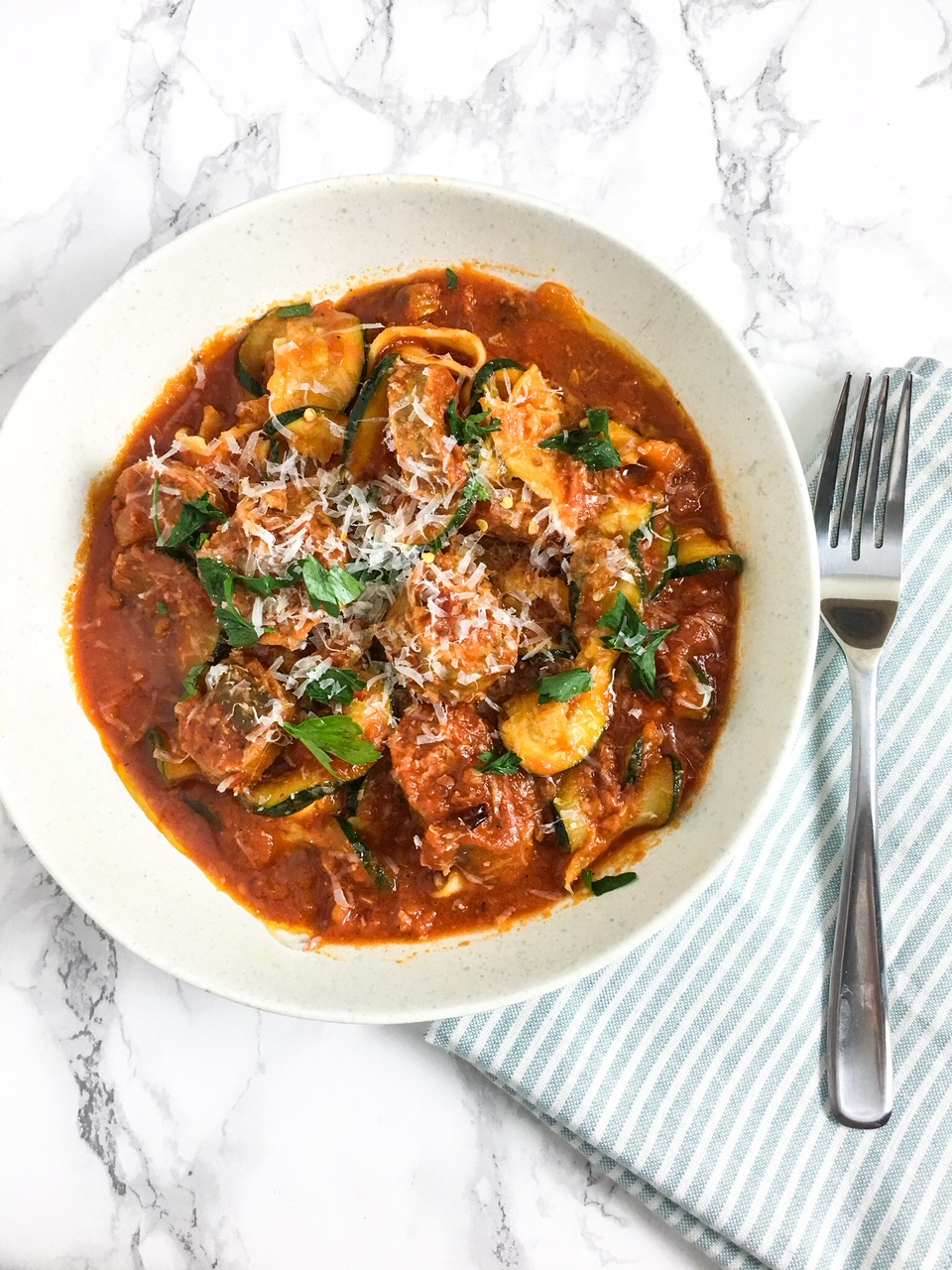 Zucchini noodles are the closest I can get to the real thing. These thick spirals of zucchini are sautéed with fresh garlic and olive oil. I made Patrick's portion with a blend of zucchini pappardelle and egg noodles. If you aren't concerned with the carbs that is a super delicious way to ease yourself into the zucchini noodle world.
We picked up these spicy Italian sausages from Whole Foods. I roasted them with olive oil, mushrooms, and onion. They are perfect with this marinara sauce!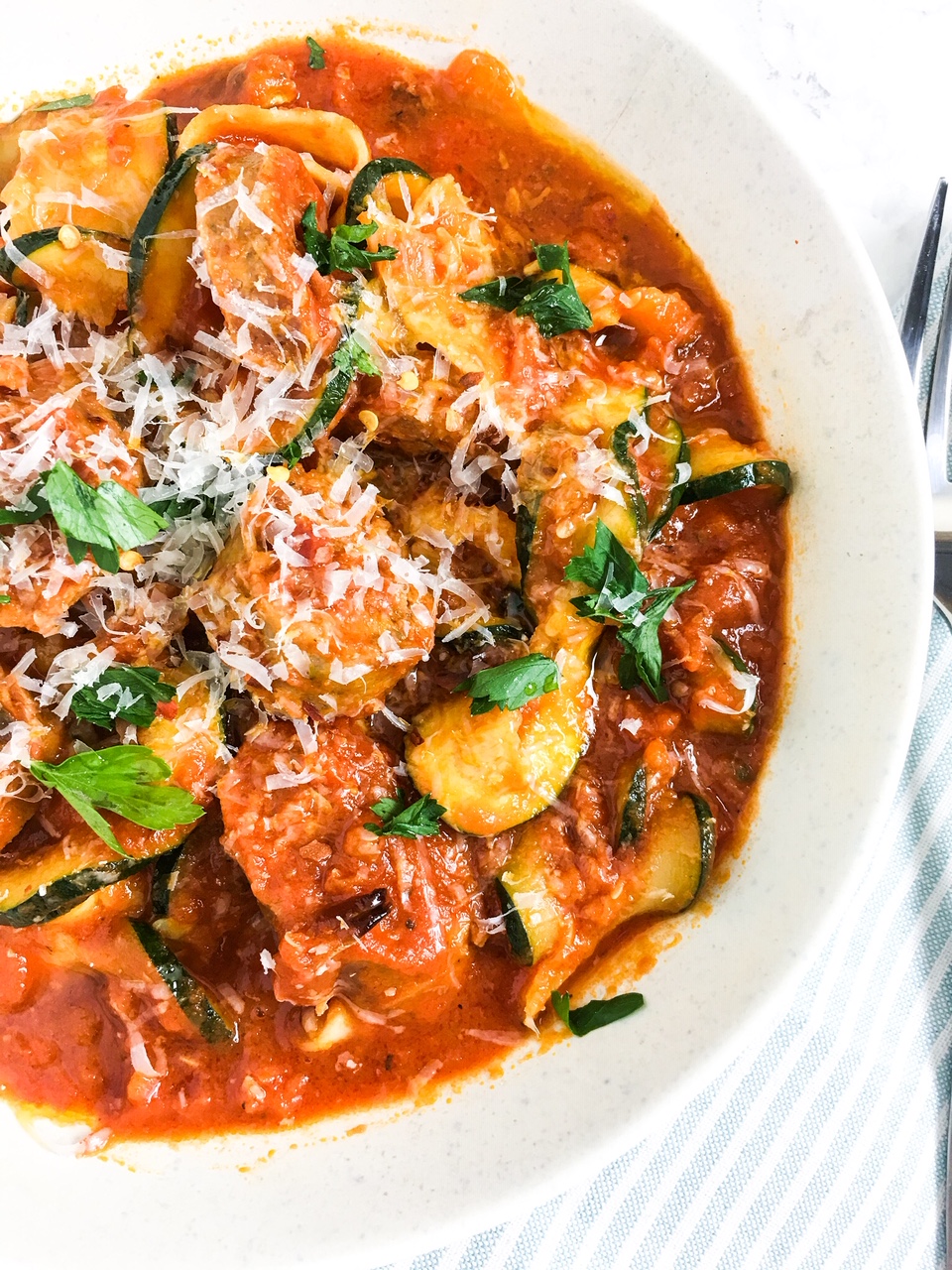 This sauce is  a blend of fresh garlic, herbs, crushed whole tomatoes, olive oil, tomato paste, and crushed red pepper. You can just toss the zucchini lightly in the sauce, but I love extra sauce for the zucchini to soak up.
We love fresh grated cheese on our pasta. When you are using such simple ingredients it is important to pair with a really good quality cheese. I really like pecorino or parmesan. Something with really good texture and salt.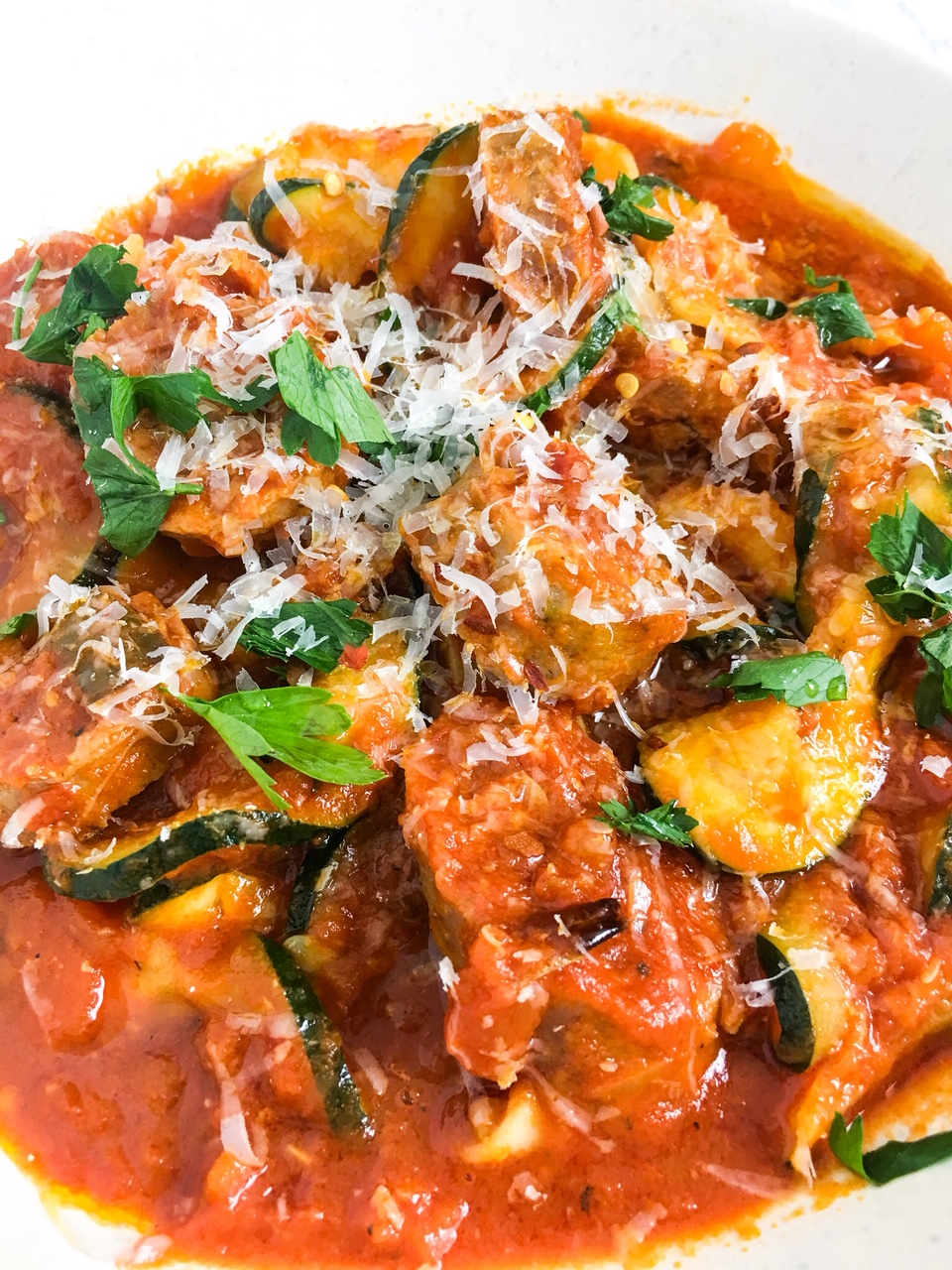 I hope you try this recipe! Enjoy!