Happy Wednesday! We live right outside our town square. Tons of adorable restaurants and  shops  line the streets. On the weekends they close everything down and set up a mini farmers market for all the locals. However, this week we have been taken over by movie producers! They have been filming in the square all week. Refreshing all of the shops with fun new names. When we were coming home today they had just finished setting up a scene with a bunch of smashed cars. As much as I wish we didn't have the traffic detours – I do think it is very cool to see.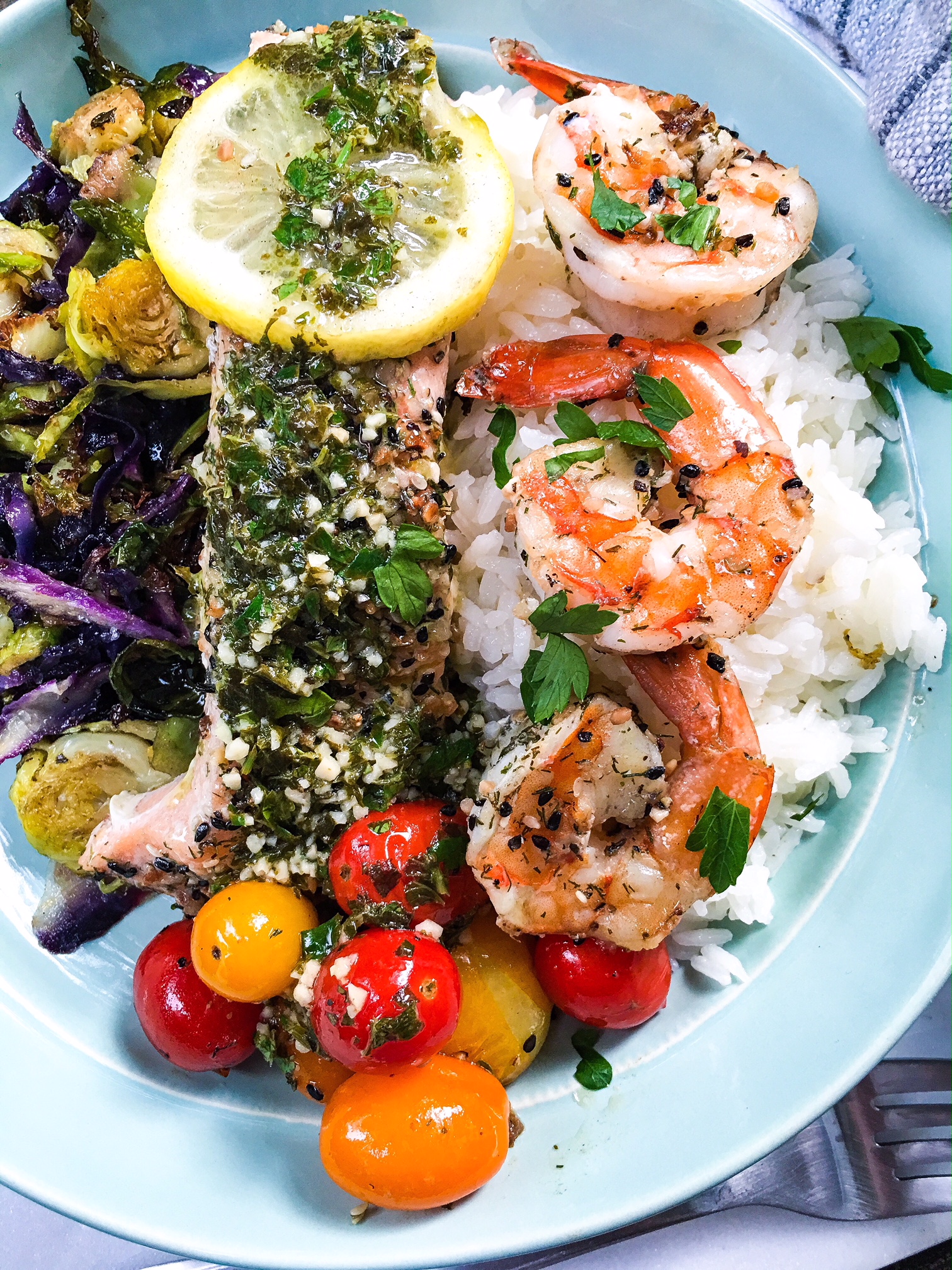 I have been so excited to share this recipe! One of my favorite things to make after a long day at work is some kind of grilled seafood over roasted veggies. This recipe is so bright and fresh. I used the marinade and spice blend on jumbo shrimp as well as salmon fillets.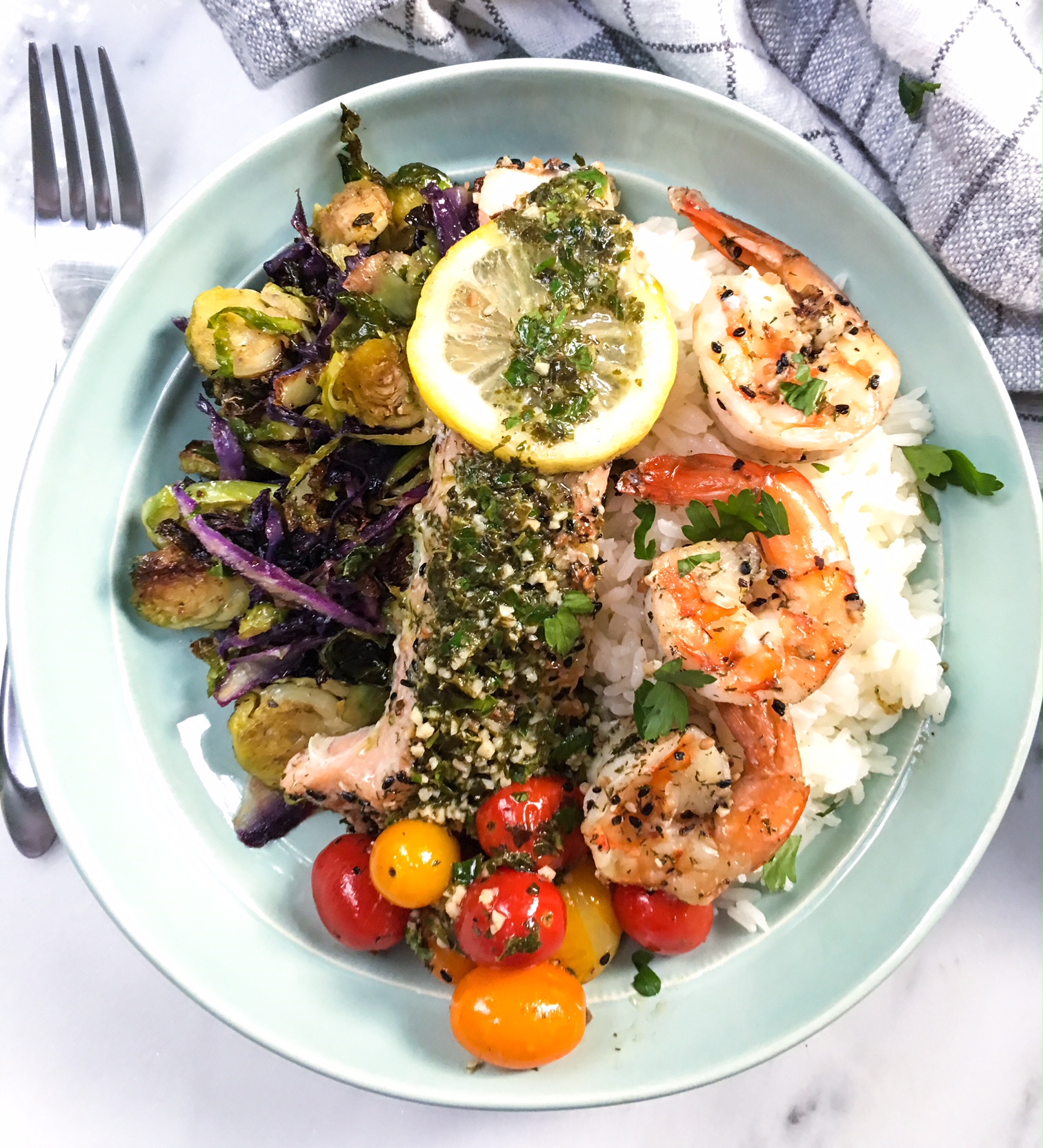 The Rodelle Seafood Seasoning is the perfect addition to my favorite recipe. You can check it out here! They created a blend of herbs, chunky salt, and sesame seeds perfect for any seafood cravings! My marinade is a very simple mix of fresh parsley, basil, lemon, and olive oil. Top with a little of the Seafood Seasoning and grill! I love that this meal comes together in 30 minutes.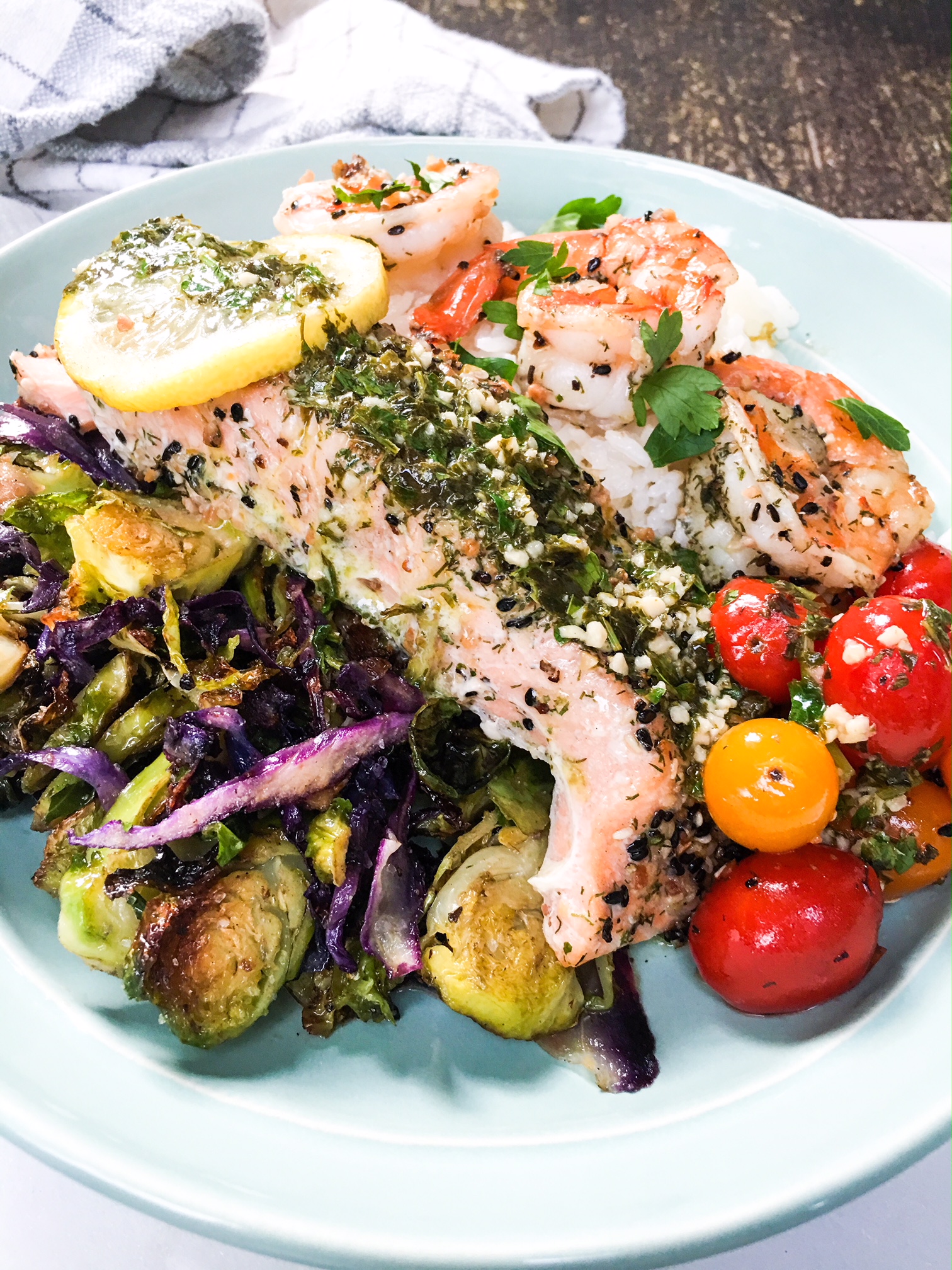 Patrick likes to eat his seafood with basmati rice. I just eat with lots of veggies to stay low carb. Either way is a winner!
Herb Shrimp and Salmon with Roasted Brussel Sprouts
Author:
Prep time:
Cook time:
Total time:
Grilled Herb Shrimp and Salmon
Ingredients
2 salmon fillets (8 oz total)
1/2 pound of jumbo shrimp peeled and cleaned
zest and juice from 3 large lemons
2 tbsp of Rodelle Seafood Seasoning
1/4 cup of olive oil
1 cup of mixed chopped herbs ( I used basil and parsley)
2 cups of grape tomatoes
2 cups of brussel sprouts chopped
1/2 cup of purple cabbage chopped
2 cloves of chopped garlic
Instructions
Preheat a grill or grill pan
In a large bowl mix the herbs, lemon juice, lemon zest, and olive oil
Reserve a little of the marinade to drizzle over the seafood once finished
Add salmon fillets and shrimp to the marinade
Preheat the oven to 400 degrees
On a large baking dish spread out the brussel sprouts, cabbage, and tomatoes
Drizzle with olive oil
Season with garlic, salt and pepper
Cook for 20 minutes or until brussel sprouts are golden and tender
Season the shrimp and salmon with the seafood seasoning
Grill until the shrimp pink with a slight charr and salmon is warm all the way through
Serve over the veggies and drizzle the remaining marinade over the top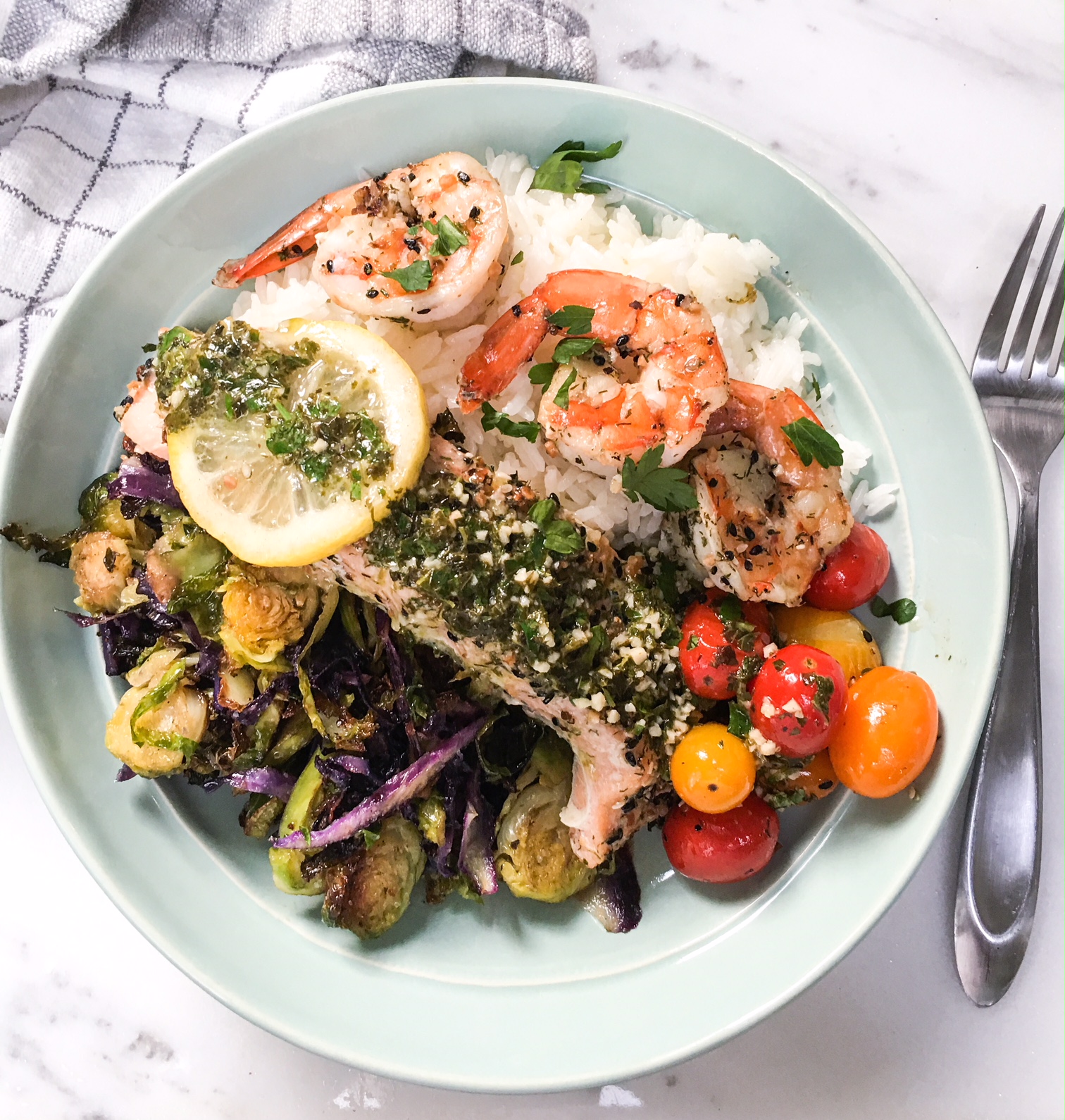 Even though fall is just around the corner- you can enjoy a little taste of summer year round!