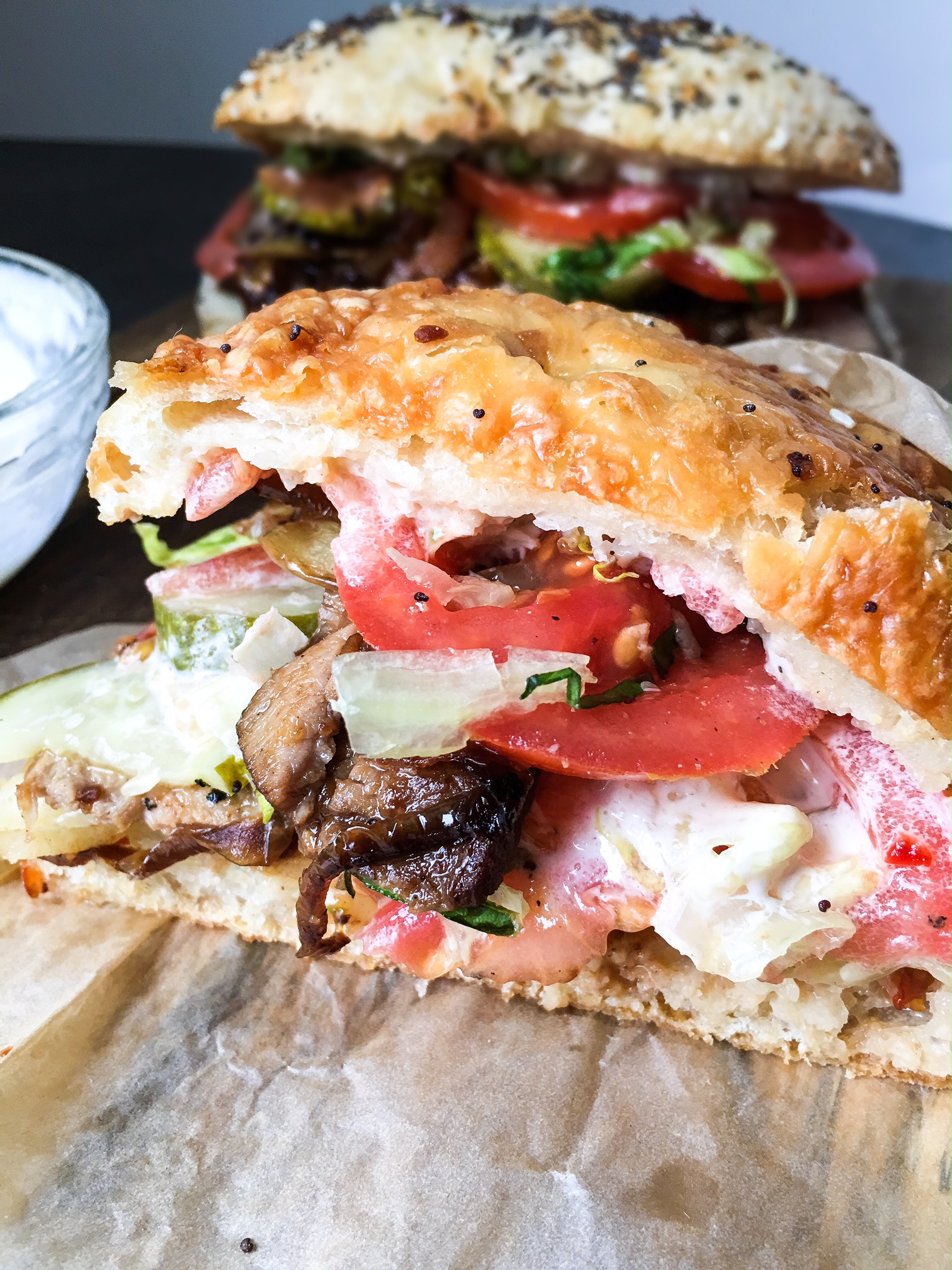 Sometimes the Farmer's Market is all the inspiration I need to make something truly great. We were passing the fresh baked baskets and it was all I could do not to take a huge bite out of the various ciabatta rolls. They smelled so insanely good. Right away I knew I needed them to make these steak sandwiches.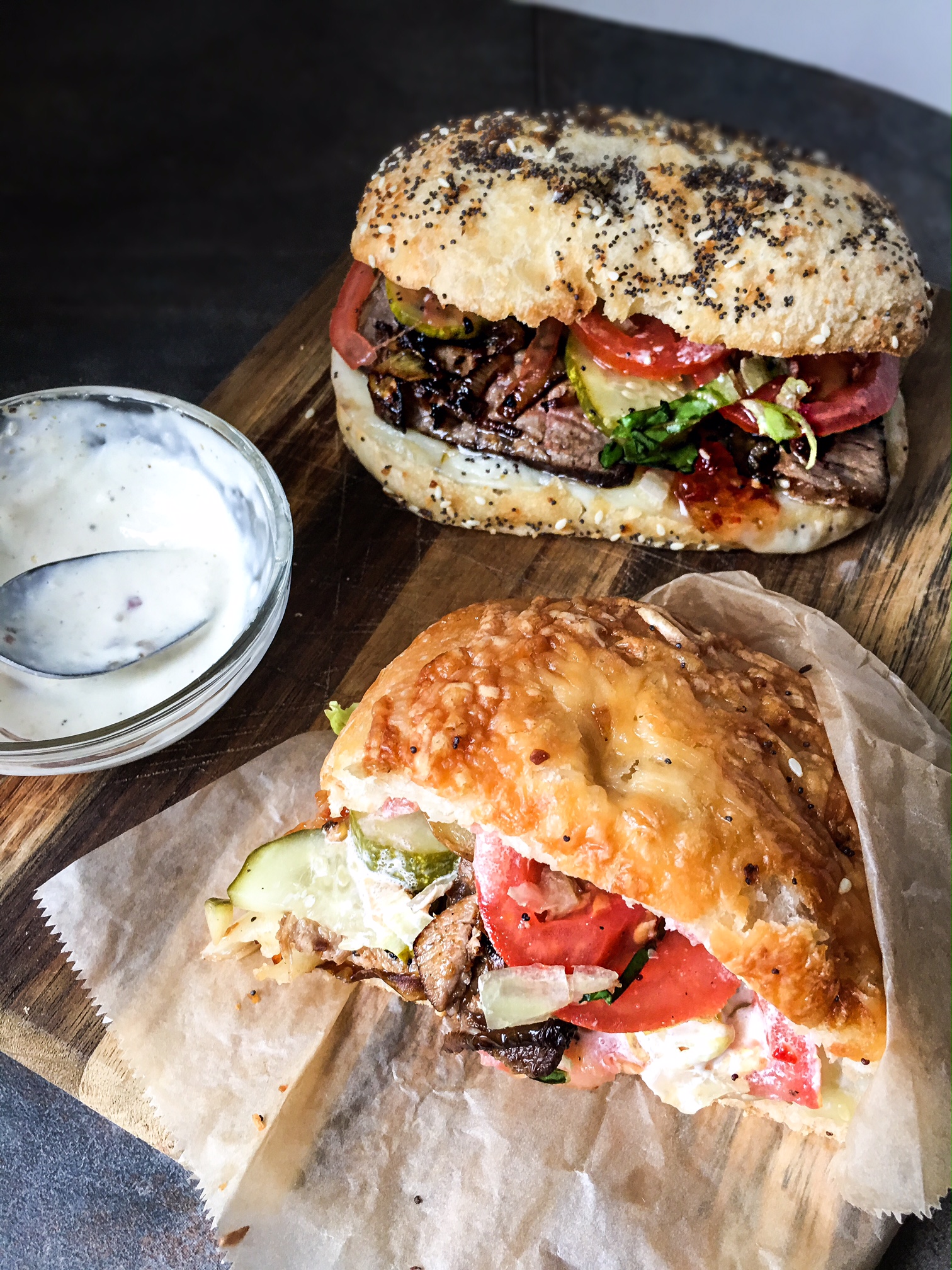 We picked up the everything, asiago, and onion flavors. That bag sat in our shopping basket taunting is with perfect baked bread smell packed full of different cheese and spices.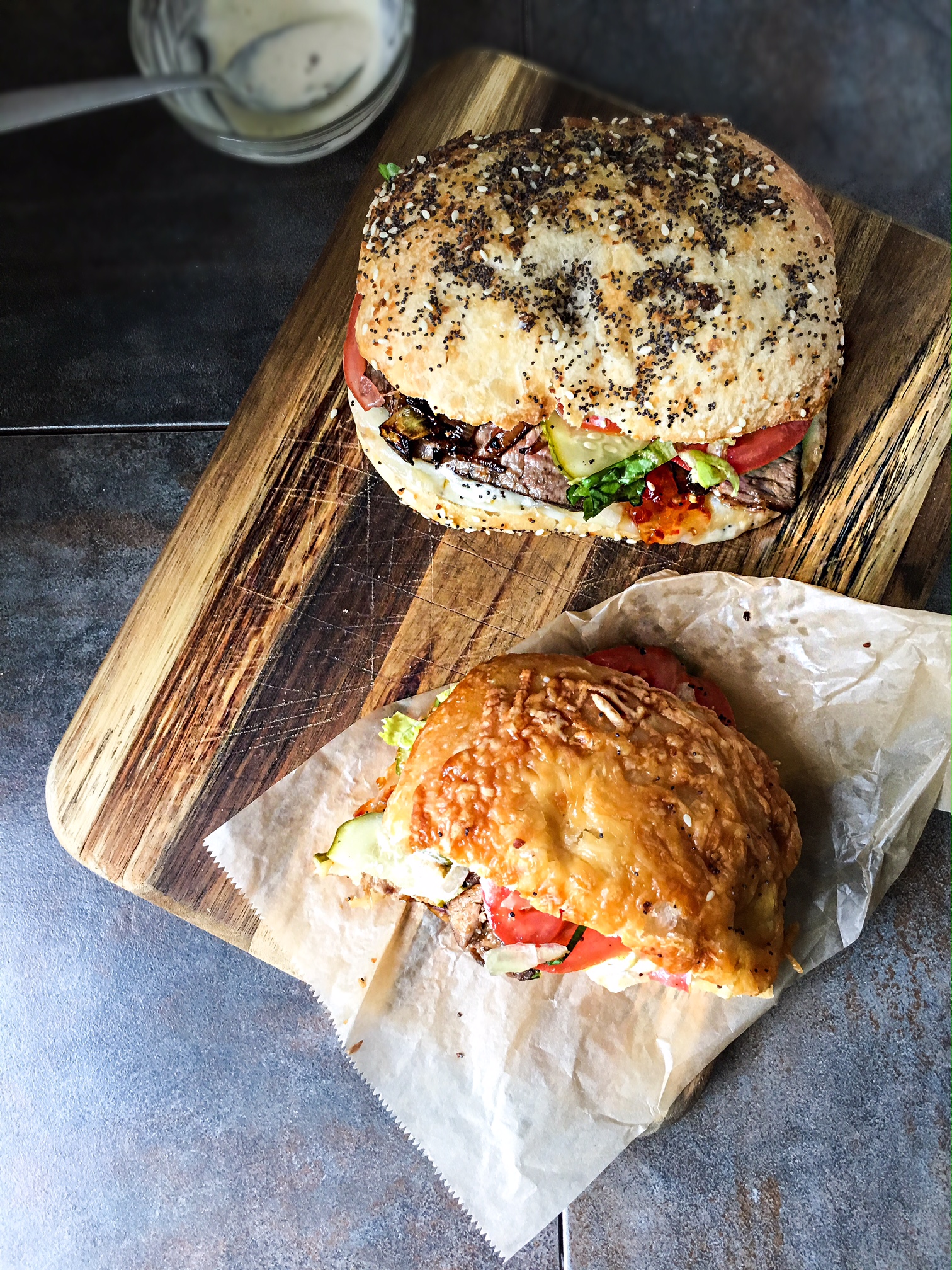 Next was the steak. I used sirloin that had been marinated in garlic, soy sauce, and spices for 24 hours. We grabbed some smokey provolone cheese and spicy pickles. On the way home Patrick also bought a jar of fresh pepper jelly – one of our favorite condiments!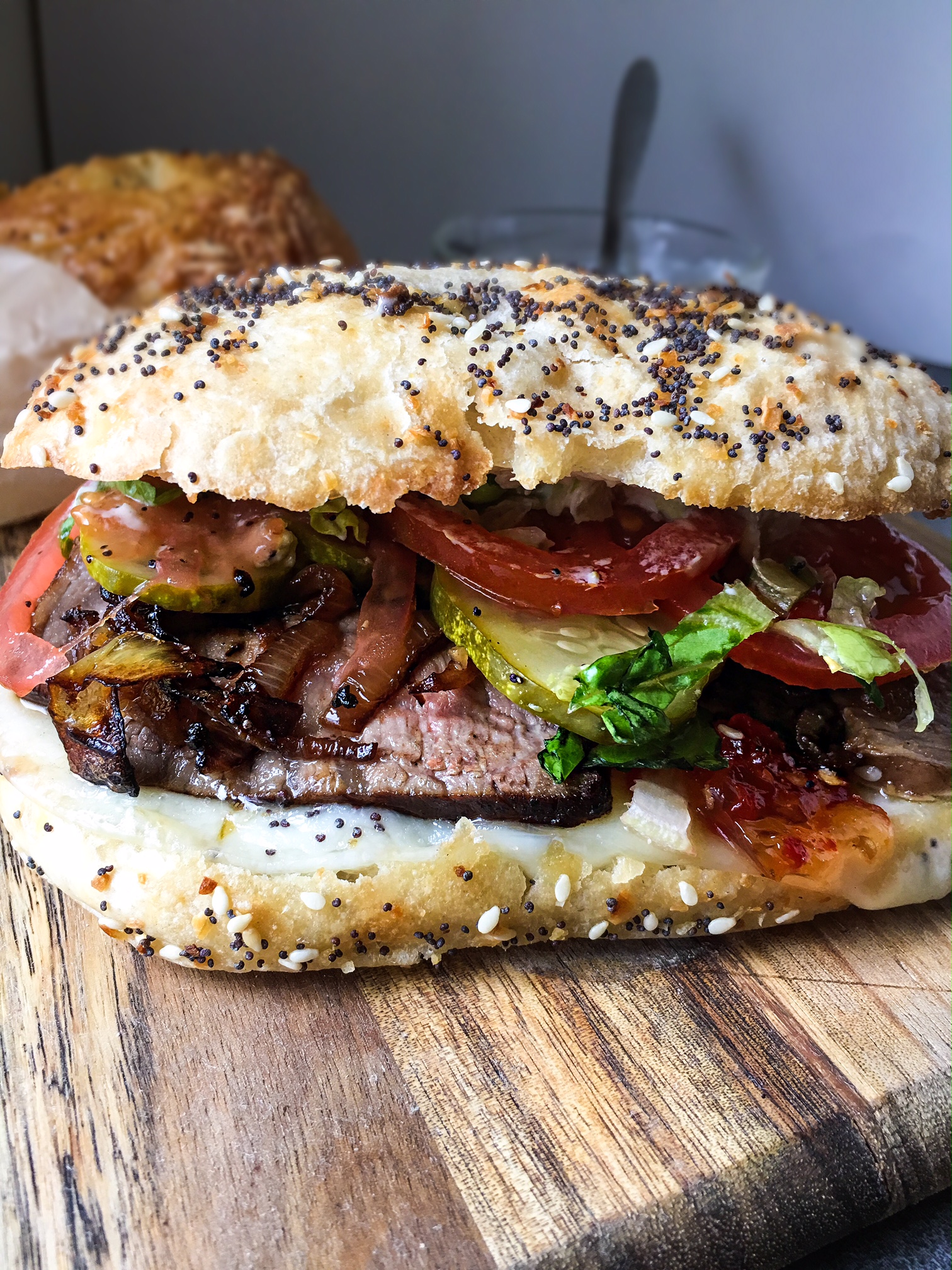 Fast forward to the caramelized onions, horseradish mayo and fresh veggies. Now we have the perfect sandwich! My favorite part is just how fresh each bite is!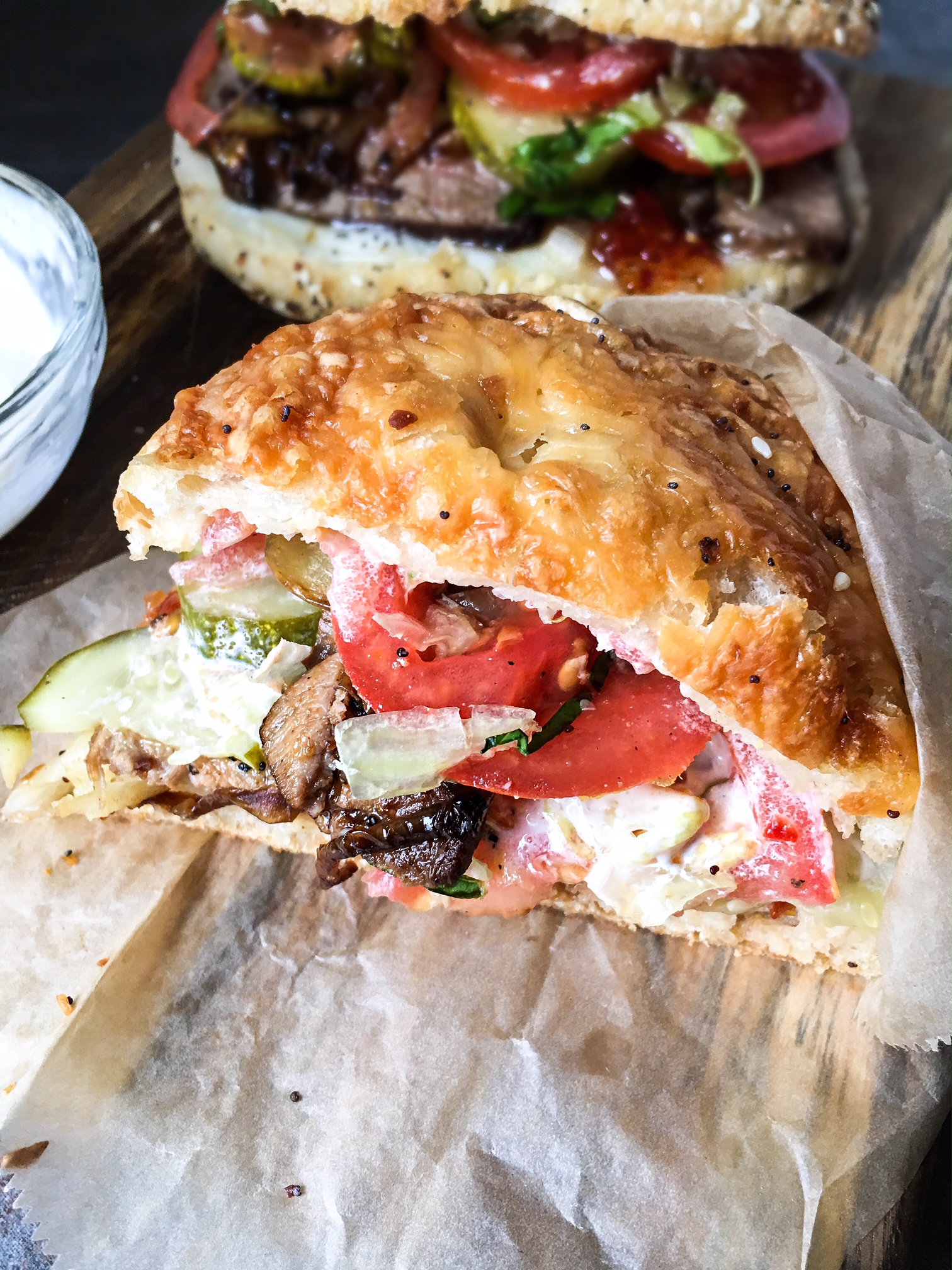 Steak Sandwich
Author:
Prep time:
Cook time:
Total time:
Super fresh veggies, marinated steak and caramelized onions stuffed in a fresh ciabatta roll.
Ingredients
sirloin steak
1/2 cup of soy sauce
2 tsp of garlic
fresh cracked pepper
1 tsp of sugar
sliced smoked provolone
fresh tomato
shredded lettuce
caramelized onions
thick sliced pickles
ciabatta rolls
2 tbsp of mayo
1 tbsp of prepared horseradish
salt and pepper
1 tsp of pepper jelly
Instructions
The night before marinate the steak with the soy sauce, garlic, sugar, salt and pepper
In a hot skillet cook the marinated steak for about 3 minutes each side for medium rare (depending on how thick your sirloin cut is)
Toast the ciabatta rolls
Mix the mayo and horseradish
Spread the pepper jelly on one side of the roll
The horseradish mayo on the other
Top with cheese and pickles
Slice the steak and layer on top the cheese
Finish with caramelized onions, tomato, and lettuce
Enjoy!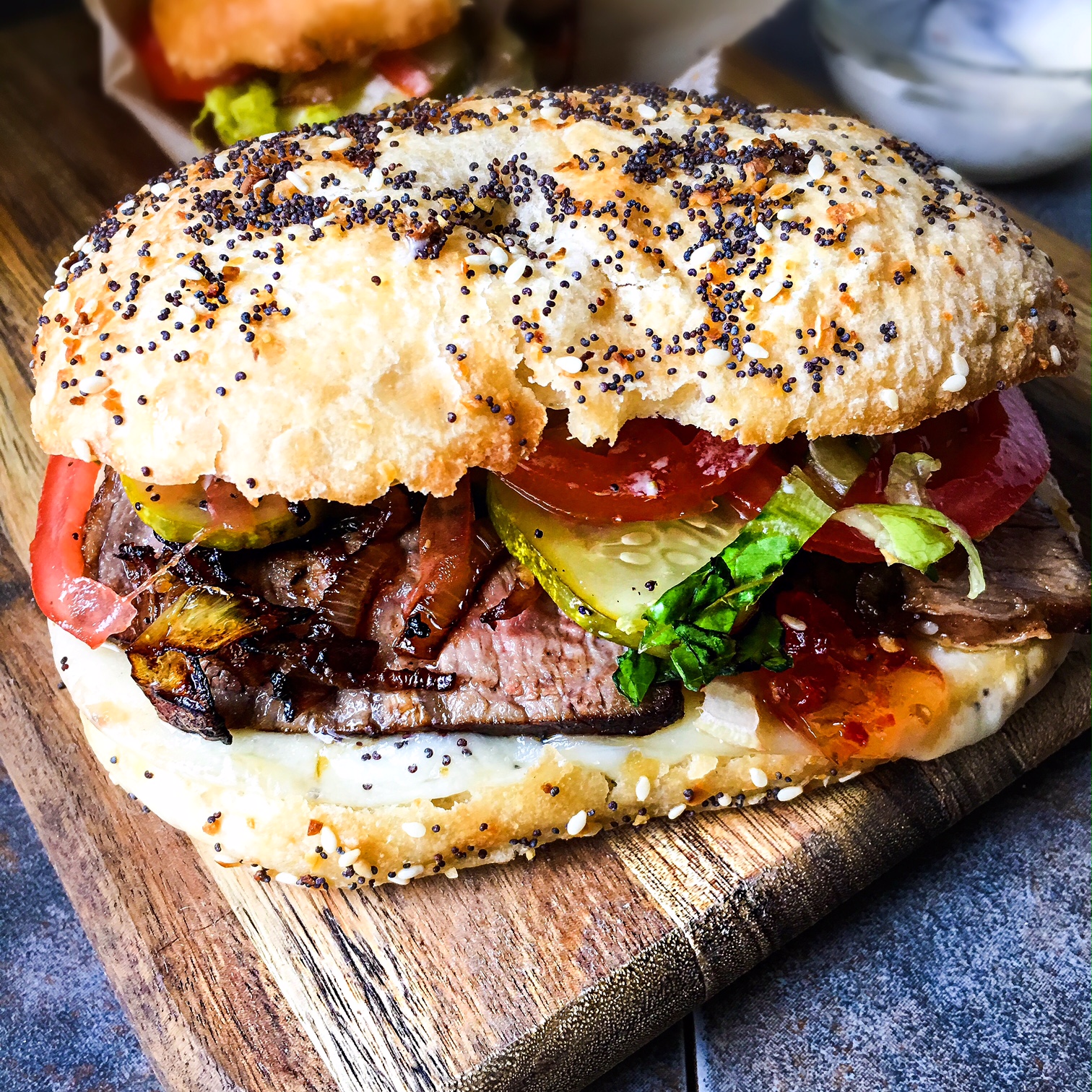 The only thing that could make these sandwiches even more perfect would be a perfectly fried egg! I hope you enjoy these steak sandwiches as much as I did!