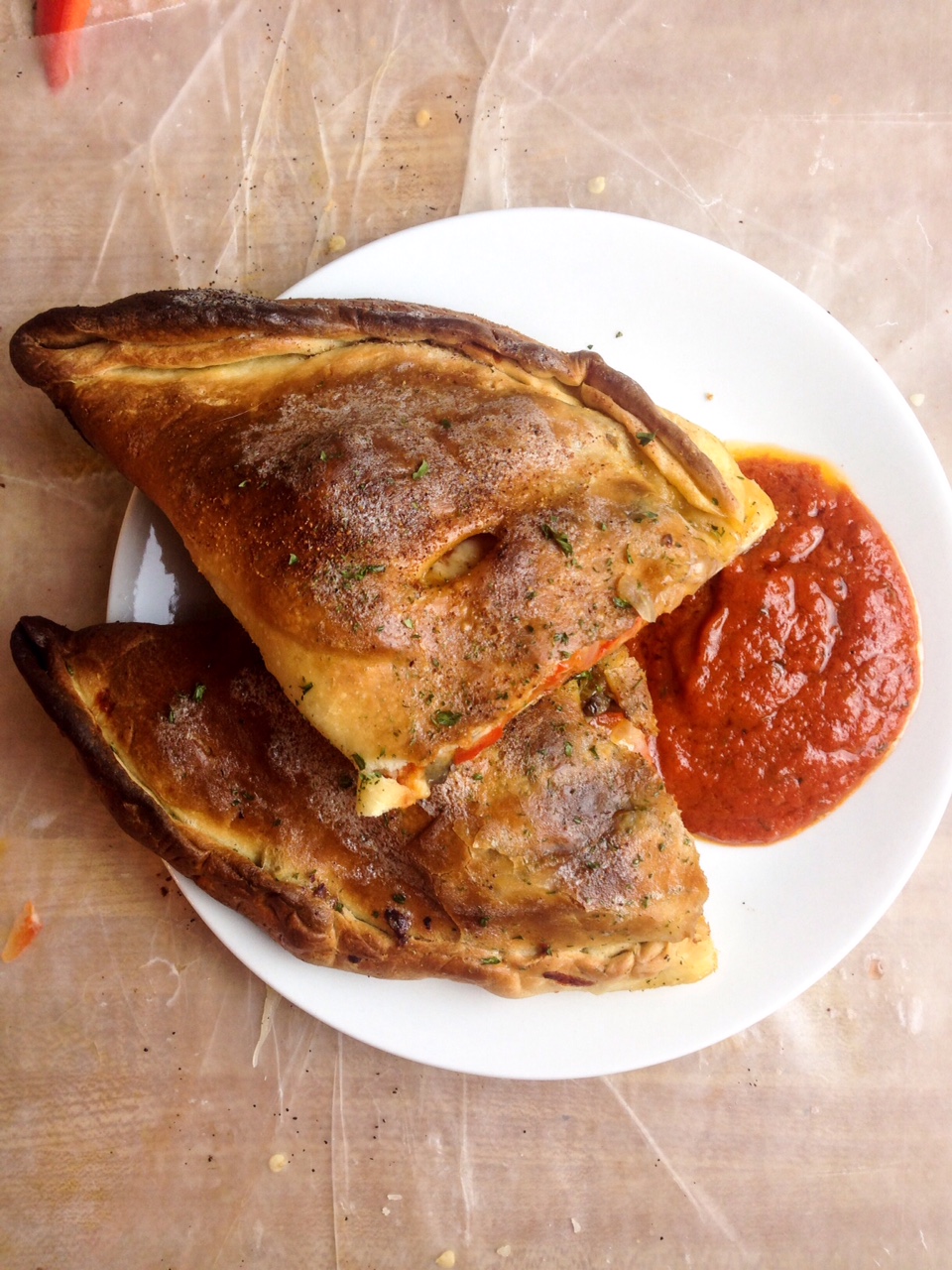 What is better than a huge cheesy pizza folded in half to capture all the excess toppings? A hand pie crust filled with pizza toppings! All the goodness without the mess. I'm talking bubbling melted mozzarella, juicy veggies, garlic and marinara in a crispy crust.  Did I mention kid friendly? My boyfriend's kids were highly skeptical, but once they bit into them and realized it was pizza it was two thumbs up!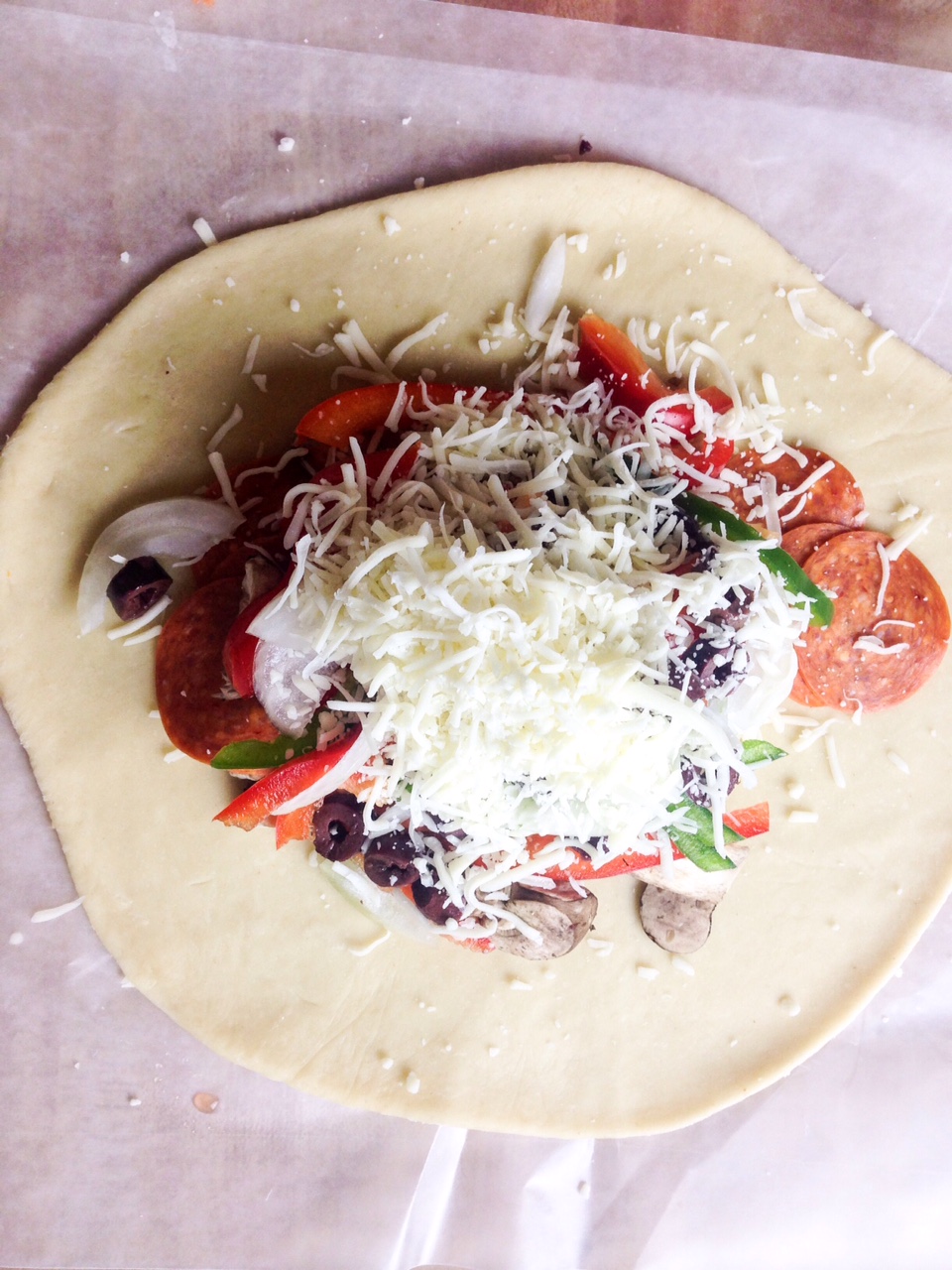 I have seriously been trying to pack every meal with veggies lately. This hand pie has red peppers, green peppers, yellow onions, olives, mushrooms – so easy to customize. I would have added jalapenos, but the jar I had was so spicy. As in unbelievably spicy. You know how you can go to Subway on a Monday and have their jalapenos and they are perfect, but you go a few days later and they are miniature fire bombs? I think that is what is going on with these. I just happened to buy a jar filled with all the seeds from the other jars.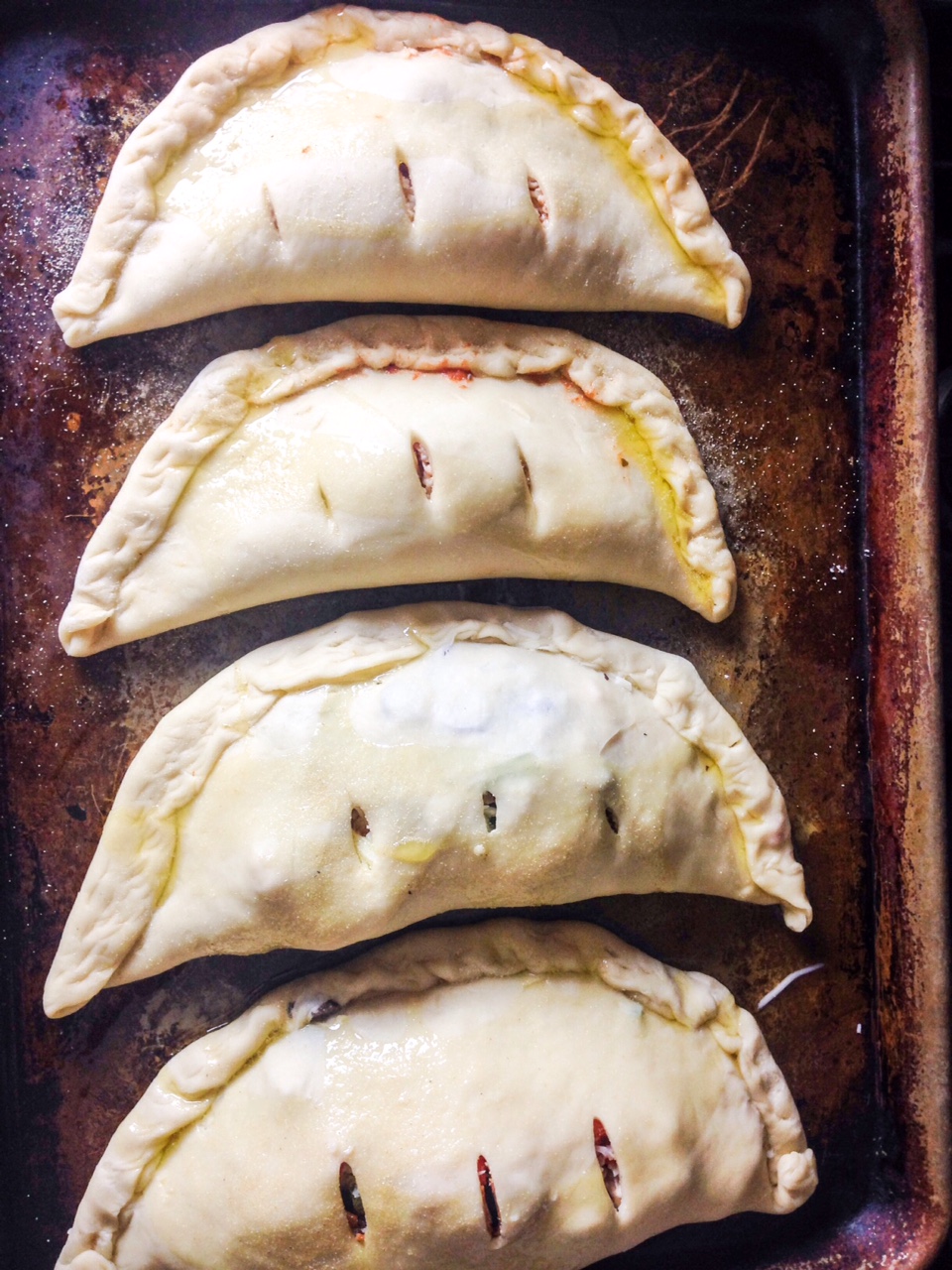 These hand pies are different from calzones because I skipped the ricotta and added marinara. You do not have to put the sauce inside the hand pie. I just prefer the sauce to cook into the veggies. Just make sure you go fairly light so it does not spill out the sides.
Pizza Hand Pies
Recipe Type
:
Dinner, Pizza
Prep time:
Cook time:
Total time:
Crispy pizza crust stuffed with meats, cheeses and veggies.
Ingredients
Pizza dough
Egg wash (1 egg yolk plus water)
Assorted veggies
Sliced olives
Sliced mushrooms
Pepperonis
Mixture of Italian cheese – provolone, mozzarella, Parmesan
Italian seasoning
Marinara sauce
Olive oil
Instructions
Preheat your oven to 425.
Divide the pizza dough into 4 equal balls.
Roll out into 4 equal ovals on a lightly floured surface.
Spoon about 1 tsp of marinara over the center of the dough. Do not get too close to the edge. Leave about an inch.
Add the pepperoni and veggies.
Top with a handful of shredded cheeses.
Pull one side of the dough over the topping to meet the opposite edge.
Use a fork to crimp the dough together.
Roll the crimp one time and use the fork or fingers to pinch down again.
It is important to add the extra roll over the dough edge to keep all those toppings locked up.
Use a knife to cut 3 slits on the top to let steam out.
Brush egg wash over crust.
Drizzle olive oil and sprinkle with Italian seasoning.
Bake for 20 minute until crust is golden brown.
Keep an eye on them because they cook very fast. I cooked mine for 25 minutes. I should have pulled them out a few minutes earlier.
I hope you enjoy! This is one of my favorite meals. It is quick and easy with a fast clean up. I highly recommend heating the rest of the marinara with some crushed red pepper and olive oil for dipping! Yum!