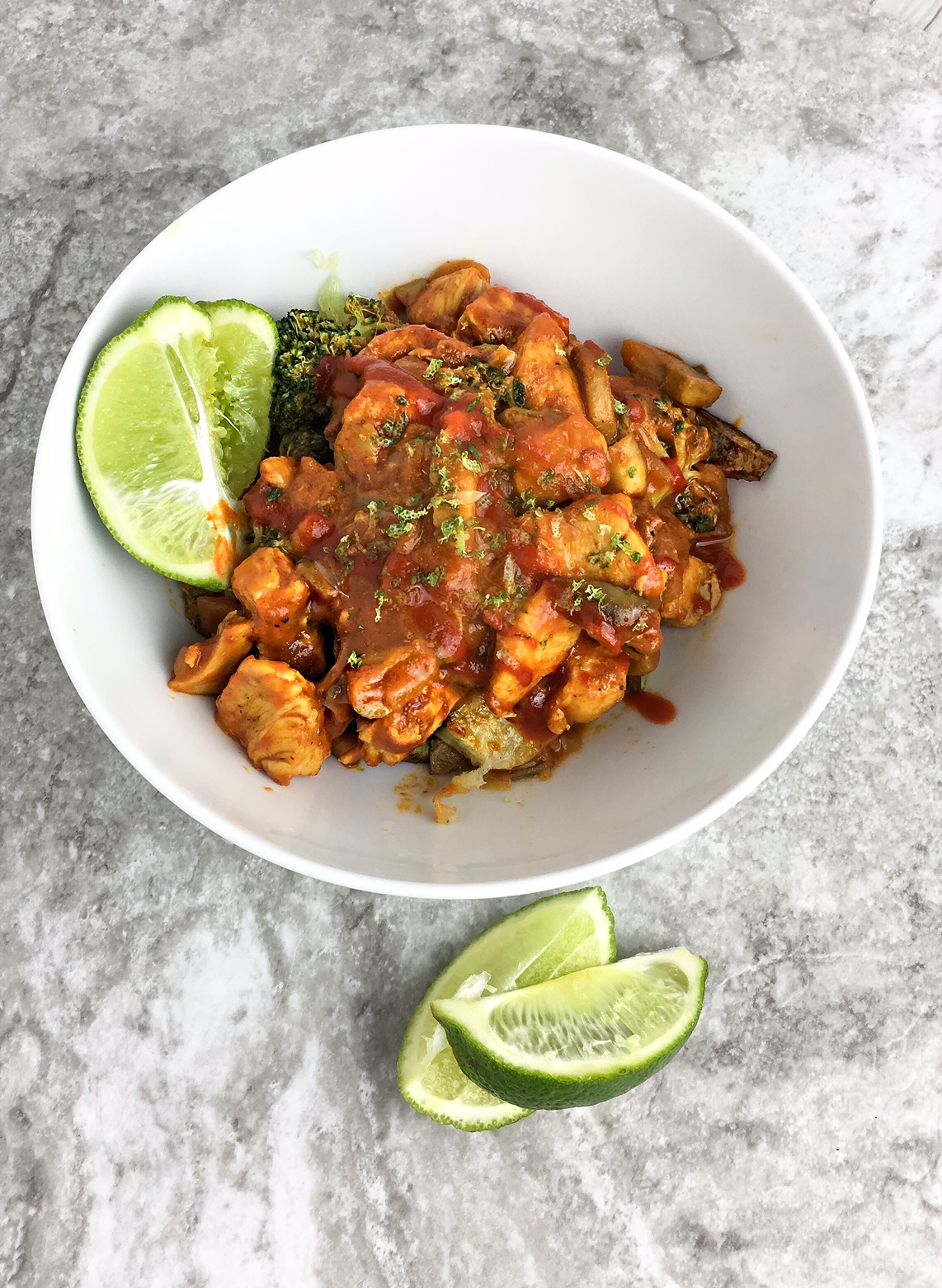 Are you ready for one of my favorite FAST week night dinners? Best part? It is Whole 30 approved and delicious. This red curry chicken turned me into a curry believer.
Before I had zero desire to ever have curry. The first time I ever tried curry it was in a to go box with soggy veggies and a very unappealing greenish yellow sauce. Since then I have stayed far away.
This curry however has made me want to try a true authentic curry. The chicken was simmered in coconut milk with red curry paste, garlic, and tons of cayenne pepper. I folded in some steamed broccoli for texture and served over crisp roasted potatoes since I am skipping the rice.
I love the little bit of lime zest on time to really cut through the heat and bring some bright flavor to the dish. We have already made this recipe again and tried swapping the chicken for shrimp.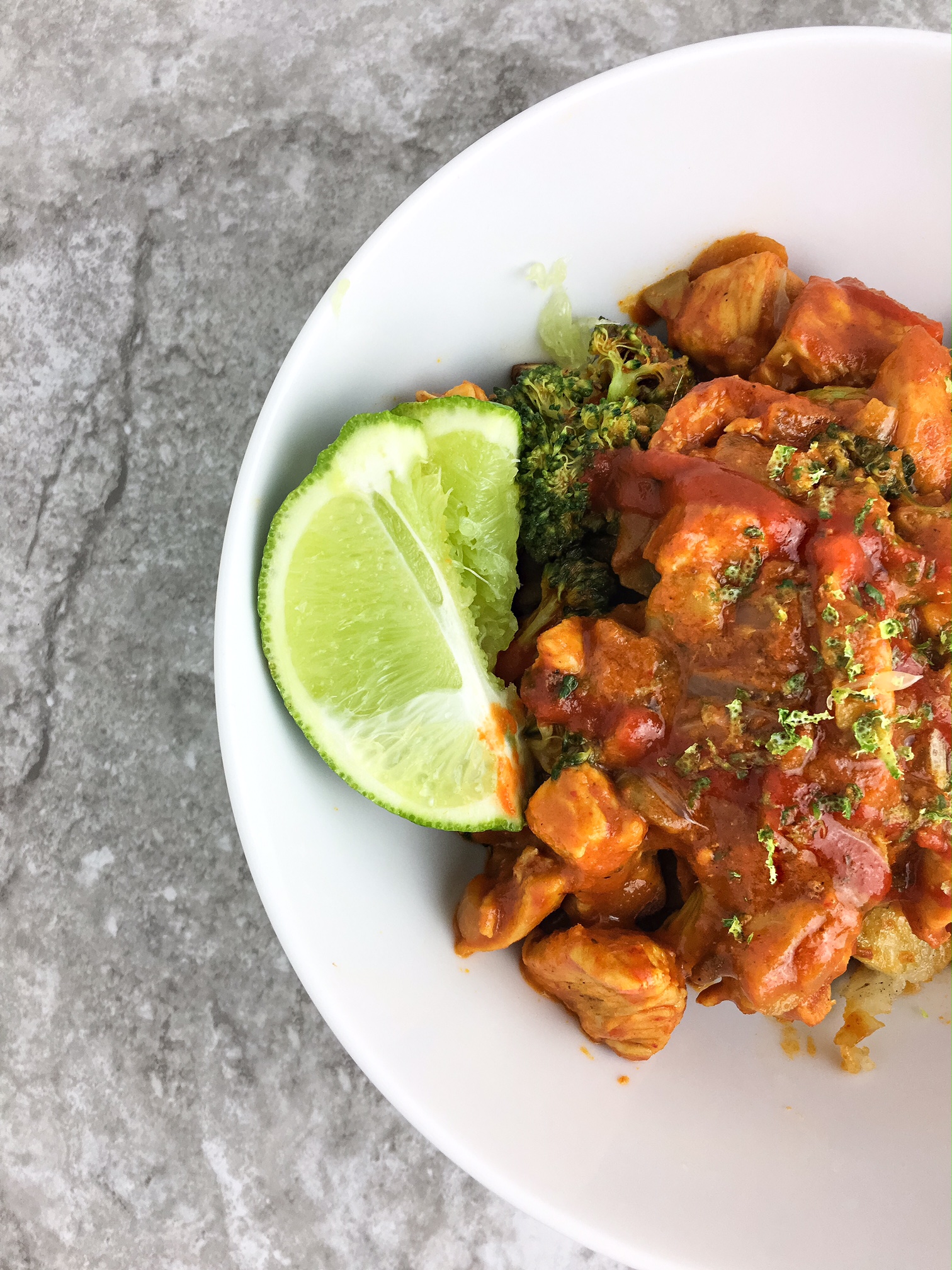 I know when I diet or try to eat clean I get stuck in these ruts throughout the week and we end up with a roasted chicken breast and roasted veggie most of the time. I think this recipe was a nice break that helped open us to different versions of our roasted classic.
If you aren't a huge fan of coconut milk I would still advise you to try this dish. Since we are using an unsweet coconut milk it does not stand out as the main ingredient to me. I think everything did a great job of coming together and delivering a very tasty medley of flavors.
Red Curry Chicken – Whole 30 Approved!
Recipe Type
:
Red Curry Chicken, Dinner
Author:
Prep time:
Cook time:
Total time:
A twist on classic roasted veggies and protein. Chicken simmered in a rich red curry sauce then tossed with broccoli and served over crispy potatoes.
Ingredients
1 pound of chicken breast
1/2 cup of unsweet coconut milk
2 tbsp of red curry paste
1 tsp of cayenne pepper (optional)
1 lime and the zest from the lime
1 tsp of chopped garlic
1 tsp of garlic powder
salt and pepper to taste
1 cup of steam broccoli
2 small russet potatoes chopped
2 tbsp of coconut oil melted
Instructions
Preheat the oven to 425 degrees.
Toss chopped potatoes with 1 tbsp of coconut oil and spread out on a baking sheet. Bake for 20 minutes or until golden brown. I like to flip my potatoes after 10 minutes for added crunch.
In a sauce pan heat 1 tbsp of coconut oil over medium heat.
Add in the chicken breast and cook until golden brown and up to 160 degrees.
Season with salt and pepper as you go.
Take chicken out of the pan and let rest.
Add the chopped garlic into the pan and heat over medium low.
Once the garlic is a golden color add the coconut milk and curry paste.
Add in the cayenne and garlic powder.
Season with salt and pepper.
Stir and bring up to medium heat until the sauce starts to simmer.
Slice your chicken breast (which should now be 165 degrees)
Add into the sauce.
Boil 2 cups of water in a pot and add your steaming pot to steam your broccoli. (You can also toss the broccoli in a glass microwave safe dish and cover with plastic wrap cook for 4 minutes to steam)
Bring the chicken mix down to medium low heat and fold in the broccoli.
Spoon your chicken curry over a scoop of potatoes and serve with a little lime zest and a squeeze of the lime.
I also added hot sauce on mine because I like to be extra like that. 😉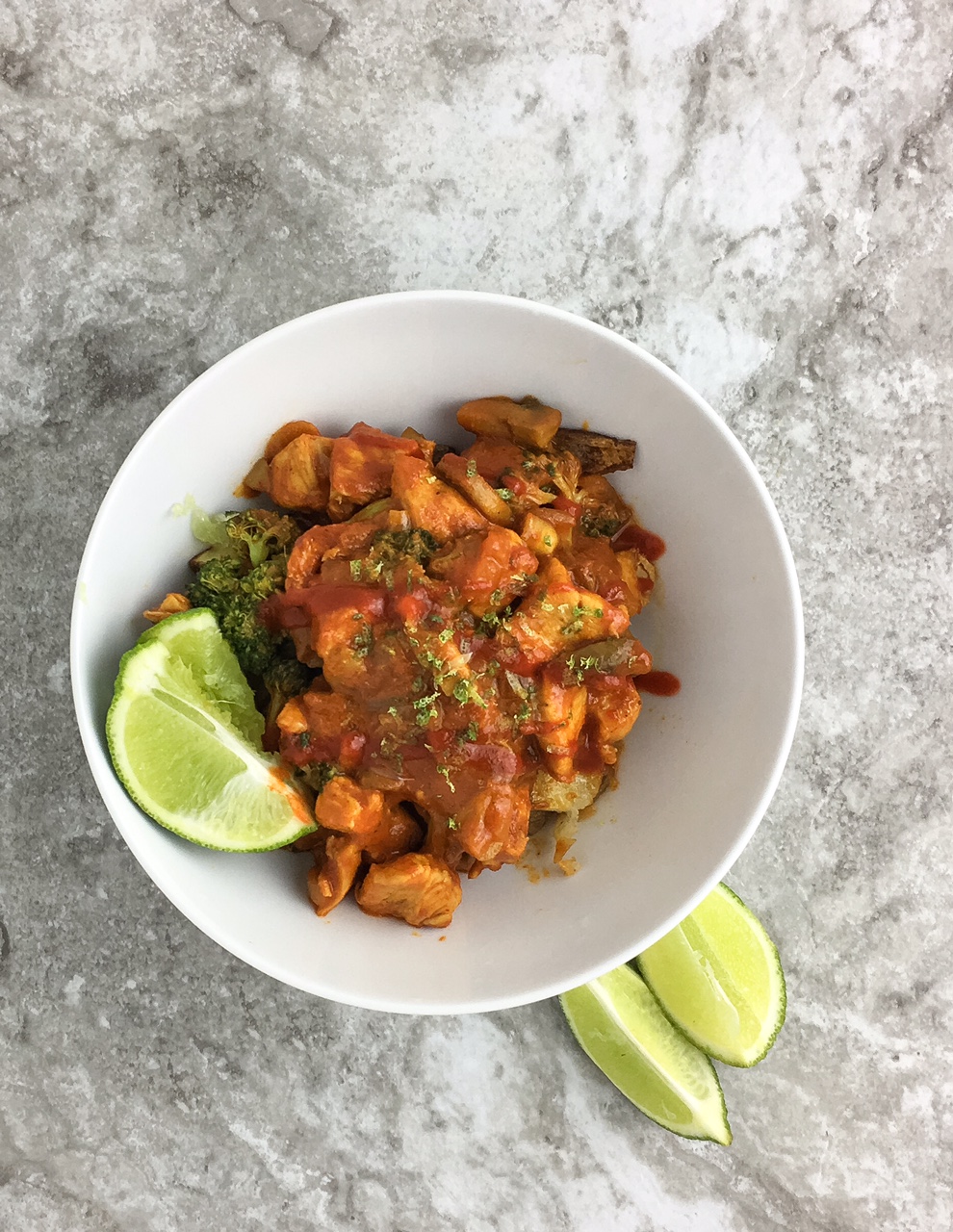 You can make this dish as spicy or as mild as you want. We like to eat ours very spicy, as always.
There are quite a few steps to this dish, but don't let that fool you. This dish comes together in 30 minutes or less. The longest part of the process is waiting for the potatoes to roast.
I hope you try out this red curry chicken and enjoy!