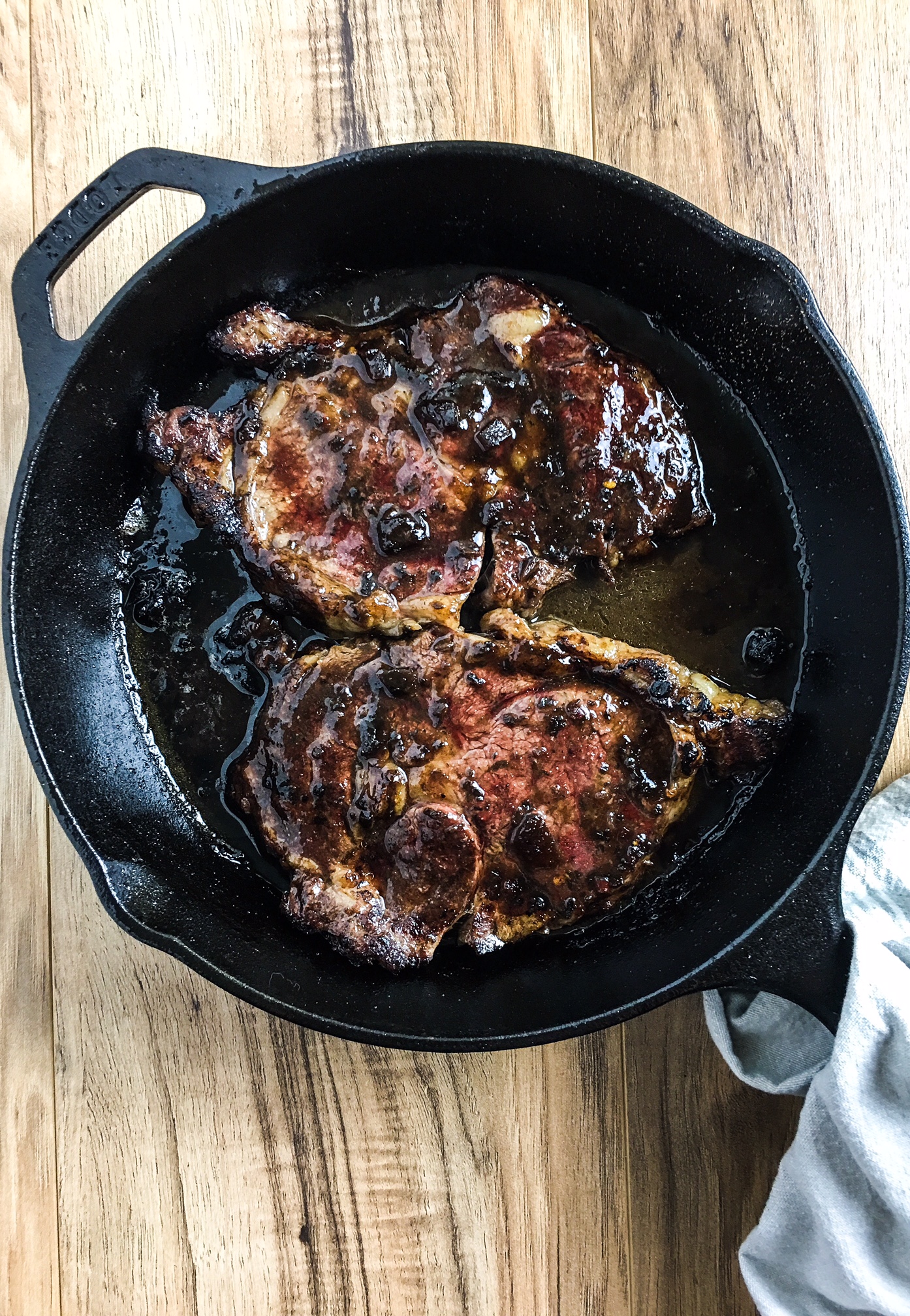 Today's post is going to be short and sweet. I have been practicing so many recipes for Valetine's Day! Yesterday after I was going on my 2nd hour of finishing a truffle cupcake I realized something really important. Who the heck is going to want to spend the entire (Tuesday) day of Valentine's Day cooking? That is when I decided to share this recipe with you.
If you are going to invest in any type of cooking gear, I highly recommend a cast iron skillet. Patrick gave me this large skillet on Christmas because I had previously been using a few tiny skillets. It doesn't have to been anything fancy. I am pretty sure Walmart and Homegoods sell some pretty inexpensive ones. If you take care of your skillet it will last forever.
This weekend we went ahead and seasoned our new pan. Heat your oven up to 400 degrees. Take a cloth or paper towel and dip into canola oil or lard. Then cover the entire surface of the skillet. Even the handle and the outside. Bake for 1 hour then cool.
Okay back to this steak. I am forever over cooking my steaks because I come up with elaborate side dishes and the steak almost becomes an after thought. This time I made the steak the star of the show! This recipe is great for Valentine's Day because it is so easy and quick, but definitely does not lack flavor!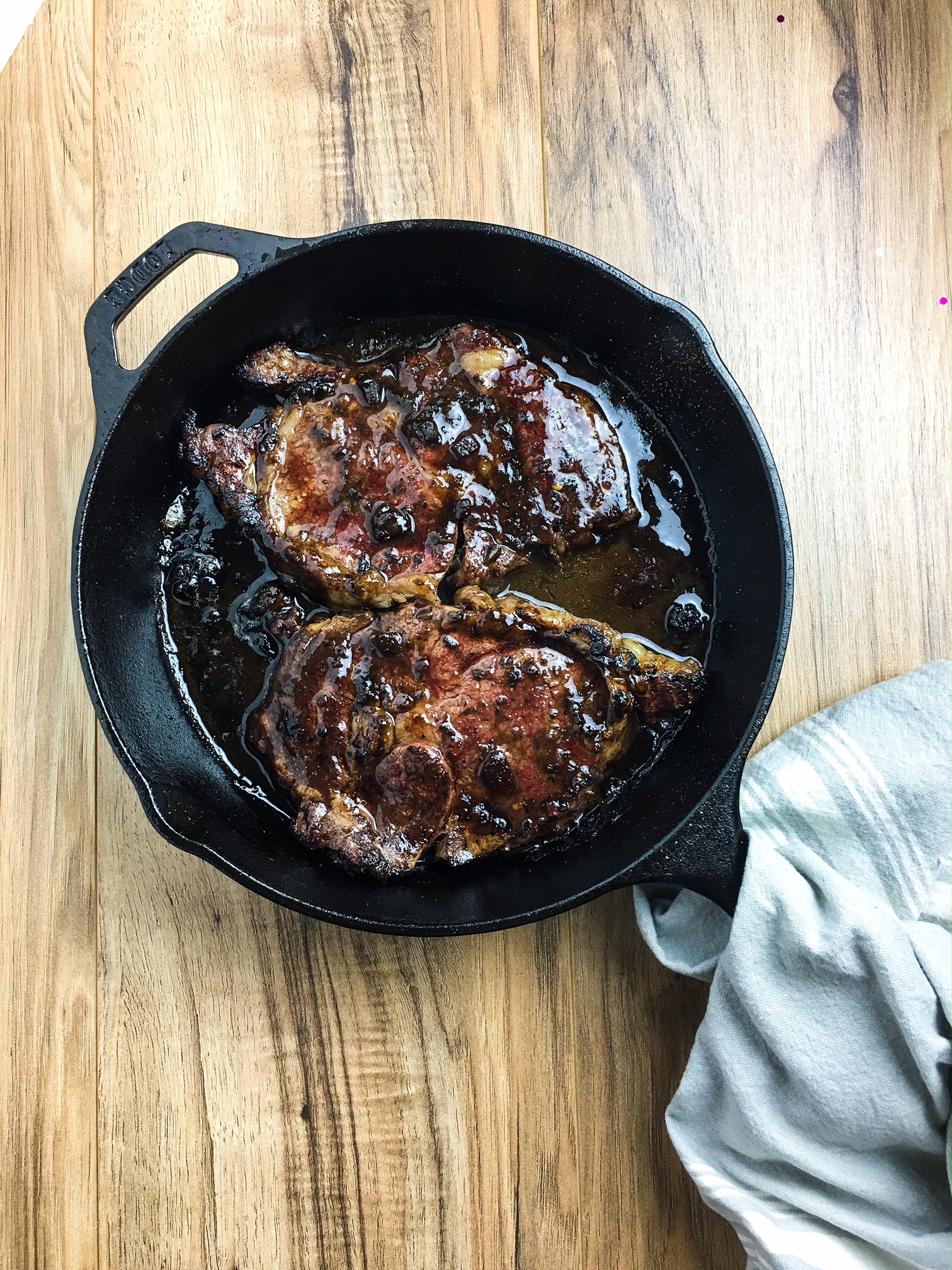 Perfectly Seared Steak
Recipe Type
:
Steak, Dinner
Prep time:
Cook time:
Total time:
Perfectly Seared Steak for Valentine's Day
Ingredients
2 ribeye steaks
1/2 cup of soy sauce
2 tbsp of brown sugar
1 tsp of salt
1 tsp of fresh cracked pepper
2 heaping tbsp of chopped or smashed garlic
1/4 cup of melted butter
1 tsp of crushed red pepper
1 tsp of powdered garlic
cracked salt and pepper
Instructions
Heat oven to 400 degrees.
In a large bowl place your steaks and the soy sauce, chopped garlic, salt and pepper, brown sugar and crushed red pepper.
Let your steaks sit on the counter at least and hour before marinating to come to almost room temp.
Marinate your steaks for 15-20 minutes.
Heat your skillet over medium high.
Pour half the butter in and let heat.
Add your steaks and cook without touching for 1 minute.
Pour in the rest of the butter and flip. Season with garlic powder salt and pepper.
Cook for 1 minute then pour the marinade over the meat.
Into the oven for 3 minutes for rare.
minutes for medium.
(This depends on how thin your steaks are. Mine where about an inch thick)
Remove from pan immediately and let rest on a cutting board or plate.
Once rested for about 5 minutes serve with a little of the pan sauce.
Enjoy your perfectly seared steak! Keep it simple and serve with a fresh veggie an potato. We like roasted asparagus and roasted red potatoes. Happy Valentine's Day!