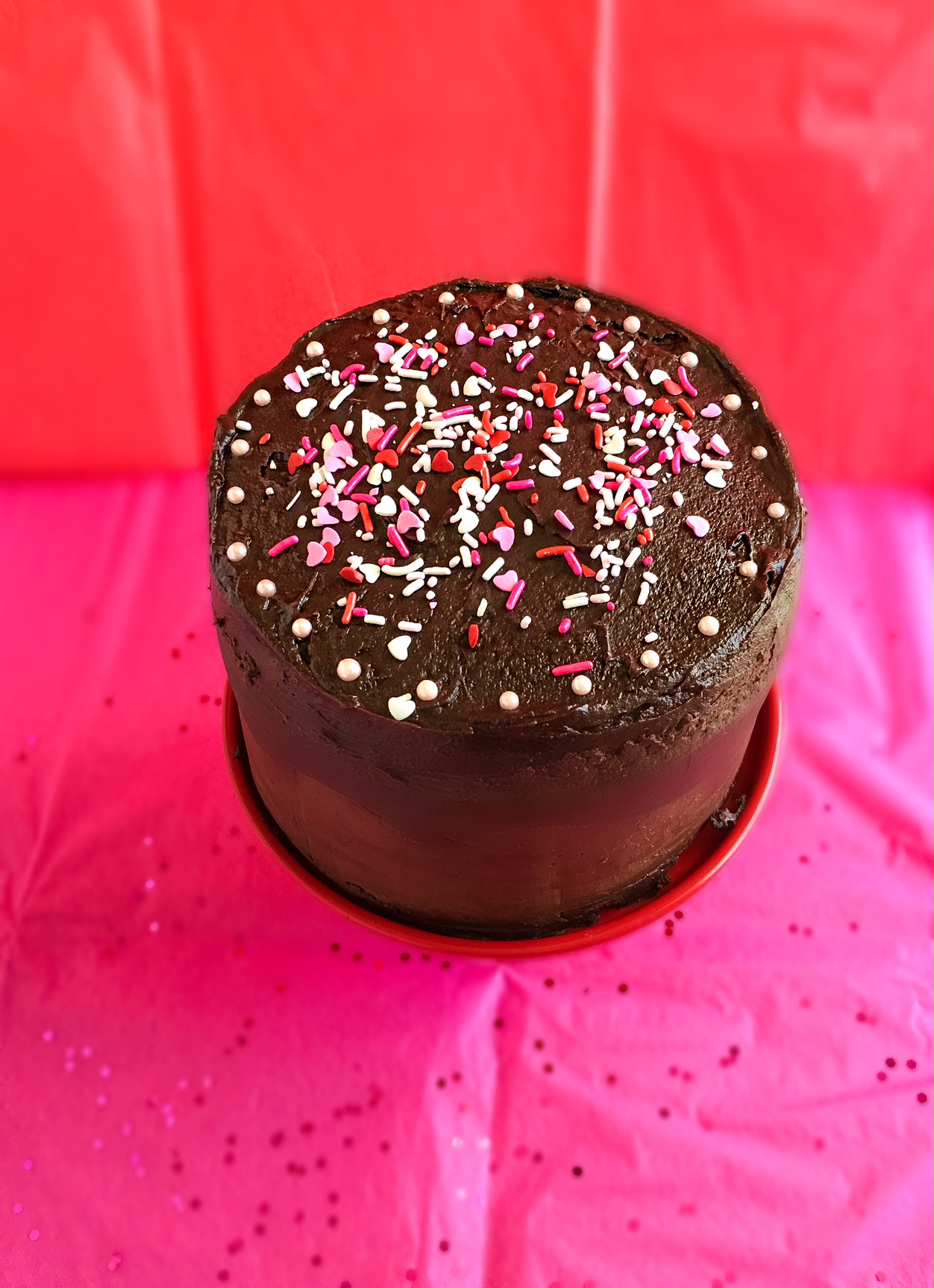 One of my favorite things about Valentine's Day is all the fun desserts. Even after all my brainstorming I still came up with mostly chocolate covered things… I can't help it! We are a chocolate household. This Chocolate Ganache Cake came just in time!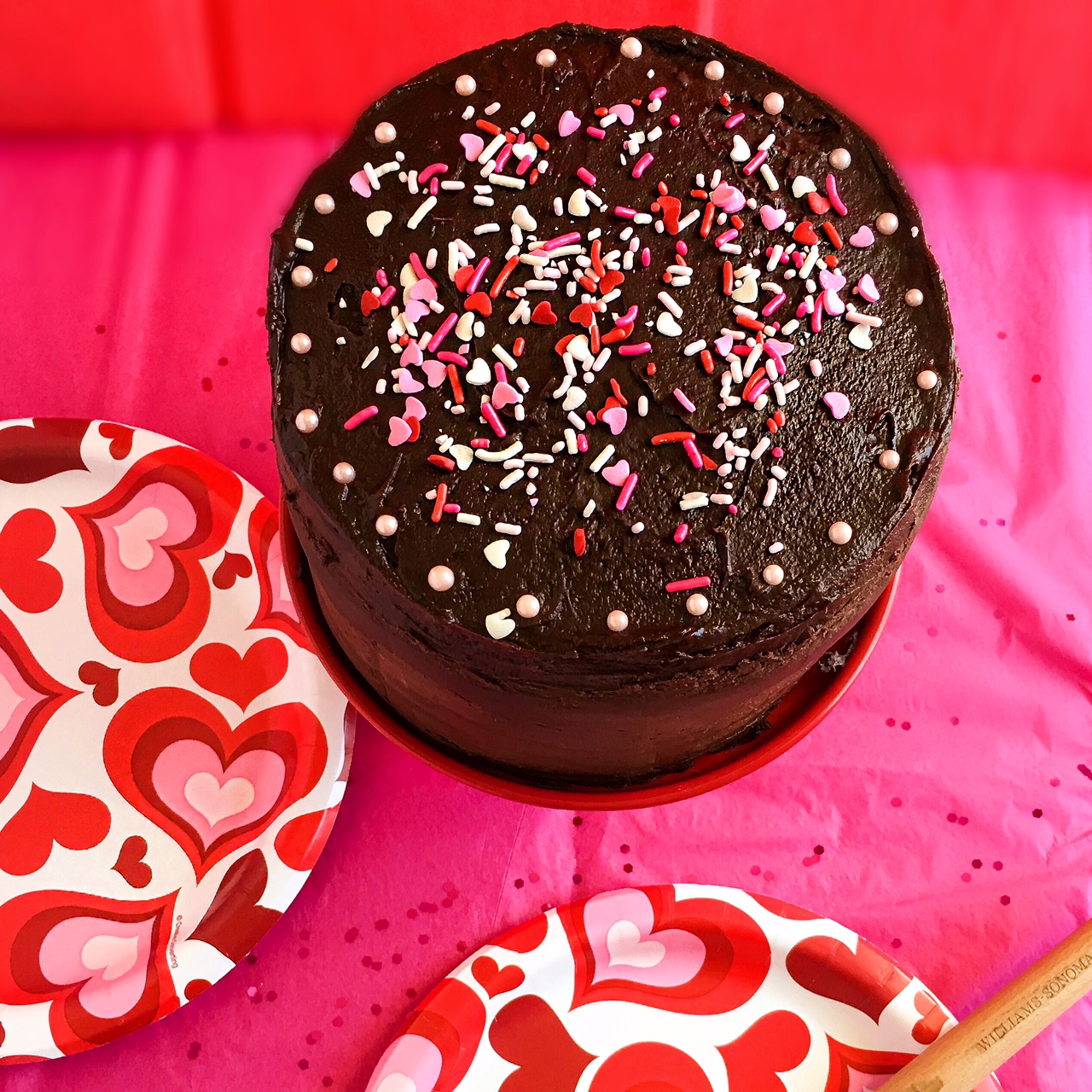 I knew I wanted something rich with a subtle coffee flavor. First came this extra moist chocolate cake. Not overly sweet. Then a light and creamy cheesecake filling. Dyed pink of course to be extra festive! Then came the whipped ganache.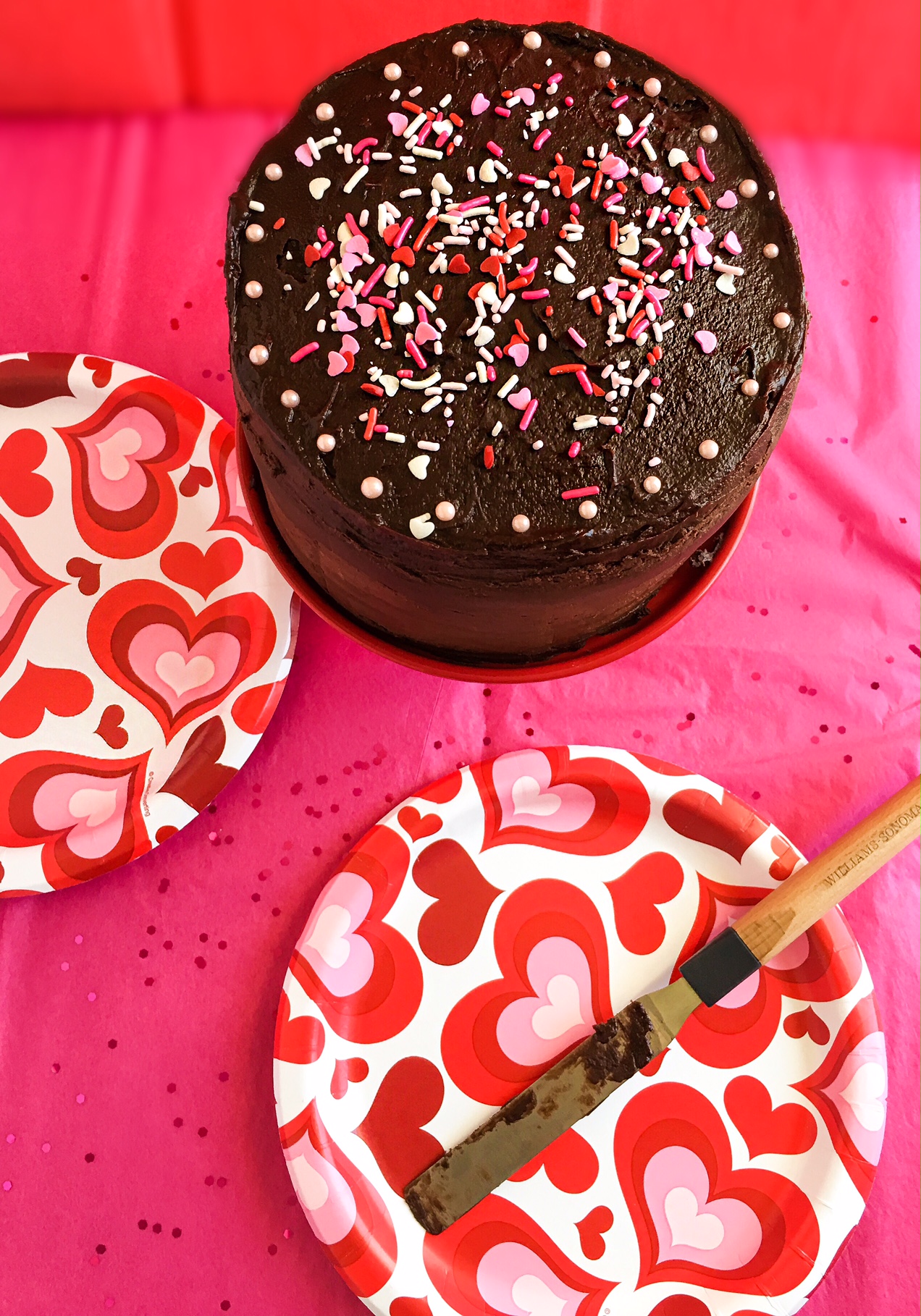 If you want to skip down to the ganache recipe and eat it straight out of the bowl – that is perfectly ok with me! This whipped ganache is everything I dream of when putting together recipes. It has that really rich chocolate flavor, but the texture is so light and fluffy.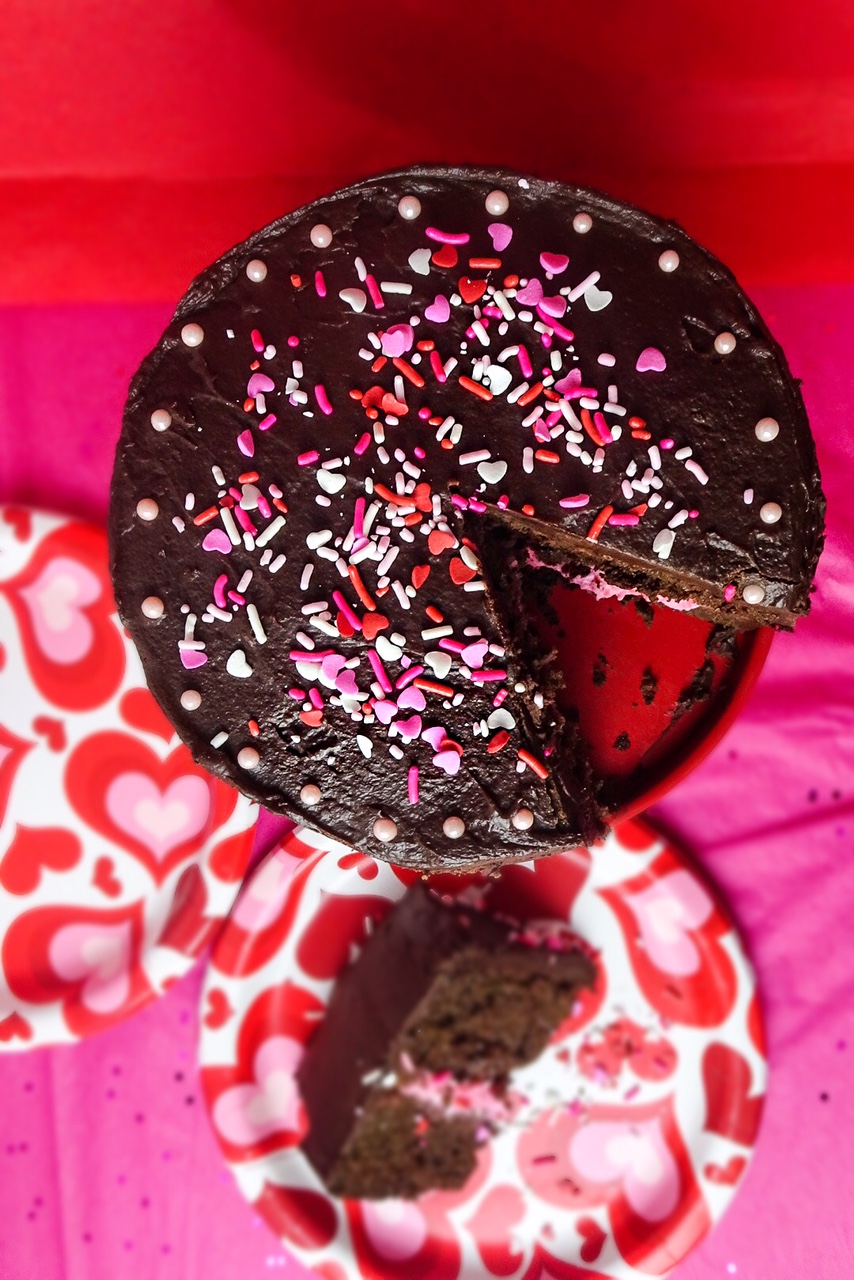 The entire cake is covered with the whipped ganache then topped with a thick dark chocolate ganache. I used a straight spatula to "ombre" the two together. The result is sooooooo good! I'm not going to lie to you. This cake is very time consuming, but I promise it is worth it!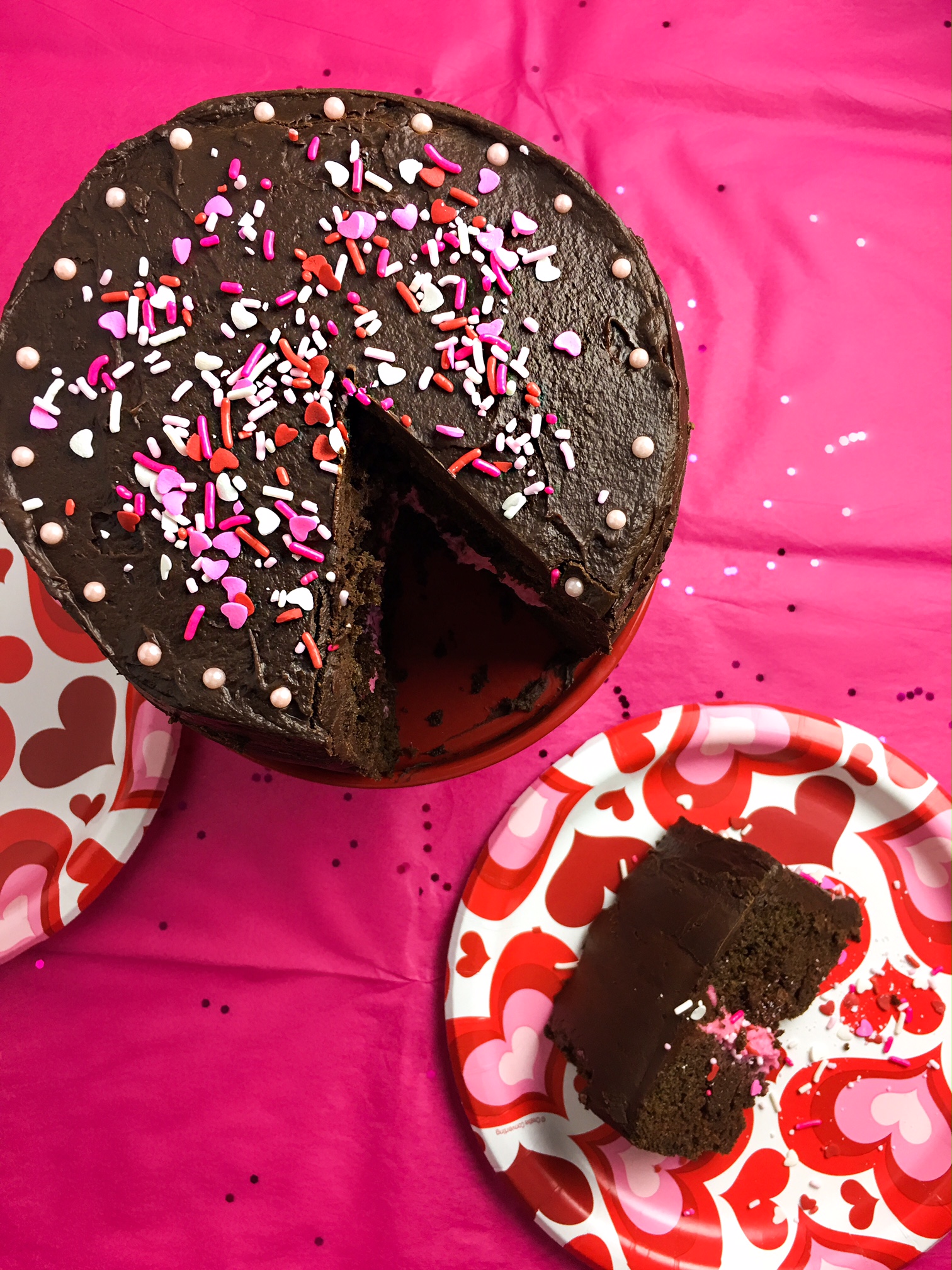 Chocolate Ganache Cake With Cheesecake Filling
Prep time:
Cook time:
Total time:
Chocolate cake with a cheesecake filling and ganache topping.
Ingredients
For the cake:
1 cup of sugar
3 eggs room temp
1 tbsp of vanilla extract
1 cup of buttermilk or sour cream
1/2 stick of unsalted butter room temp
1 cup of strong coffee
3/4 cup of cocoa powder
1 1/2 cups of flour
1 tsp of baking soda
2 tsp of baking powder
1/2 tsp of salt
Cheesecake Filling-
1 block of cream cheese room temp
1 cup of powdered sugar
1 tsp of vanilla extract
2 tsp of heavy cream
Whipped Ganache-
1 cup of heavy cream
2 cups of semi sweet chocolate
1/2 stick of unsalted butter
1 tsp of vanilla extract
Ganache Topping-
1 cup of dark chocolate
1/2 cup of heavy cream
Instructions
Preheat the oven to 350 degrees.
Whisk the flour, cocoa powder, baking soda, baking powder, and salt in a bowl and set to the side.
In a mixture on low cream together the butter and sugar.
Add in the eggs one at a time.
Mix in the vanilla extract.
Pour half of the dry mix into the batter and continue to beat on low.
Add in the butter milk.
Pour in the remaining dry mix.
Mix on low until combined.
Do not over mix.
Add in the coffee and mix just until incorporated.
Pour into prepared baking pans. I used 2 6inch pans. This is enough batter to divide between 3 6 inch pans or 2 9 inch pans.
Bake until the center is set.
Be very careful not to over bake.
For the cheesecake filling-
Cream the cream cheese, sugar, vanilla, and cream.
Let set in the refrigerator while cake bakes and cools.
For the whipped ganache-
Microwave the cream until hot to the touch.
Pour over the chocolate and let sit for about 5 minutes.
Add in the vanilla and butter.
Mix together until thick and creamy.
Let set for at least an hour. Mixture needs to be completely cooled and thick.
Whip until light and airy. Do not over mix because it will start to look grainy and crumbled.
For the topping-
Heat cream until hot to the touch and pour over the chocolate.
Let sit for 5 minutes then stir.
Do this step last because you are going to pour this over the top of the cake.
To assemble-
Fill cooled cake layers with the cheesecake filling.
Put in the freezer for about 15 minutes. This will keep the filling from melting into the ganache.
Spoon the whipped ganache over the cake and spread a thin layer over the entire cake.
Pour the liquid ganache over the top. If it drips that is ok.
If you want an ombre look you can use a straight spatula to go back over the cake.
Decorate with sprinkles!
You can keep this cake in the fridge for up to one week. I hope you enjoy!