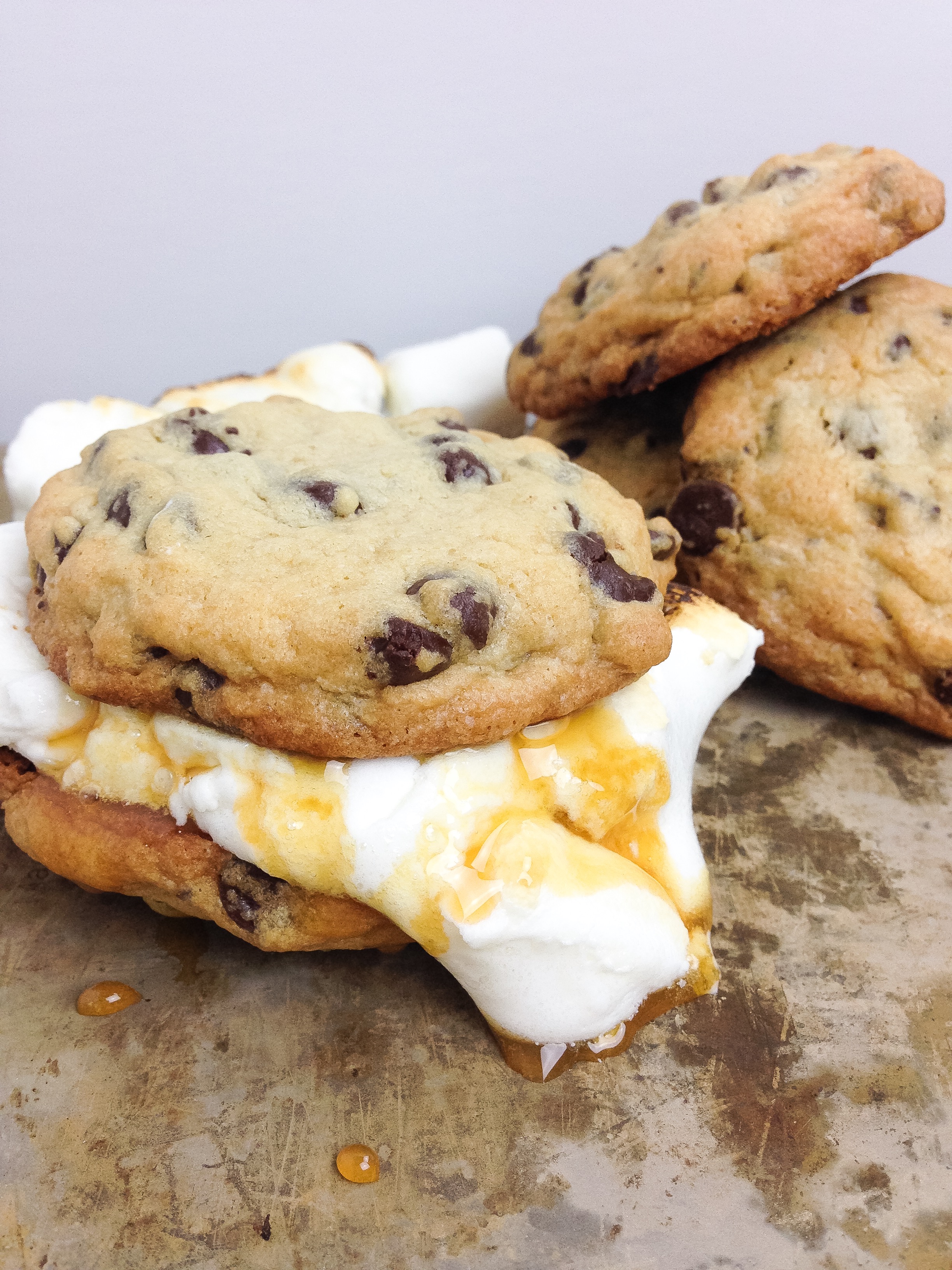 My social media feeds today were FILLED with fall. It is officially September and even though we still have a few more weeks of summer it seems like everyone is ready for fall.  These cookies are the perfect ending to summer. I am basically obsessed with anything smore related, but I hate how the graham cracker always crumbles as I bite down. These chocolate chip cookies are the best vessel I have found to stuff my face with roasted marshmallows.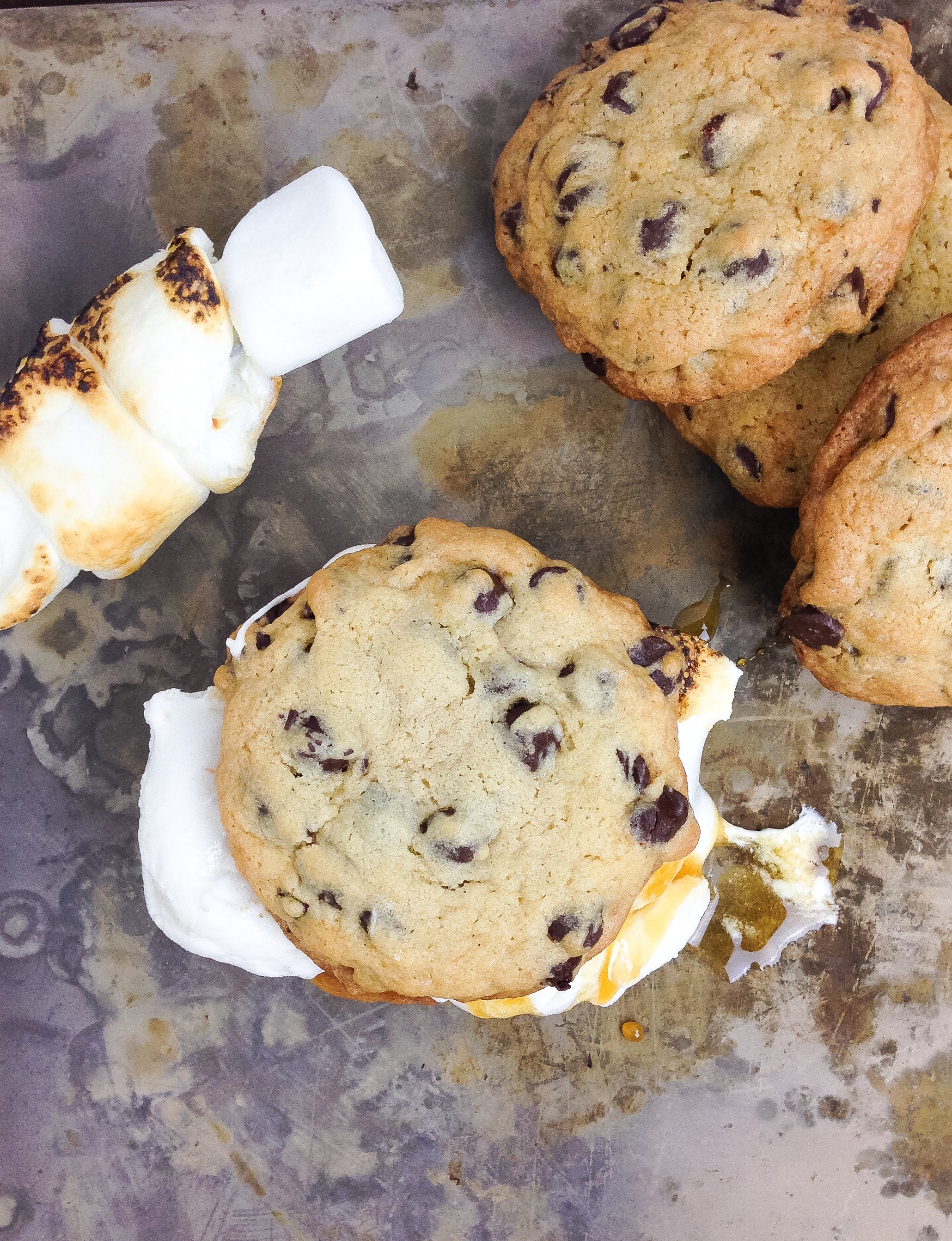 Side note: Bath and Body Works is having a candle sale this weekend for Labor Day. Anything from the Pumpkin Collection is $15 plus there is a 20% off coupon. BUT Cinnamon Pumpkin is not part of the collection and is not included in the sale. What the what…? I just wanted to throw that out there in case someone was super excited about the cinnamon pumpkin candles. I was super sad about it this morning.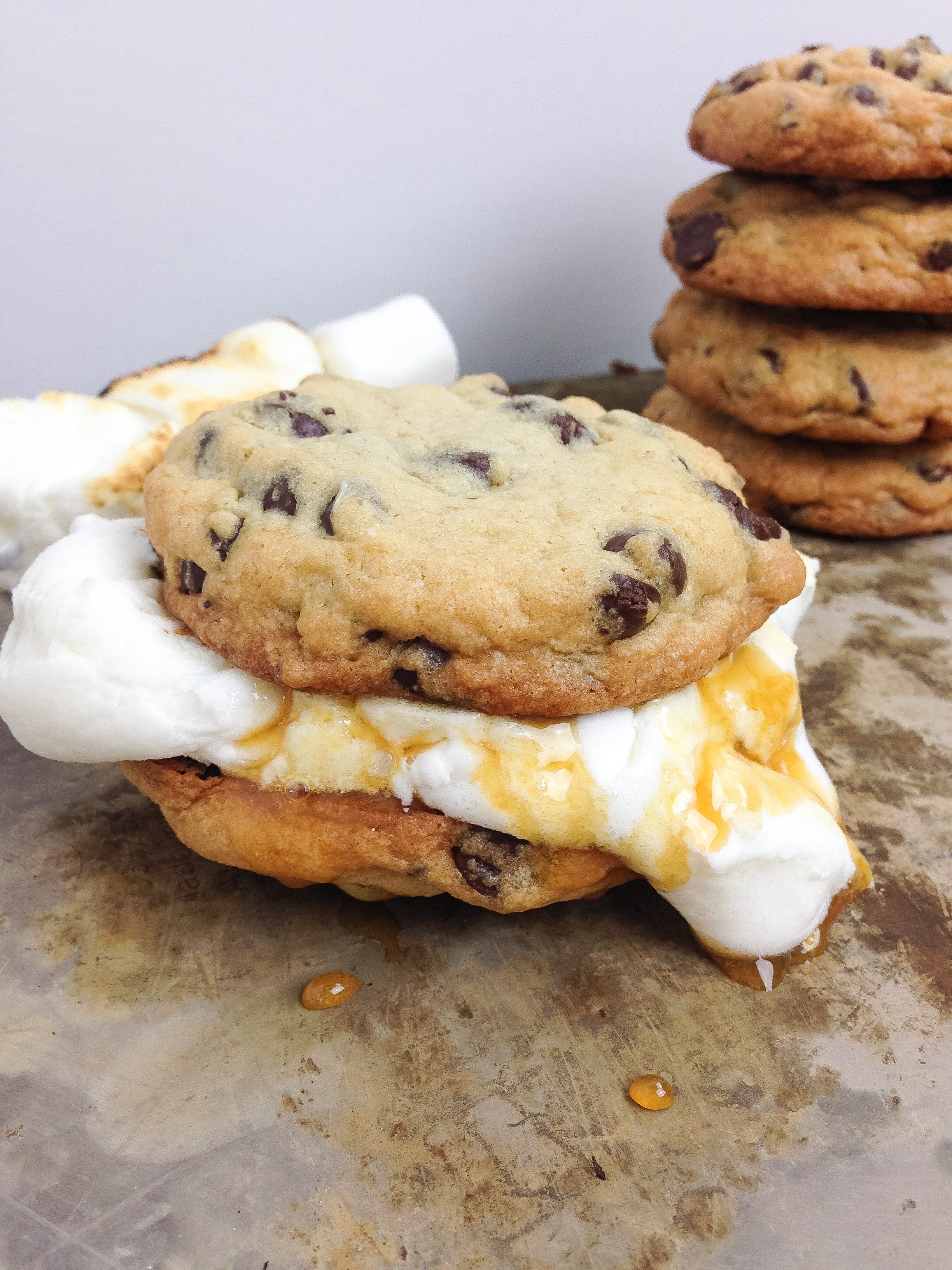 Now back to these cookies. These chocolate chip cookies are packed full of dark and semi sweet chocolates. The edges are slightly crisp with a perfect chewy center. Then I stuffed 3 roasted marshmallows on one cookie drizzled them with caramel and sandwiched them with another cookie. I miss them already.
Chocolate Chip Caramel Cookie Smores
Prep time:
Cook time:
Total time:
Fat chewy chocolate chip cookies packed with chocolate then stuffed with marshmallow and caramel.
Ingredients
For The Cookies:
6 oz dark chocolate chips
6 oz semi sweet chocolate chips
1 stick (1/2 cup) salted butter at room temp
1/2 cup of sugar
1/2 packed brown sugar
1/4 cup of cornstarch
1 1/3 cup of AP flour
1/2 tsp salt
1/2 tsp baking soda
1 tsp vanilla
1 egg room temp
For the caramel
1/4 cup of salted butter
1/4 cup of brown sugar
2 tbsp of heavy cream
Jumbo marshmallows roasted
Instructions
For the cookies
Cream the butter with the sugar and brown sugar until pale.
Add the vanilla, egg and salt.
Mix until pale and fluffy.Careful not to over mix.
Add in the cornstarch, flour, baking soda.
Mix on low until just combined.
Add chocolate chips and mix in by hand. Just folding the dough over.
Refrigerate for at least 30 minutes.
Preheat the oven to 350.
Use parchment paper or a baking mat on a large cookie sheet.
I used an icecream scoop to make sure they were evenly sized dough balls,
Do not press dough down. You want a thick cookie.
Bake for 12-15 minutes or until slightly browned.
Leave on sheet for 1 minute to slightly cool then transfer to a baking rack.
(this will keep the cookies soft and not allow them to continue baking on the sheet)
Makes 12 large cookies
For The Caramel
Heat 1/4 cup of salted butter in a sauce pan on medium low heat until melted
Add 1/4 cup of brown sugar.
Mix thoroughly.
As soon as the mixture starts to bubble remove from heat and add the cream.
Allow to thicken stirring occasionally.
I roasted marshmallows over the oven while my caramel cooked since I have a gas stove, but you can just microwave them. They just need to be slightly warmed to become the perfect gooey texture.
Once cookies are cooled add at least 3 marshmallows to one cookie top with caramel and sandwich with another cookie. Enjoy!
Even if you do not make these "smores" I highly recommend making the cookies. This is the kind of chocolate chip cookie that is even better the next day. You know with coffee for breakfast! I won't even hide my shame…
Happy Labor Day weekend!