What is "idiot proof" ? I myself could be considered a chocolate chip cookie "idiot". For something we make so often how are there so many variations of the same cookie?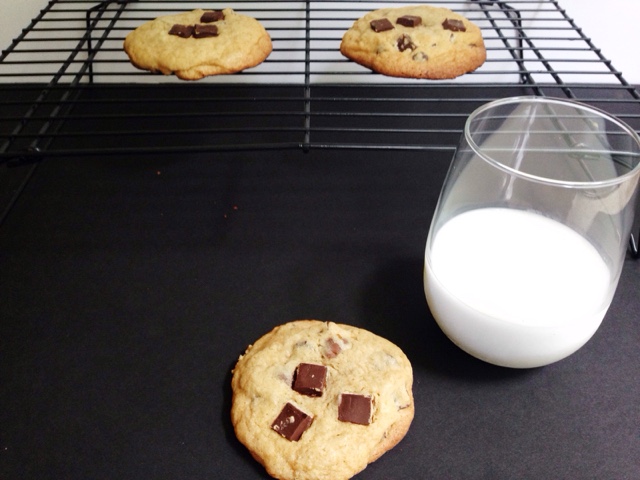 It seems like every time I find my perfect recipe- I move. This doesn't sound like a big deal, but it is. Getting to know your oven is a long process. When I first moved to Georgia I lived in an apartment with a new electric oven. My go to recipe was the one on the back of the nestle bag. So easy and simple. (You would think) After the apartment I lived in a house with my first gas oven. A dream for cooking, but my nightmare for baking. I switched to the New York Times perfect cookie recipe there. Then last year this time I rented a room in a very old lake house. The electric oven there would heat to 350 then take a little break so I was never exactly sure how my cookies would turn out. Usually undercooked. Now I am in my own home with a new gas oven. Again a total dream to cook with, but baking … It has been taking some time. Until now. This recipe after 6 months of testing is it!
It is not as over the top sweet as most recipes, but the perfect soft gooey middle and thick crunchy crust is my favorite.
(Adapted from bromabakery- the best baking site ever)
Idiot Proof Chocolate Chip Cookies
What you need:
1 stick unsalted butter room temp
3/4 cup light brown sugar packed
1/4 cup granulated sugar
1 1/4 cups king aurther all purpose flour
1/2 tsp kosher salt (or fine if you don't like to taste the salt)
1 tsp vanilla extract
1/2 tsp baking soda
1 tbsp cornstarch ( make sure this is not expired)
1 large egg
1/2 cup dark chocolate chunks
1/2 cup milk chocolate chips
Preheat your oven to 350.
Mix together butter, sugar and eggs until you have a fluffy light brown concoction. Add in vanilla. In a separate bowl mix the flour, cornstarch, baking soda and salt.
Stir the dry ingredients into the butter sugar mixture until just mixed. Do not over mix. That will create a dense cakey cookie. Add in the chocolate chips by just folding the batter a few times.
Put mixture in the freezer for about 10 minutes. I highly recommend doing a test cookie first.
Roll mixture into balls and top with kosher salt, natural sugar or more chocolate! Bake for about 10-12 minutes depending on your oven. The sides will be golden brown and the middle will have just set. Let cool on a baking rack.
Enjoy with a glass of milk!