What do you do when you are starving, but really just do not feel like putting the effort into cooking? I usually keep a few staples around the house just in case I have a night when my fingers start itching to dial delivery.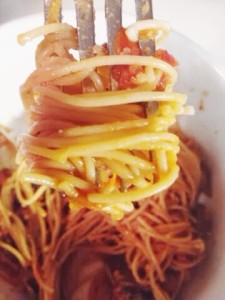 #1. Grilled Chicken. I usually buy huge family packs of chicken and freeze them in individual bags for the week. I try to grill off at least 3 chicken breasts to keep in the fridge ready to add to a meal. My favorite marinade is salt, pepper, garlic powder, balsamic vinegar, and olive oil.
#2. Pasta. We try not to eat pasta more then once a week, but some how I always have a plethora of pastas in the pantry. I like whole wheat linguine and fiber enriched angel hair. Gluten free options are great as well. Just remember not to cook those as long.
#3. Bottled Organic Marinara. Tomato sauce is huge in our house. We eat it on everything. I just discovered Bertolli premium sauces at Target. The caramelized onion and balsamic vinegar sauce is the best!
#4. Parmesan Cheese. Enough said.
I completely forgot to plan something for dinner tonight. When I got off work I was so tired and just did not want to think about cooking anything. When I started looking through the pantry I realized I had plenty of things to make one of my favorite meals in a matter of minutes. 20 to be exact.
What you need:
Pre grilled chicken breasts (2)
One jar of marinara
Whole wheat linguine
Fresh mozzarella
Fresh Parmesan
Crushed red pepper
Sea Salt
Crusty garlic bread (optional, but sooooo worth it)
How to do it:
Preheat the oven to 400 degrees. Bring some salted water to a boil and add in the pasta. Cook as directed. In an oven safe pan/skillet add 2 cups of marinara, sliced grilled chicken, and fresh mozzarella. Bake for 15 minutes until cheese is melted. Drain the pasta, reserving 1/4 a cup of pasta water. Add pasta and reserved water back into the water pot. Pour the skillet of sauce, chicken and cheese into the water pot. Toss everything together. Season with sea salt and crushed red pepper. Top with fresh grated Parmesan cheese. Enjoy with bread. You can thank me later 😉