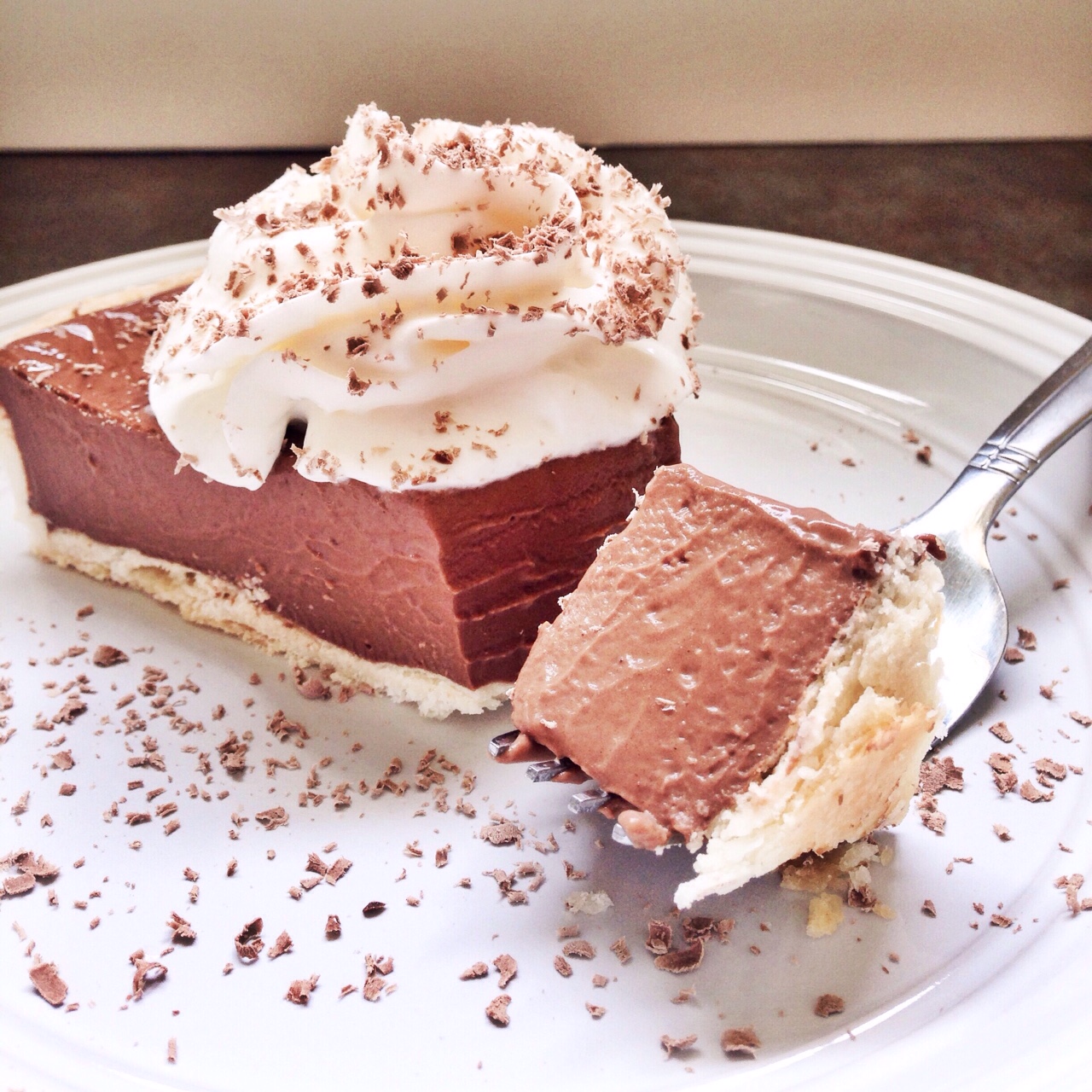 When I was younger our family always went to a pie shop in Florida after church. It is one of my earliest memories. The walls were bright white and the tables were half booth half swivel chairs.  Wall to wall coolers filled with different pies. Coconut cream, pecan, pistachio, pumpkin, various fruits and chocolate cream. I remember always sharing a piece of the chocolate cream pie with my dad. Thick creaming chocolate with a huge layer of fresh whip cream and mini chocolate chips. Sadly, I tried looking up the restaurant online and it does not seem to be open anymore.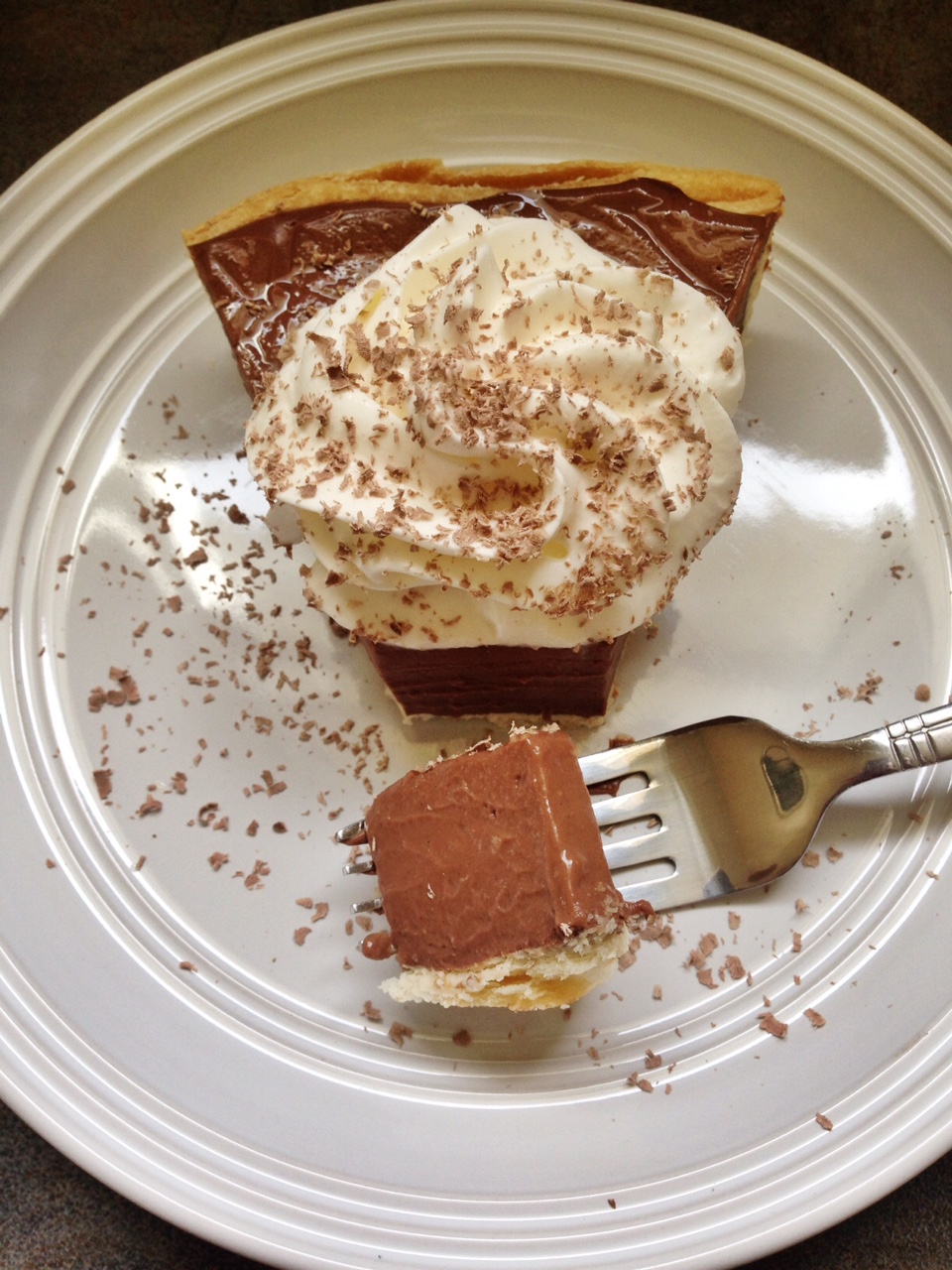 This pie is almost the exact recreation. I switched the traditional semi sweet chocolate for dark chocolate because I prefer the taste. Another big change is this recipe is egg free. If you have ever made pudding or even a pecan pie before you know how important it is to cool all the ingredients before adding in eggs. The last thing you want is little chunks of cooked egg floating around your dessert. I wanted something fast and easy without losing flavor so I dropped the egg yolks from the recipe. Adding the dark chocolate pieces at the end help the filling stand on its own. The result was such a thick and creamy pudding. It almost looks like I used a gelatin the way the filling holds its shape. Such a simple recipe with big results!
Chocolate Cream Pie
Prep time:
Cook time:
Total time:
Thick and creamy dark chocolate pudding over a buttery crust.
Ingredients
6 oz dark chocolate chips
1 cup heavy whipping cream
1 cup 2% milk
3 tbsp cornstarch
1 heaping tbsp of dark chocolate cocoa powder
1/4 cup sugar
pinch of cinnamon (really up to your tastes here, I just sprinkled a tiny bit)
1/2 tbsp salted butter
Pre made pie crust dough.
Instructions
Preheat the oven to 350. Take the pre made pie crust dough and place in a pie pan or an 8 inch cake pan. I like a cake pan because I can grease them enough to pop the crust out like a tart. Use a fork to poke holes in the bottom of the crust. Bake for 20 minutes until golden brown. Let cool.
In a sauce pan over medium low heat melt the butter then add in the sugar, cornstarch and cocoa powder. Once combined pour in the cream, milk and cinnamon. Slowly whisk over the heat until the mixture begins to bubble. Add in the dark chocolate. Turn up the heat to medium high and begin to whisk quickly until the mixture begins to thicken. Once it does reduce to low heat. It will seem very liquid=y at first, but once it begins to thicken it will thicken very quickly. Pour into the crust. Drop lightly on the counter to knock any air bubbles out. Use a piece of saran wrap to push into the pudding to keep a skin from forming. Place in the refrigerator for at least 2 hours.
Serve with whip cream and chocolate shavings.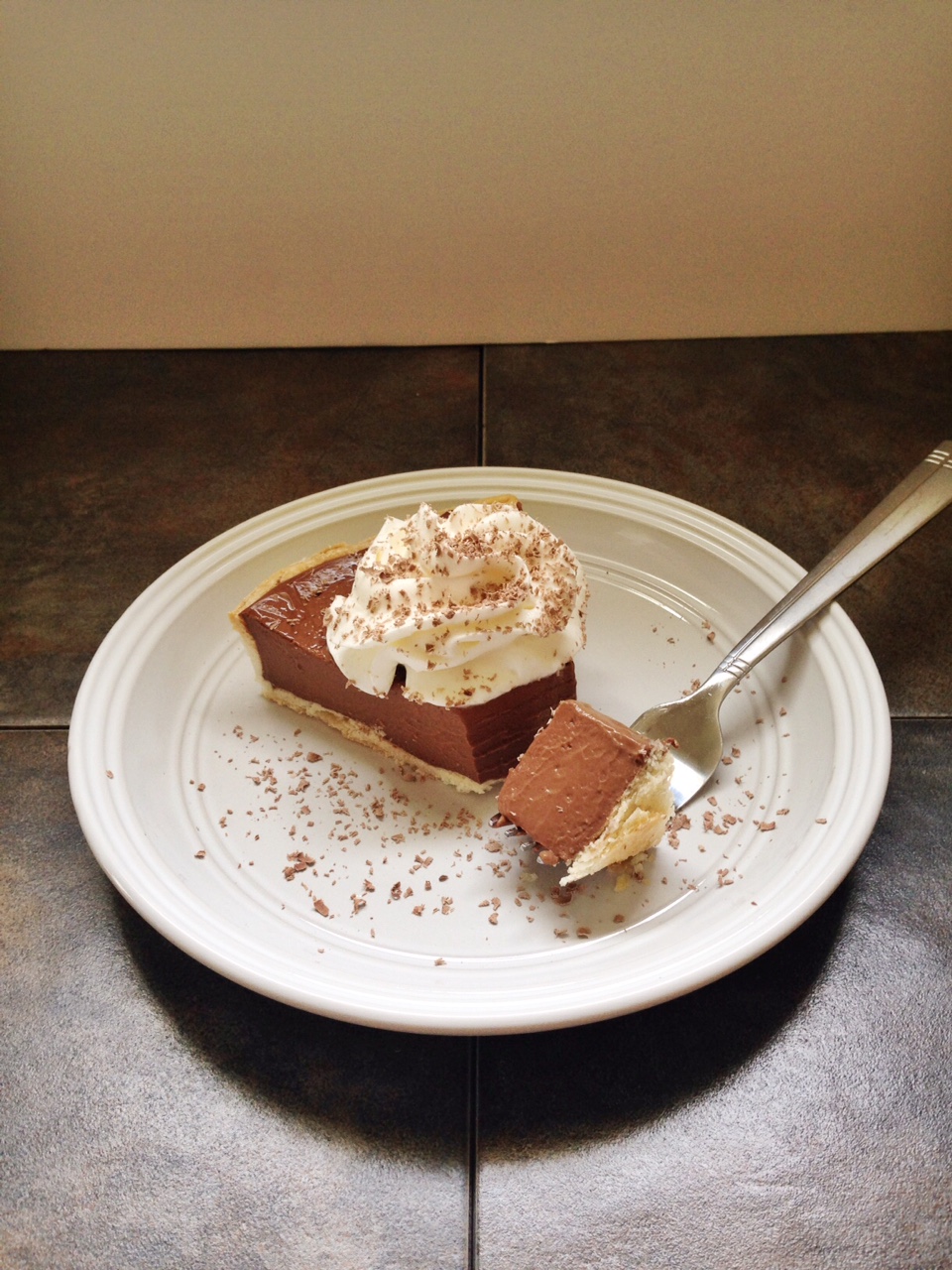 If you are looking for a fast easy dessert for the holidays that still has that wow factor THIS IS IT.