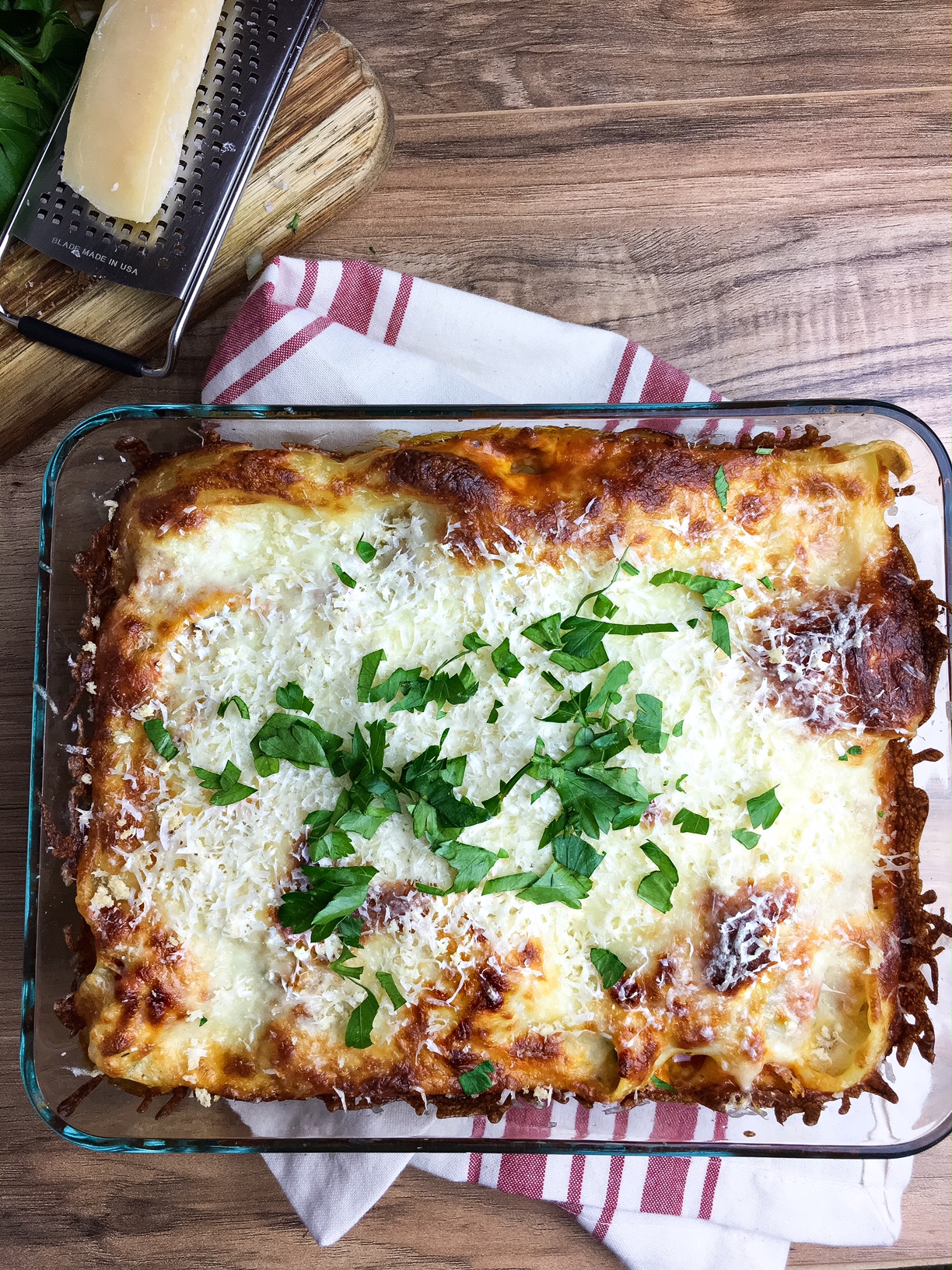 These stuffed shells bring me back to my childhood. I don't know how I have gone this long without making them myself. Growing up in an Italian household we typically celebrated holidays with some sort of pasta. With Thanksgiving only a few days away I wanted to offer a alternative to typical turkey and sides.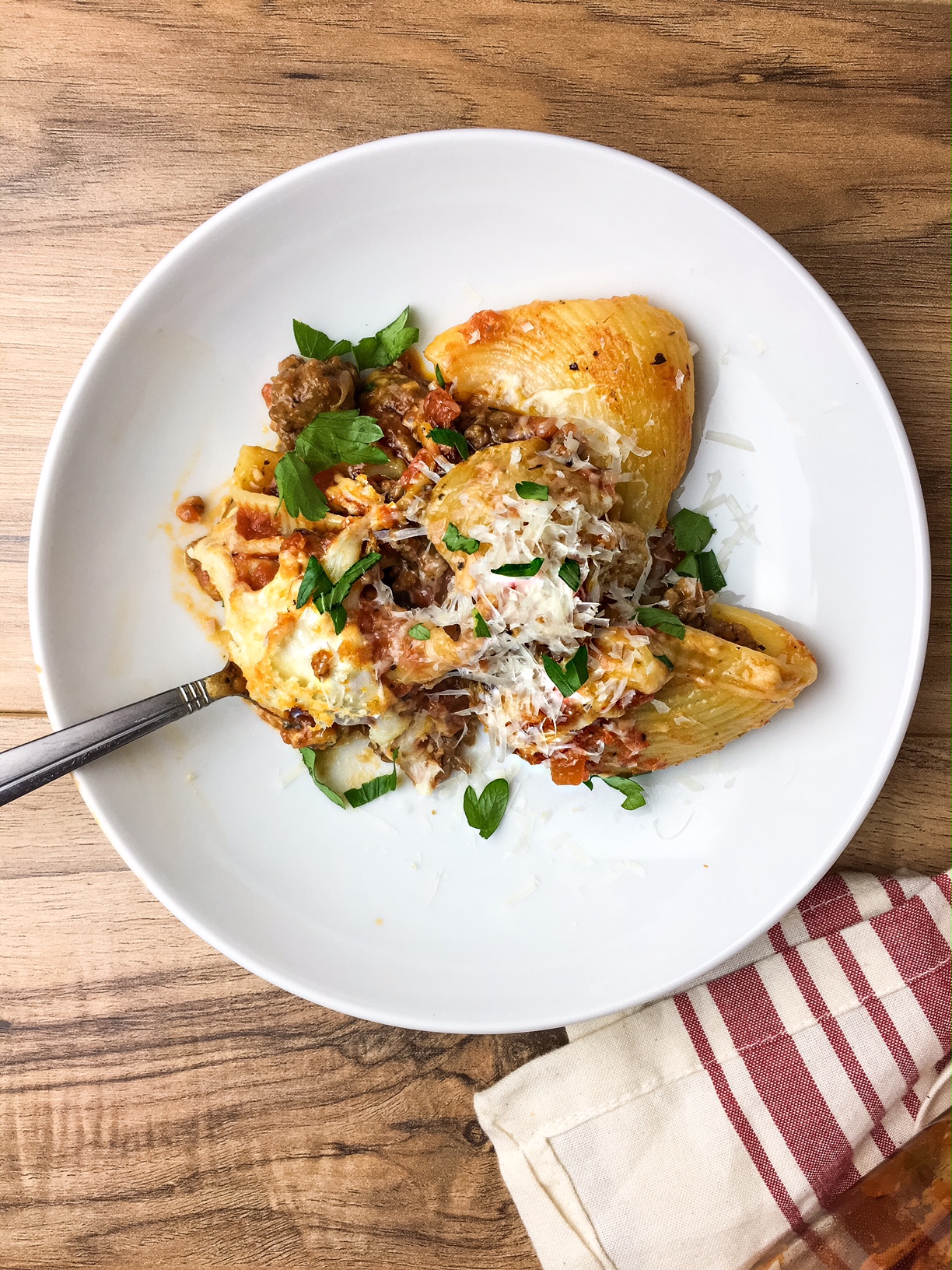 I personally will be celebrating Thanksgiving on a different day. Due to the nature of my day job I will be working on the actual holiday. This dish is for those of you that might be too busy to do a full on Thanksgiving meal, but still want something special. Each shell is stuffed with so much garlic, so much onion, so much mushroom, and so much sausage. Every bite will burst with flavor and ooey gooey cheese.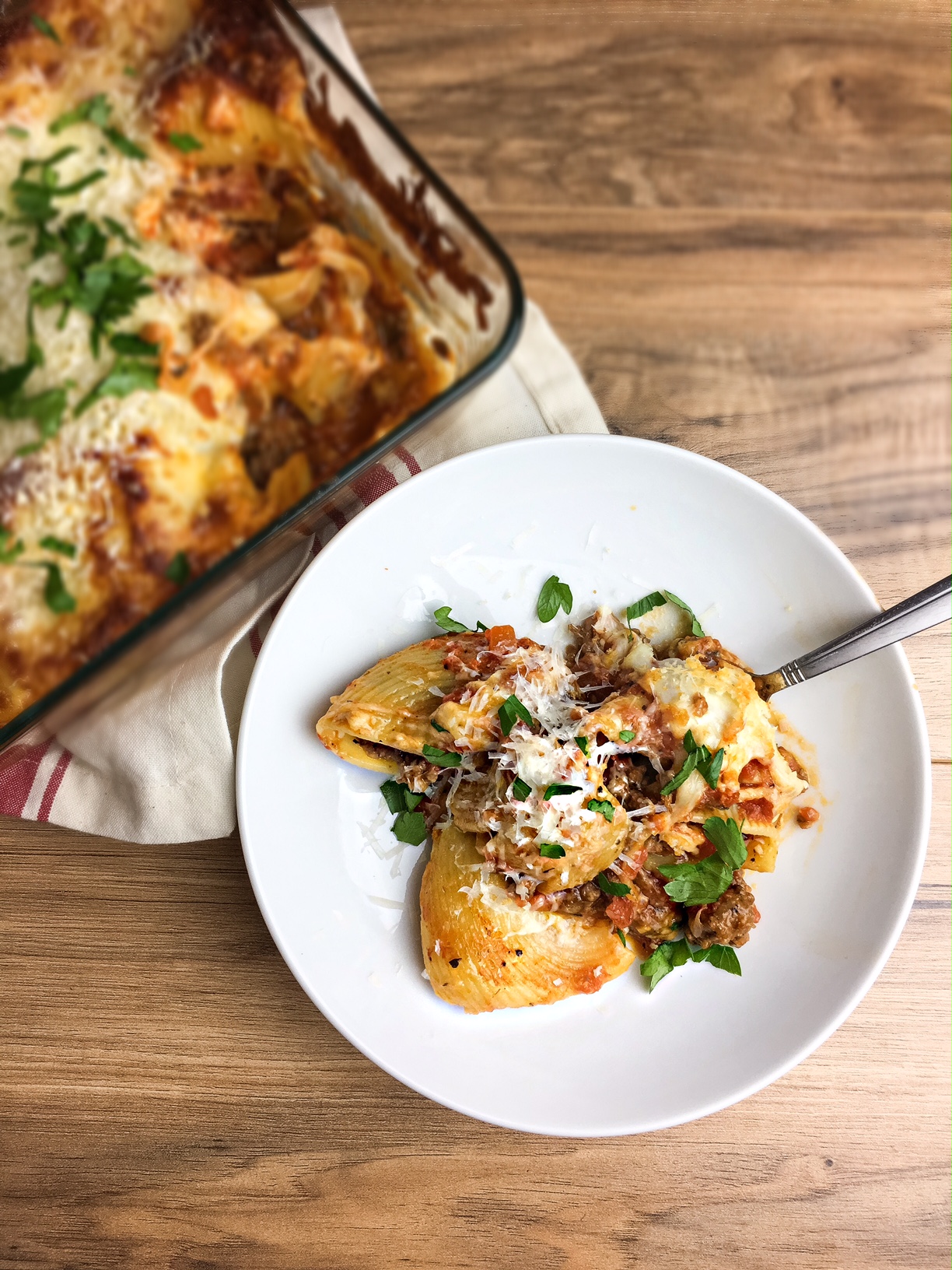 I finished the top with a little panko and fresh parm. Patrick does not liked baked pasta which is totally crazy to me  but if you are one of these people feel free to eat these shells right out of the pan without baking. Still good. The cheese just isn't melty enough for me.
Sausage, Mushroom, and Cheese Stuffed Shells
Recipe Type
:
Stuffed Shells, Pasta
Prep time:
Cook time:
Total time:
Baked pasta shells stuffed with sausage, mushrooms, and cheese.
Ingredients
Large dried pasta shells
2 cups of mozzarella cheese
1 tbsp of Italian seasoning
1 tbsp of chopped garlic
salt and pepper to taste
1 cup of baby bella mushrooms chopped
1 pound of spicy ground sausage
1 cup of chopped onions
2 cups of marinara sauce
crushed red pepper flakes to taste (optional)
2 tbsp of panko crumbs
fresh shaved parm cheese
chopped parsley (optional)
Instructions
Preheat the oven to 400 degrees.
Boil 6 cups of water and cook shells to al dente (just cooked, still holds shape)
In a saute pan cook the sausage until you no longer see pink.
Add onions and garlic.
Add in mushrooms.
Once the onions start to look translucent add the seasonings and 2 tbsp of marinara sauce.
Stir in a handful of the cheese.
Let the mixture cool slightly.
Fill the shells and line a baking dish.
Cover with remaining marinara.
Follow with the mozzarella.
Top with panko and parm.
Cook for 15-20 minutes until cheese bubbles.
Top with more parm and parsley!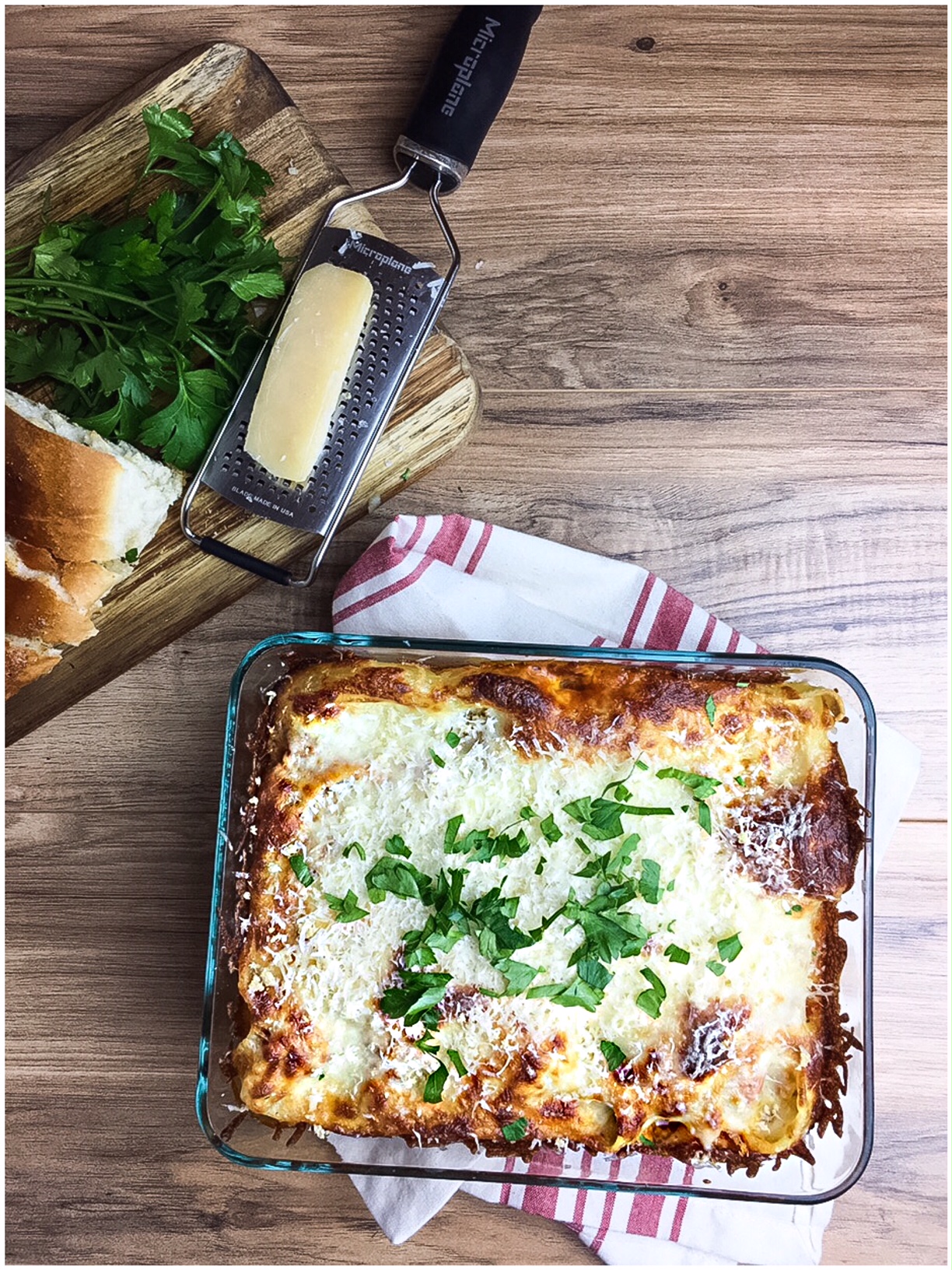 This Holiday season if you are low on time, but still want an impressive meal try out these stuffed shells! Don't forget a side of crusty garlic bread.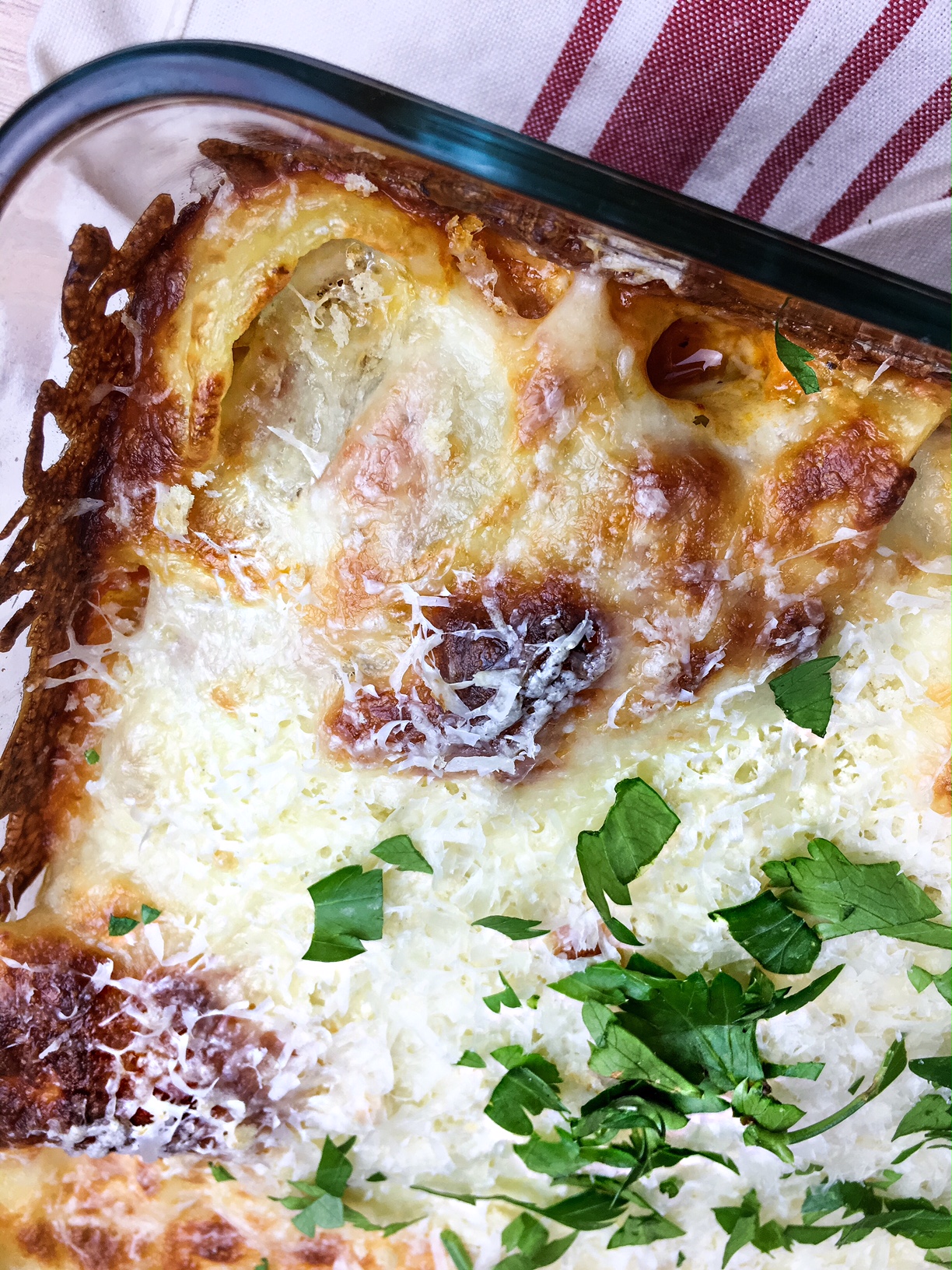 Look at that cheese crust!!!!