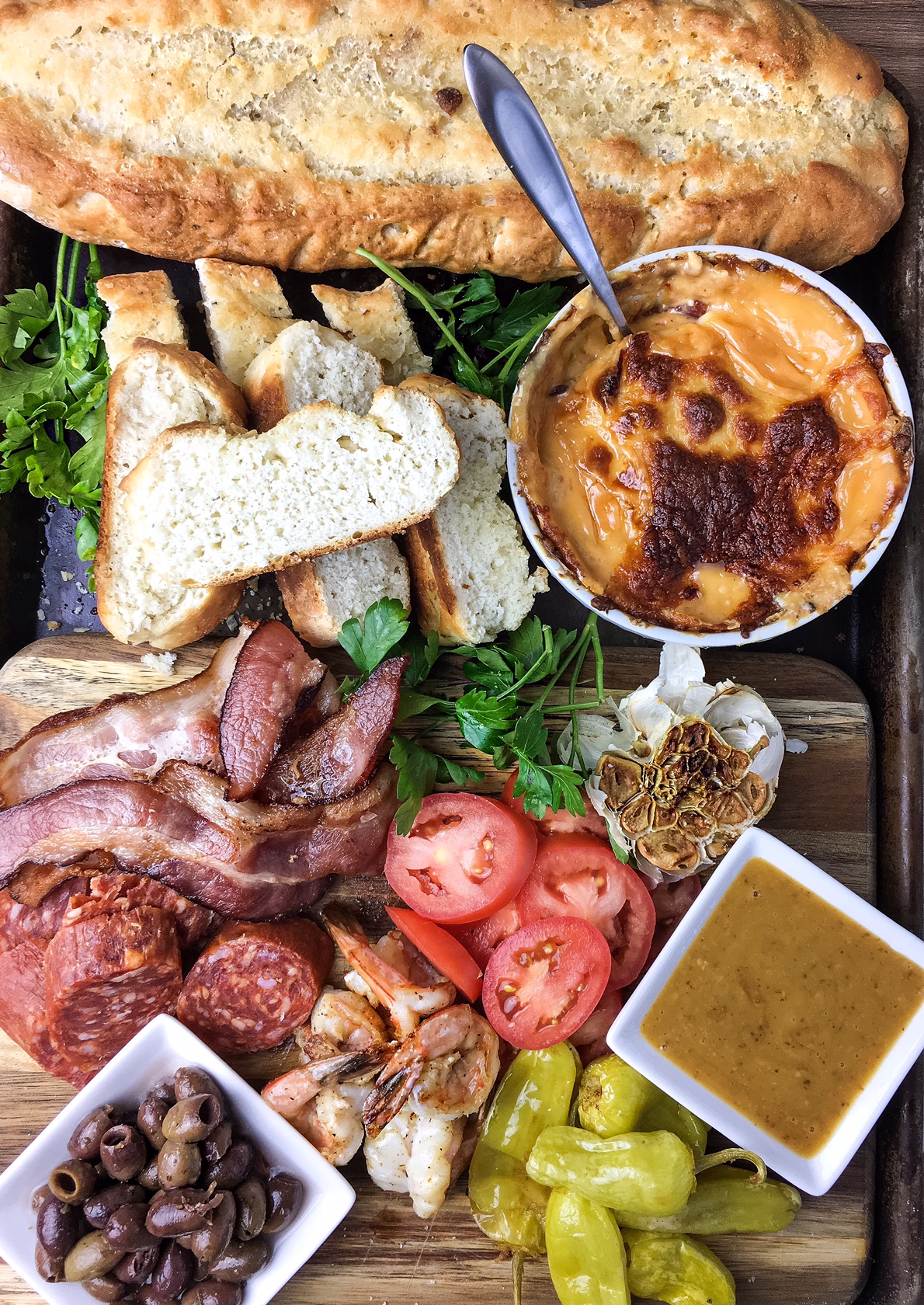 I love when we go to parties and they have platters of meats, cheeses and crackers. Holiday appetizer platters are so beautiful and universal. Actually, I attended a friend's wedding and she had piles of different meats, fruits, cheeses, crackers, and breads. It was absolutely a.m.a.z.i.n.g. Patrick and I like to invite our friends over for game nights and this is one of my easy go to appetizers. Bonus- it won't break the bank.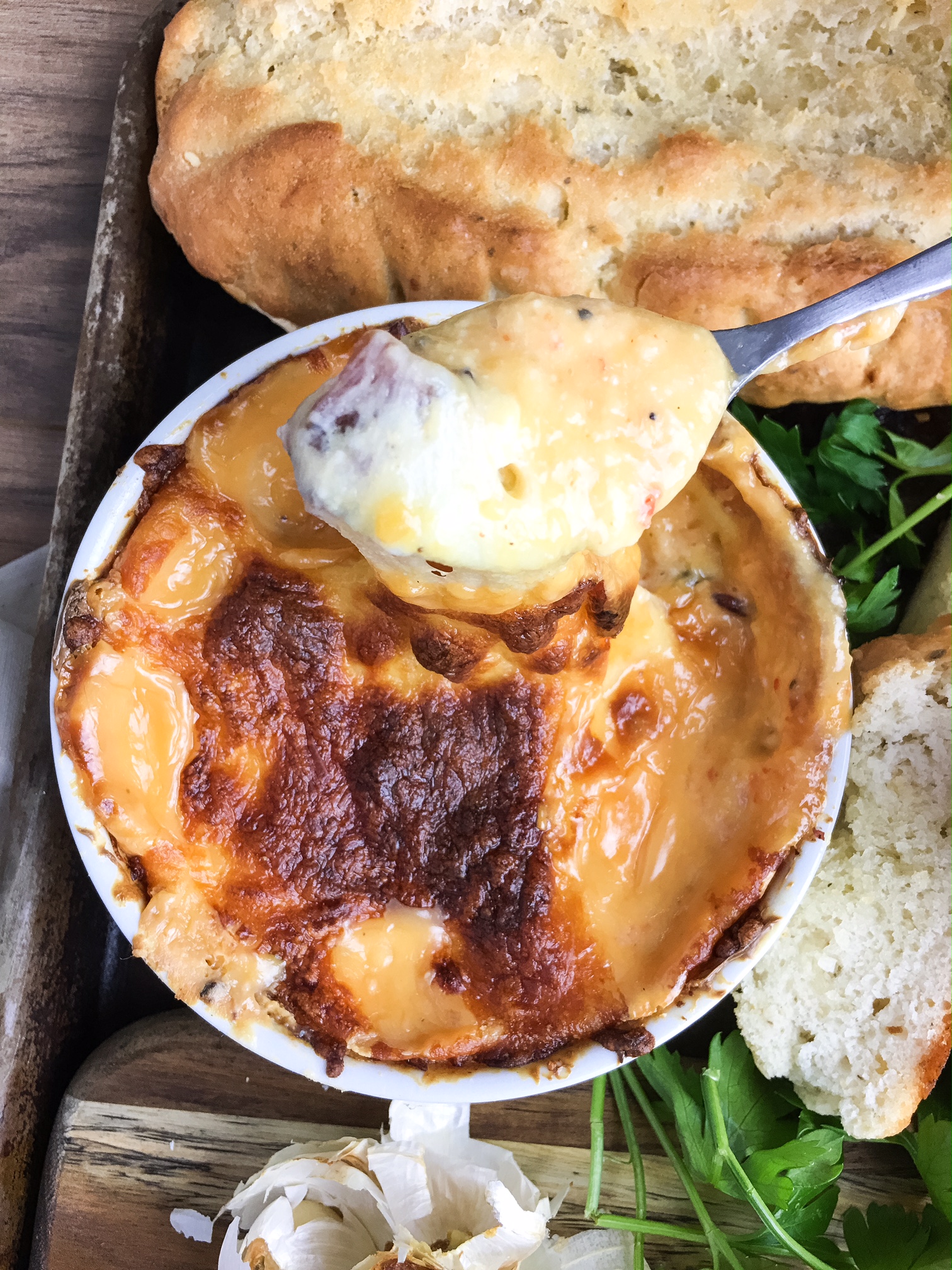 This bacon dip is the star of the show. I have to confess- I'm pretty sure I have already posted this dip recipe on the blog. I have now made it so many times that I believe I have perfected the recipe. I still remember the first time I tried this dip. We went to a friend's house for dinner and her mother in law pulled this dish out. I usually avoid creamy dips. There are just so many others I prefer, but this one had such an awesome bacon fragrance. Who says no to bacon? It is so cheesy, sweet, and a little spicy. Perfect with this bread!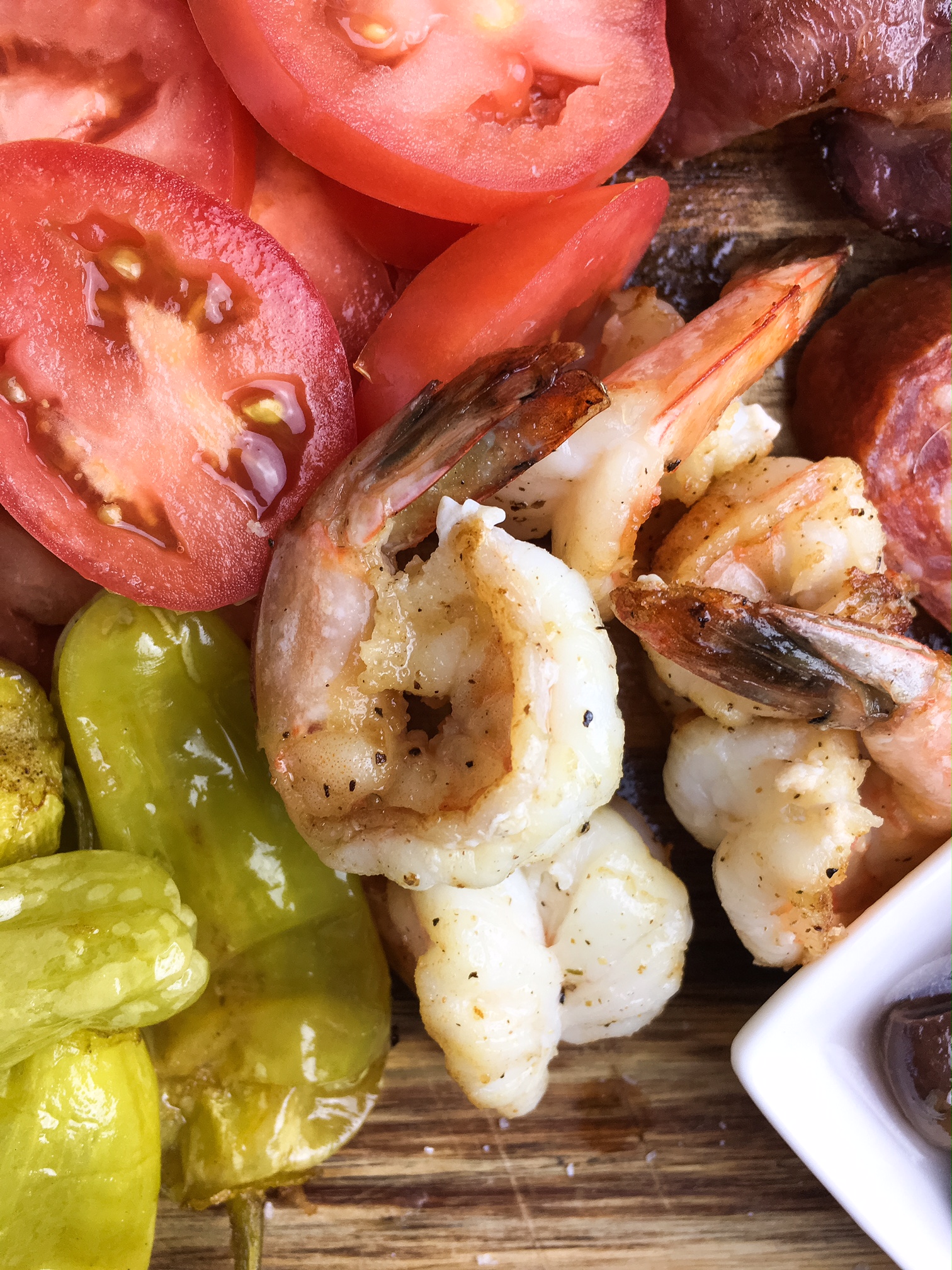 Since I made a lot of bacon for the dip and the tray I had a pan filled with bacon grease left over. I decided to take a spoonful of the grease and heat it with some roasted garlic. I flash fried my butterflied shrimp then seasoned them with salt and pepper. Super easy and delicious!
You can definitely pick up some baguettes or crackers for the tray, but I used my favorite bread recipe. You can find it here. I love boars head sausage so I picked up a roll along side some briny marinated olives.
The best part about these platters is how easy to customize they are.  You can just buy whatever is on sale or whatever you are feeling that day.
(Easy) Holiday Appetizer Platter
Prep time:
Cook time:
Total time:
A holiday platter filled with tasty goodies!
Ingredients
For the Dip:
1/2 pound of thick sliced bacon, cooked and chopped ( cook a few extra pieces to add on the board if you want)
8 ounces of cream cheese
1/2 cup of pepper jelly
1 cup of mozzarella (smoked mozz is also awesome)
1 tsp of garlic powder
1 tsp of cayenne pepper
For the shrimp:
1 tbsp of bacon grease
1 pound of shrimp
fresh garlic or roasted garlic chopped
salt and pepper
For the platter:
1 cup of peppers
2 tomatoes sliced
1 cup of marinated olives
1 head of garlic roasted
bread or crackers
salami or sausage sliced
For the honey mustard:
1/4 cup of boards head honey mustard
1/4 cup of honey
2 tbsp of grainy mustard
Instructions
Preheat the oven to 400 degrees.
Mix the cream cheese and jelly.
Add in the bacon, garlic and pepper.
Add half a cup of cheese and mix throughout.
In a baking dish pour the cream cheese mixture and top with remaining cheese.
Bake for about 15 minutes until brown and bubbling.
In a frying pan heat the bacon grease and garlic.
Flash fry the shrimp until pink.
Season with salt and pepper.
In a bowl mix the mustard, honey, and honey mustard. (SO easy!)
Arrange everything on a platter or large baking sheet.
Enjoy!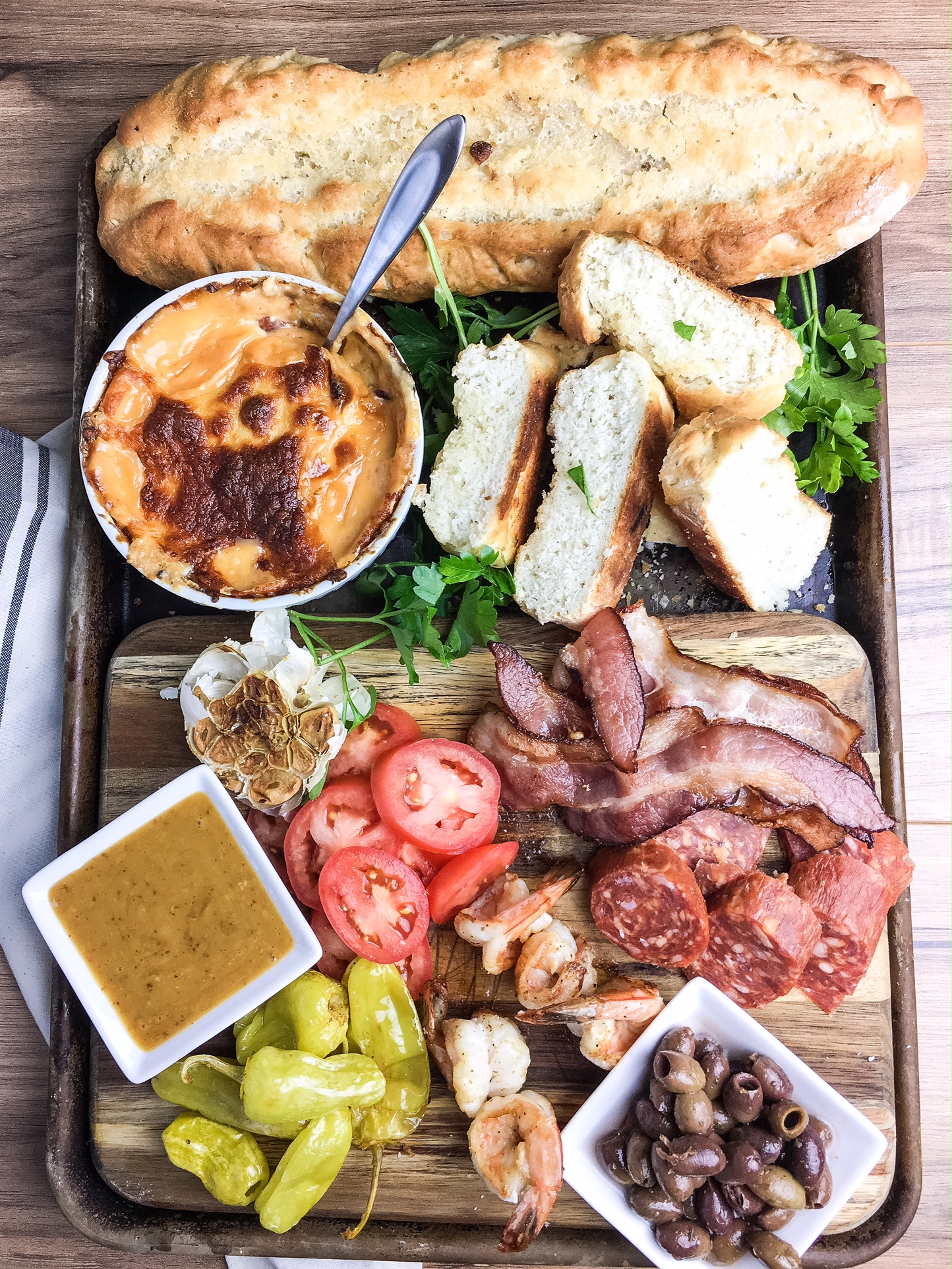 I hope I was able to make your holiday a little easier!