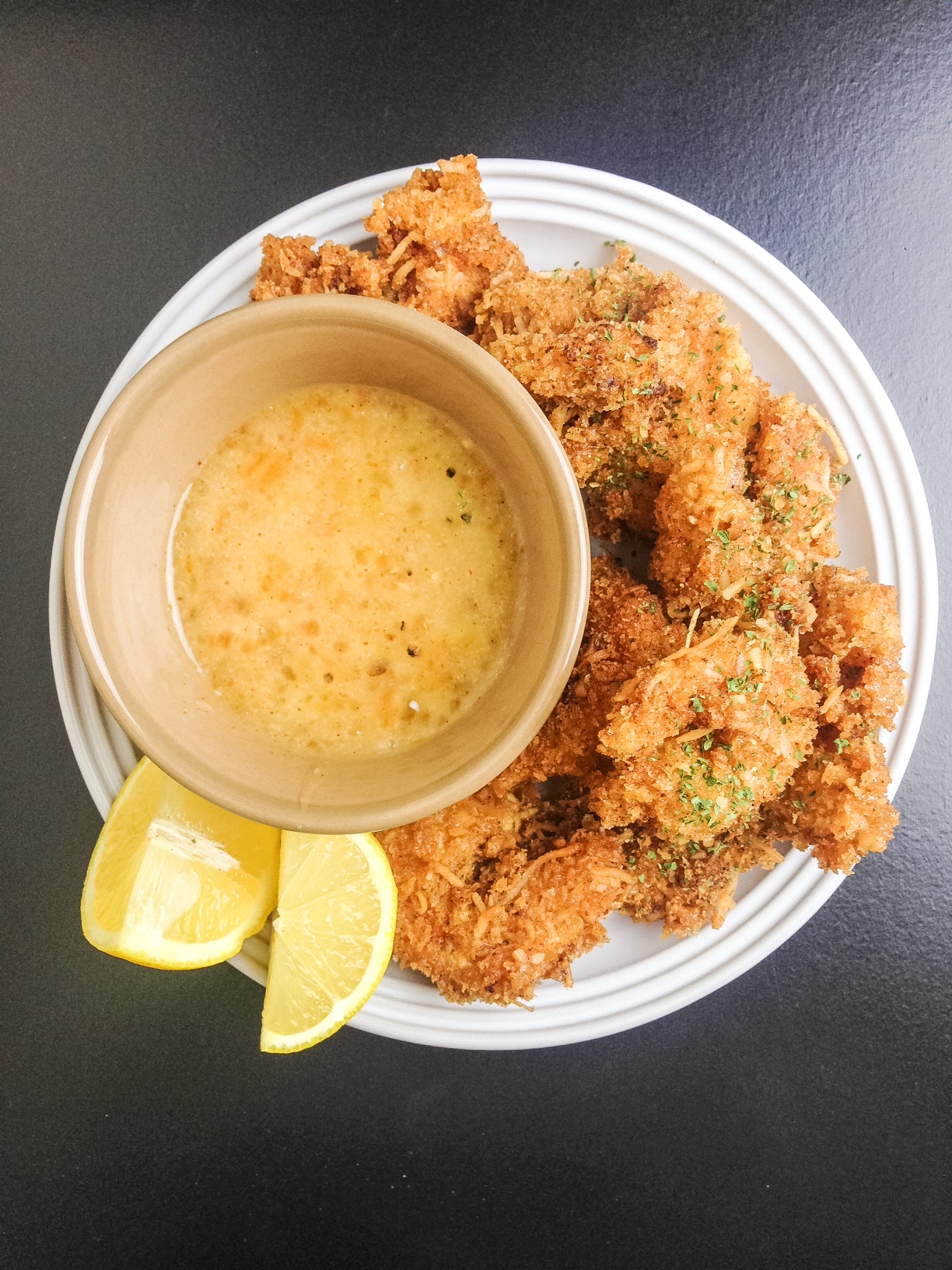 Shrimp are not necessary a Valentine's Day staple, but in our home this is a dish that reminds us of our first Valentine's Day together.
We wanted a fun place close by that served seafood so we decided on Bahama Breeze last V-day. We ordered the signature coconut shrimp appetizer while we were waiting on our table. Jumbo shrimp perfectly butterflied with a sweet crunch dipped into a sauce that always makes my mouth water.
If you have not been to a Bahama Breeze before – try and picture a Caribbean themed restaurant filled with wicker chairs and tropical drinks. Usually there is some sort of live band playing island music. The atmosphere is so light and fun it really is just a bonus that the food is pure heaven.
So the other night we were debating on what to eat at the grocery store when I spotted jumbo shrimp on sale. I dipped them in a sweet and salty coconut panko mix that is a spot on copy cat texture.  I was shocked when I researched the citrus sauce and saw Bahama Breeze has the recipe posted on their website! It truly is the perfect companion to these shrimp.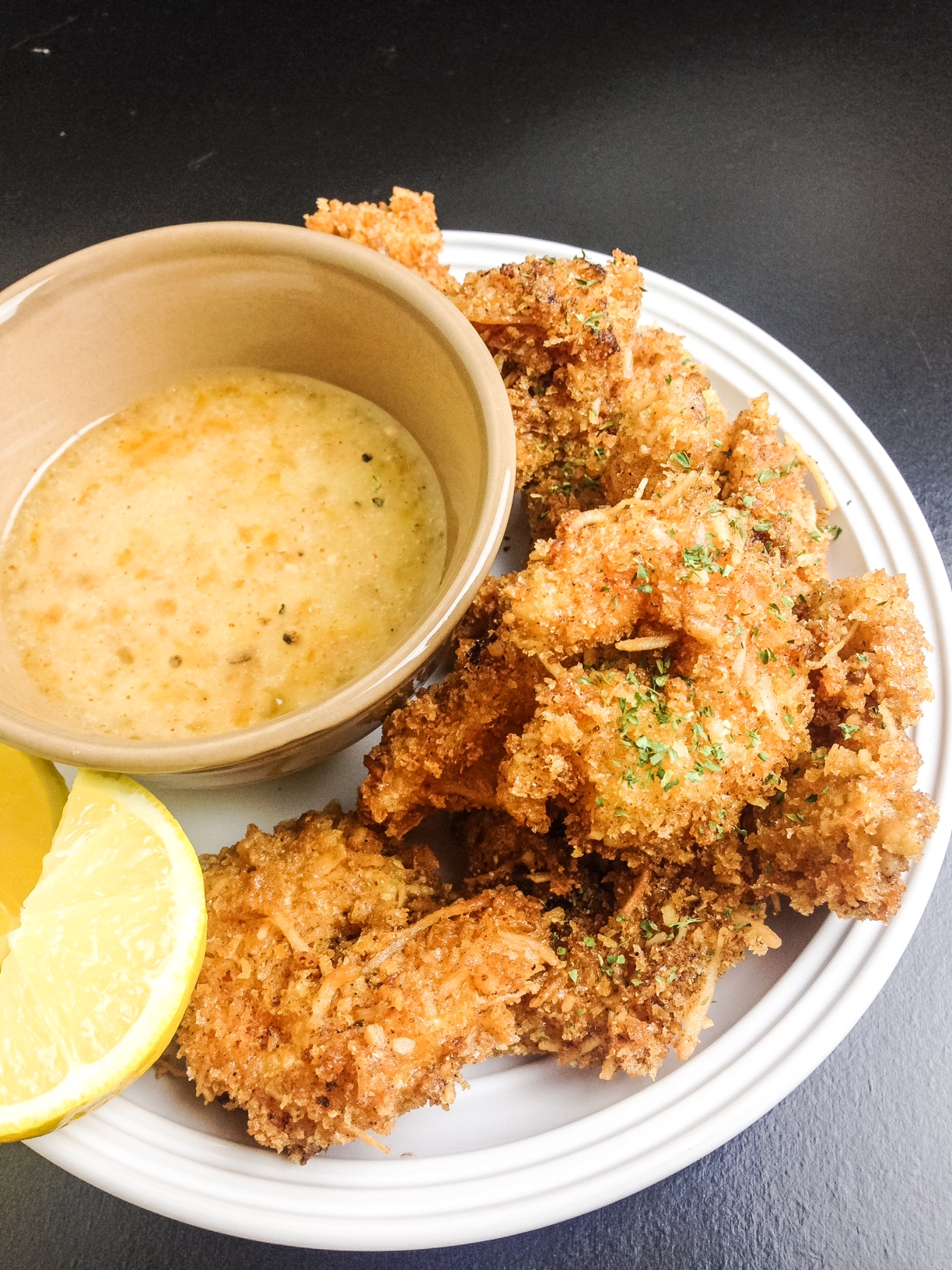 Here is the link to the Bahama Breeze Citrus Mustard Sauce if you want to try it out!
Coconut Shrimp and Citrus Dip
Recipe Type
:
Dinner, Seafood
Prep time:
Cook time:
Total time:
Crunchy coconut shrimp with a sweet citrus dip.
Ingredients
1 pound Large Shrimp – vein and shells removed (20-25 count)
3 eggs
2 cups of flour divided
2 cups of panko crumbs
1 cup of shredded coconut sweetened
1 tsp salt
1 tsp paprika
1 tsp red pepper
1 tsp garlic powder
parsley for sprinkling
1 lemon
1 quart of canola oil for frying
Instructions
Preheat the oil to 350.
Butterfly each shrimp by running your knife down the back of the shrimp 3/4 of the way though until each side begins to open up.
Set up three bowls.
One with one cup of flour.
One with the 3 eggs beaten.
And the last bowl with one cup of flour, 2 cups of panko, coconut and the salt, paprika, red pepper, and garlic powder.
Dip each shrimp into the flour then the eggs then the panko mixture.
Pat this mixture onto the shrimp. It should be a fairly thick layer.
Fry for 3-4 minutes each.
Do not crowd.
Sprinkle shrimp with parsley and squeeze lemon over the top.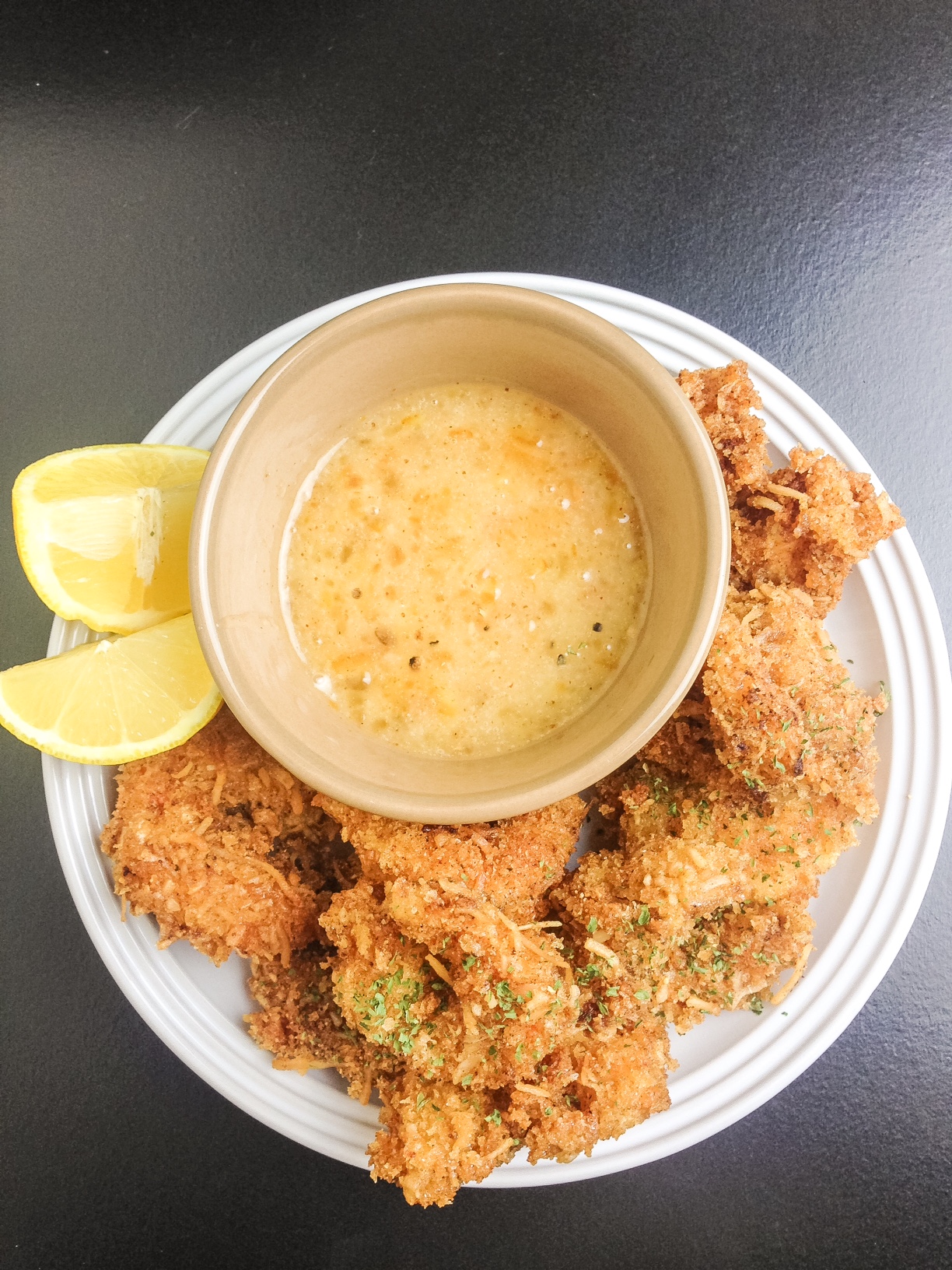 Hopefully I have inspired you to make this yummy app for your valentine! (Or yourself! Nothing wrong with that!)