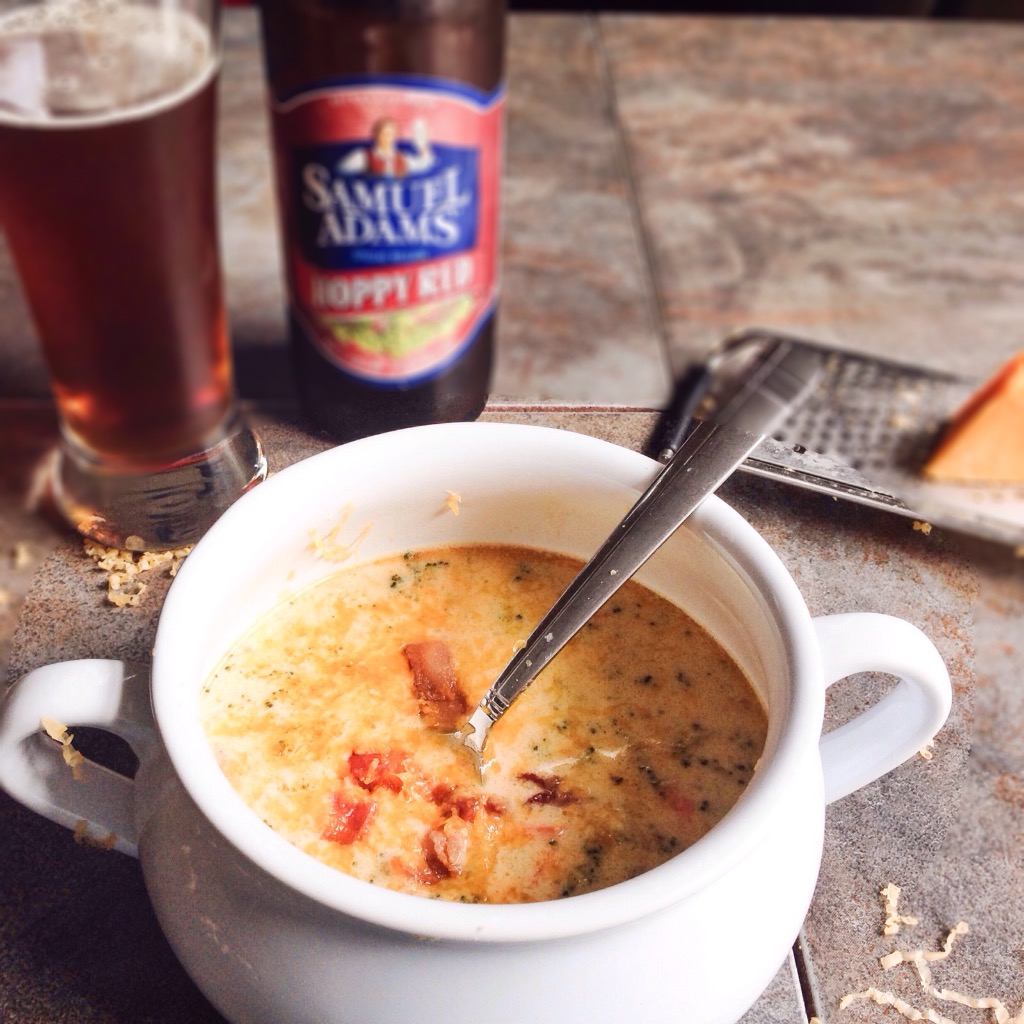 Broccoli cheese soup has always been my favorite comfort food. As soon as the air starts to cold down I start craving a warm cheesy spoonful of this soup. I still had some beer left over from my pretzel and cheese dip recipe so I added a splash or two.
I cannot stress enough how important it is to roast off the broccoli first. This adds so much depth and flavor to the soup. My boyfriend and I love roasted broccoli so this soup allows us to have a favorite in a different way.
I also recommend serving this soup in a crusty bread bowl! I am trying to slow down on the carbs so I skipped any added bread, but this soup would be perfect in a bread bowl topped with more cheese. Yum!
Broccoli Beer Cheese Soup
Prep time:
Cook time:
Total time:
Cheesy broccoli soup with a splash of Red Hopps!
Ingredients
1 crown of roasted broccoli chopped
olive oil
8 ounces of shredded cheddar
2 tbsp butter
1 tbsp flour
2 cups of half and half
1/2 cup Red Hopps or chicken stock
1 cup shredded carrots
Spices – garlic, pepper, paprika
Instructions
Preheat oven to 400 degrees and spread chopped broccoli onto a roasting pan. Drizzle with olive oil and spices. I like to go heavy on the garlic and pepper. I recommend skipping salt in this recipe until the very end. The cheese is already very salty and the beer will intensify this.
Heat a large pot over medium heat. Add the butter. Once butter has completely melted add in the flour and whisk consistently until the mixture starts to brown. Add in the beer and keep whisking. The mixture will thicken almost immediately. Pour in the half and half. Whisk until the ingredients look fully combined and reduce heat to medium low. Stir in the carrots and broccoli. You can use a hand mixer to emulsify the veggies, but since everything was already soft I just used a potato masher until I was happy with the consistency. If the soup looks too thick you can add more beer or half / half. Leave on reduced heat for 20 minutes stirring often. Add in cheese. You can add in more spices and salt if needed at this time.
Serve topped with extra cheese and bacon crumbles!