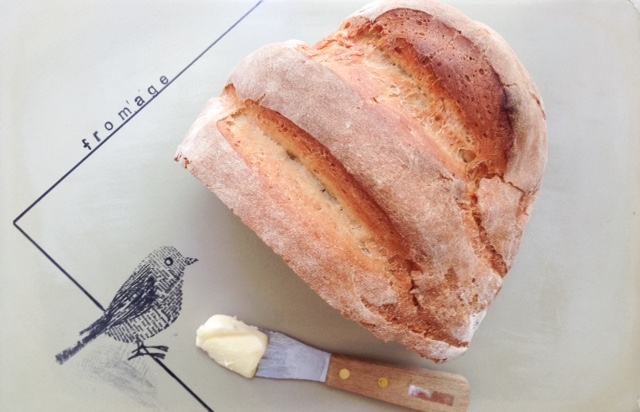 AH, and so the love affair with my bread maker continues. I am currently working on a few grilled cheese creations for a contest now going on. The first ingredient in a perfect grilled cheese is a nice piece of crusty bread for "grilling". I was scrolling through recipes online trying to find the ultimate grilled cheese bread.
I found myself on the King Arthur website (my favorite place for baking inspiration) and I saw the classic white bread recipe. I tweaked it a little bit to fit my needs and because I just can't ever leave something the way it is.
The most important part of this recipe is the rising. Letting this bread rise in the refrigerator is what is going to give you the beautiful brown crust.
Rustic Country White Bread
Recipe Type
:
Baking, Bread
Prep time:
Cook time:
Total time:
Rustic country white bread. Light and airy center with a rich crunchy crust.
Ingredients
4 1/2 cups of AP flour
2 cups of warm water
1 packet of fast active yeast
1 tsp salt
3 tbsp sugar or honey
Instructions
Dump yeast, sugar and water into your mixer or bread maker.
Let the yeast sit for 10 minutes until bubbling slightly.
Add in the flour and slowly mix in a cup at a time with dough hook attachment.
If you are using a bread mixture just add in all the flour and salt and start on dough setting.
Once the dough starts to form a ball let rise at room temp for 1 -2 hours or until doubled.
Flour your hands then shape your dough on a sheet pan.
I chose a classic oblong shape.
Let rise in the refrigerator for 1 hour.
Slit the top of the bread with a knife about 5 times 1/4 inch deep or less.
Let rise for another 30 minutes at room temp.
Preheat the oven to 425.
Place a roasting pan filled with water on the bottom rack.
Put the bread on the top rack.
Bake for 20-30 minutes or until deep golden brown.
Adapted from King Arthur flour.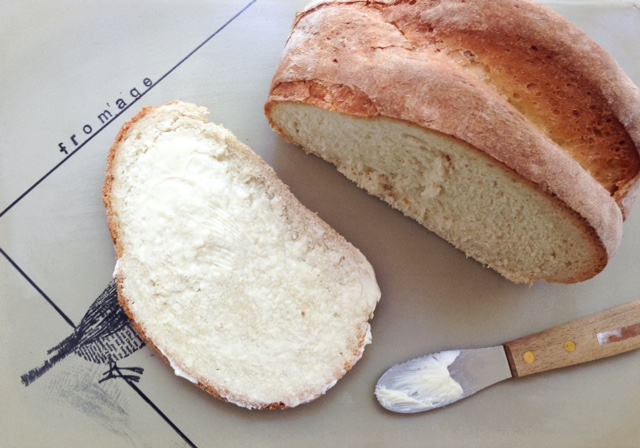 This bread would also be great for french toast! To store just keep in a container or plastic bag for up to a week.
Tag me if you try it!