Wowee that was a mouth full! This chewy brown sugar cookies are rolled in coconut then toasted to perfection before filling the middle with chocolate hazelnut spread. These cookies stayed perfectly soft and chewy for several days after baking! I honestly liked them even better the day after baking. They were delicious warm from the oven, but the brown sugar was so much more prominent the following day.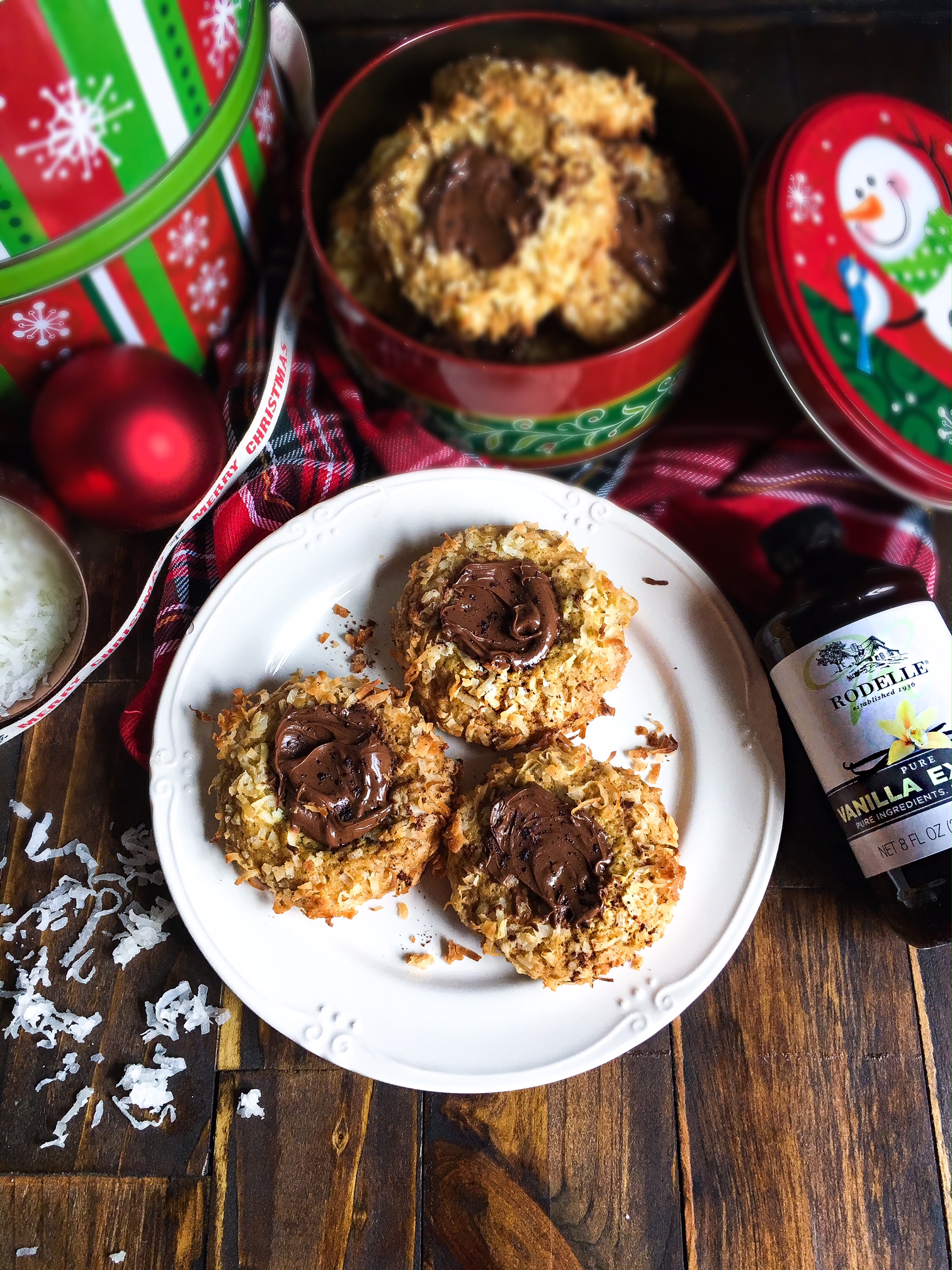 If you aren't a fan of coconut you can easily skip it, but I looooooved toasted coconut! Rodelle launched another cookie campaign this year and I am so excited to be a part of it! A lot of the brand ambassadors came together to bring you Cookies By The Dozen ! Check out the link to see all the other cookie recipes!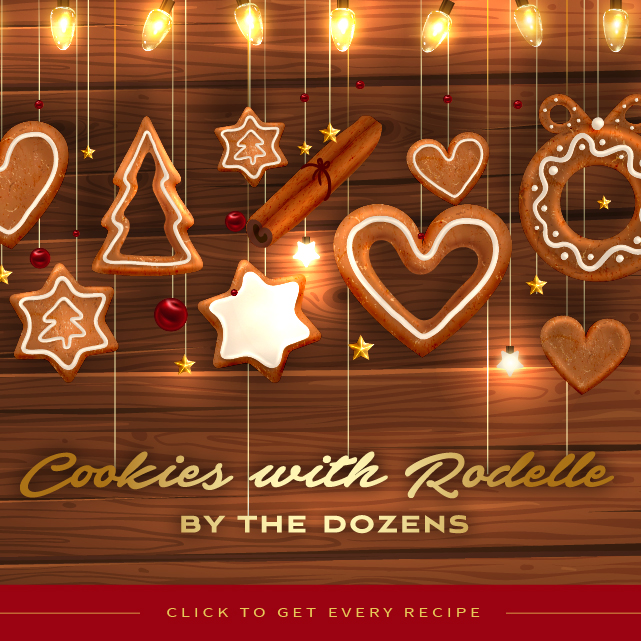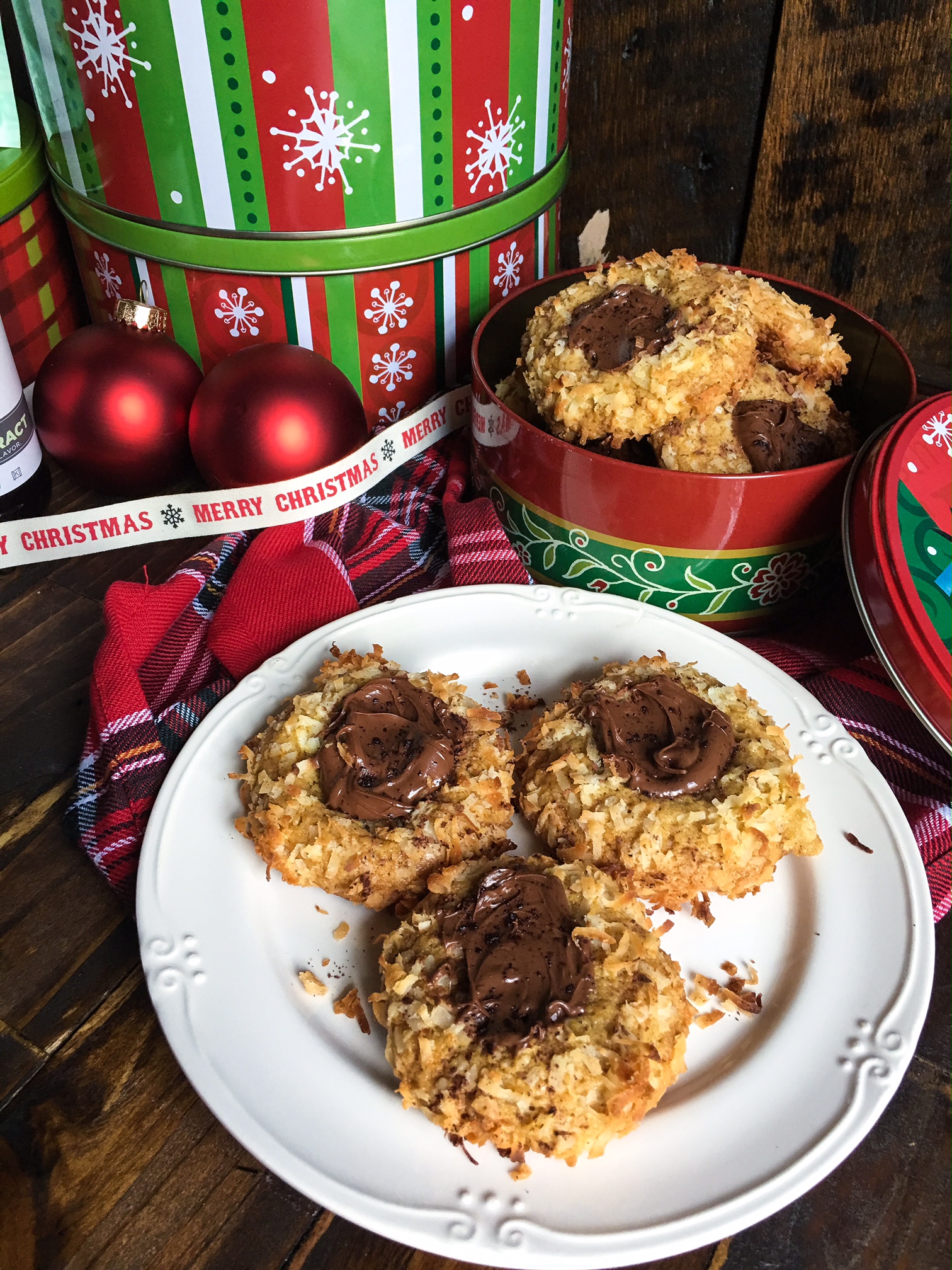 These are easy to package for gift giving! While the center never truly sets you can layer with parchment paper to avoid a mess. I think they look amazing in cookie tins. I used a healthy amount of Rodelle Vanilla Extract and a sprinkle of the Rodelle Organic Cocoa. These cookies remind me of a super soft chocolate chip cookie, minus the chocolate chips!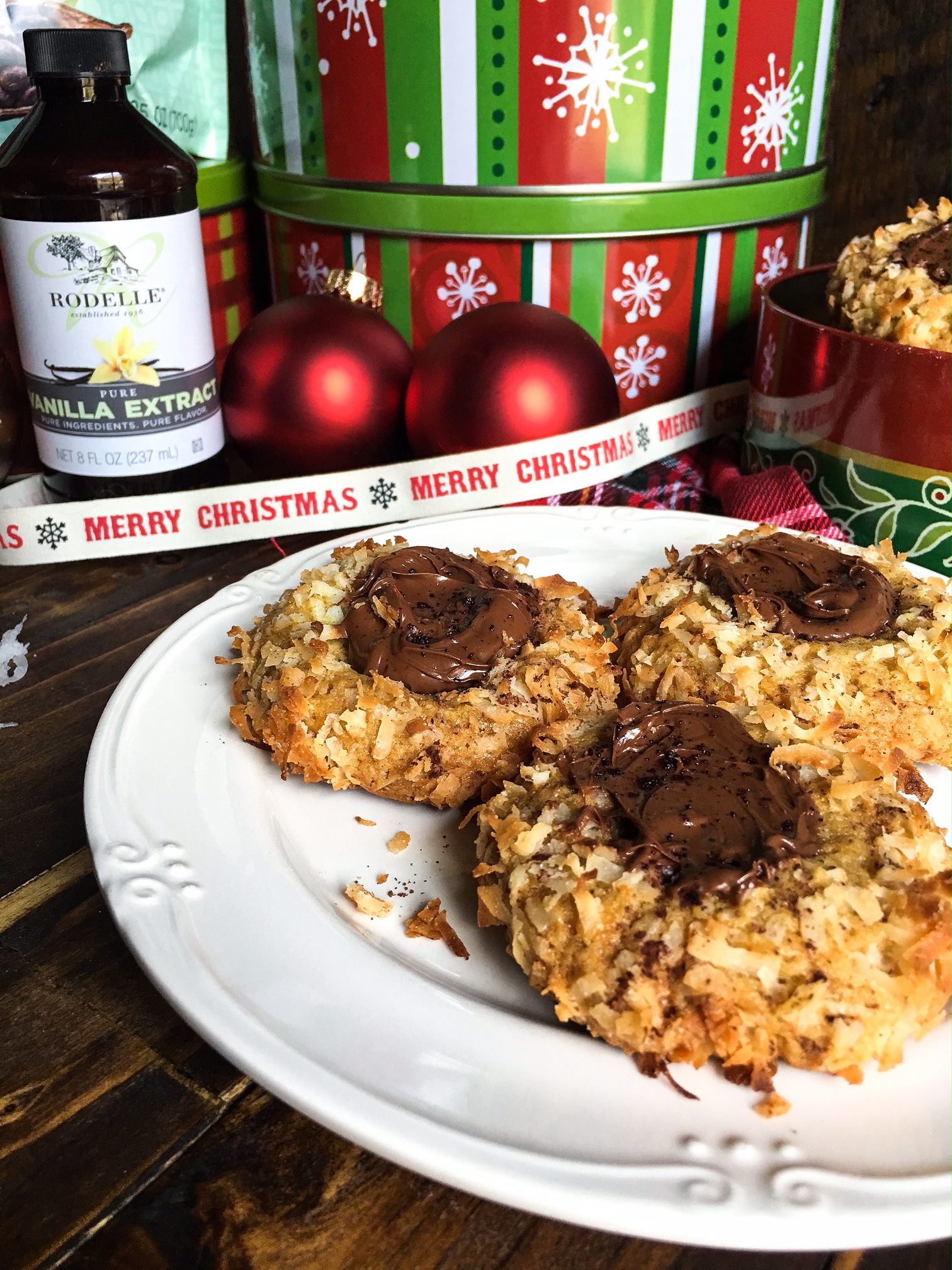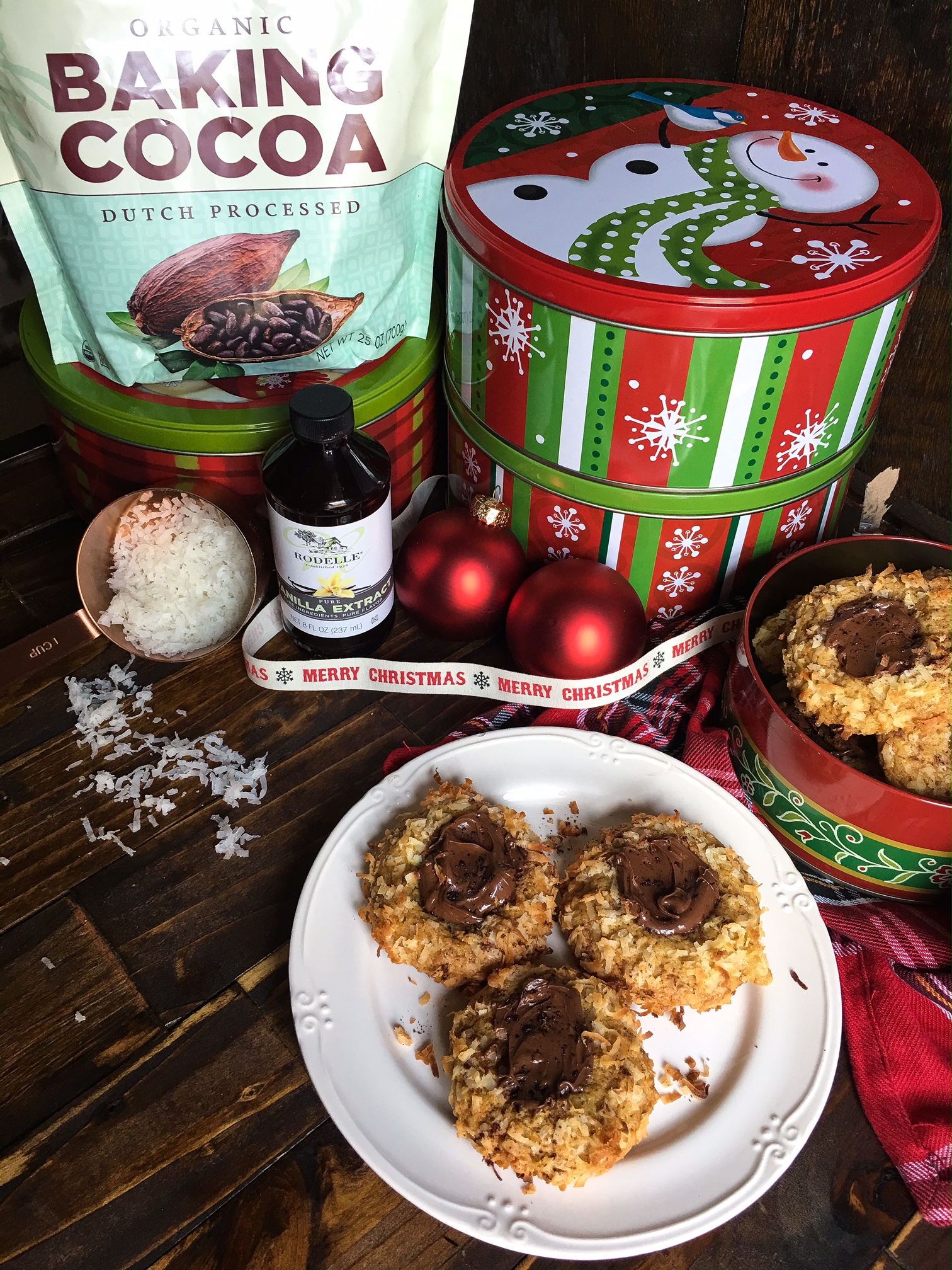 Toasted Coconut Brown Sugar Thumbprint Cookies
Author:
Prep time:
Cook time:
Total time:
Chewy brown sugar cookies rolled in toasted coconut topped with chocolate hazelnut filling.
Ingredients
1 cup of chocolate hazelnut spread
2 cups of sweet coconut shredded
3 eggs room temp
2 1/4 cups of flour
1 1/2 sticks of unsalted butter softened
1 tsp cornstarch
1 cup of brown sugar
1/4 cup of granulated sugar
1 tsp salt
2-3 tsp of Rodelle Vanilla extract
1/4 cup of cocoa powder (optional)
Instructions
Preheat the oven to 325 degrees
In a mixture combined the sugars and butter on medium speed for several minutes until very fluffy
Add in 1 egg and the vanilla extract
Add in the flour, cornstarch and salt until just combined
Roll the dough into uniform balls and place on a baking mat or parchment paper in a pan
In a bowl mix the remaining eggs
In another bowl add the coconut
Dip each dough ball into the egg then the coconut
Place on the baking sheet and freeze for 3-5 minutes
Use your finger or a spoon to make an indention in each dough ball
Bake for 8-10 minutes
Just until the coconut starts to toast do not over bake
Let cool then add a spoonful of chocolate hazelnut spread into the indention of each cookie
Sprinkle with cocoa powder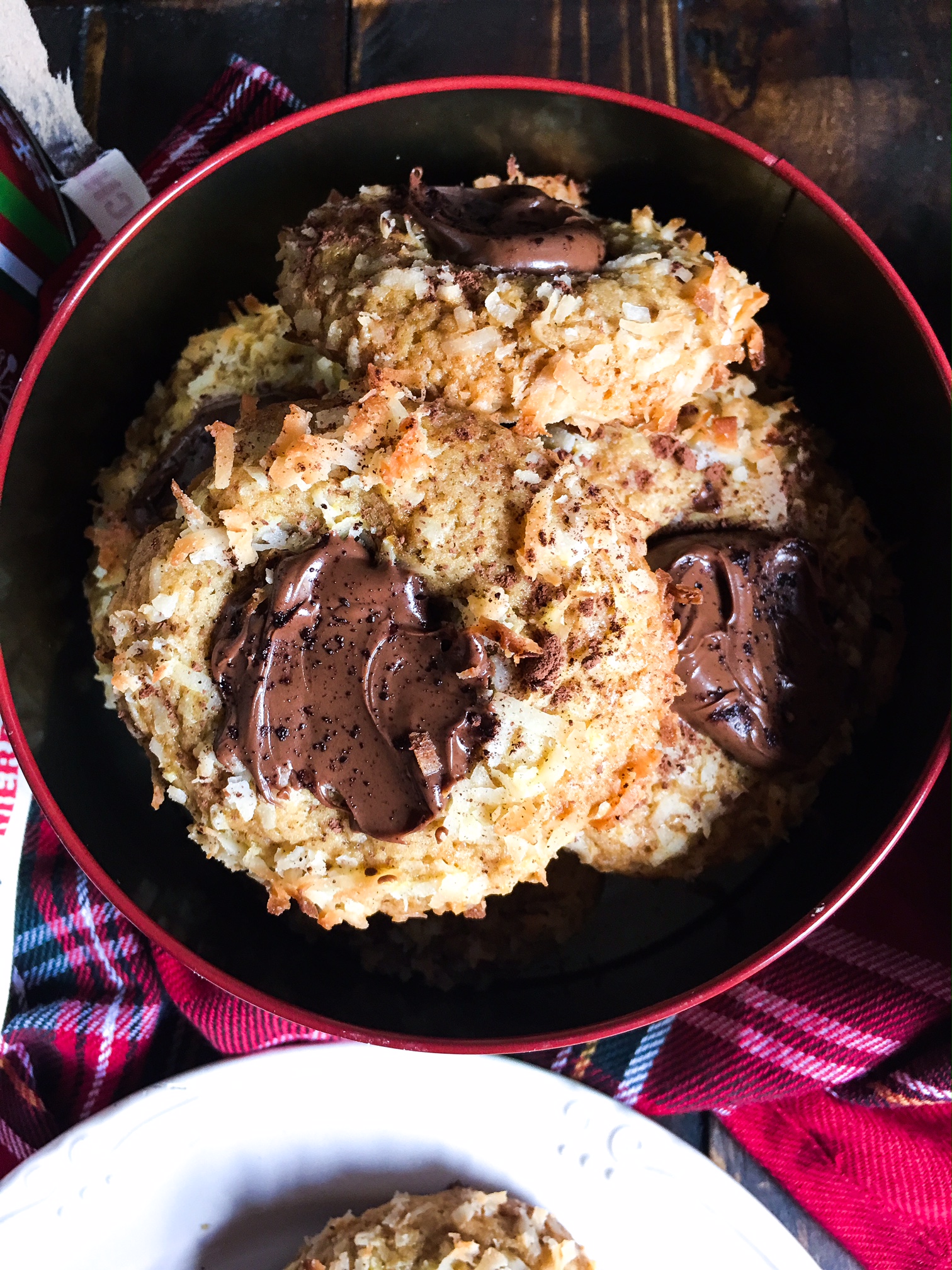 Don't forget to check out all the other recipes! Happy baking!