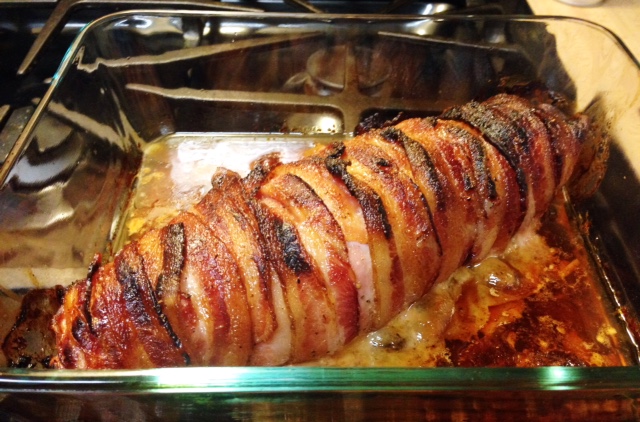 Pinterest is that black hole that sucks you in for hours, but does all that pinning actually result in anything? How many of your pins do you actually put to use? I decided I wanted to start a series on the topped pinned recipes to see if they are worth the hype.
Today I bring you the Bacon Wrapped Pork Loin. There are hundreds of pins featuring this pork duo. The most pinned version uses just a few ingredients- honey, pork, bacon and olive oil. I of course had to complicate the recipe and add a few more ingredients.
What you need:
A pork loin around 1 lb
1 pack of smoked bacon not too thick
2 tbsp honey
2 tbsp apple cider vinegar
salt and pepper
garlic powder
1 tbsp brown sugar
Directions:
Preheat the oven to 350.
Take the pork loin and poke a few holes down the middle. Pour the vinegar and honey onto the tenderloin. Sprinkle on the brown sugar, salt, pepper, and garlic powder. Wrap the loin with bacon. I stretched the bacon to wrap around and tuck under each piece. Bake for 25 – 30 minutes. I highly recommend using a meat thermometer. Let rest for 10 minutes before slicing.
Final result- Definitely worth the effort! It was sweet and tender. Next time I think I will do a honey mustard glaze!