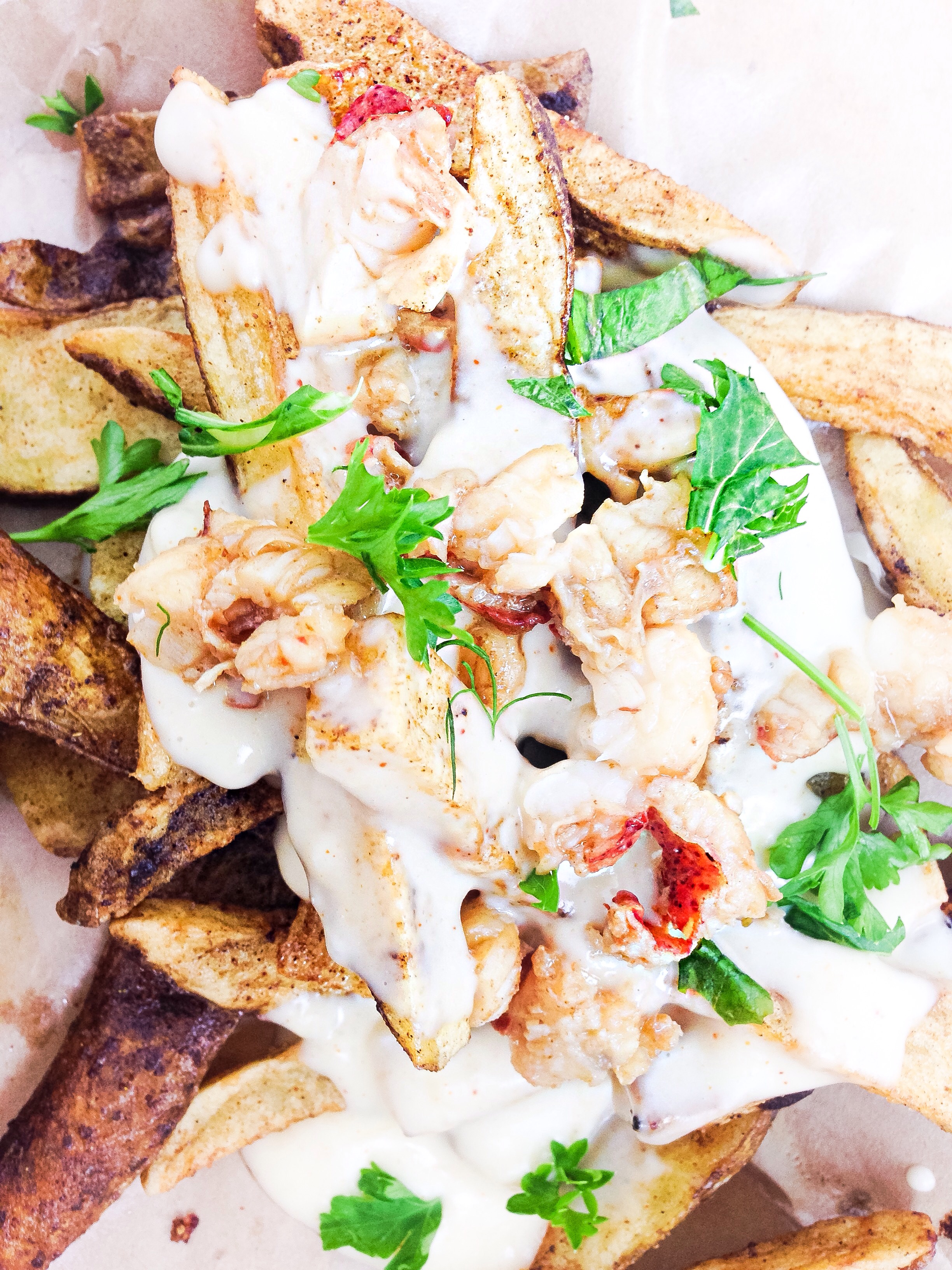 Lobster fries have been blowing up my instagram feed lately. Everyone is serving up crispy salty fries covered in lobster to celebrate summer. This is a trend I can definitely get on board with! I wanted to add something a little extra because I just don't seem to know when to stop. These fries are coated with a light dusting of seasoning salt, warm queso drizzled on top then piled with lobster and a side of steak.  These surf and turf fries bring a whole new meaning to summer dinner.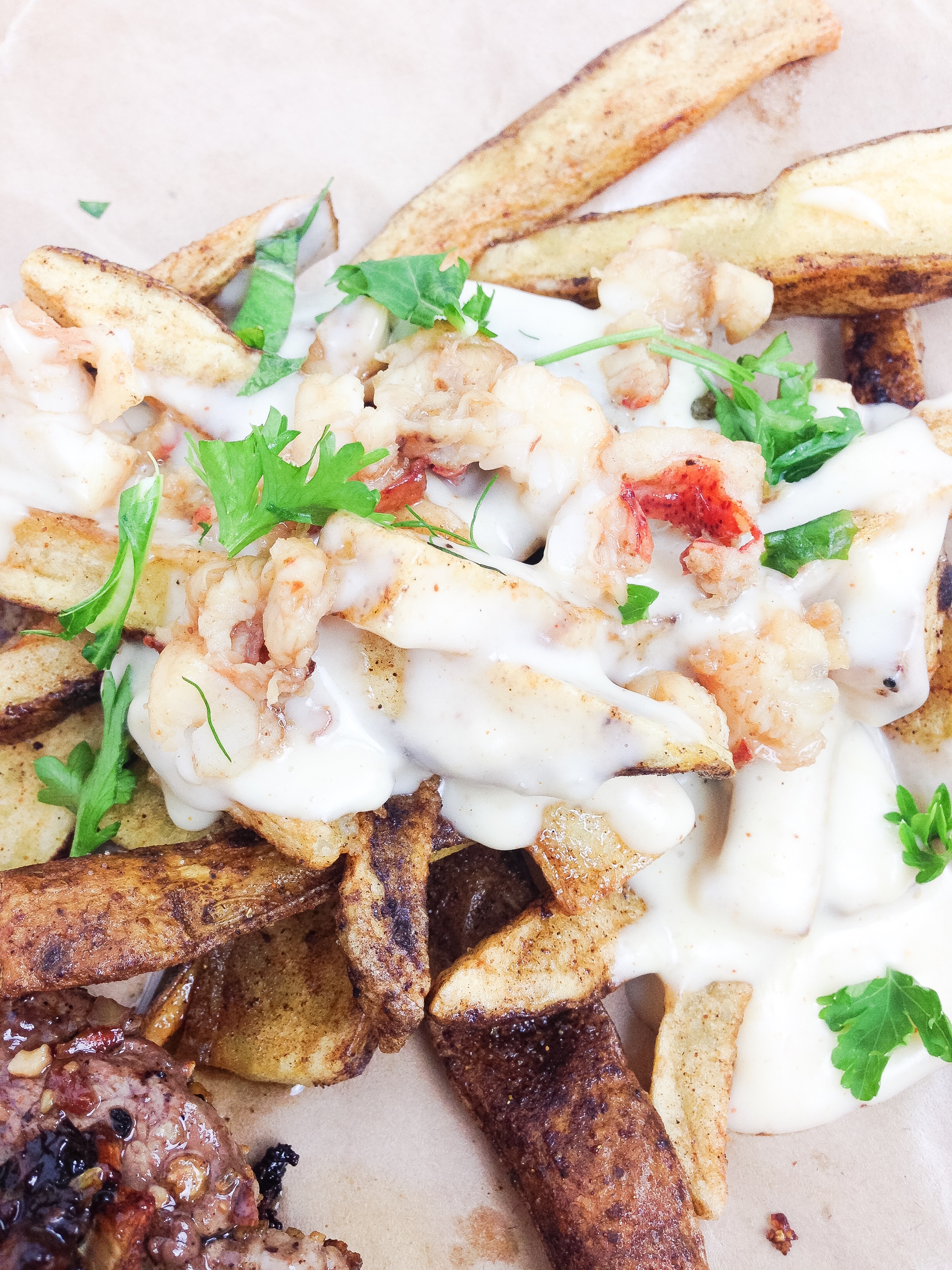 Did I mention the red wine mushroom sauce drizzled over the steak? This sauce mixed with the cheese and fries is pure heaven. Lobster and steak are fairly lean proteins, but adding this cheese and buttery wine sauce turns the meal into quite the indulgence.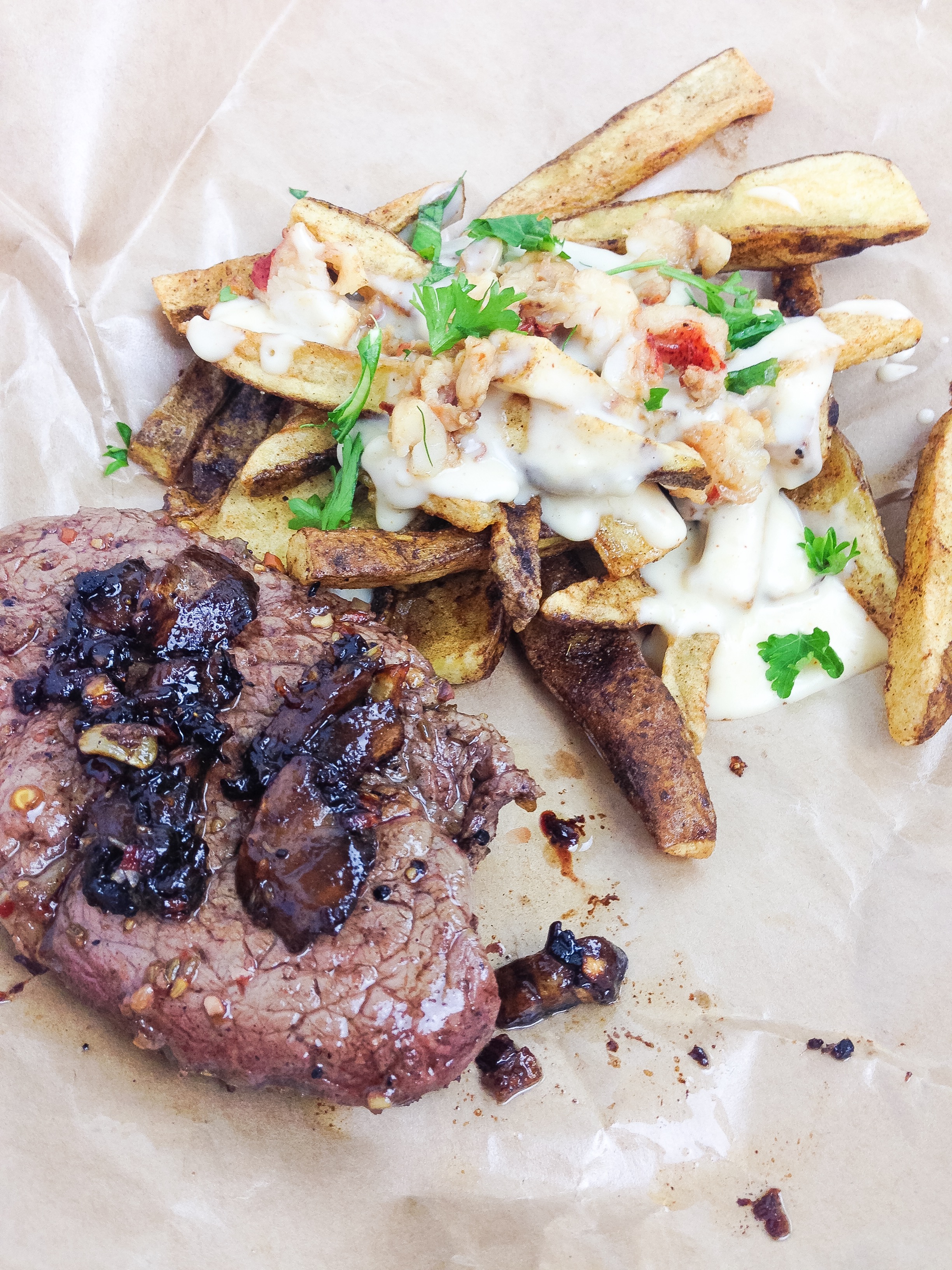 I remember growing up and thinking surf and turf was a dinner special for retired people. Now as a 30 year old woman I know surf and turf is just special and it is for all people. The first time I had a surf and turf special it was a seared ribeye topped with shrimp and garlic butter. I didn't think there could be anything better. Now I know there is. This cheese. This filet. This buttery lobster. Seriously a match made in heaven.
Cheesy Steak and Lobster Fries
Recipe Type
:
Dinner, Main Course
Prep time:
Cook time:
Total time:
Filet Mignon in a rich red wine mushroom sauce with crispy seasoned fries covered in cheese and lobster.
Ingredients
1/2 pound of filet mignon
1 lobster tail
2 russet potatoes
4 tbsp of salted butter, melted
1 tbsp seasoning salt
1 shallot chopped
1/2 baby bella mushrooms
1 cup of shredded queso cheese (my favorite is the white queso blend from Kroger)
1 tsp corn starch
1/2 cup of milk (I used 2%)
1/2 tsp cayenne pepper
Oil for frying.
Instructions
Cut potatoes into slices.
Soak in a bowl of water.
Prepare skillet or fryer with oil.
Heat to 350.
Dry the potatoes with paper towel.
Fry until golden brown.
Toss with seasoning salt.
Heat a saute pan over medium high and add 1 tbsp of the melted butter.
Liberally season the filet with salt pepper or your seasoning of choice.
Pan fry the filet on one side for 4-5 minutes.
Flip and fry for 1 minute.
Place the meat to the side and allow to rest.
Turn the heat up to high.
Drizzle red wine into the pan and let cook off slightly.
Add the shallot and mushrooms.
Cook for 5 minutes or until mushrooms are tender.
In a clean pan add 2 tsbp of melted butter and heat over medium.
Pull the meat out of the lobster tail and saute in the butter.
Cook for about 2 minutes each side.
Remove from heat and cut into bite size pieces.
In a small pot add the last of the melted butter.
Toss the shredded cheese with the corn starch.
Add milk to the pot and start to heat over medium low.
Add in the cheese and cayenne pepper.
Mix until melted through.
To assemble-
Spoon the mushroom sauce over the steak.
Layout a handful of fries and cover with a drizzle of cheese.
Top with lobster.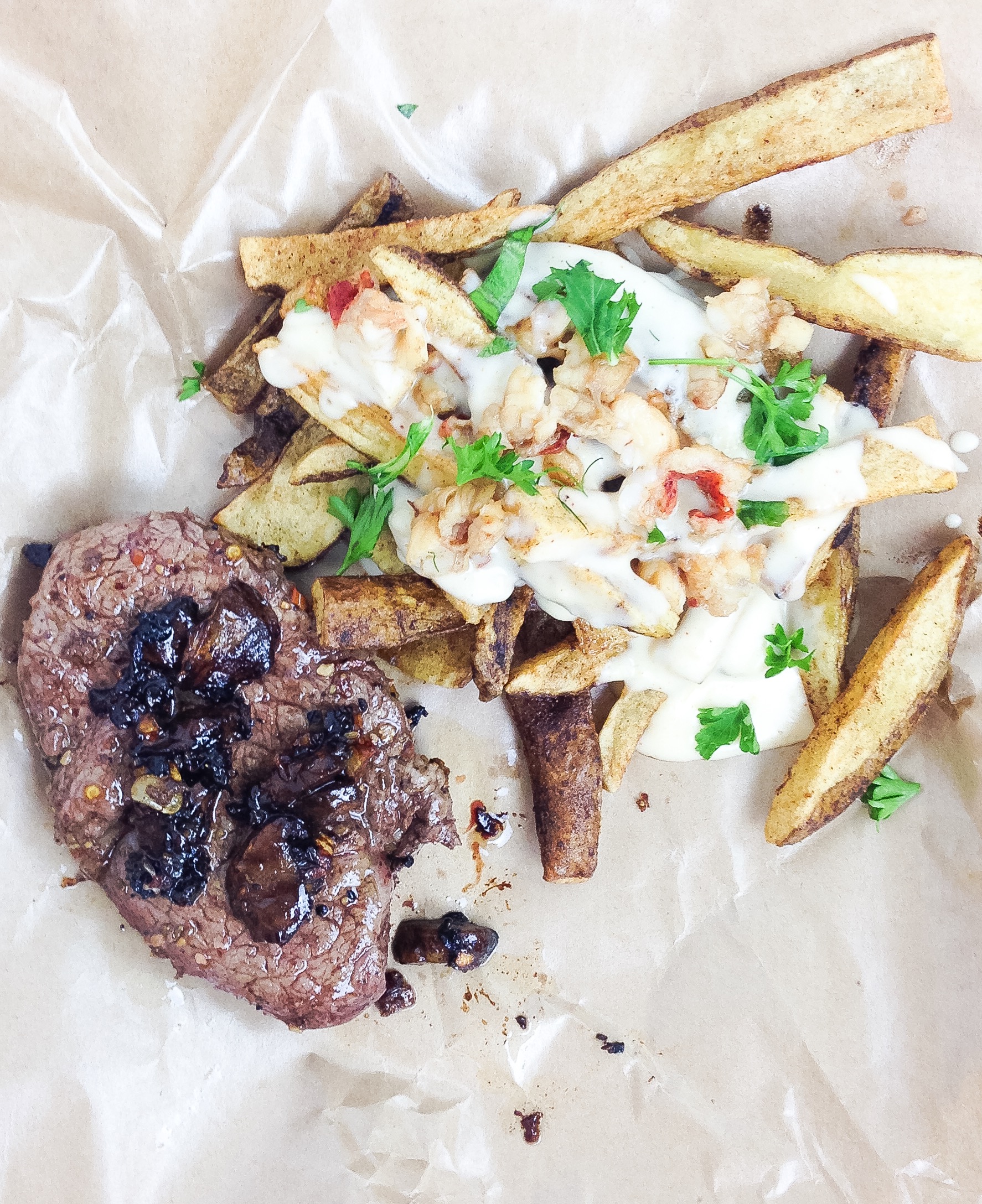 If you do one thing this weekend please let it be trying this recipe! These are my new guilty pleasure!