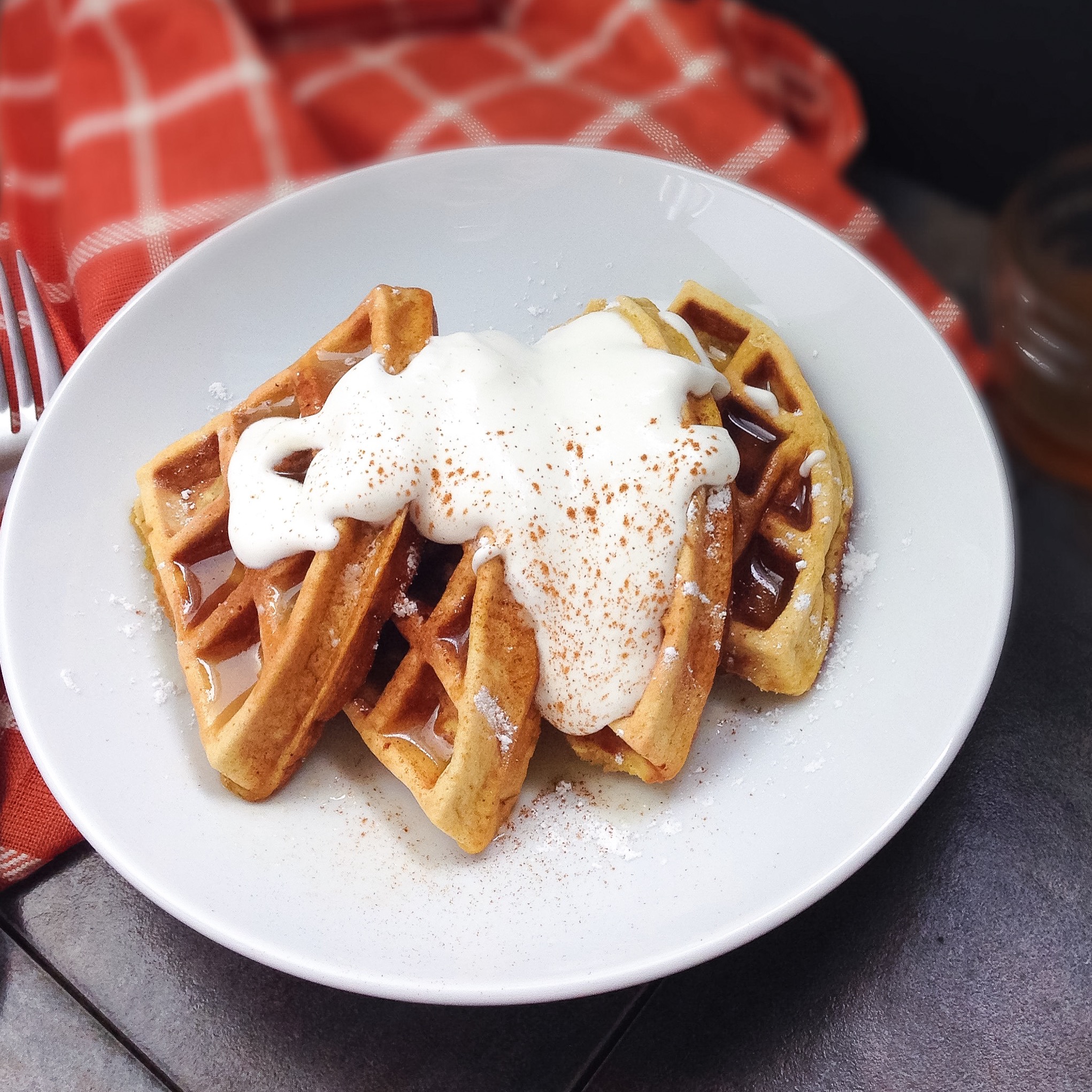 Cinnamon pumpkin is the beginning to any good sentence. If you asked me "what is fall?" I would respond with "cinnamon pumpkin." These waffles are so light and fluffy. Perfect spicy cinnamon nutmeg with a hint of apple cider and pumpkin. I top pretty much every waffle in my life with fresh whipped cream. It helps balance the sweetness for me.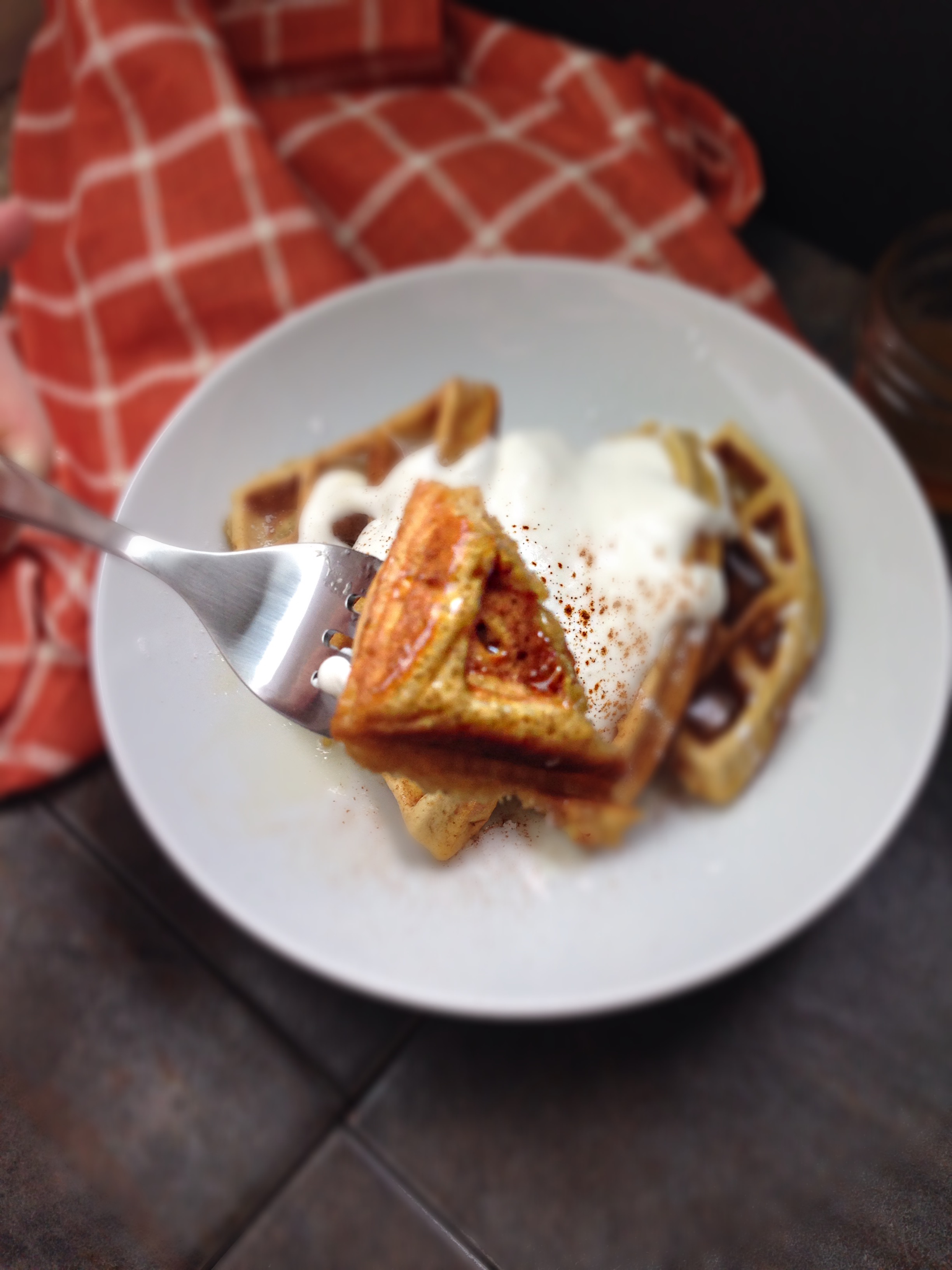 These waffles are absolutely everything right now! I love all things pumpkin, but in small doses. The pumpkin provides a really good base that lets me use less flour yet pairs really nicely with the cinnamon and nutmeg. I added a splash of apple cider to help lighten them up and I swirled a little pure maple syrup in the batter right before pouring into the waffle maker.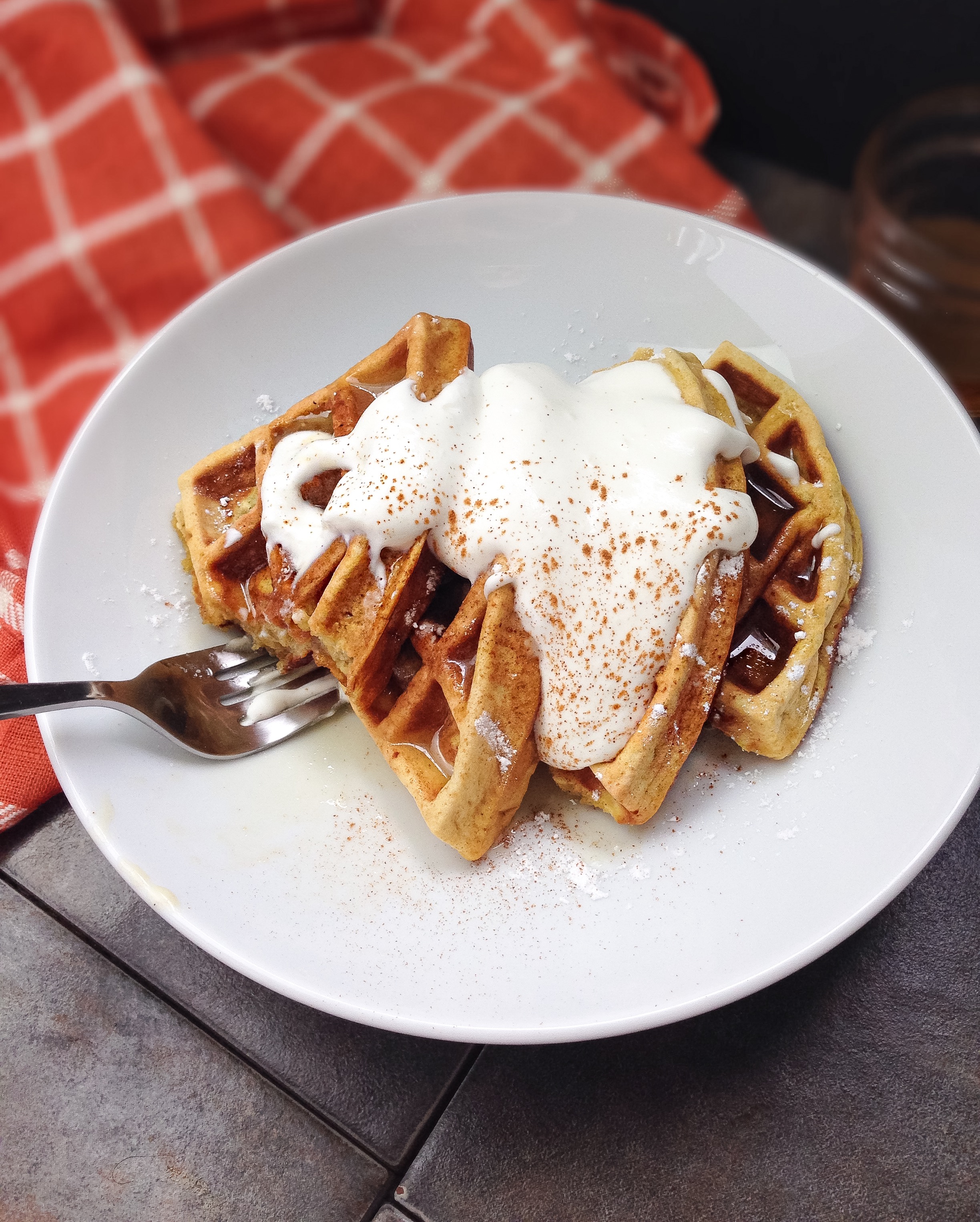 This is the kind of meal I can imagine myself eating late at night in front of the fire when the weather starts to cool down. Is that weird? I know waffles are typically breakfast food, but we rarely eat breakfast in the morning. I usually have enough time for a cup of coffee before I leave the house and Patrick is never hungry until noon-ish. We are big time brunch people. These waffles I actually ate early this morning! Patrick's kids were up at 7am and usually they only make it 30 minutes before they are whimpering at the door because they are starved. Lucky for them I have been dreaming about this recipe for weeks and I knew exactly what I was going to make!
Cinnamon Pumpkin Waffles With Buttery Apple Cider Syrup
Recipe Type
:
Breakfast, Brunch
Prep time:
Cook time:
Total time:
Cinnamon pumpkin waffles with a buttery apple cider syrup.
Ingredients
For the waffles
2/3 cup of organic pumpkin
1 cup of whole milk
2 tbsp melted butter
2 tbsp pure maple syrup
3 eggs
2 tbsp apple cider
1/4 cup of brown sugar
1 tsp cinnamon
1 tsp nutmeg
1/4 tsp salt
1/2 tsp baking powder
1/2 tsp baking soda
For the syrup
2 tbsp butter
2 tbsp maple syrup
2 tbsp apple cider
Instructions
Preheat your waffle iron. (I like to spray mine with cooking spray)
Mix the eggs and sugar.
Add the apple cider.
Add in the milk and pumpkin.
Mix in the dry ingredients.
Do not over mix.
Add in the melted butter and syrup last.
Barely mix in.
Your batter should be fairly thin.
Pour into the waffle maker and cook according to your maker's directions.
For the syrup
Mix the butter, syrup, and cider.
I heat mine in a small sauce pan until butter is melted.
Mix together.
Pour over waffles.
Serve with fresh whipped cream.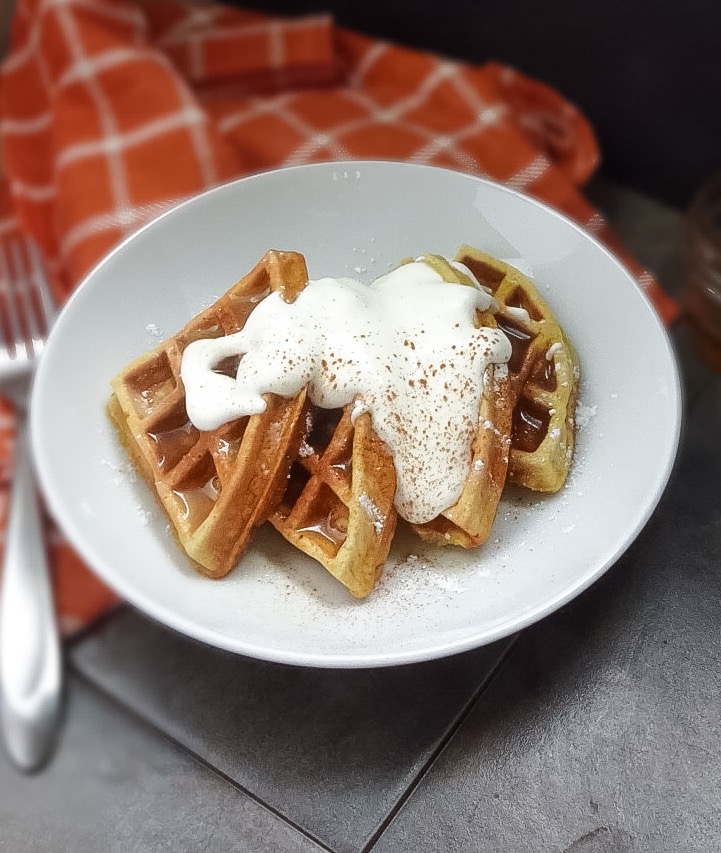 Part of me feels like the pumpkin recipes are premature, but I am so ready for fall. Even though it was over 90 degrees outside today we dragged out the fall decorations and light all the cinnamon pumpkin candles. You know when you go to the grocery store and you get hit in the face with the fragrance from the cinnamon apple brooms? Welcome to my house! I love every second of it. Something is just so warm and cozy about the spicy scent. Now you are ready too! Just get some super fluffy blankets and cozy up with a plate of these waffles!